Puerto Rican Traditional Christmas Food
This post may contain affiliate links which might earn us money. Please read my Disclosure and Privacy policies here
Christmas is a time for celebration and spending with family and friends, but it's also a time for delicious food! Puerto Rican tradition calls for various dishes to be enjoyed during the holidays.
As a Puerto Rican tradition, the classic Lechon Asado is a must-have item on any Puerto Rican Christmas menu. This roasted pig dish is typically served with freshly-made Puerto Rican side dishes, such as white rice, pigeon peas (arroz con gandules), and green plantains.
Roasting a pig is a Puerto Rican tradition at Christmas and is an absolute must-have for Puerto Ricans. But if you live outside of Puerto Rico, roasting a pig in your home might not be an option.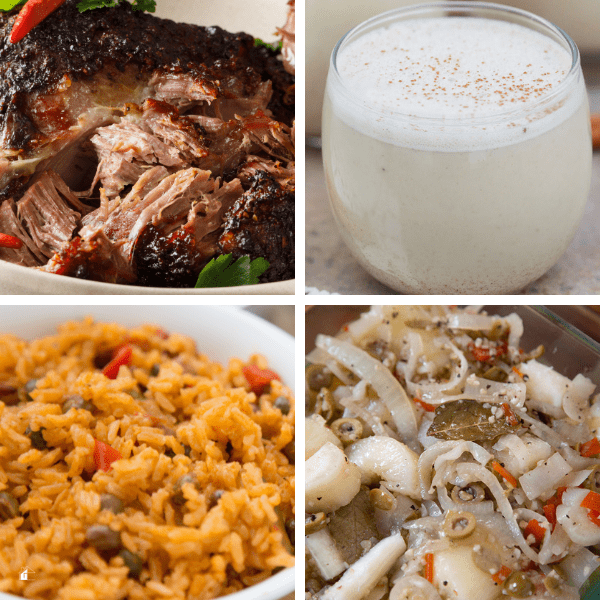 Not to worry, Puerto Ricans also enjoy a variety of classic Puerto Rican dishes such as pasteles, arroz con dulce ( Puerto Rican sweet rice pudding), and tembleque (coconut flan).
Of course, if you want to learn more about Puerto Rican Christmas traditions, head to this post.
What is a traditional Christmas meal in Puerto Rico?
Puerto Ricans enjoy a variety of Puerto Rican dishes, including Lechon Asado, pasteles (traditional Puerto Rican tamales), arroz con dulce ( Puerto Rican sweet rice pudding), and tembleque (coconut flan).
Puerto Ricans also indulge in Puerto Rican specialties such as coquito (a Puerto Rican eggnog-like beverage) and sweet Puerto Rican bread. Others dishes enjoyed at Christmas include mofongo, bacalaitos, and alcapurrias. Puerto Ricans also enjoy Puerto Rican desserts such as flan, tres leches, and arroz con leche.
What do Puerto Ricans eat on Christmas Eve?
Puerto Ricans traditionally celebrate Christmas Eve with a festive feast compared to no other! The main Puerto Rican Christmas dinner includes an array of traditional dishes such as roasted pork, arroz con gandules (rice with pigeon peas), pasteles, Ensalada de Coditos (macaroni salad), and tembleque (coconut custard).
Try this recipe:Sandwich de Mezcla Recipe
Why do Puerto Rican celebrate big on Christmas eve instead of Christmas?
Well, it goes back to Puerto Rican culture when Puerto Ricans would celebrate the holiday on Christmas Eve, leaving Christmas Day to attend mass at midnight.
Puerto Rican Traditional Christmas Food
If you're looking for a taste of Puerto Rican culture, look no further than the traditional Christmas food. From pernil to pasteles, there's sure to be something that will tantalize your taste buds. So what are you waiting for? Get ready to feast on some delicious Puerto Rican cuisine!