Alright, here's a topic that I get asked about numerous times; it's about clutter and how to eliminate clutter from your home. I will say this; I am neither an organizer nor a therapist; if you have a hoarding problem, you will not find a solution here.
This post is about mild clutter found in the home that can often affect our lives and those of our family. Clutter can be from having too many toys to paper clutter and it can be so frustrating dealing with it.
We live in a society where we are always on the go, and having a cluttered home can affect the way we live and our routines. For these reasons, I suggest that if you eliminate clutter from your home, you will be able to worry about other important things in your life other than the clutter in your home.
Why is having a cluttered home bad for you?
Clutter can affect your mood and can affect your health as well. Some even go as far stating that having too much clutter can make you fat. I am not making this up! I know for me, seeing clutter on top of the tables after a while drives me nuts.
I hate having stuff all over. I'd rather have less, than more; but this wasn't always the case for me.
Check these posts out:
What lead to my clutter and having less in my home was when I lost my home and my possessions to a house fire. So you can say I got a reality check on what is essential in life.
I personally don't hold on to things, and too many people in my life this habit of mine is very odd to them. The other part of the story is that my husband is the opposite of me. He holds on to things that, to me, might not have a purpose.
The point is that I get what some of you are going to say when you read this post; that either spouse holds on to things, you have kids, and so on.
You can unclutter your home little by little.
You can teach others in the house that a clutter-free home is possible and right for everyone.
When you begin to unclutter your home, always separate the memory from the stuff. Remember to stop holding on to things for the memory. You can't hold on to everything.
If it's from a person that is no longer living, honor the person, not the stuff!
What would happen if you lost all of your material things as I did? Then what? I lost baby photos, things that were important to me and precious to me. I lost the material stuff, but I was able to walk out of the fire with my entire family alive!
I think that was one of my issues with cluttering, and mind you, I wasn't too bad; it was just that I kept it in the basement, garage, and the closet.
I held on to things. I had too much of everything, and my kid also did; we had too much stuff.
After the house fire, and realizing that we don't need stuff but each other, we can live well without being overwhelmed with stuff.
Do I still have a few things in boxes? Yes, just sold four boxes of stuff in a flea market. See, they have a purpose!
I guess I save things if I can make a buck or reuse them in the future; other than that, adios. I don't have many photos on my wall.
I don't have too many of everything because I dislike stuff. I am not saying that you need to get rid of everything. Just eliminate the clutter that is bugging you and affecting your life and your well being.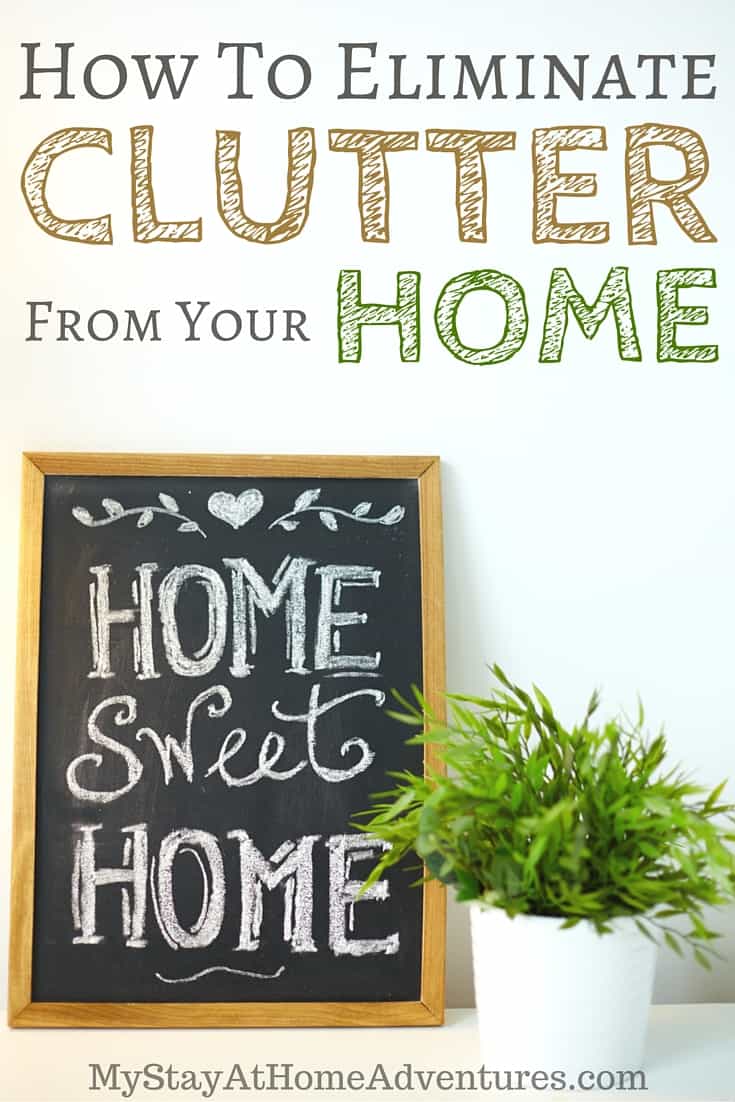 How to Eliminate Clutter from Your Home
Start Now
If you are a procrastinator, you need to start eliminating your clutter soon. Start now. Start small. The later you wait, the worst it will get.
Setting a starting day when you are not looking forward to it. Once you start attacking this challenge, believe me, you will feel better. Get rid of it starting today and do it little by little.
Identify the problem
Where is the clutter coming from? Do you have too much paper clutter? Do you have toys all over? Do you think that providing a storage solution is the way to solve the problem? What do you need to get rid of? Why do we have so much stuff?
When you start identifying why you are having a clutter problem and where it's coming from, you will be able to break from the clutter cycle.
If it's paper clutter, get yourself into a paperless system. Junk mail, get rid of them right away. Unsubscribe to paper magazines and see if you can get them digitally.
Take your time
Eliminating clutter is not a contest, and you should take your time to get organized and work on a system. If you decided to clear all the clutter without having a plan and just throw everything out, you will be back to having a clutter problem again.
Your home clutter didn't happen overnight, and the process of decluttering your home shouldn't happen overnight.
Create a schedule
Create a schedule that works for you and your family and start attacking different areas of your home.
Everything should have its place
Items in your house should have a "home." Toys should have a location where they can be stored away. Hats and gloves should go in a place.
Again, everything should have an organized place in the home.
Let it go
Again, it is OK to hold on to things, but not everything.
I didn't realize how much paper the school gives out every day. No, I don't keep them all. I only keep the ones that have a profound meaning for my son or me.
If I love it, I will keep it a storage box, but the majority of the time we will take a photo and toss it.
Not trying to be harsh, it's just the reality of things. Not sure if you know how many paper kids bring home from school every day, and there is no way I will keep them all.
As for photos, I keep them; I also scan them as well. During the house fire, we lost precious photos; I tend to scan them and make them digital too.
Do I have photos of my kids around the house? Yes, just a few.
Create a system
Start creating a system that works for you and your family when it comes to cutting down your home clutter. If you have too much and want to get rid of it, have a yard sale and make a few bucks.
Create a system for toys. Place toys not being used in a tote and place it in the basement and garage. Leave some of the toys out and accessible for them to play with and in a couple of months, switch the toys around.

For paper, create a system where you will only touch this paper once, toss it. If this paper is important, scan it or take photos with your phone then get rid of it and if you need to keep it, file it right away. Don't wait!
Helpful tips: If you haven't touched it, nor thought about it in over six months, toss it!
Conclusion
Having a clutter-free home is a fantastic feeling, not for your home, but for you and your family's well being.
That being said, the clutter didn't come by itself, identifying the reasons behind it is extremely important.
Accountability is essential, creating a system to continue to maintain your home clutter free is important as well.
Just because you declutter the home doesn't mean the problem is solved. The hard part has just begun.
By following the tips above, you will be able to start creating good habits to get rid of the clutter. Remember to hold on to the memories, not the stuff, and never let your home's clutter take control of you and your family's lives.
What other tips do you have to eliminate clutter from the home?
Need more resources? Check these posts out:
The following two tabs change content below.
Latina mom of 4 married to wonderful Greek gentleman. Living in southeast PA and trying to juggle family and a household while trying to earn an income from home. Follow my stay at home journey as I discover how to earn money and save money so we can continue to live debt-free.
Latest posts by Joyce @ My Stay At Home Adventures (see all)