Chicken Macaroni Salad Recipe
This post may contain affiliate links which might earn us money. Please read my Disclosure and Privacy policies here
You should make this chicken macaroni salad recipe the centerpiece of your dinner table because it is both traditional and festive. This simple pasta salad features a creamy mayonnaise and cheese dressing, but it also has other ingredients that make it irresistible. In addition, you never run out of chicken since it has the ideal ratio of macaroni to chicken bits!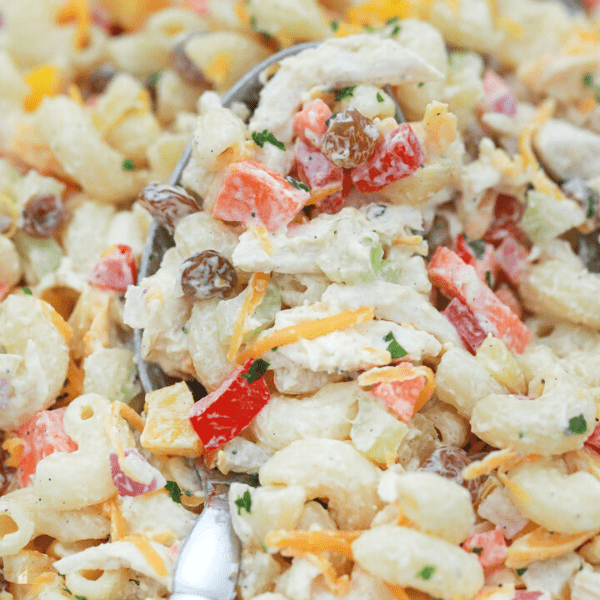 Chicken Macaroni Salad
Try this recipe for chicken macaroni salad, which includes bell peppers, onions, carrots, and shreds of chicken, accompanied by a small sweet treat of raisins and pineapple chunks. Perfect as a snack or a side dish.
You might enjoy these recipes: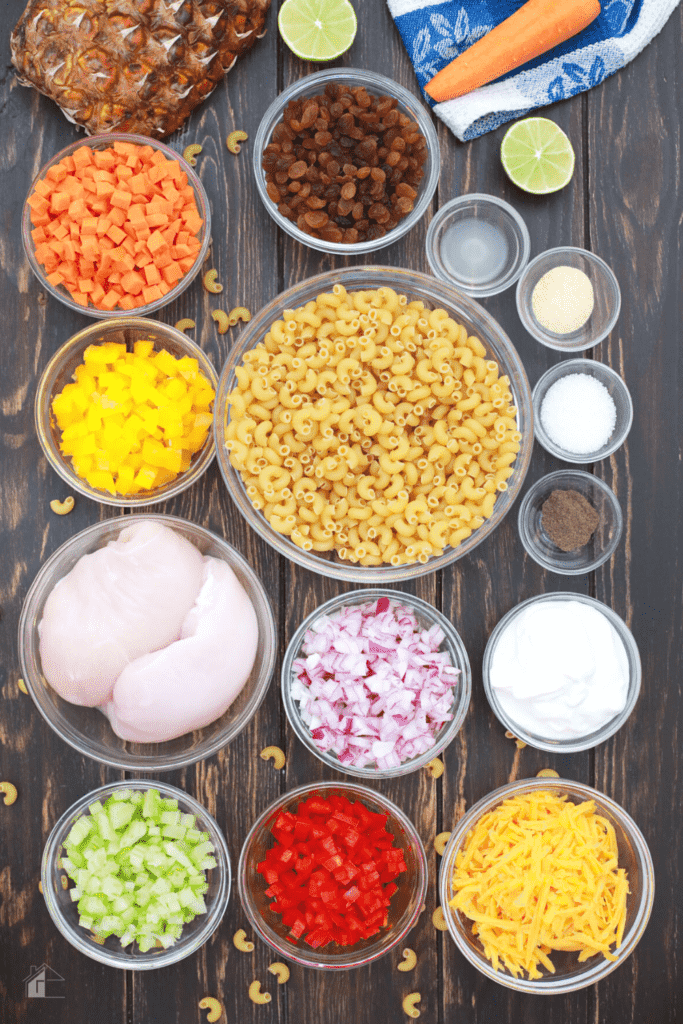 Ingredients needed:
The ingredients for this chicken macaroni salad that the whole family will enjoy are listed below. Please scroll down to access our printable recipe card that includes step-by-step directions and measurements.
Elbow macaroni: Dry
Chicken breasts
Red onions: Diced
Carrots: Diced
Green bell pepper: Diced
Celery: Finely diced
Red bell pepper: Finely diced
Raisins
Pineapple tidbits: Drained
Shredded cheddar cheese
Ground pepper
Salt: Adjust as needed
Dressing:
Mayonnaise
Greek yogurt
Sugar
Garlic powder
Lime juice
Salt: To taste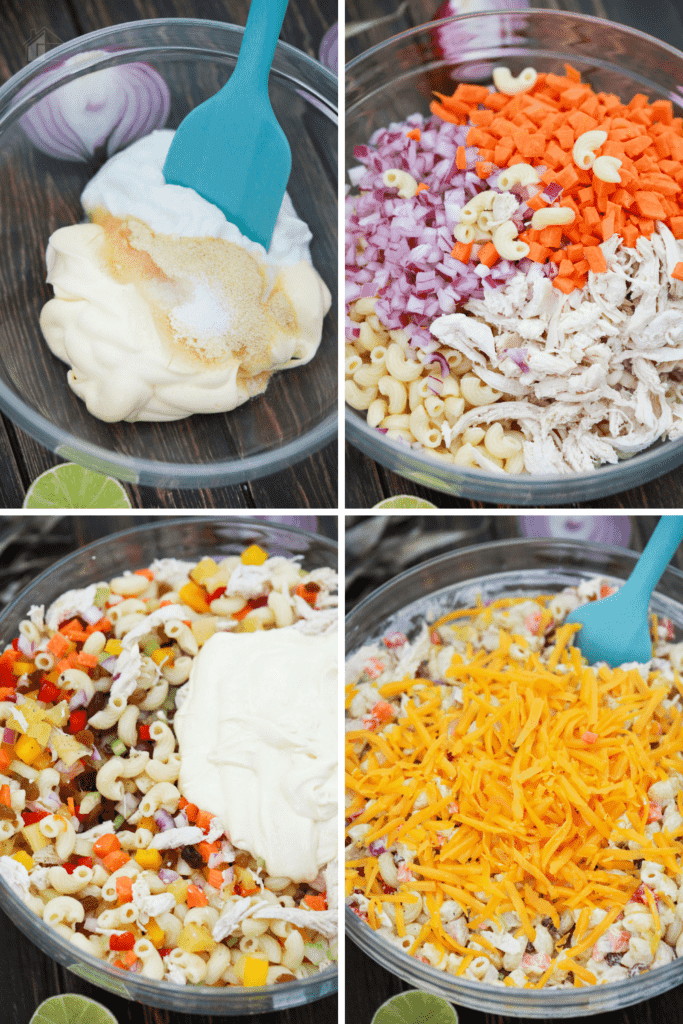 How to cook chicken macaroni salad from scratch?
Cook the pasta: Follow the pasta box package instructions and cook until it's al dente. Drain and stir with a tablespoon of olive oil to prevent drying out.
Simmer: Place the chicken in a pot and cover it with water in the meantime. Salt it, and then bring it to a boil. Cook through after 10–12 minutes of simmering.
Shred the chicken: After turning off the heat and draining the water, transfer the chicken to a large bowl and shred it with two forks.
Mix the dressing: In a bowl, combine the dressing ingredients.
Add the salad ingredients: Except for the cheese, salt, and pepper, put all the salad ingredients in the big bowl with the chicken.
Add the dressing: When everything is equally coated, add the dressing and toss.
Mix and taste: Add the cheese after tasting it and seasoning as needed.
Serve.
Watch the Video:
How to serve:
You'll typically find chicken macaroni salad served as a side dish with barbecued foods, including burgers, hot dogs, grilled or fried chicken, potato salad, fruit salad, corn on the cob, ribs, and kabobs.
Other recipes you might enjoy: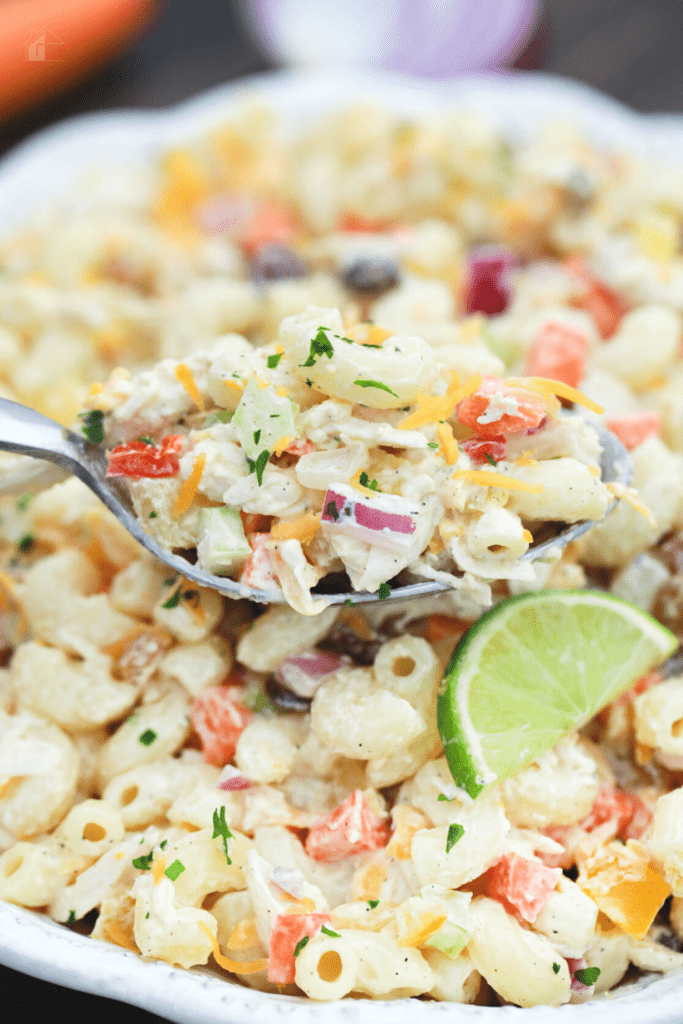 Frequently asked questions
How do I keep my macaroni salad from drying out?
Preventing your chicken macaroni salad from drying out can be tricky. However, there are a few key things to keep in mind when making macaroni salad:
Cook the pasta just until it is al dente. Overcooked pasta will absorb more dressing and become mushy.
Be sure to use a quality dressing. A simple vinaigrette made with olive oil, vinegar, and spices will add flavor without weighing down the salad.
Add plenty of fresh vegetables and herbs.
Tomatoes, cucumbers, and red onions are all great additions. The goal is to create a well-balanced salad that has enough moisture to stay moist without being wet.
Should you rinse macaroni when making macaroni salad?
When using it in a cold meal, such as a macaroni salad, you should rinse your macaroni. On the other hand, avoid rinsing the macaroni in a hot meal. The carbohydrate in the water makes the sauce stick to your macaroni. Rinsing macaroni will chill it and stop your sauce from absorbing into it.
What's the difference between a pasta salad and a macaroni salad?
Most people would probably say that the main difference between a pasta salad and a macaroni salad is the type of pasta used. Pasta salad is typically made with longer, thinner noodles, while macaroni salad is made with shorter, sturdier noodles.
However, there are also some significant differences in the ingredients used to make these two salads. For example, pasta salad is often made with a vinegar-based dressing, while macaroni salad is usually made with a mayonnaise-based dressing.
As a result, pasta salad is typically lighter and more acidic, while macaroni salad is richer and more savory. In addition, pasta salad is often served cold or at room temperature, while macaroni salad is usually served hot or warm. Ultimately, the choice of pasta is fairly incidental; it's the other ingredients that really set these two salads apart.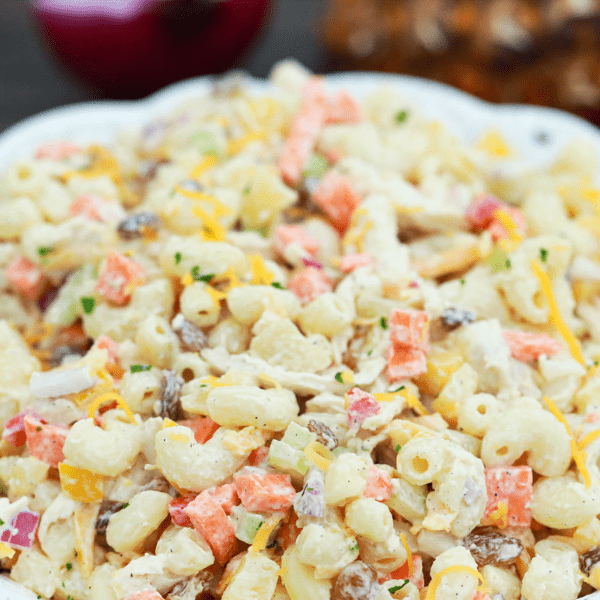 How do you keep mayonnaise from absorbing into pasta?
It's a fact that pasta and mayonnaise are a classic combination. The creamy sauce enhances the pasta's flavor and helps bind the ingredients together. However, one downside of using mayonnaise is that it can quickly absorb into the pasta, making the dish watery and bland.
There are a few simple tricks for keeping mayonnaise from absorbing into pasta:
Be sure to use high-quality mayonnaise that contains eggs and olive oil. This type of mayonnaise is less likely to absorb into the pasta.
Make sure your pasta is chilled before adding mayonnaise.
Add the mayonnaise to the pasta just before serving. This will give the sauce less time to seep into the pasta.
Be sure to add plenty of other ingredients to the dish, such as vegetables, meats, or cheeses.
These additional ingredients will help to mask any absorbed mayonnaise.
Should chicken macaroni salad be refrigerated?
Many people wonder if chicken macaroni salad should be refrigerated. The answer depends on the ingredients. If chicken macaroni salad contains eggs, then it must be refrigerated. If it doesn't have eggs, it's still a good idea to refrigerate chicken macaroni salad, especially if it sits out for more than two hours.
This will help to keep the chicken fresh and prevent the growth of bacteria. So, whether you're planning to serve chicken macaroni salad at a party or taking it on a picnic, be sure to keep it chilled until you're ready to eat!
What kind of chicken should I use?
You can bake or grill some chicken breasts, which is how it is often prepared. Alternatively, you can save time by using rotisserie chicken.
Is it OK to make macaroni salad the day before?
Yes! Preparing this 8 to 12 hours before you intend to eat it is actually advised to allow the flavors to develop. Then, simply store it in the fridge in an airtight container. Before serving, please give it a thorough toss to prevent the dressing from settling in the bottom of your bowl.
How long can macaroni salad be left at room temperature?
When left out for longer than two hours at room temperature, you should throw macaroni salad away since bacteria can quickly grow between 40 and 140 °F.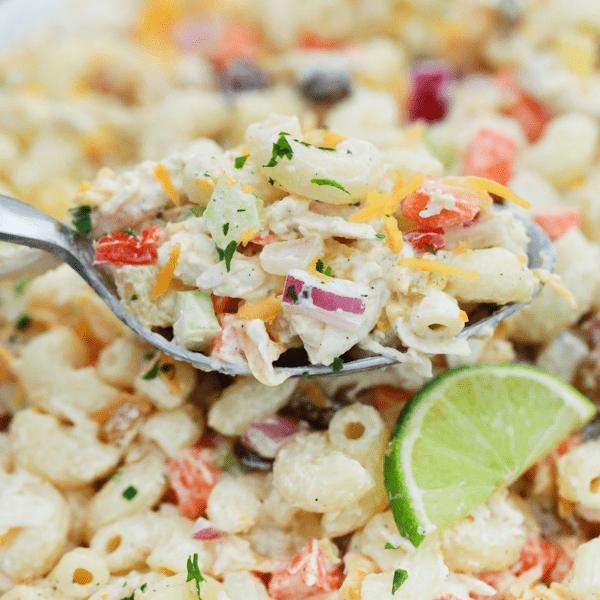 How to store leftovers:
Refrigerate the chicken macaroni salad in sealed containers to extend its shelf life for quality and safety. In the fridge, chicken macaroni salad will keep for three to five days if appropriately preserved.
Recipe tips:
The best chicken macaroni salad is thoroughly chilled. The pasta is firmer, and the ingredients may mix freely and improve in flavor.
Make sure your macaroni salad has enough juice, fruits, meat, and other delicious ingredients to stand out on any buffet table.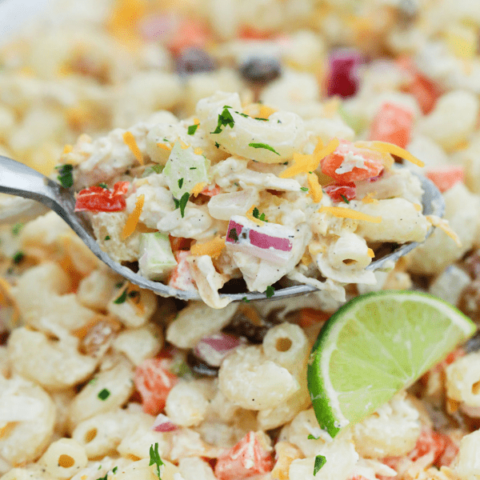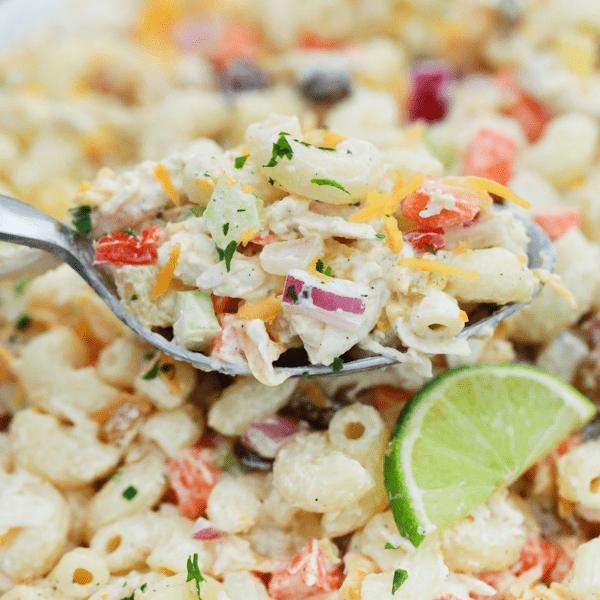 Chicken Macaroni Salad Recipe
Are you looking for a yummy side dish to take to your next potluck? Look no further than this chicken macaroni salad recipe! It's simple to make and sure to be a hit with your friends and family.
Plus, it's perfect for those hot summer days when you don't want anything too heavy. So give this recipe a try today and enjoy the compliments!
Ingredients
1 pound elbow macaroni, dry
1 1/2 pounds of chicken breasts
1 cup red onions, diced
1 cup carrots, diced
1/2 cup green bell pepper, diced
1/2 cup celery, finely diced
1/2 cup red bell pepper, finely diced
1 cup raisins
1 can pineapple tidbits, drained
1 cup shredded cheddar cheese
1/2 teaspoon ground pepper
1/2 teaspoon salt - adjust as needed
Dressing:
1 cup mayonnaise
1 cup greek yogurt
1 teaspoon sugar
1/2 teaspoon garlic powder
1 tablespoon lime juice
pinch of salt
Instructions
Cook the pasta per package directions, aiming for al dente. Drain and set aside; toss it with a tablespoon of olive oil so it doesn't dry out.
In the meantime, place. The chicken in a pot and add enough water to cover it. Season it with salt and bring it to a boil. Simmer for 10 -12 minutes or until cooked through.
Remove the pot from heat and discard the water. Add the chicken to a large bowl and use two forks to shred the meat.
Mix the dressing ingredients in a bowl.
Add all the salad ingredients to the large bowl with the chicken, except the cheese, salt, and pepper, and toss until combined.
Add the dressing and toss until evenly coated.
Mix in the cheese and taste and adjust for salt and pepper.
Serve.

Recommended Products
As an Amazon Associate and member of other affiliate programs, I earn from qualifying purchases.
Nutrition Information:
Yield:

6
Serving Size:

1
Amount Per Serving:
Calories:

783
Total Fat:

39g
Saturated Fat:

9g
Trans Fat:

0g
Unsaturated Fat:

27g
Cholesterol:

132mg
Sodium:

679mg
Carbohydrates:

58g
Fiber:

5g
Sugar:

24g
Protein:

50g
These nutritional calculations might not be accurate. Please speak with a licensed nutritionist to assist you.