Crockpot Pork Chops (With Gravy)
This post may contain affiliate links which might earn us money. Please read my Disclosure and Privacy policies here
If you're in a dinner rut or just looking for an easy and delicious meal, look no further than crockpot pork chops! These slow cooker pork chops are packed with flavor and only require a few simple ingredients that you probably already have in your pantry. Plus, it's practically impossible to mess up! So whether you're a seasoned chef or a beginner in the kitchen, this dish is sure to please.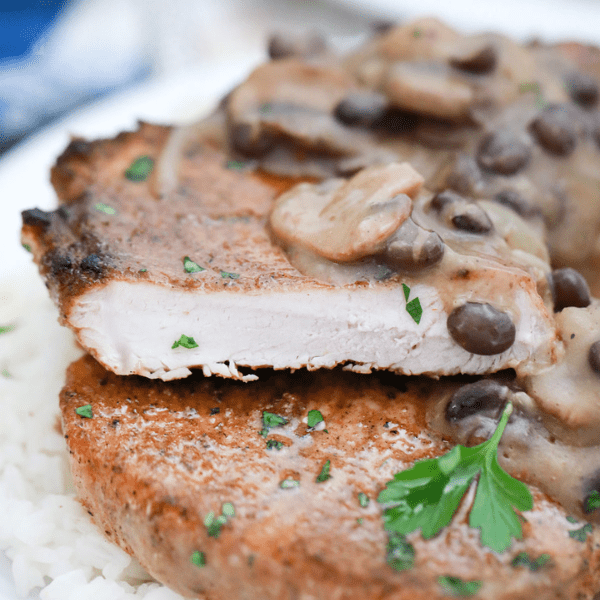 Crockpot Pork Chops
This Crockpot Pork Chops recipe is a delicious and easy way to make pork chops. The pork chops are cooked in a savory sauce made with chicken broth, onion, garlic, and seasonings. This recipe is perfect for a busy weeknight meal or Sunday dinner. The pork chops are tender and juicy, and the sauce is full of flavor. Serve this dish with mashed potatoes or rice and a side of vegetables for a complete meal.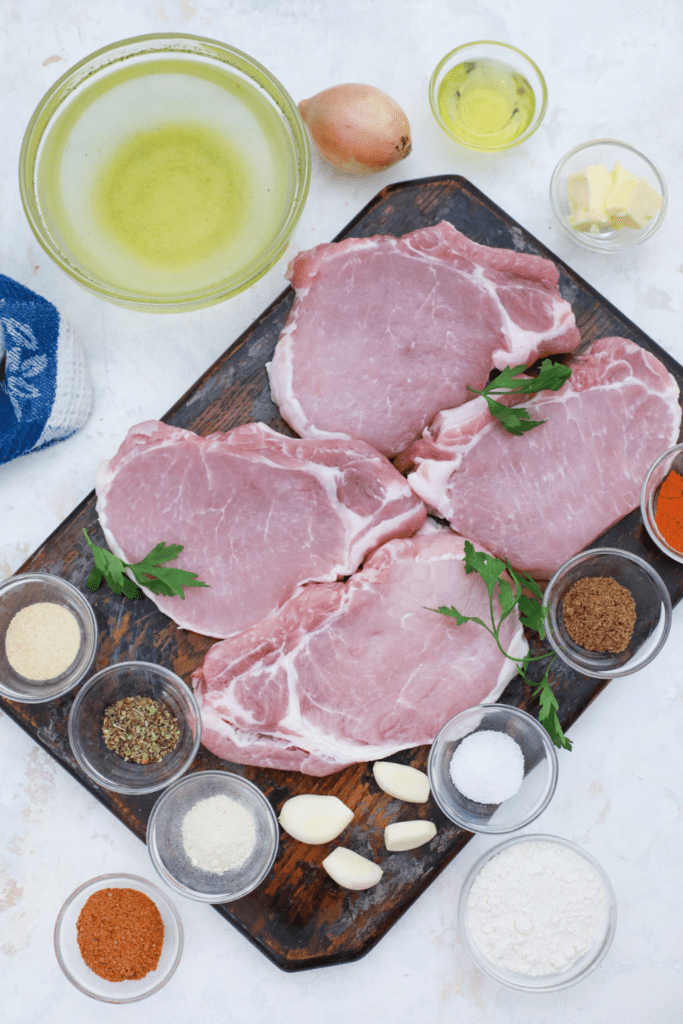 Ingredients needed:
The following is a list of the ingredients for these delicious, family-friendly crockpot pork chops. Please scroll down to access our printable recipe card that includes step-by-step directions and measurements.
Seasoning:
Garlic powder
Onion powder
Oregano: Dried
Paprika
Salt
Black pepper
Other ingredients:
Butter: Unsalted
Olive oil
Yellow onion: Sliced
Mushrooms: Crimini or white, sliced
Black beans: Rinsed and drained
Garlic: Minced
Cumin
All-purpose flour
Low sodium chicken broth
Cornstarch: Optional for the gravy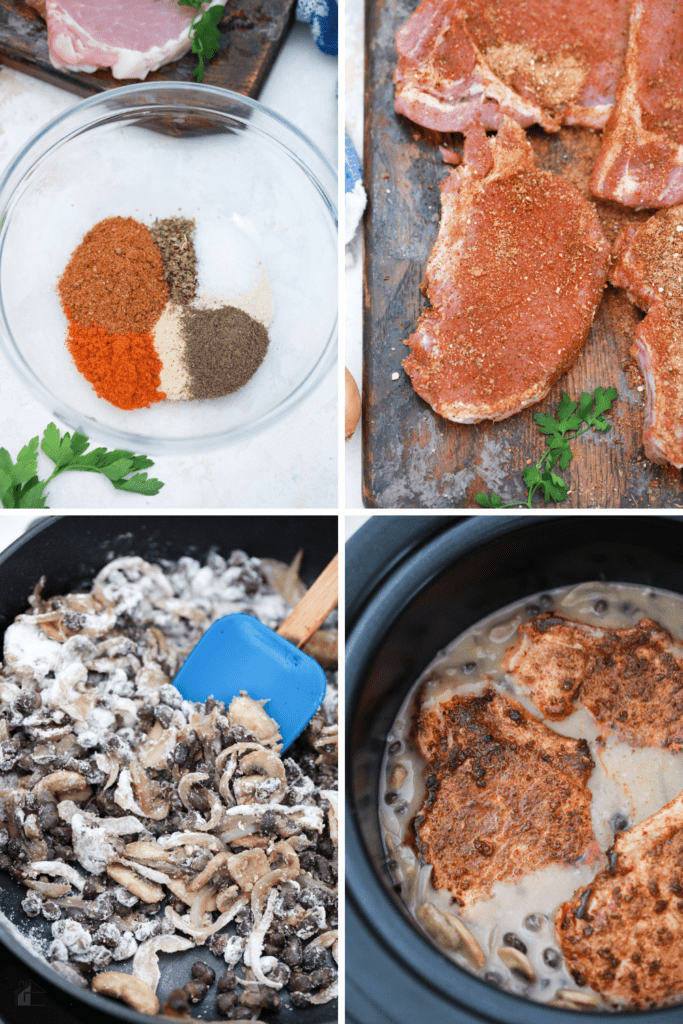 How to cook crockpot pork chops from scratch?
Combine seasoning: Mix the ingredients for the seasoning in a small bowl.
Pat dry and rub seasoning: Place the pork chops on a cutting board after patting them dry. The pork chops should be seasoned on both sides.
Heat in a skillet: Heat the butter and olive oil in a big skillet over medium-high heat until the butter is melted.
Add and set aside pork chops: Add the pork chops and cook for about 2 minutes, or until just lightly browned on both sides. Put the pork chops aside on a plate after removing them from the pan.
Add the other ingredients: To the skillet, add the onion, black beans, cumin, and mushrooms. Cook for about 5 minutes, stirring frequently. Cook the garlic for 30 seconds while stirring.
Stir: Add the flour, then the chicken broth, and stir. Cook with the broth, simmering and thickening while stirring frequently. Take the pan off the stove.
Transfer: Place the pork chops on top of the skillet's contents in the slow cooker.
Cover and cook: Cook for two to three hours on low with a lid. When the internal temperature of the pork chops reaches at least 145° F, the meat is finished. Avoid overcooking, as this will cause them to become dry.
Transfer and cover: When the pork chops are done cooking, transfer them to a plate and cover them with foil.
Stir the gravy: Stir together one tablespoon of cornstarch and one tablespoon of water in a small bowl while the slow cooker is on high. Stir the mixture before adding it to the slow cooker. Cook the gravy for 15-20 minutes on high or until it thickens.
Taste and adjust: Season with salt and pepper.
Serve: Pork chops should be served with rice and gravy.
Garnish with fresh cilantro.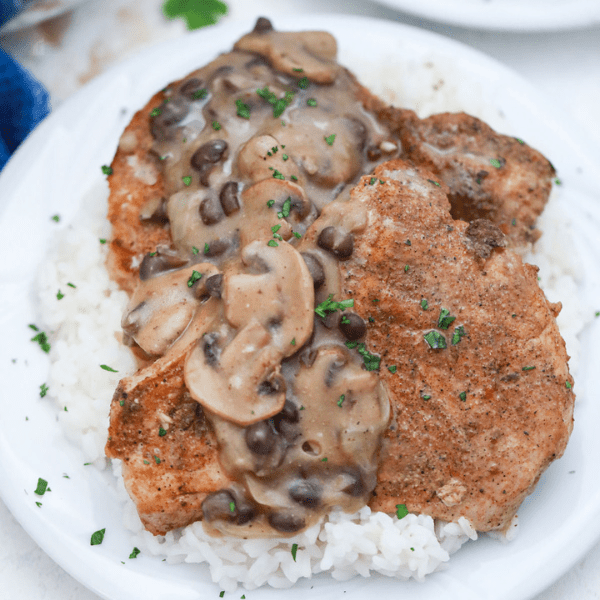 How to serve:
So, what should you serve with your crockpot pork chops? We've got a few ideas.
Potatoes and carrots: One delicious option is to pair your pork chops with roasted potatoes and carrots. This hearty dish is perfect for a winter night. Another great option is mashed potatoes. This classic side dish goes well with just about anything. Finally, if you're looking for something lighter, try serving your pork chops with a simple green salad.
Baked cinnamon apples: Try this sweet and delectable side dish with pork chops! You can bake apples in cinnamon until they are soft and golden brown to make the most of your extra apples.
Jalapeno cornbread: This is a tasty side dish for your pork chop. To bring out the bread's inherent sweetness, spread honey butter on your slice. It's a great addition to many recipes because of its sweetness and spiciness.
Cheese rolls: Pork chops with soft, buttery cheese buns make a wonderfully full and delectable evening meal. Once you've tasted something, there is no turning back. To make cheese rolls, start with handmade soft roll dough and gooey cheese.
Steamed cauliflower: Cauliflower is a highly nutritious vegetable with several health benefits. Due to its low-calorie content and simplicity in incorporating into your diet, it works with most meal plans. Pork chops are a simple, delectable, and healthful side dish to have with them.
Creamed kale: Try a luxurious side of creamy kale for a special dinner at home or a holiday feast. It is easy to make and only needs a few staple components. Pork chops go perfectly with this dish.
Frequently asked questions
Can you put raw pork in a slow cooker?
The answer is yes! You can put raw pork in a slow cooker. In fact, it's one of the best meats to cook in a slow cooker because it's so versatile. Pork chop, for instance, can be cooked in a slow cooker with just about any vegetables and sauce you like.
Pork shoulder is another great cut of pork to cook in a slow cooker. It's a tough cut of meat that benefits from the long, slow cooking process. Once it's cooked, it will be fall-apart tender and full of flavor.
So if you're looking for an easy and delicious way to cook pork, don't forget the slow cooker!
Should you brown pork chops before slow cooking?
Browning the meat before slow cooking adds another level of flavor to the dish. When the pork chops are browned, they create a crust outside of the meat that helps lock in the juices. This crust also helps to create a barrier between the meat and the liquid in the slow cooker so that the pork chops don't become overcooked and dry.
If you're short on time, you can skip the browning step and still end up with juicy and flavorful pork chops.
Can you overcook pork chops in a slow cooker?
It's easy to overcook pork chops in a slow cooker. The high heat can cause the meat to dry out, making it tough and chewy. But if you cook them on low for just the right amount of time, they'll be juicy and delicious. Follow these tips to get perfectly cooked pork chops every time.
To avoid overcooking, start by browning the pork chops on the stovetop. This will help seal in their juices so they don't dry out during cooking. Then, add them to the slow cooker along with some liquid (like chicken broth or water), cover, and cook on low for 4-6 hours.
When the pork chops are done cooking, they should be tender and juicy. If they're dry or tough, that means you overcooked them.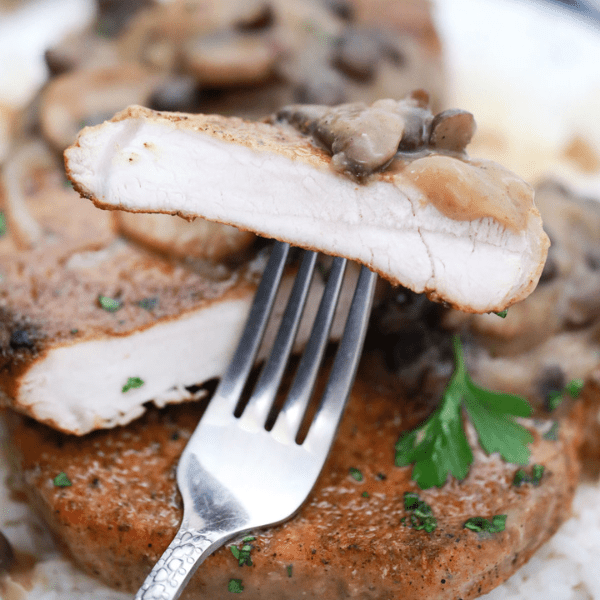 What is the secret to tender pork chops?
For tender and juicy pork chops, start by marinating them in a mixture of your favorite herbs and spices. Then, cook them slowly over low heat until they are cooked through. Do not overcook the pork chops, or they will become dry and tough.
If you are looking for flavor, try pan-frying your pork chops. Season the chops with salt, pepper, and any other seasonings you like before cooking them in a hot skillet. Pan-frying will give the pork chops a nice crispy exterior while still keeping them moist on the inside.
How to store leftovers:
Some easy ways to store your leftover pork chops from the crockpot. Store the cooked pork chops in shallow airtight containers in the refrigerator to extend their shelf life for quality and safety, or they can be securely wrapped in heavy-duty aluminum foil or plastic wrap. Cooked pork chops will keep in the fridge for 3 to 4 days if properly refrigerated.
If you have any pork chops that are only partially cooked, you can store them whole in the fridge for up to three days. When you're ready to eat them, just finish cooking them in the crockpot on low until they reach an internal temperature of 145 degrees Fahrenheit.
Recipe tips:
Here are a few tips to make sure your pork chops turn out perfectly:
Season the pork chops with salt and pepper before cooking. This will help to flavor the meat.
Place the pork chops in the crockpot with the bone side down. This will help to keep the meat moist during cooking.
Let the pork chops rest for 5 minutes before serving. This will allow the juices to redistribute, making for a juicier and more flavorful chop.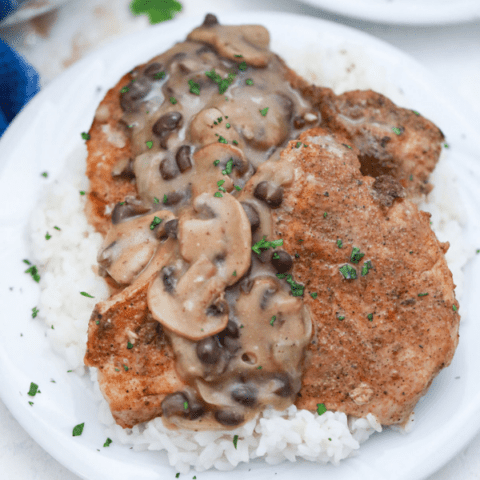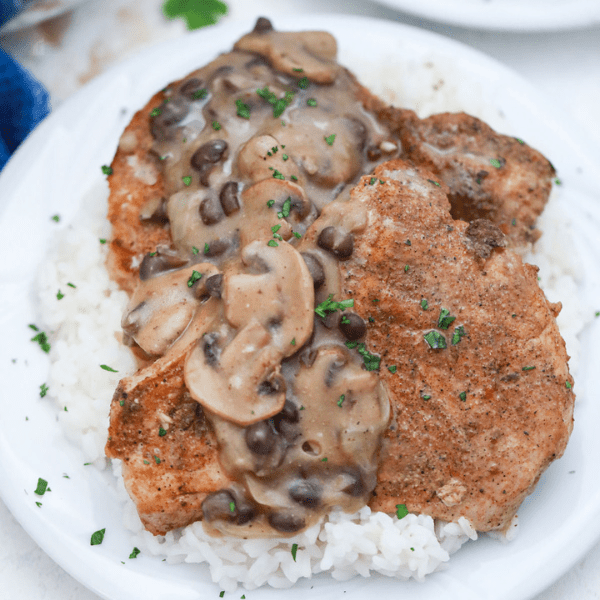 Crock Pot Pork Chop Recipe
Cook Time:
2 hours
15 minutes
Total Time:
2 hours
45 minutes
Making pork chops in the crockpot is an easy, low-maintenance way to cook a delicious meal. This recipe for Crockpot Pork Chops with Gravy is simple but flavorful.
Plus, the gravy makes a great accompaniment to mashed potatoes or rice.
So give this recipe a try the next time you need something quick and easy!
Ingredients
4 thick cut pork chops (at least 1 inch thick, bone-in)
Seasoning:
1 teaspoon garlic powder
1 teaspoon onion powder
1 teaspoon dried oregano
1 teaspoon paprika
2 teaspoons taco seasoning
½ teaspoon salt
¼ teaspoon black pepper
Other ingredients:
1 tablespoon unsalted butter
1 tablespoon olive oil
1 medium yellow onion (sliced)
8 ounces mushrooms (crimini or white, sliced)
1 can black beans, rinsed and drained
4 cloves garlic, minced
1 teaspoon cumin
¼ cup all-purpose flour
1 ¾ cups low sodium chicken broth
1 tablespoon cornstarch, optional for the gravy
Instructions
Combine seasoning ingredients in a small bowl.
Pat dry the pork chops and arrange them on a cutting board. Rub the seasoning mix over both sides of the pork chops.
Place a large skillet over medium-high heat and add the butter and olive oil, heat until the butter is melted.
Add the pork chops and brown on both sides, for about 2 minutes, until lightly browned. Remove pork chops from the pan and set them aside on a plate.
Add the onion, black beans, cumin, and mushrooms to the skillet. Cook stirring often, for about 5 minutes. Add the garlic and cook, stirring for 30 seconds.
Stir in the flour followed by the chicken broth. Cook, stirring until the broth simmers and starts to thicken. Remove the pan from the heat.
Transfer the contents of the skillet to the slow cooker and arrange the pork chops on top.
Cover and cook on low for 2 to 3 hours. Pork chops are done when they reach an internal temperature of at least 145° F. Do NOT over-cook, as that will make them dry.
Once done cooking, remove the pork chops to a plate and cover with foil.
Turn the slow cooker to high, and in a small bowl, whisk 1 tablespoon cornstarch and 1 tablespoon water. Add the mixture to the slow cooker and stir. Cook on high for 15-20 minutes,, until the gravy thickens.
Taste and adjust for salt and pepper.
Serve pork chops with the gravy and some rice on the side.
Garnish with fresh cilantro.

Recommended Products
As an Amazon Associate and member of other affiliate programs, I earn from qualifying purchases.
Nutrition Information:
Yield:

4
Serving Size:

1
Amount Per Serving:
Calories:

585
Total Fat:

26g
Saturated Fat:

8g
Trans Fat:

0g
Unsaturated Fat:

14g
Cholesterol:

140mg
Sodium:

954mg
Carbohydrates:

37g
Fiber:

10g
Sugar:

3g
Protein:

52g
These nutritional calculations might not be accurate. Please speak with a licensed nutritionist to assist you.