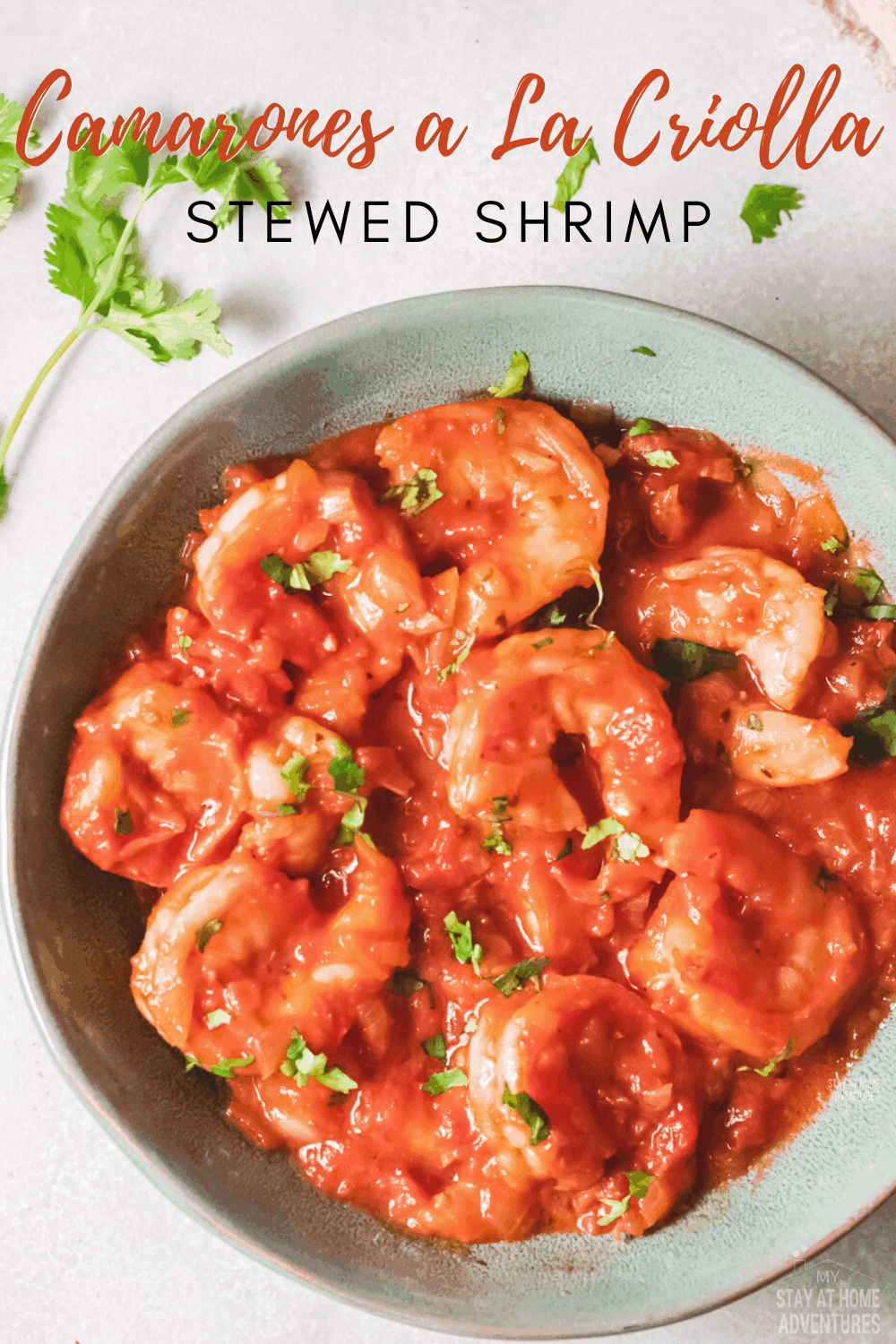 Camarones a la Criolla or Shrimp stewed is a favorite dish in Puerto Rican and many Latin countries, its full of flavor you serve over rice.
What is camarones a la criolla?
Camarones a la criolla is a shrimp stew. There are lots of wonderful spices used to make this a flavorful dish that you'll want to add to your weekly menu.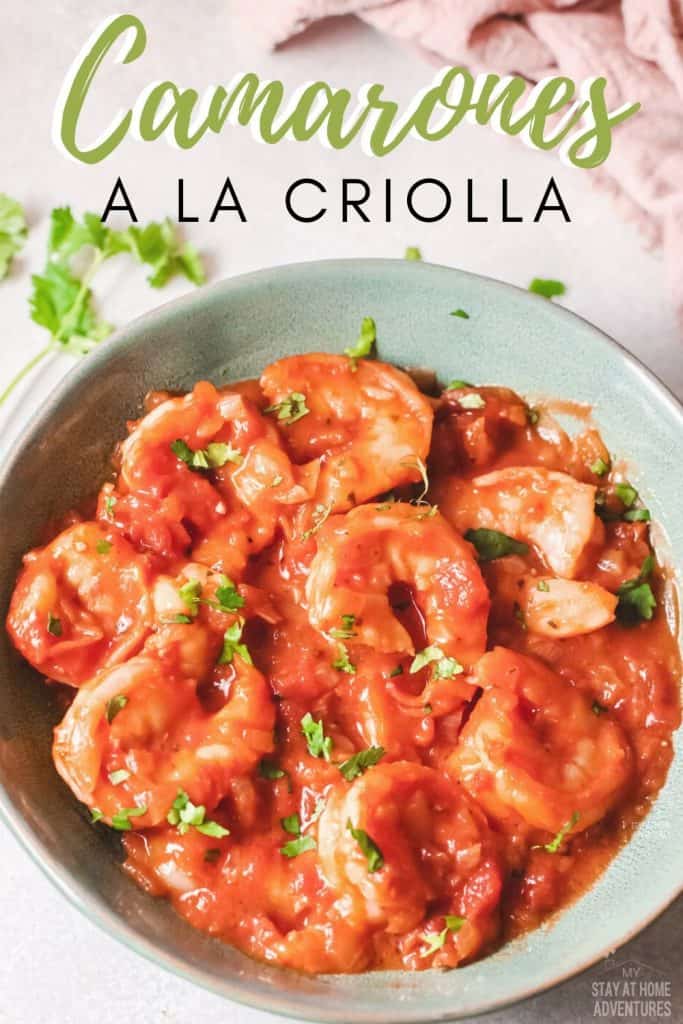 What do you serve with camarones a la criolla?
This shrimp stew is delightful served over rice, but you could also serve it over paste, if you prefer. Mashed plantains can also be served on the side to help round out the meal.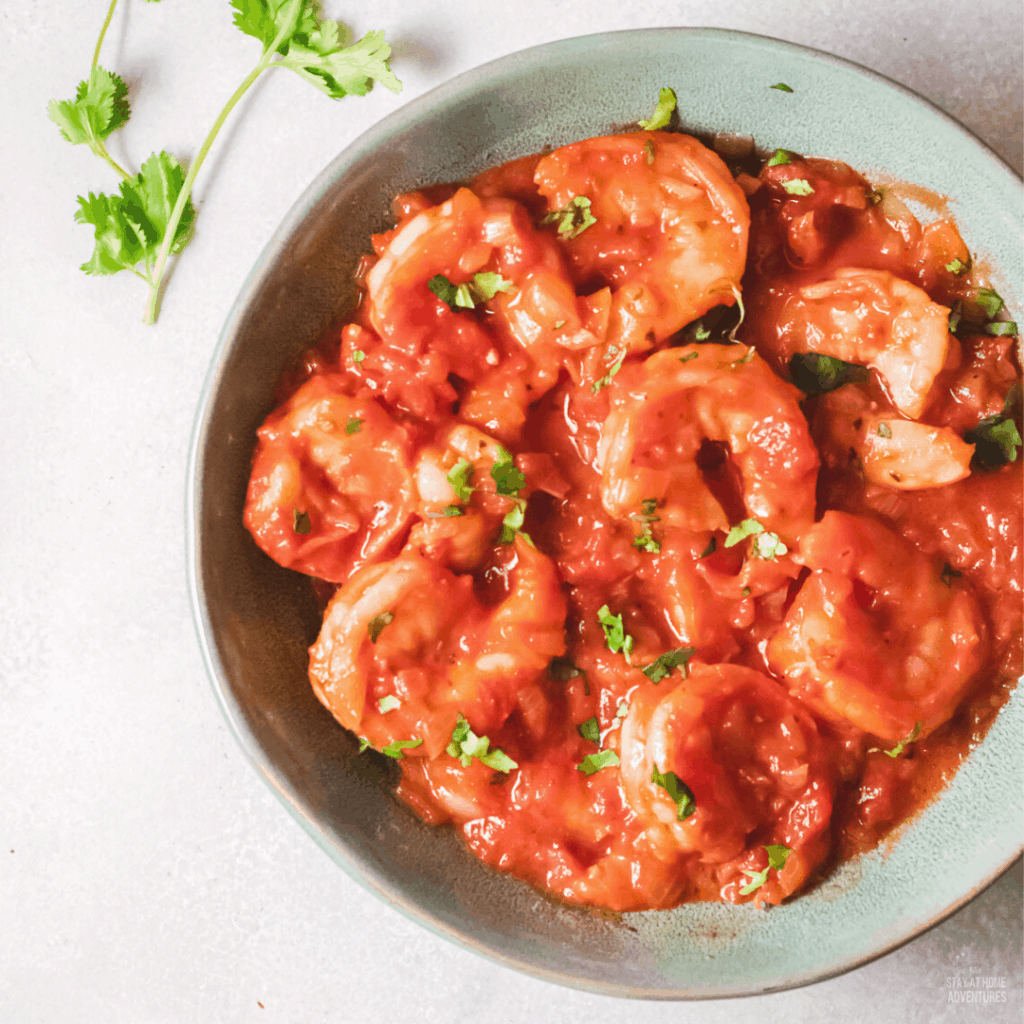 Is camarones a la criolla spicy?
If you mean hot, no. The dish does have lots of ingredients that add delicious flavor. It's extremely flavorful but is not a hot spicy dish.
You might like these recipes:
What are the ingredients to make camarones a la criolla?
To makes this shrimp stew recipe you are going to need the following ingredients:
Olive oil
Shrimp
Onion
Garlic
Red pepper
Sweet chili pepper
Crushed tomatoes
Fish stock
Cumin
Salt and pepper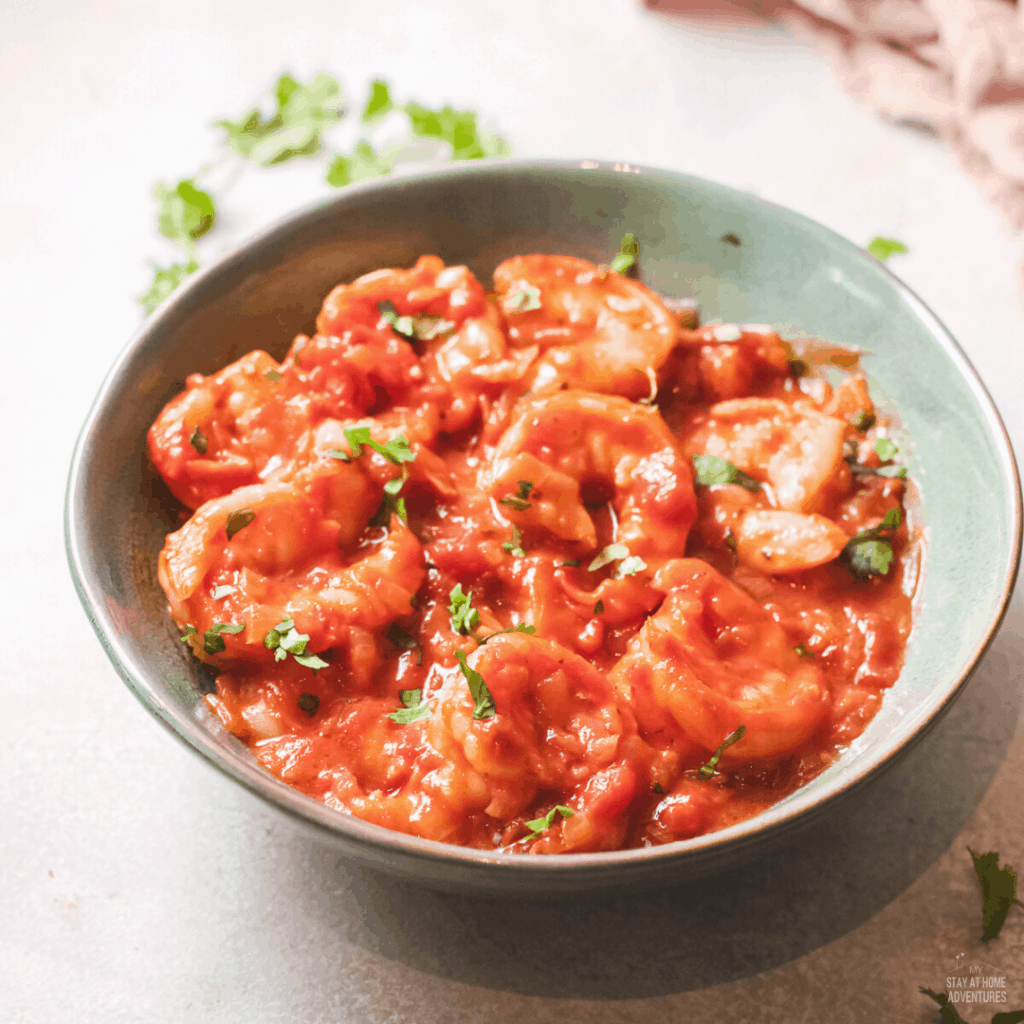 How to make camarones a la criolla
Now that you have gathered your ingredients it is time to make this flavorful shrimp stew. All you have to do is follow the steps below:
The first step is to saute the shrimp in the olive oil for roughly 2 minutes per side. Once the shrimp is cooked, remove from the pot and set aside.
Add the onion to the pot you used to cook the shrimp and saute until translucent. Next add the garlic, red pepper, and the sweet chili pepper (if you want to use it). Continue sautéing for an additional 5 minutes.
Next add the tomatoes and cook for an additional 2 minutes. Add the fish stock and seasonings. Simmer until the sauce reduces.
Once reduced, add the shrimp back to the sauce and cook for around 3 minutes.
Serve over rice or pasta and top with fresh cilantro.
Your camarones a la criolla is ready to serve!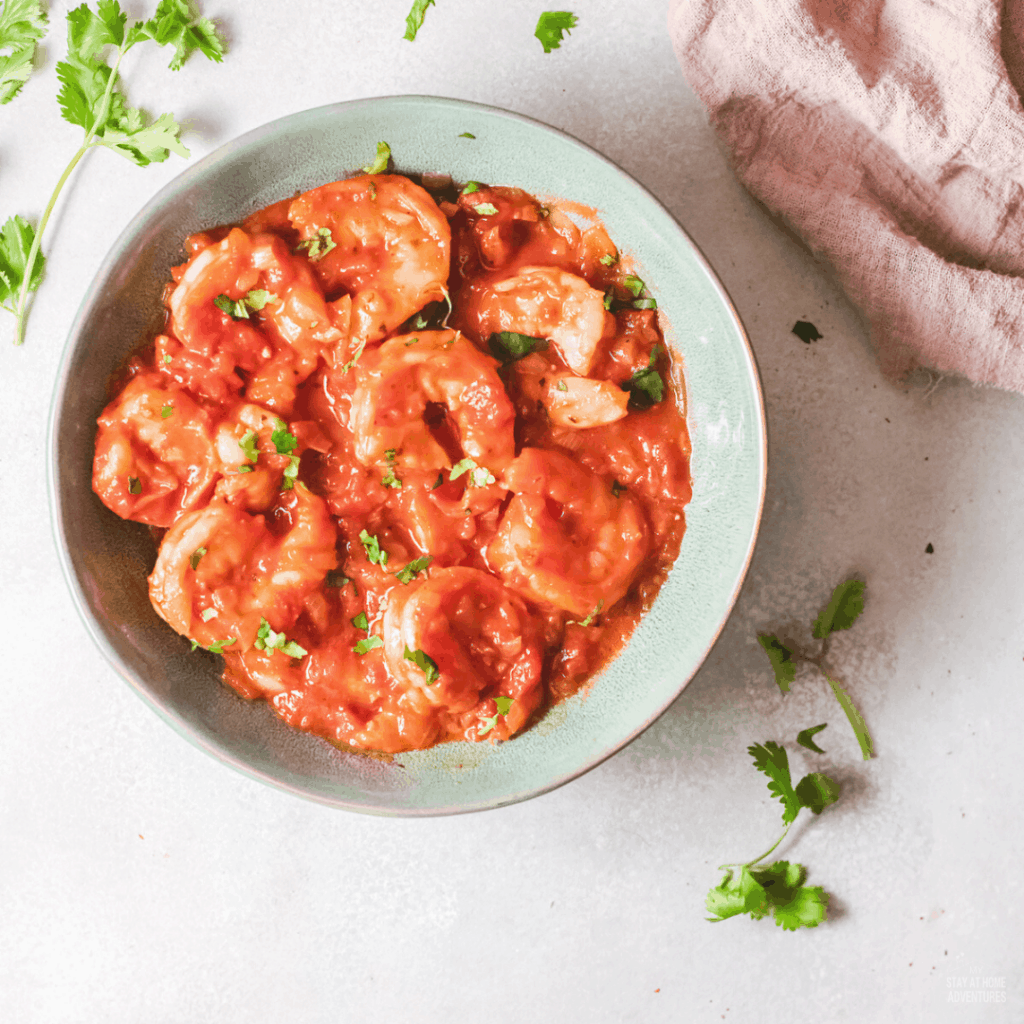 Camarones a la Criolla Recipe
Now that you know everything you need to know about how to make shrimp stew it is time to print the recipe.
To print the recipe, click the print button below. Want to save this recipe for later? All you have to do is use the share button to Pin it for later, Mix it or add it to your Yummly account.
Camarones a la Criolla Recipe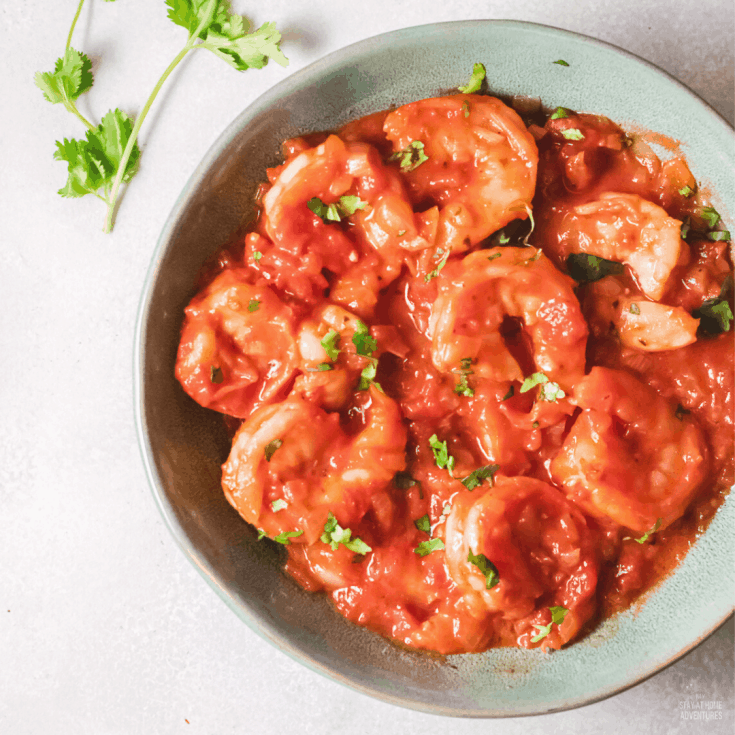 Delicious and oh so flavorful Camarones a la Criolla or stewed Shrimp made with red peppers, chili peppers, and more.
Ingredients
3 Tbsp olive oil
1 Pound shrimp
1 Onion, chopped
1 Garlic clove, minced
1 Red pepper, chopped
1 Sweet chili pepper (optional)
1/2 cup crushed tomatoes
1/2 cup fish stock
1/4 Tsp cumin
Salt and pepper to taste
Instructions
Heat the olive oil in a saucepan over medium heat. Cook the shrimp for around 2 minutes per side. Until slightly golden and done. Transfer to a plated and set aside.
Add the onion to the same pan and cook until translucent, add the garlic, red pepper and the sweet chili pepper if using it. Sauté for 5 minutes.
Add the tomatoes and cook for 2 more minutes. Pour the fish stock, cumin and salt and pepper and bring it to a simmer until reduced.
Add the shrimp and cook, stirring constantly for around 3 more minutes.
Serve topped with chopped cilantro.
Nutrition Information:
Yield:
6
Serving Size:
1
Amount Per Serving:
Calories:

176
Total Fat:

8g
Saturated Fat:

1g
Trans Fat:

0g
Unsaturated Fat:

7g
Cholesterol:

160mg
Sodium:

835mg
Carbohydrates:

6g
Fiber:

1g
Sugar:

3g
Protein:

19g
These nutritional calculations might not be accurate. Please speak with a licensed nutritionist to assist you.
The following two tabs change content below.
Latina mom of 4 married to wonderful Greek gentleman. Living in southeast PA and trying to juggle family and a household while trying to earn an income from home. Follow my stay at home journey as I discover how to earn money and save money so we can continue to live debt-free.
Latest posts by Joyce @ My Stay At Home Adventures (see all)