Social Distancing at Pools and Beaches
This post may contain affiliate links which might earn us money. Please read my Disclosure and Privacy policies here
You are going to learn what are the best practices when it comes to social distancing at pools and beaches.
Let's be real, this is not going anywhere and with the increasing in cases it is important to follow steps to keep you and other healthy this summer.
Many beaches and pools are opening up and it is your responsibility to visit and enjoy yourself with the rules and restrictions provided.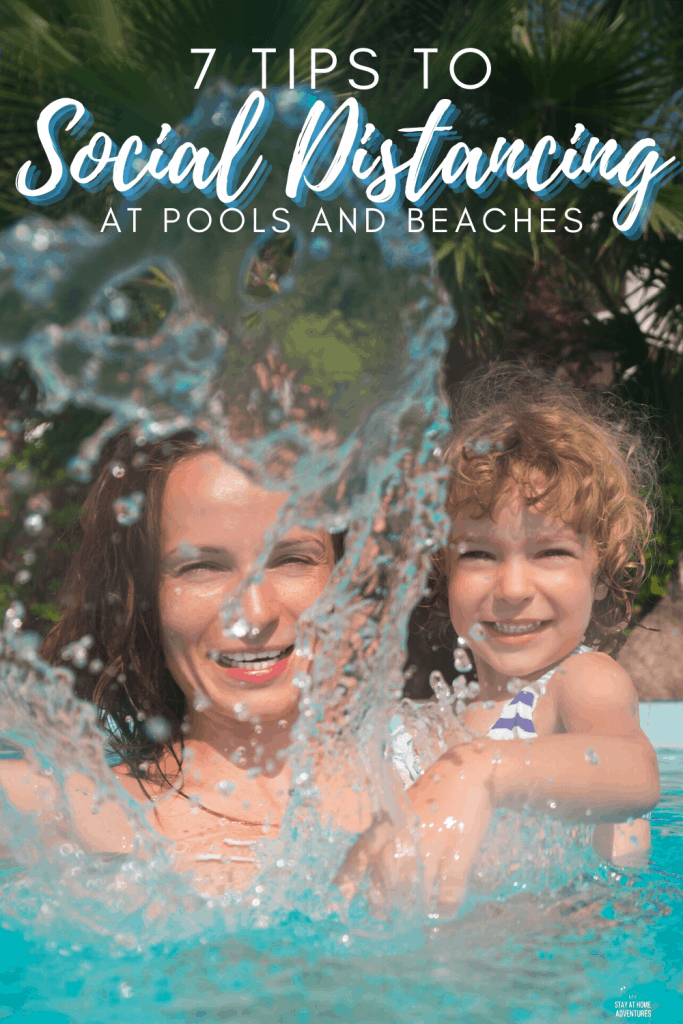 Social Distancing at Pools and Beaches
Social distancing is going to make summer a bit awkward. While some areas have opened up, there are others that have many restrictions in place.
Pools and beaches are no exception. If you're lucky enough to live in an area where the pools and beaches have opened, there are some things you'll need to keep in mind.
Let's take a closer look at social distancing at pools and beaches.
What does the CDC have to say about social distancing at pools?
The CDC recommends staying at least 6 feet apart from other swimmers who you don't live with in the water AND in the area around the pool.
They also recommend cloth face masks be worn, but not in the pool. It is also recommended that hands be washed and sanitized regularly.
Depending your state and locality, each restriction varies. For us, our pool will only be for members only and no day passes at all.
No food or beverages will be sold and no tables and chairs will be provided. Face masks must be in place when entering the pool and social distance when it comes to staff and other families.
7 Tips To Social Distancing at Pools and Beaches
Is pool water safe?
The CDC claims that there is no evidence that COVID-19 can be spread through pool or hot tub water.
What's the deal with the 6 feet rule?
According to the CDC viruses are spread among those who are within 6 feet of each other for prolonged periods.
Limiting your distance to others and limiting your time around them can make a big difference in whether or not you'll contract the virus.
Reserve Your Spot
Many pools are requiring you to lock in your spot. This means that you'll contact the pool manager and reserve a time slot.
This is to allow a certain amount of people and allow social distance in the pool area.
This isn't exactly what summer is all about. Who wants to make reservations at the pool?
Schedule your time carefully and be mindful of those waiting for their turn. Space will be limited. Don't wait until the last minute to make reservations.
Wear Masks Around the Pool Area and Beach But NOT in the Water
Most places are requiring the public to wear cloth masks around the pool area and on the shore.
Do NOT wear masks into the water. Once wet, the masks can make it difficult to breathe.
You might also want to consider wearing plenty of sunscreens to avoid tan lines from the mask. That's not a look anyone wants.
Avoid Large Groups
When going to the beach, you want to avoid large groups. Choose an area away from others so that you're not crowded together.
In most areas, it is recommended that people be in groups of 10 or smaller. Arrive early so that you can select a good spot without having to walk far from the parking area.
Related posts:
Wash and Sanitize
You want to wash and sanitize your hands multiple times per day while out in public, even when you're at the pool or beach.
When you get home, change out of your clothes and wash them. If you're used to going to the beach or pool daily, you might not have washed your suit daily, but this is necessary to help prevent the spread of germs.
Read and Follow the Rules
Last, but not least, you want to read all the rules posted at your local pool and beach. Each area will be different depending on the restrictions in place in your area.
You might want to do online research to see what the rules are before heading out to help prevent any frustrations.
Social distancing at pools and beaches is something people aren't used to. Summertime usually means crowded pools and beaches, but social distancing guidelines will make this summer much different.
Be aware of what restrictions are in place as well as what's expected at your local pools and beaches.