Asopao De Pollo
This post may contain affiliate links which might earn us money. Please read my Disclosure and Privacy policies here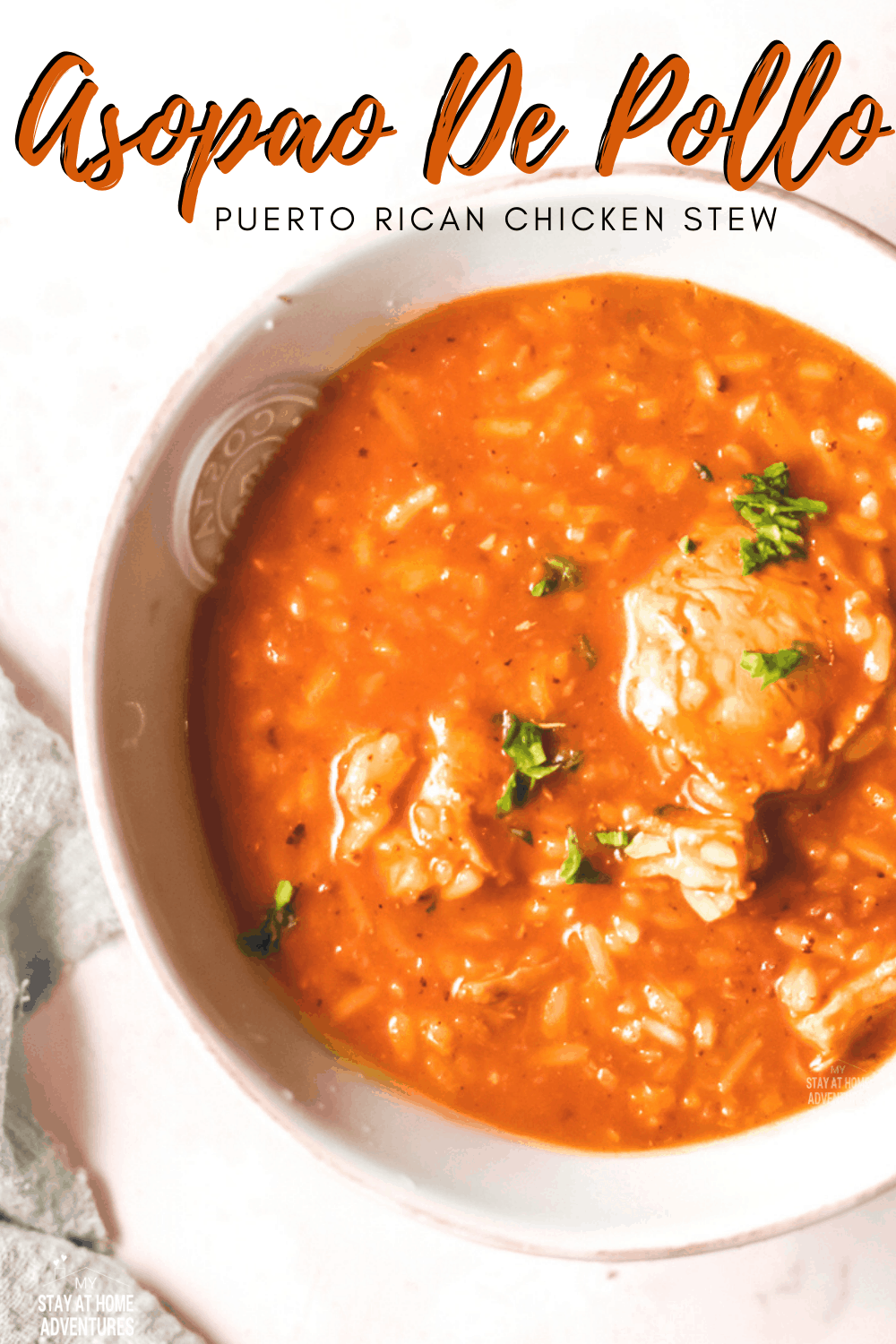 This asopao de pollo is a filling meal. Super delicious and incredibly satisfying!
What is asopao de pollo?
To understand the dish asopao de pollo, you must first know what paella is. Paella is a Spanish rice dish that is loaded with shrimp, mussels, clams, and chicken. But, it is most known for the addition of Saffron, a very expensive spice.
Now, asopao de pollo is often referred to as a cross between paella and soup. It also sometimes called chicken rice gumbo. The dish has rice, chicken, and LOTS of flavor.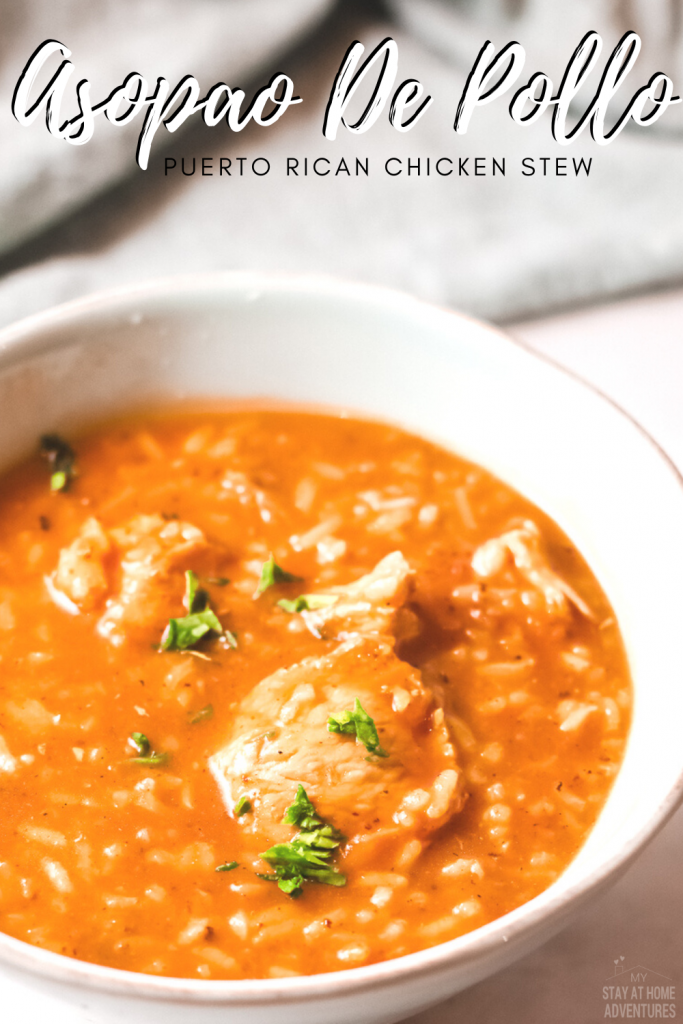 Can you add rice to gumbo?
Gumbo is traditionally served over rice. However, with this chicken rice gumbo, the rice is cooked in the flavorful sauce.
What is the best rice for gumbo?
White rice is the traditional rice to use for gumbo. You can also use cooked white rice and add it toward the ends and this will cut the recipe shorter.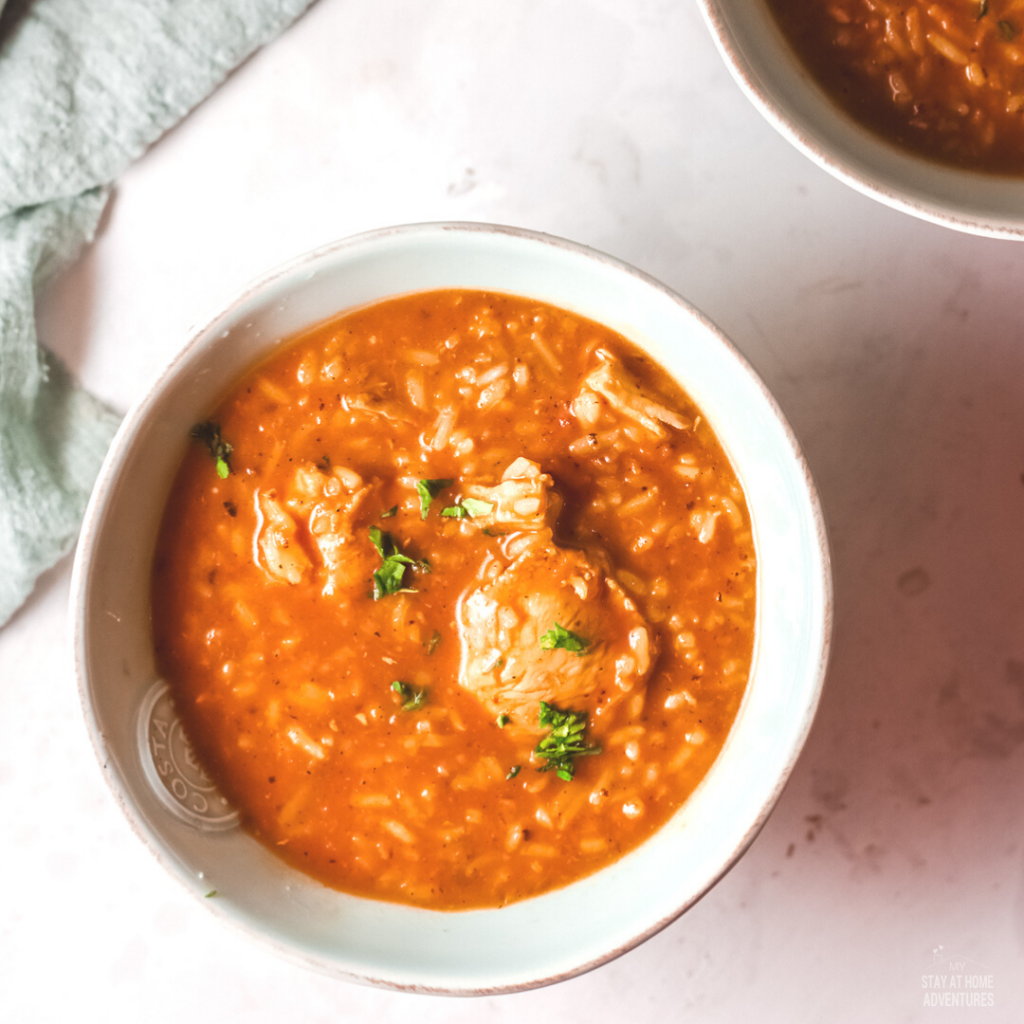 What goes good with chicken gumbo?
This is a one-dish meal, but you could pair it with crusty bread or a salad if you wanted. You can also serve with tostones.
What are good side dishes for gumbo?
Again, this is a one-dish meal. You can serve with a side of bread or a salad, but it's really not needed. That's one of the best things about this recipe.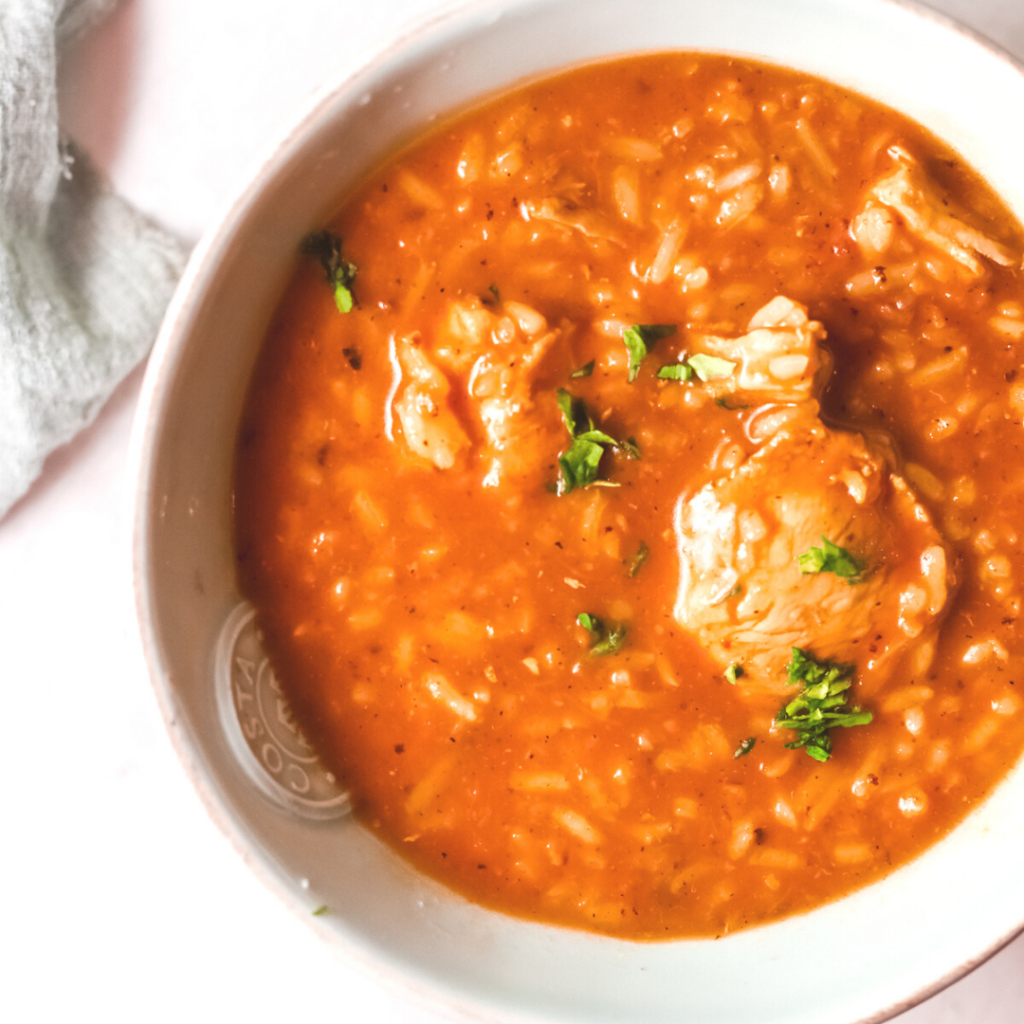 What are the ingredients to make asopao de pollo?
To makes this chicken rice gumbo you are going to need the following ingredients:
Olive oil
Onion
Garlic cloves
Chicken breasts
Orange juice
Brown sugar
Bell pepper
Puerto Rican Pumpkin (Winter squash)
Tomato sauce
Rice
Cumin
Onion powder
Paprika
Stock
Salt and pepper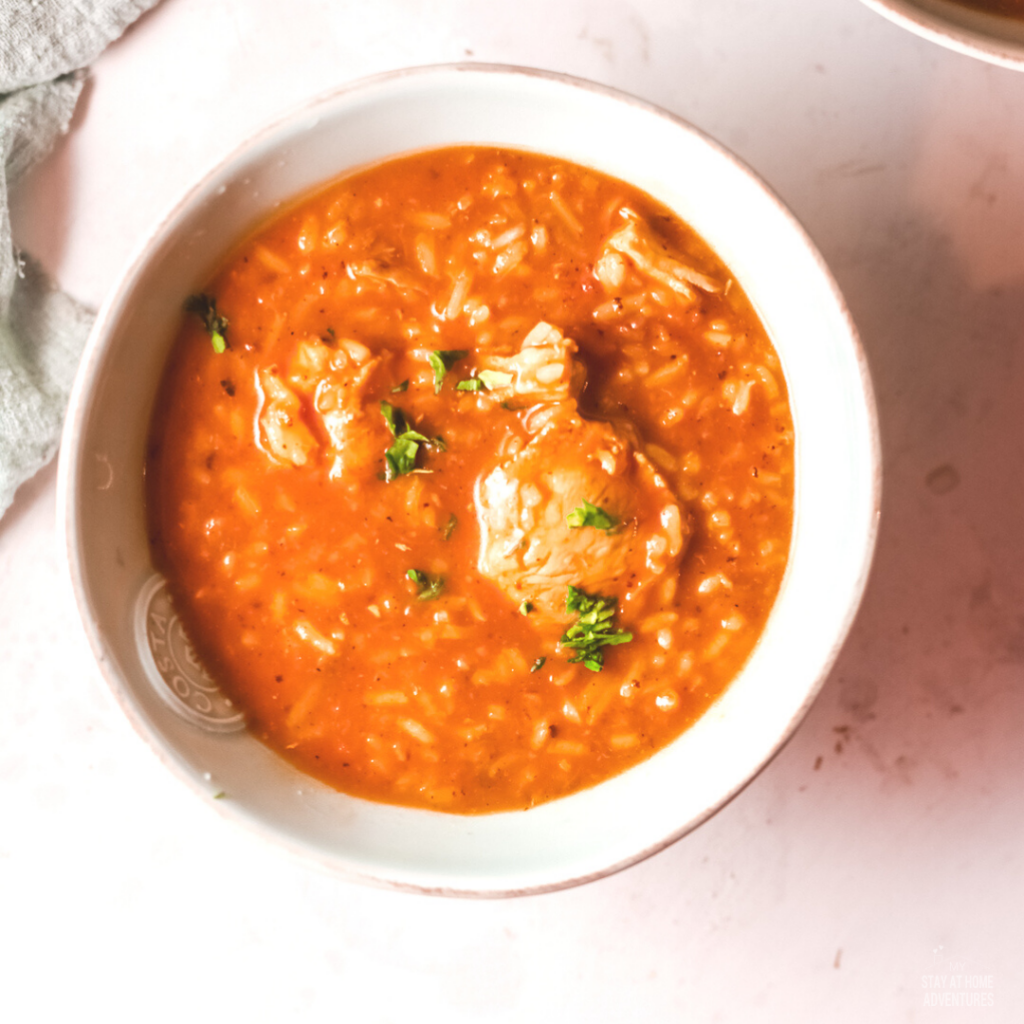 How to make asopao de pollo
Now that you have gathered your ingredients it is time to make chicken rice gumbo. All you have to do is follow the steps below:
The first step is to heat the oil in a stock pot and cook your onions and garlic until transparent.
Next, add the chicken and cook for 2 to 3 minutes until the outside is browned, this step helps keep the chicken juicy as the dish cooks.
Stir in the orange juice and spices until well combined. You can then add the bell pepper and pumpkin.
Keep stirring for another 2 minutes before adding the rice. The rice should cook for 3 minutes until it becomes translucent. You can then add the stock and tomato sauce.
Cover and cook over medium heat for 25 minutes or until the rice is done.
Your asopao de pollo is ready to serve!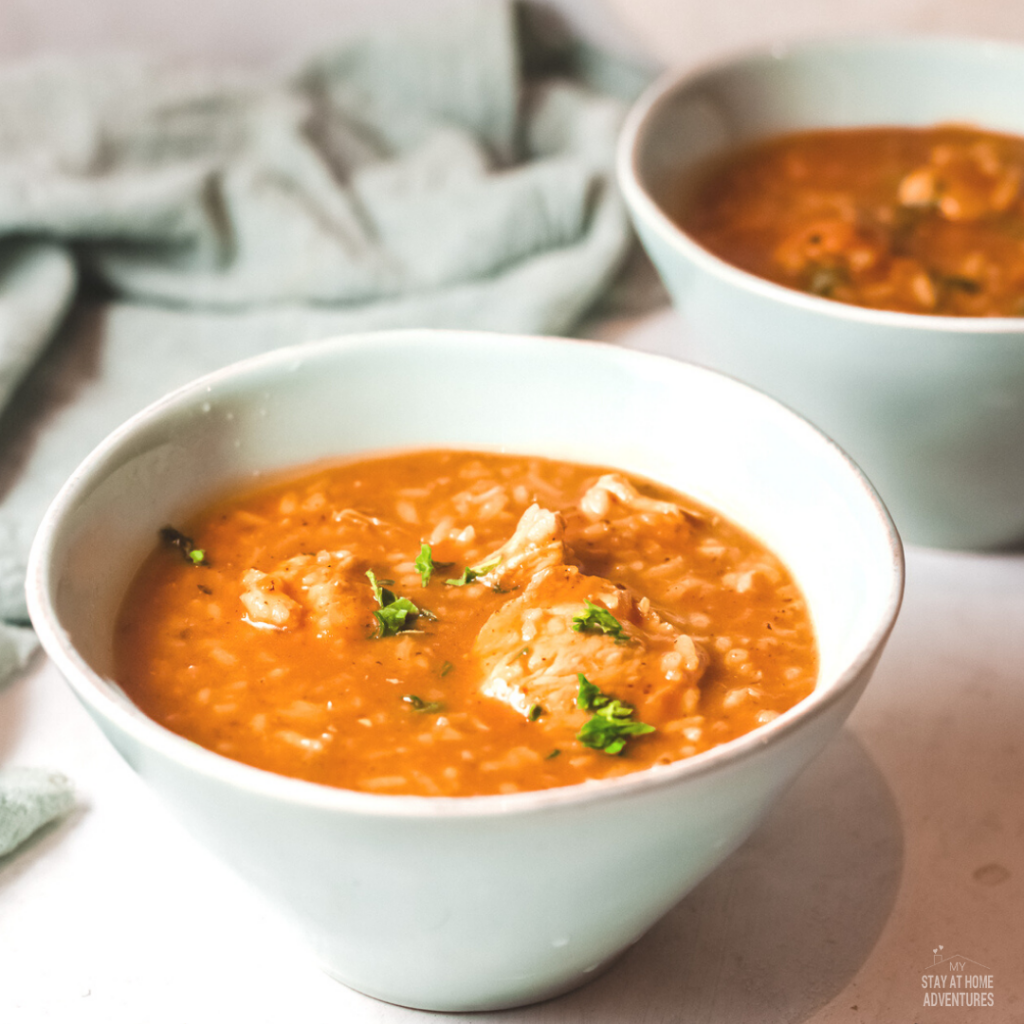 Check out how to make Asopao de Pollo another way. The video below will show another way to make it.
Asopao de Pollo Recipe
Now that you know everything you need to know about how to make chicken rice gumbo it is time to print the recipe.
To print the recipe, click the print button below. Want to save this recipe for later? All you have to do is use the share button to Pin it for later, Mix it or add it to your Yummly account.
I also love the fact you can use leftover rice. It's cooked from scratch in this recipe, but you can reduce cooking time if using some leftover rice.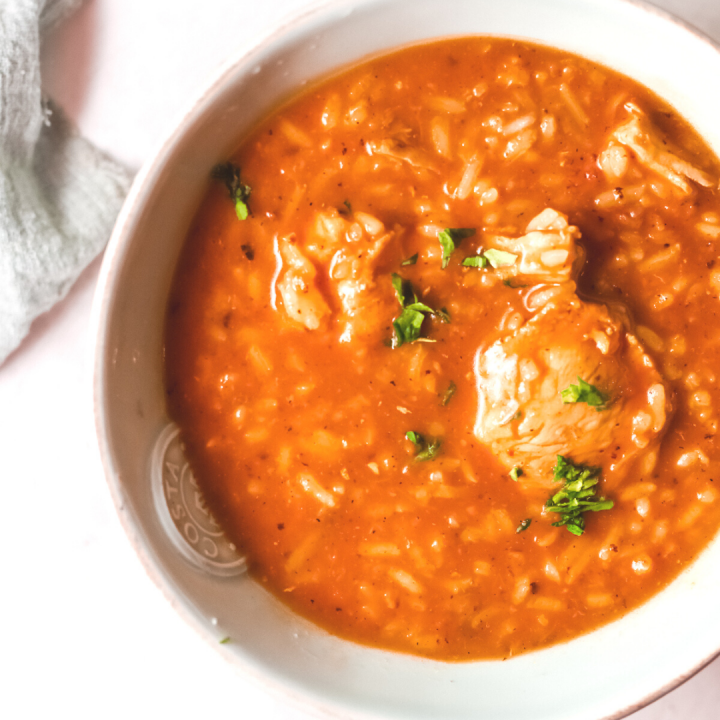 Asopao de Pollo Recipe
Delicious homemade chicken stew that remind you of home.
Ingredients
2 Tbsp olive oil
1 Onion, chopped
2 Garlic cloves, minced
3 Chicken breasts, diced
3 Tbsp orange juice
1 Tbsp brown sugar
1 Red bell pepper, chopped
1 Cup pumpkin, diced
1 Cup tomato sauce
2 Cups rice
1 Tsp cumin
1 Tsp onion powder
1 Tsp paprika
8 Cups stock
Salt and pepper to taste
Instructions
Heat the olive oil in a large pot over medium heat. Add the onion and cook until translucent, add the garlic and cook for 1 more minute.
Add the chicken breast and cook for 2 minutes per side, until cooked on the outside but still raw inside.
Add the orange juice, brown sugar, cumin, onion powder, paprika and salt, and pepper, and stir.
Add the bell pepper and the pumpkin and cook for 2 minutes, stirring constantly.
Add the rice and cook for 3 minutes, the rice should become slightly transparent.
Add the tomato sauce and the stock and stir.
Cover the pot with a lid and cook for 25 minutes or until the rice is done. Remove from heat and rectify flavors.
Nutrition Information:
Yield:

8
Serving Size:

1
Amount Per Serving:
Calories:

276
Total Fat:

8g
Saturated Fat:

2g
Trans Fat:

0g
Unsaturated Fat:

6g
Cholesterol:

45mg
Sodium:

561mg
Carbohydrates:

28g
Fiber:

2g
Sugar:

9g
Protein:

22g
These nutritional calculations might not be accurate. Please speak with a licensed nutritionist to assist you.