Delicious Recipes to Cook This January
This post may contain affiliate links which might earn us money. Please read my Disclosure and Privacy policies here
Depending on where you are living in the USA, the weather may be harsh on you or surprisingly fabulous. For us, it has been surprisingly amazing to the point where we broke record highs during the month of December. As I plan my meals for the month of January, I came across these delicious recipes to cook this January and wanted to share them with you.
We don't know what Mother Nature has in store for us, but I can tell you that I am loving these warm temperatures (and preparing for the worst in January). By looking at my store ads and sales and researching what's in season, I can create some form of plans for the month of January.
What foods are in season in January?
Apples
Beets
Brussels sprouts
Carrot
Cauliflower
Cabbage
Carrots
Celery
Chicory
Cranberries
Clementine
Grapefruit
Kale
Kiwi fruit
Leeks
Lemons
Oranges
Parsnips
Passion fruit
Pears
Pineapple
Pomegranate
Potatoes
Satsumas
Spinach
Winter Squash
Sweet potatoes
Turnips
Swede
Tangerines
Remember that this list varies depending on where you live and the time of the month.
During my research, I found many delicious recipes that I decided to add to some of my menus for the month of January. I also wanted to try adding produces that were in season and are on sale at my local grocery stores.
Delicious Recipes to Cook This January
Slow Cooker Sloppy Joes
Sloppy Joes are so simple to make and a favorite comfort food in our home. There are many ways to create Sloppy Joes, and this Slow Cooker Sloppy Joes recipe gives it a garlicky and a slightly sweet tomatoey taste!
This recipe is from one of my favorite sites called Dishes and Dust Bunnies, and her recipes are just mouth watering!
Crock Pot Beef Stroganoff
I am curious to try this Crock Pot Beef Stroganoff from Parenting Chaos because I admit, I am tired of the same way I make beef stroganoff; this recipe sounds delicious! It is also simple to make, so I can't mess this recipe up.
About this recipe, do not add the egg noodles into the crock pot; this is something I also don't do. I don't like my egg noodles to be mushy; to avoid this, you can just cook them separately to add later.
Old Fashioned Chicken Soup from Scratch (using a Whole Chicken)
We love soup in our home; this Old Fashioned Chicken Soup from Scratch (using a Whole Chicken) from Dishes and Dust Bunnies is homemade. From boiling the entire chicken to using the bones to give it a delicious chicken flavor; this recipe makes it taste proper and so delicious.
Loaded Bacon-Potato Soup With Cheddar and Chives
This is one of my favorite recipes and one that I do at least once a month. Yes, I love soup; I don't care how hot the temperature is outside, I still make it. When we want soup, we want soup. This Loaded Bacon-Potato Soup With Cheddar and Chives from Real Simple is straightforward and delicious, and yes, it has bacon!!
Easy Clementine Preserves
Since starting my garden about 2 years ago, I have started canning and making sauces, and I simply love the entire process. Preserving food is starting to become one of my favorite things to do, and this Easy Clementine Preserves from Imperial Sugar, makes it so easy.
Spinach and Artichoke Dip Stuffed Garlic Bread
I love spinach now; it's funny because I didn't care for it when I was younger (all thanks to Popeye). As I grew and matured, I realized that there were more ways to eat spinach than from a can and I fell in love with spinach later on in my life.
This Spinach and Artichoke Dip Stuffed Garlic Bread from Host The Toast won me over, and add garlic bread… SOLD!
Peppermint Snow Ice Cream
With this recipe, we are going to wait until we get some snow since this winter has started with record high temps. This Peppermint Snow Ice Cream from Glue Sticks and Gum Drops is just what we needed for a family friendly recipe this winter.
In this recipe, you will find other alternative flavors to make snow ice cream; this is fine with us since we all love different flavors.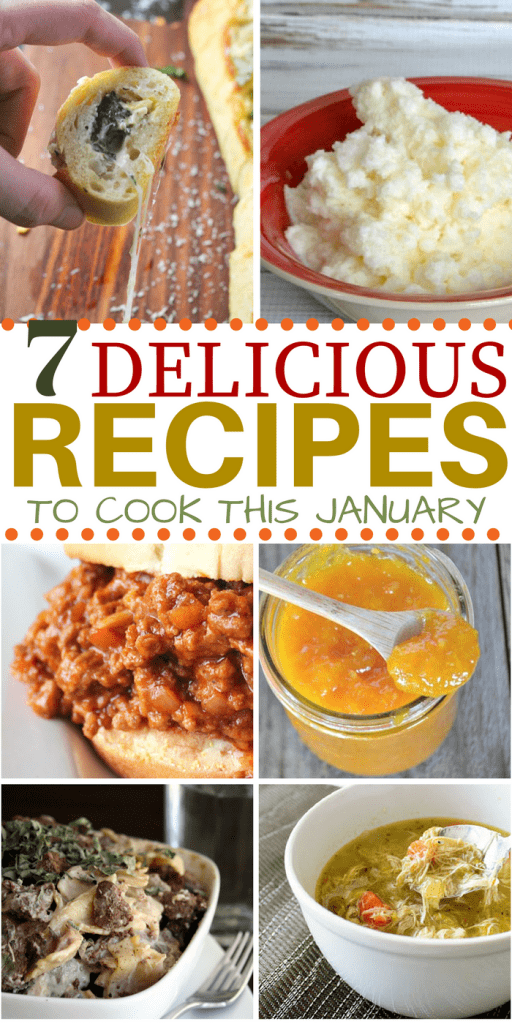 Go ahead and give these amazing recipes a try during the month of January and let me know what you all think. What recipe or recipes do you have planned for January that you want us to give it a try? Please share it with us!