Keto Broccoli Salad Recipe
This post may contain affiliate links which might earn us money. Please read my Disclosure and Privacy policies here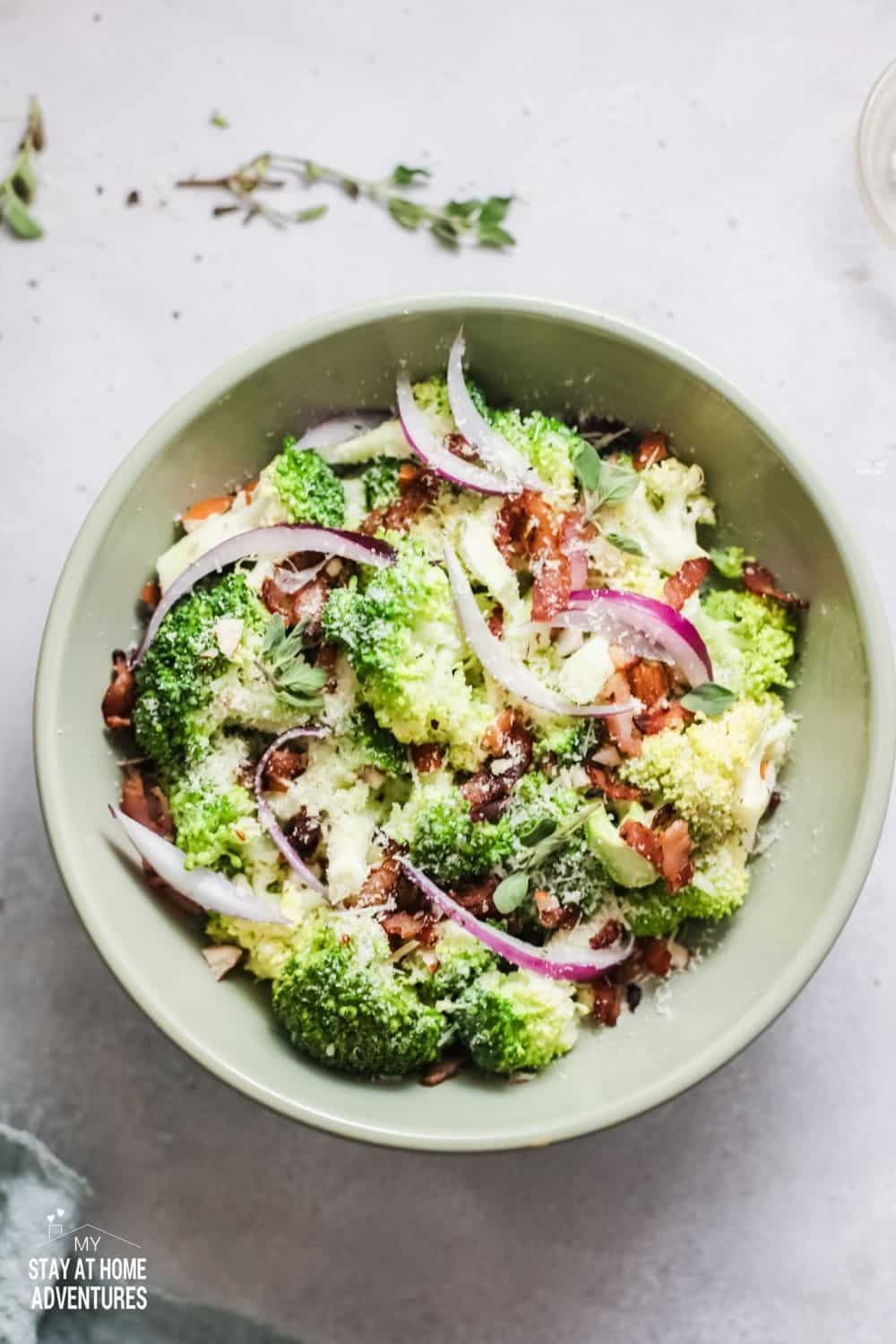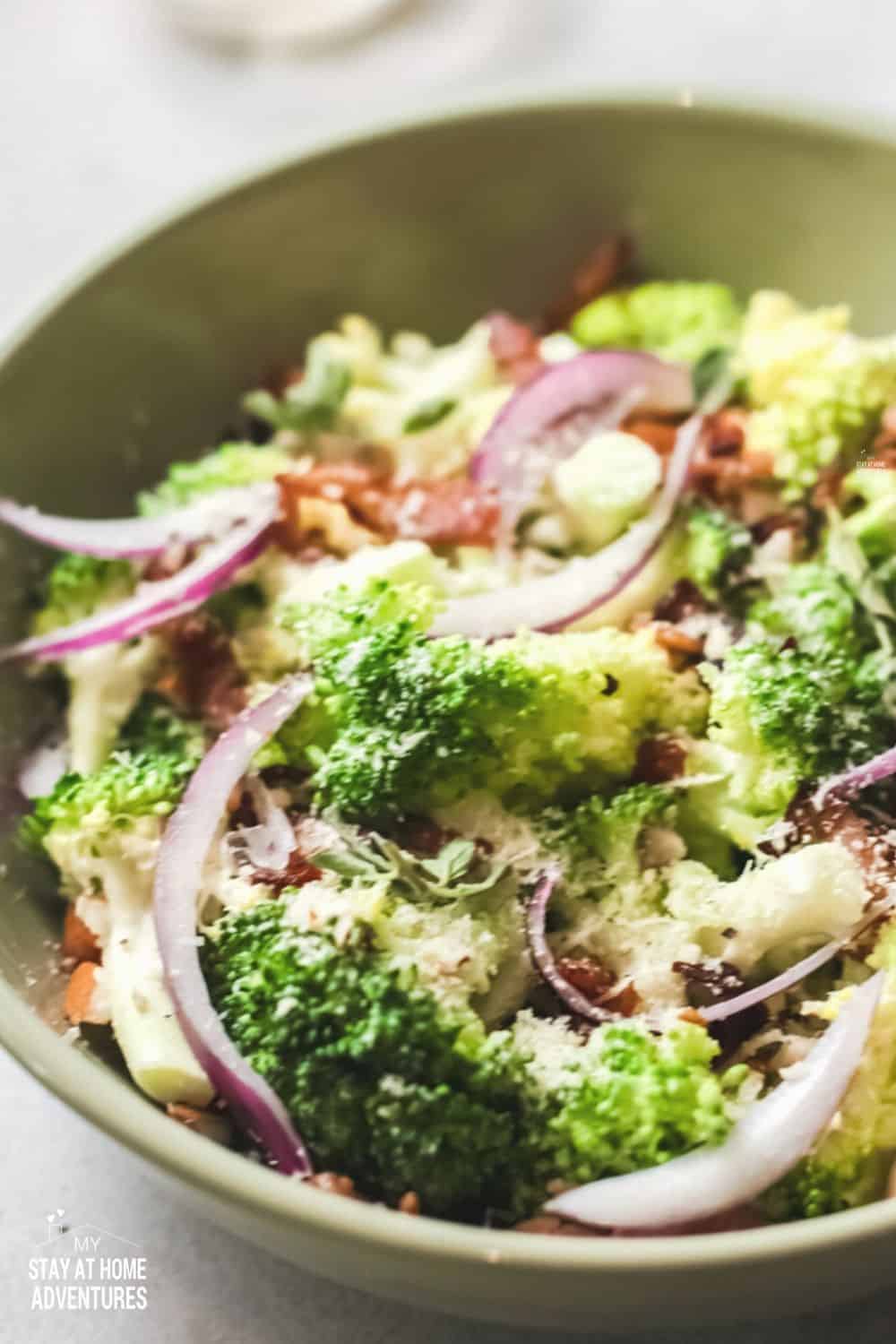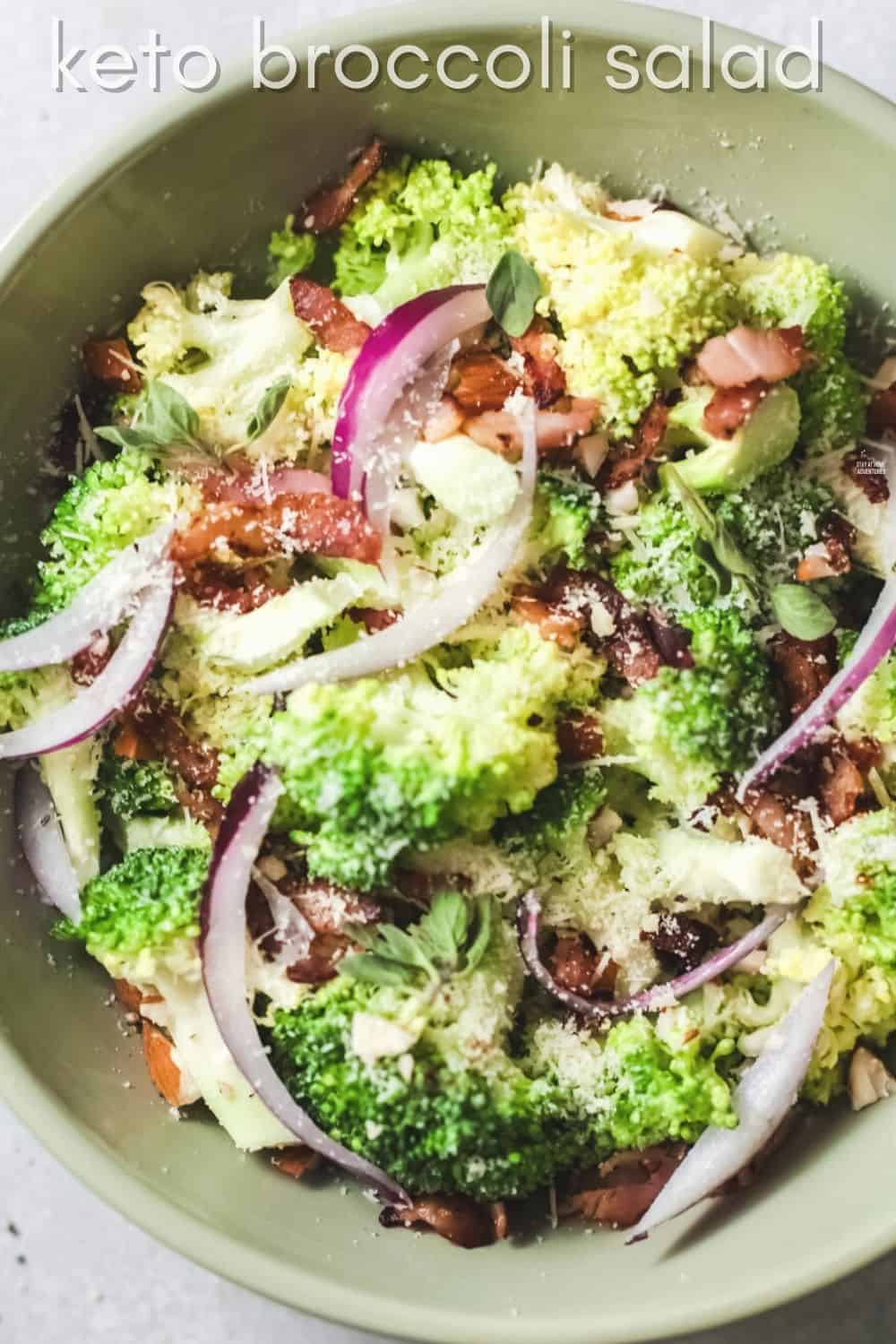 Something healthy, delicious, easy to prepare and fits in the diet, this Keto Broccoli Salad suits perfectly.
Loaded with nutritious ingredients, this salad is a favorite for anyone whether you are on a diet or just into a healthy eating way. Even kids will love this broccoli salad for its appetizing taste.
The dressing is delicious as well and lasts for around 5 days in the refrigerator so you can make a batch to have enough for fast salads during the week. That makes the salad a great meal prep.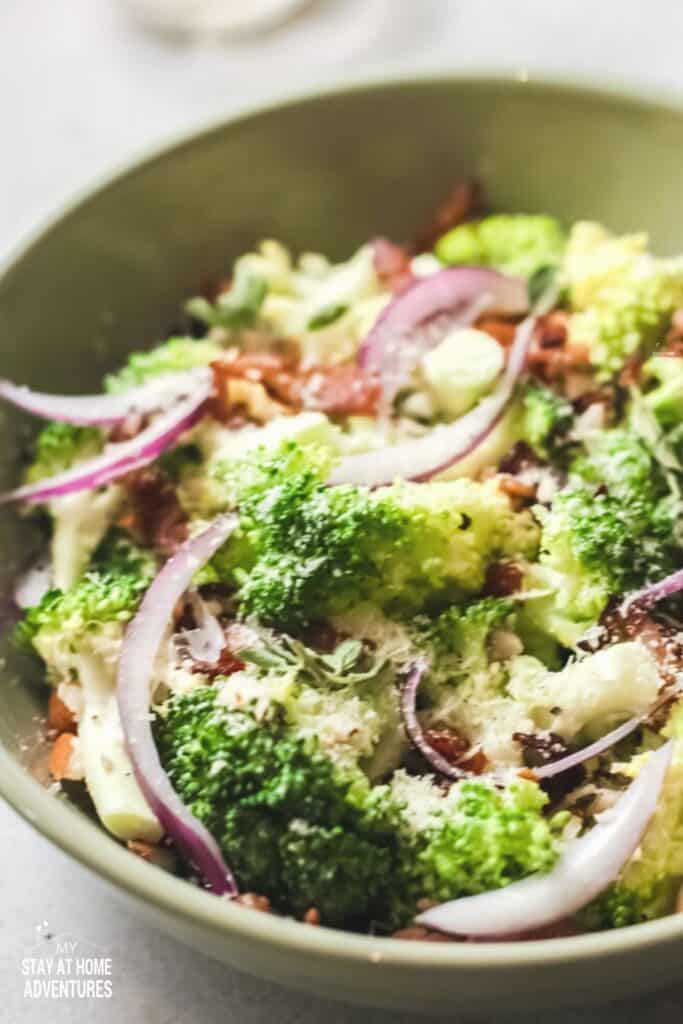 Why is Keto Broccoli Salad Healthy?
Let's check some of the ingredients for this Broccoli Salad
Broccoli
This cruciferous vegetable has a reputation for being one of the superfoods. It is rich in nutrients and antioxidants, thus brings out a lot of health benefits. A few of these among many benefits are cancer prevention, healthier heart, and skincare. It also aids in weight loss by having very low calories and carbohydrates.
Cruciferous vegetables are cool weather vegetables. They have 4 petal flowers that look like a cross. The name also comes from the Latin word Cruciferae that means "cross-bearing" because of their flower.
A few examples besides broccoli are cabbage, cauliflower, brussels sprout, kale, bok choy, and a lot more.
Red Onion
One of the many varieties of onion, this bulb has a red-purple, thin and parchment-like skin in small to medium size. The flesh is made of many layers of white rings. They taste slightly spicy with a bit of sweetness with the pungent smell when raw. The flavor lessens when cooked.
It is also a good source of Vitamin C and B6 with small amounts of minerals. The best about this onion is the powerful antioxidants called Organosulfur compounds. They aid in cleansing the cells from cancer-causing free radicals and also helps control cholesterol levels.
Almonds
They are called nuts but almonds are not true nuts. They are actually seeds on a tree. Almonds are very popular for being highly nutritious with healthy fats, antioxidants, vitamins, and minerals. Because they are low in carbohydrates, with a high amount of magnesium, they aid in controlling blood sugar levels and improve insulin function. Being a high source of Vitamin E and other antioxidants, these are great for skin health and anti-cancer. It is also linked to lower the risk of Alzheimer's Disease.
Parmesan Cheese
It is a hard-aged cheese that undergoes a lengthy aging process. Although Parmesan Cheese can be found worldwide, the original one is from Italy and the Italian name is Parmigiano-Reggiano. It is made only in Italy and follows an Italian strict regulation. This makes the original Parmesan cheese one of the most expensive cheeses.
Parmesan cheese has unique health benefits because of how it was processed. It is low fat, almost 0 carbs, and, although it's a dairy product, it is lactose-free. The cheese is also a good source of protein, calcium, potassium, magnesium, sodium, and Vitamin A. It is also a good source of probiotics.
Apple Cider Vinegar
Apple cider vinegar or ACV is made from fermented apples and water. There are filtered and unfiltered ACV. The filtered looks clear and doesn't have any bits. The unfiltered is darker, with a cloudy substance floating around and at the bottom of the bottle. This is the "mother"
The mother also consists of many strains of bacteria referred to as probiotics. That makes the ACV very healthy.
Bacon
Bacon is fairly nutritious, as long as it's not sweetened with a lot of sugar. The most typical way of curing pork to make bacon is soaking in some salt solution, nitrates, with or without added sugar. Then smoked which is the way of preserving the meat.
50% of the fats in bacon are monounsaturated and most of those are oleic acid. It's the fatty acid also found in olive oil which is healthy for the heart. The rest is 40% saturated fat and 10% polyunsaturated fat. It is now known that in many studies, there is no proof linking saturated fats to cause heart disease.
It is also very rich in nutrients like protein, B Vitamins, selenium, phosphorus with some iron, magnesium, zinc, and potassium.
Mayonnaise, Olive Oil, Dijon Mustard, Garlic Powder with Salt and Pepper to taste
Although they are only in small amounts, these ingredients are also nutritious in their own way. They definitely create distinctive flavors to your Keto Broccoli Salad.
You might like to try these salads, too: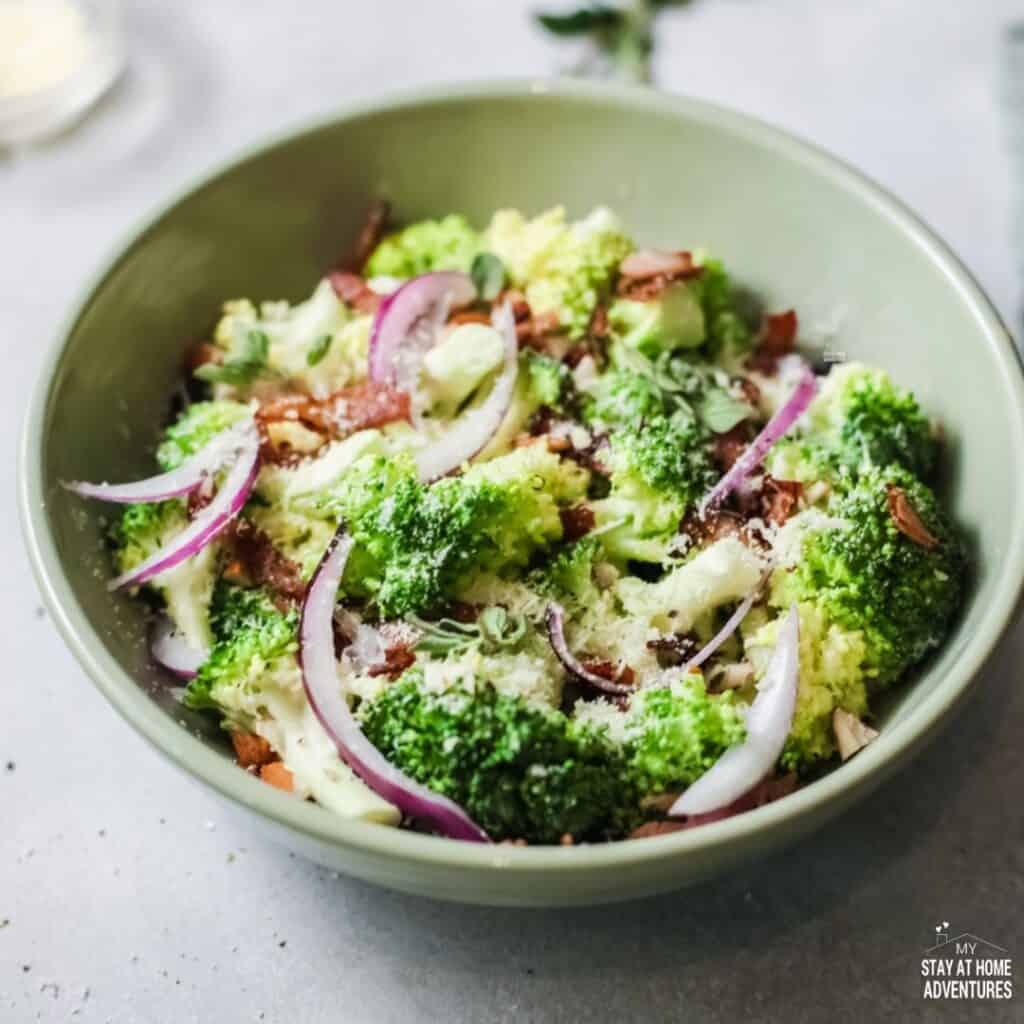 How To Make Keto Broccoli Salad
This keto broccoli salad recipe is really good and very easy to prepare! The secret is boiling the broccoli really quickly. Then, once it's cooked, transferring it to an ice bath to keep it super crispy and vibrant.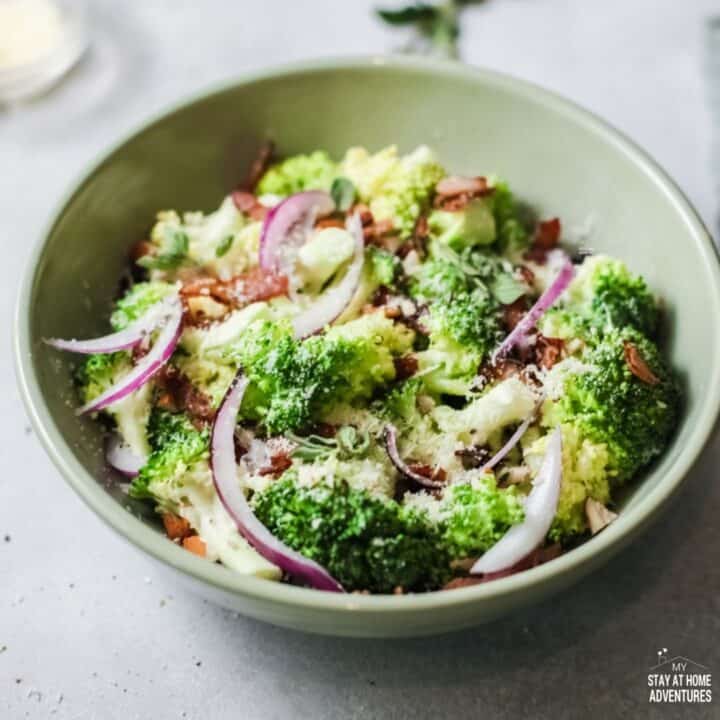 Keto Broccoli Salad Recipe
Loaded with nutritious ingredients, this Keto Broccoli Salad is a favorite for anyone whether you are on a diet or just into a healthy eating way.
Ingredients
2 cups broccoli florets
Salt
1 Red onion, thinly sliced
4 Bacon strips, cooked until crispy
¼ cup almonds, chopped
¼ Cup parmesan cheese
2 Tbsp mayo
2 Tbsp apple cider vinegar
3 Tbsp olive oil
1 Tbsp dijon mustard
½ Tsp garlic powder
Salt and pepper to taste
Instructions
Place a large pot on the stove. Fill it with water and season with salt. Bring to a boil. Add the broccoli and boil for 2 minutes.
Meanwhile, in another bowl prepare an ice bath. Drain the broccoli and transfer to the ice bath until cold. Drain and pat dry.
Transfer to a bowl. Top with red onion, bacon, almonds, and parmesan cheese.
Prepare the dressing. In a small bowl whisk mayo, vinegar, olive oil, mustard, garlic powder and salt and pepper until creamy and incorporated. Drizzle over the salad.
Toss so everything gets coated in the dressing.
Nutrition Information:
Yield:

2
Serving Size:

1
Amount Per Serving:
Calories:

609
Total Fat:

51g
Saturated Fat:

10g
Trans Fat:

0g
Unsaturated Fat:

39g
Cholesterol:

39mg
Sodium:

1483mg
Carbohydrates:

23g
Fiber:

8g
Sugar:

5g
Protein:

19g
These nutritional calculations might not be accurate. Please speak with a licensed nutritionist to assist you.
Enjoy!