What Goes In a Broccoli Salad? + Keto Broccoli Salad Recipe
This post may contain affiliate links which might earn us money. Please read my Disclosure and Privacy policies here
Are you looking for a crunchy, nutritious side dish for weeknight dinners or BBQs? Then look no further- broccoli salad is here! Packed with essential vitamins and minerals and many flavors, this delicious salad can easily be adapted to suit your taste buds.
If you're following the keto diet, we've got you covered, too – our version of broccoli salad is low in carbs but full of all the goodies.
Discover what goes into making a classic broccoli salad and how to adapt it for those following keto guidelines.
Broccoli salad is a popular cold summer salad that is loved by many.
Some other popular additions to broccoli salad include nuts like almonds, dried fruit like cranberries or raisins, and cheese. While there isn't a one-size-fits-all rule for making broccoli salad, it is important to let the salad chill in the refrigerator for at least an hour to allow the flavors to combine. Whether it's for a barbecue or a potluck, broccoli salad is always a crowd-pleaser.
Below is a table containing ingredients you can add to your broccoli salad:
| Ingredient | What it does to the salad |
| --- | --- |
| Broccoli | Provides the base and main texture; adds vitamins, minerals, and fiber |
| Red onion | Adds a sharp, pungent flavor and a pop of color |
| Bacon | Contributes a smoky, savory taste and crunchy texture |
| Almonds | Offers a nutty flavor and added crunch |
| Parmesan cheese | Gives a salty, umami-rich note and creamy texture |
| Mayonnaise | Creates a creamy base for the dressing |
| Apple cider vinegar | Adds tanginess and brightness to the dressing |
| Olive oil | Enhances the dressing's richness and smoothness |
| Dijon mustard | Provides a zesty, slightly spicy kick to the dressing |
| Garlic powder | Infuses a subtle, aromatic garlic flavor to the dressing |
| Salt and pepper | Seasoning that enhances and balances the flavors of the salad and dressing |
This table highlights the ingredients commonly used in a broccoli salad and their role in contributing to the dish's overall taste, texture, and appearance. The combination of these ingredients results in a flavorful and satisfying salad experience.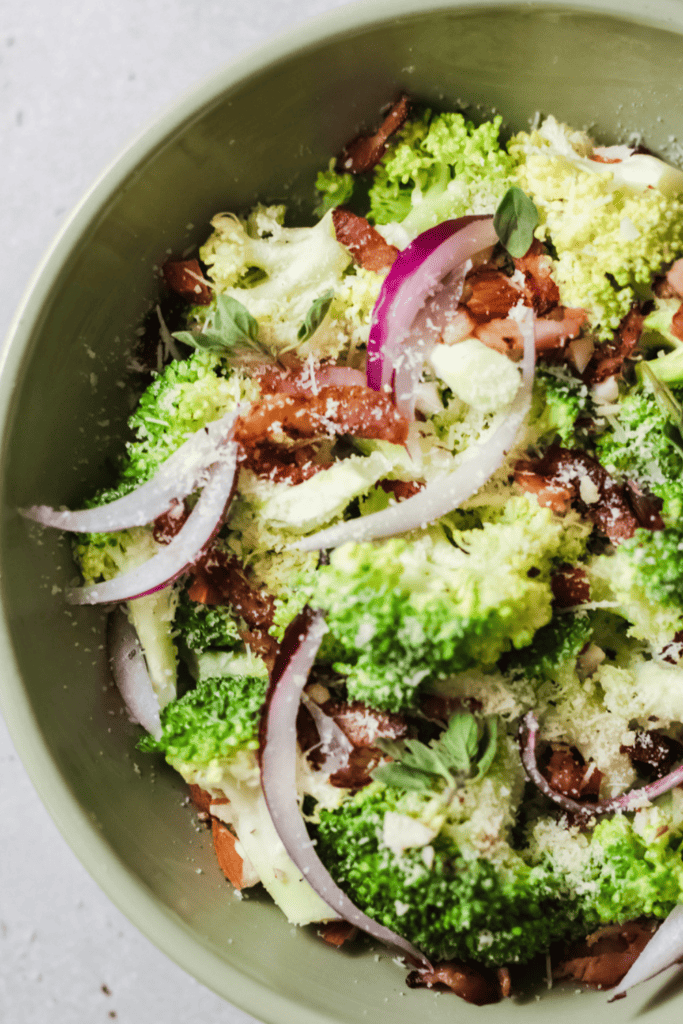 How to make broccoli salad for weight loss?
Choose a base of raw broccoli florets to make a healthy broccoli salad for weight loss. Then, add some protein-packed ingredients, such as sunflower seeds or sliced almonds, and a sweet and tangy flavor with dried cranberries or raisins. To make the dressing lighter, use Greek yogurt instead of mayonnaise and add a touch of honey or a natural zero-calorie sweetener such as Stevia.
One can sprinkle crispy bacon or turkey bacon crumbles on top for an added crunch. This salad can be stored in the fridge and enjoyed for several days, making it a perfect meal prep option for those aiming to eat healthily and lose weight.
What is Amish broccoli salad?
Amish broccoli salad is a delicious and easy-to-make side dish that is perfect for family gatherings, potlucks, and summer cookouts. It typically consists of chopped broccoli and cauliflower mixed with tangy mayonnaise, sour cream, and a little bit of sugar and salt to create a creamy dressing. Bacon and shredded cheese are added to give the salad a rich and savory flavor, while red onion adds a bit of crunch and some extra color.
This recipe is fully customizable, so you can add nuts, seeds, raisins, or cranberries to give it a bit of extra texture and flavor. Overall, Amish broccoli salad is a refreshing and flavorful dish that is perfect for any occasion.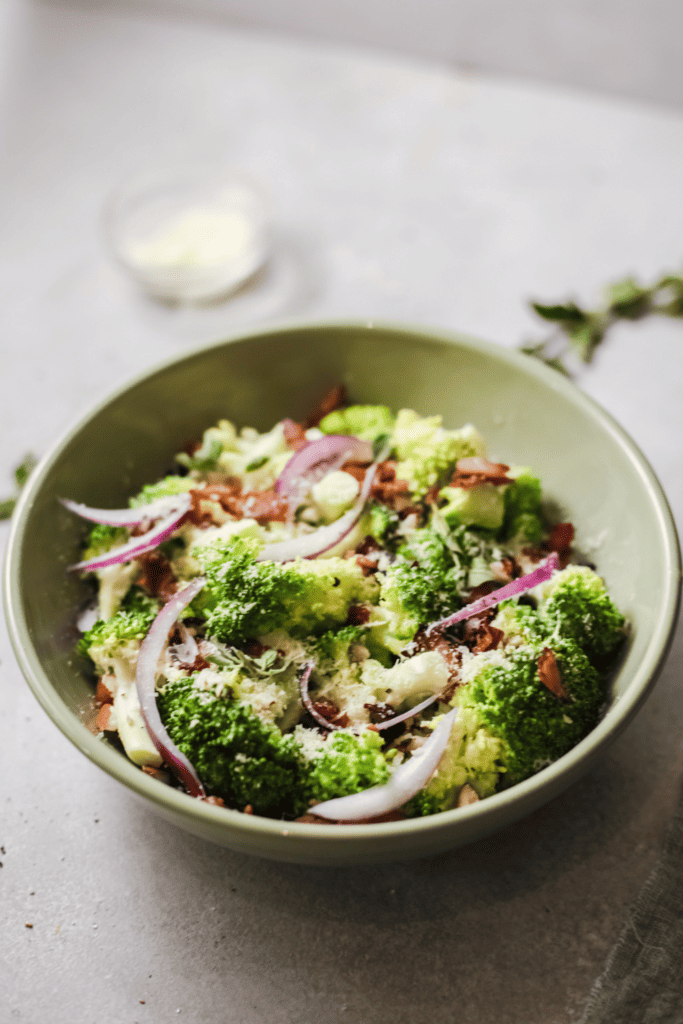 How long does raw broccoli salad last in the fridge?
Raw broccoli salad can last in the fridge for about 4-5 days if stored properly. It is recommended to place the salad in an airtight container and keep it in the refrigerator. Before storing, ensure the broccoli is well-drained to prevent moisture from watering down the dressing. It is also advised to refrigerate the salad for at least an hour to allow the broccoli to soak in some of the dressing and enhance the flavor.
If you plan to make the salad in advance, keep the dressing separate and toss it a few hours before serving. Broccoli salad is a great make-ahead dish for gatherings and potlucks, as it can be prepared up to 24 hours before serving.
How do you cut broccoli for broccoli salad?
To make a delicious broccoli salad, it's important to cut it correctly.
Start by selecting bright green broccoli with firm stalks and no yellowing or brown spots.
Cut the florets into pieces of the same size to evenly cook them. If you plan to roast the broccoli, cut the florets into 1 to 1 1/2-inch pieces. However, if you're making a salad, you may want to cut them into smaller pieces.
Remove the tough outer layer of the stem with a vegetable peeler or paring knife until you see the tender flesh below.
Chop the stem and branches into similar sizes as the florets.
Remember to wash the broccoli right before cooking or using it to prevent mold growth. With this simple guide, you can create a tasty and nutritious broccoli salad that everyone will love.
You might enjoy these recipes: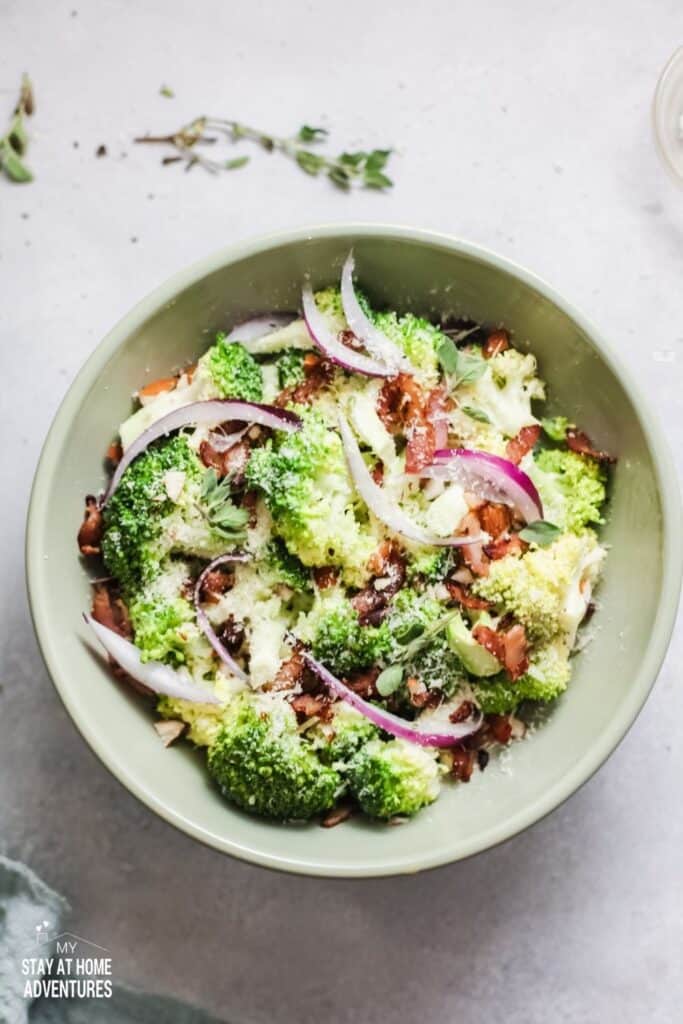 What are the ingredients to make Keto Broccoli Salad
The ingredients to make this delicious broccoli salad:
Broccoli florets
Salt
Red onion, thinly sliced
Bacon strips, cooked until crispy
Almonds, chopped
Parmesan cheese
Mayo
Apple cider vinegar
Olive oil
Dijon mustard
Garlic powder
Salt and pepper to taste
You might like to try these salads, too: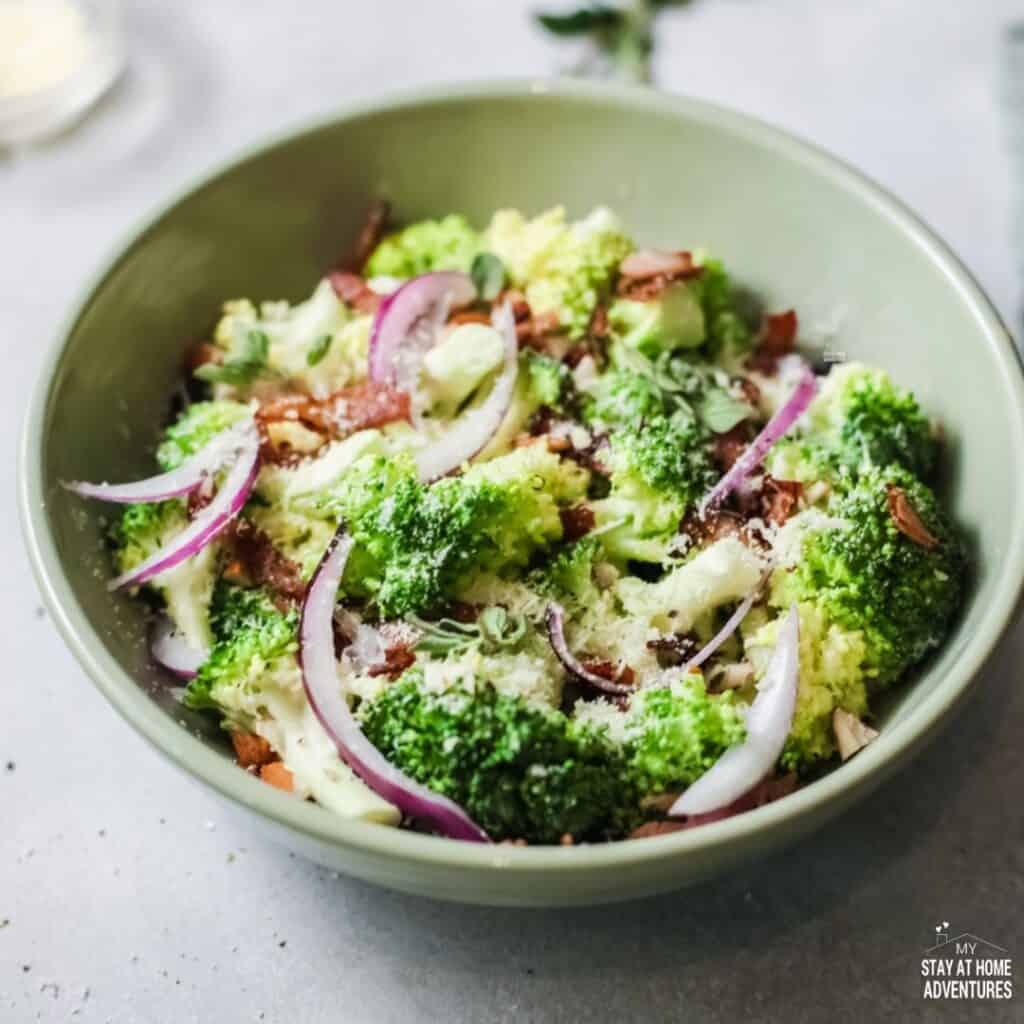 How To Make Keto Broccoli Salad
Now that you have the ingredients, it is time to make this broccoli salad; follow the steps below:
Set a large pot on the stove, fill it with water, and season with salt. Bring the water to a boil. Once boiling, add the broccoli and cook for 2 minutes.
While the broccoli is cooking, prepare an ice bath in a separate bowl. After 2 minutes, drain the broccoli and immediately transfer it to the ice bath to cool. Once cold, drain and pat dry.
Place the cooled broccoli in a serving bowl. Top with red onion, bacon, almonds, and Parmesan cheese.
To make the dressing, whisk together mayo, vinegar, olive oil, mustard, garlic powder, and salt and pepper in a small bowl until creamy and well combined.
Drizzle the dressing over the salad and toss gently, ensuring all ingredients are coated evenly. Enjoy!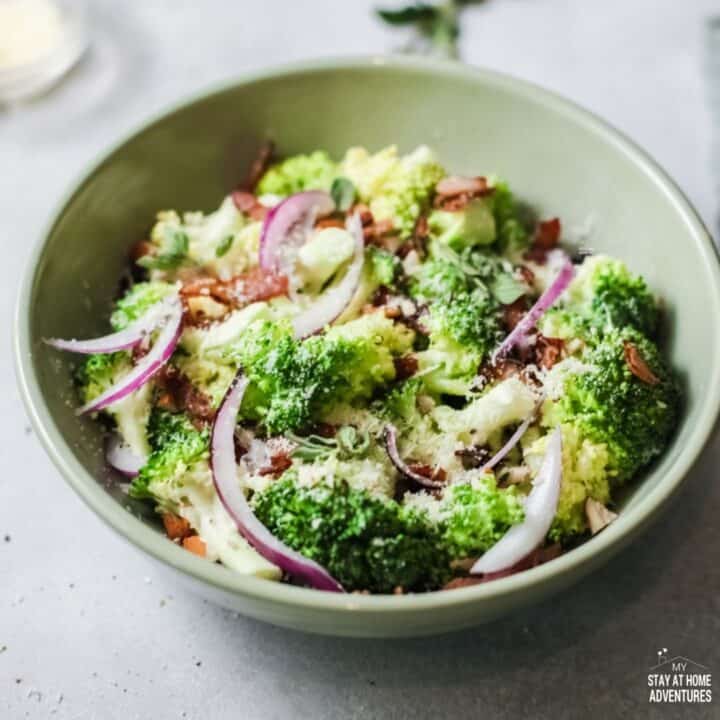 Keto Broccoli Salad Recipe
Loaded with nutritious ingredients, this Keto Broccoli Salad is a favorite for anyone whether you are on a diet or just into a healthy eating way.
Ingredients
2 cups broccoli florets
Salt
1 Red onion, thinly sliced
4 Bacon strips, cooked until crispy
¼ cup almonds, chopped
¼ Cup parmesan cheese
2 Tbsp mayo
2 Tbsp apple cider vinegar
3 Tbsp olive oil
1 Tbsp dijon mustard
½ Tsp garlic powder
Salt and pepper to taste
Instructions
Place a large pot on the stove. Fill it with water and season with salt. Bring to a boil. Add the broccoli and boil for 2 minutes.
Meanwhile, in another bowl prepare an ice bath. Drain the broccoli and transfer to the ice bath until cold. Drain and pat dry.
Transfer to a bowl. Top with red onion, bacon, almonds, and parmesan cheese.
Prepare the dressing. In a small bowl whisk mayo, vinegar, olive oil, mustard, garlic powder and salt and pepper until creamy and incorporated. Drizzle over the salad.
Toss so everything gets coated in the dressing.
Nutrition Information:
Yield:

2
Serving Size:

1
Amount Per Serving:
Calories:

609
Total Fat:

51g
Saturated Fat:

10g
Trans Fat:

0g
Unsaturated Fat:

39g
Cholesterol:

39mg
Sodium:

1483mg
Carbohydrates:

23g
Fiber:

8g
Sugar:

5g
Protein:

19g
These nutritional calculations might not be accurate. Please speak with a licensed nutritionist to assist you.
Enjoy!