Learn how to harvest and preserve herbs from your garden this season!
Let's begin!
Herbs are a wonderful addition to any home. Not only can they be easy to grow, but they add amazing, natural, low-calorie flavor to your recipes.
But what if you grow more than you can use? Or, what if you want to preserve herbs for later use? Let's take a closer look at how to harvest and preserve herbs from your garden.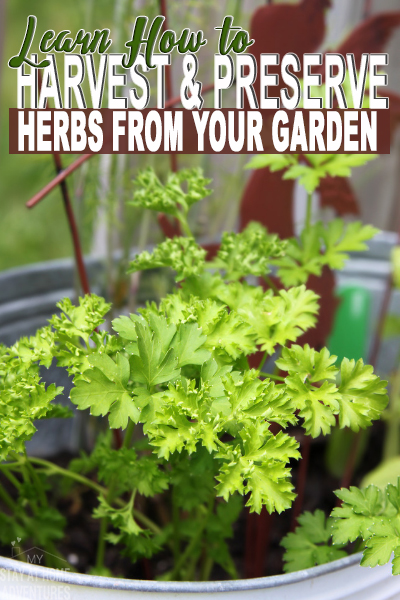 How to Harvest Herbs From Your Garden
Harvesting
You want to harvest herbs at the peak of perfection. After herbs have flowered, the flavor is subtler and diminishes more quickly during the cooking and storing process.
You can use scissors to clip the herbs, this will prevent crushing the leaves and allowing the flavor to seep out. You want the sharpest scissors possible. Once cut, wash in water mixed with a bit of vinegar and dry thoroughly.
How to Preserve Herbs From Your Garden
Preserving
Drying is the most popular options when it comes to preserving herbs. You can do this in a dehydrator. Follow your dehydrator's instructions. You can also hang bunches of your herbs and allow them to air dry.
This can take up to two weeks. To keep the dust off your plants, you can place thin cotton bags over your herbs. You can also dry them by laying them in the sun or hanging in a bunch in the sun.
Gardening related posts:
Some even use their oven to dry herbs. To do this, place your herbs on a cookie sheet and place in the oven at 180 degrees for 2 to 4 hours. If the leaves crumble when touched, they are dry.
Freezing fresh herbs is another great option. You can freeze them in ice cubes and then add to soups or even drinks. If you want, you can freeze the herbs in chicken stock in an ice cube tray.
Whether you're using chicken stock or water, boil the water before covering your herbs in the tray. This will blanch the herbs so that they retain their flavor.
You can also mix fresh herbs into butter using your food processer. Mix the herbs into the butter and then you can freeze for later use. This is wonderful placed over a grilled chicken breast or for sautéing vegetables. There are so many wonderful uses for herb butter.
Herbs provide great flavor to meals, drinks, and even dessert. If you want to be able to use those flavors throughout the year, use these methods to harvest and preserve them.
Your turn: now that you have an idea on how to harvest and preserve herbs from your garden what other tips and ideas do you have? Share them with us.
The following two tabs change content below.
Latina mom of 4 married to wonderful Greek gentleman. Living in southeast PA and trying to juggle family and a household while trying to earn an income from home. Follow my stay at home journey as I discover how to earn money and save money so we can continue to live debt-free.
Latest posts by Joyce @ My Stay At Home Adventures (see all)