Surprising Benefits of Having Fresh Flowers in Your Home
This post may contain affiliate links which might earn us money. Please read my Disclosure and Privacy policies here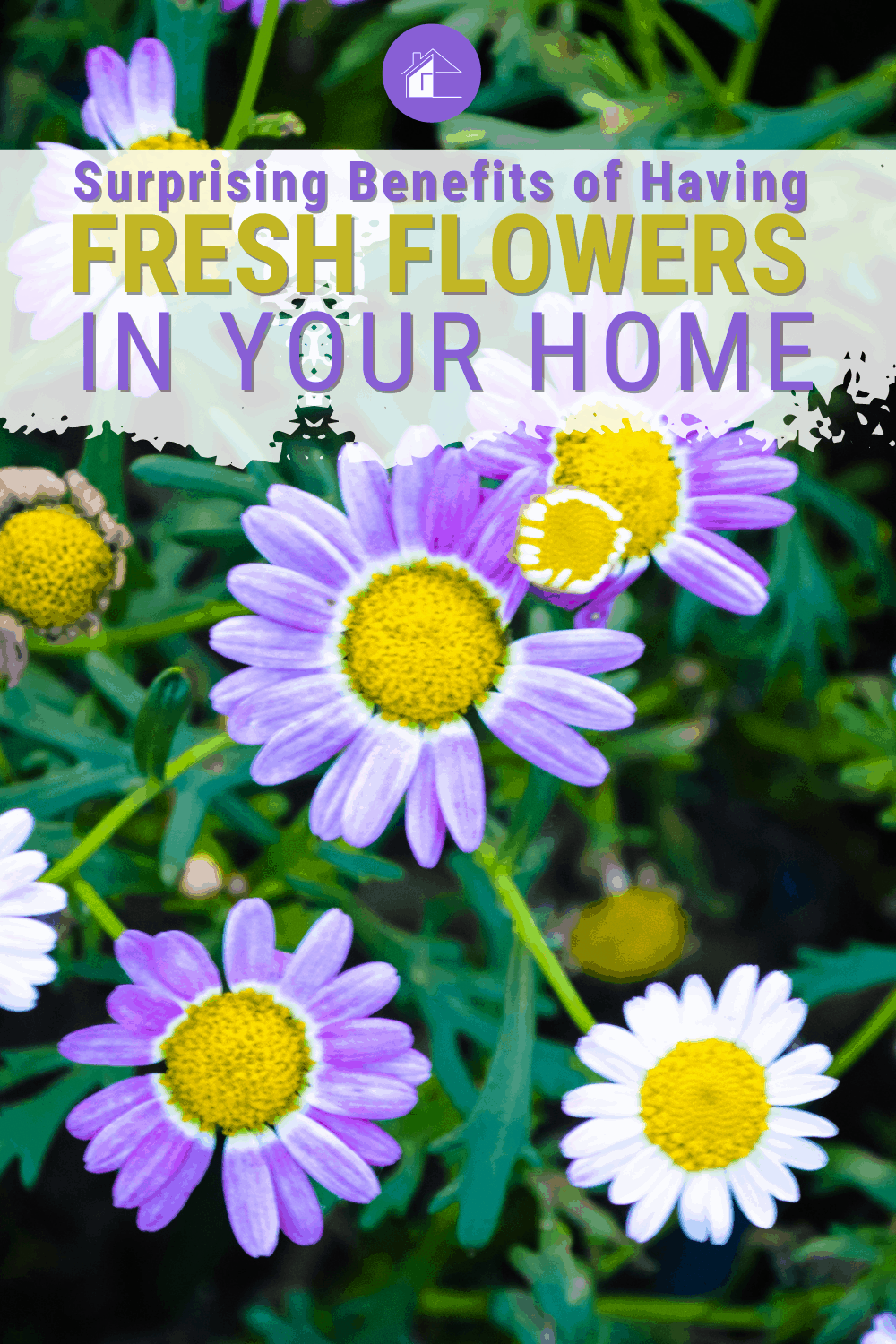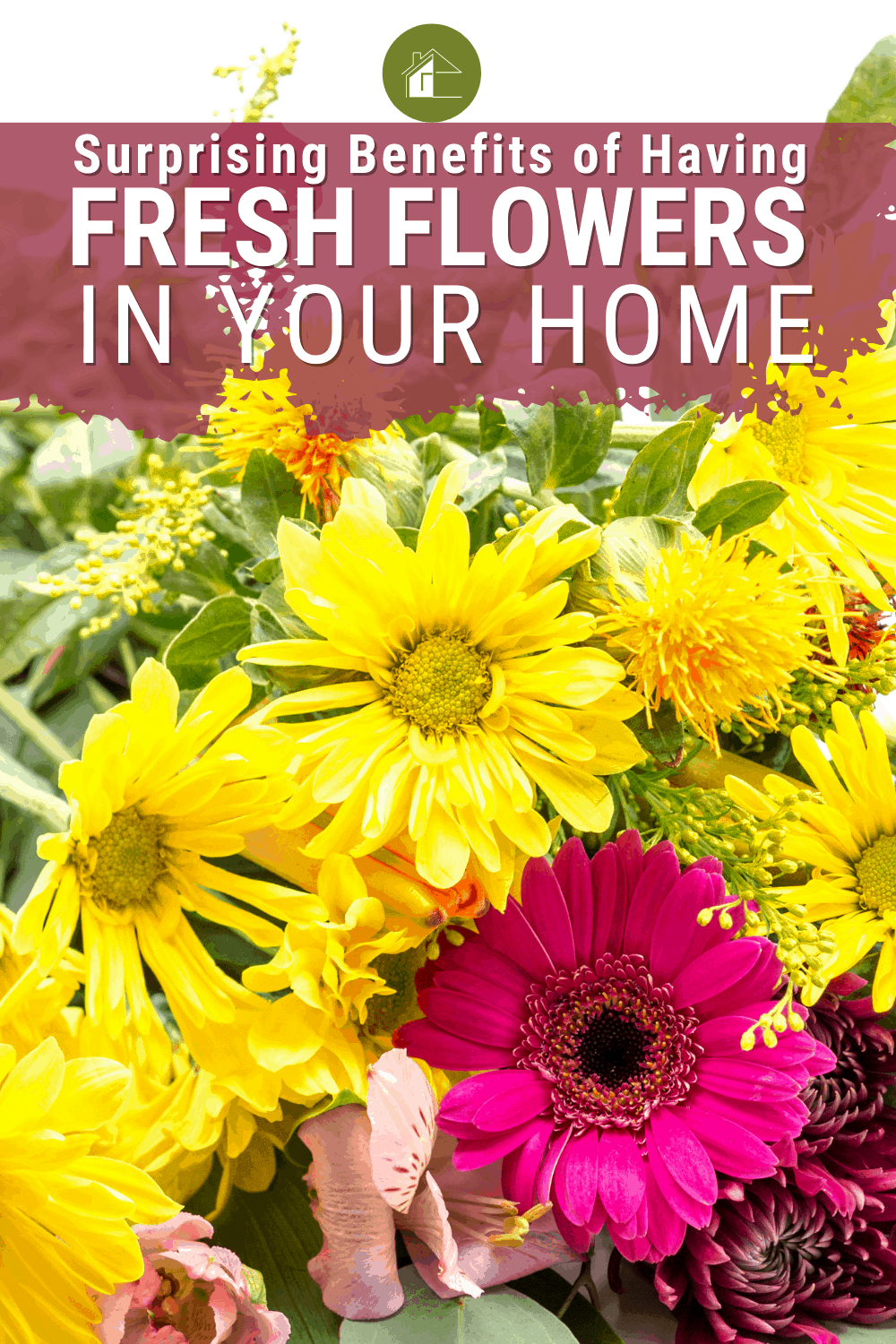 Having fresh flowers in one's home used to be commonplace. Whether it was a stunning arrangement from a local florist or a wildflower arrangement from the owner's garden, people from all walks of life would display fresh flowers in their homes.
Over time, that trend faded. Now, it's making a bold comeback. Here are some of the surprising benefits of having fresh flowers in your home.
Stunning Home Decor
The most obvious benefit of having fresh flowers displayed in your home is their decor applications. A fresh flower arrangement can punctuate your interior design scheme, bringing the various style elements together in synchronicity.
There are several ways to decorate with fresh flowers other than a simple arrangement in a vase. For example, you can cut the flowers and display them floating in water with candles for an elegant centerpiece or use your florals to create a wreath or wall display.
You can also elevate your fresh flower display by changing out the vessel. For example, instead of a vase, display your flowers in a watering can, a teapot, hanging bottles, or in an upcycled jar. This approach is a great way to make the floral arrangement fit your decor scheme.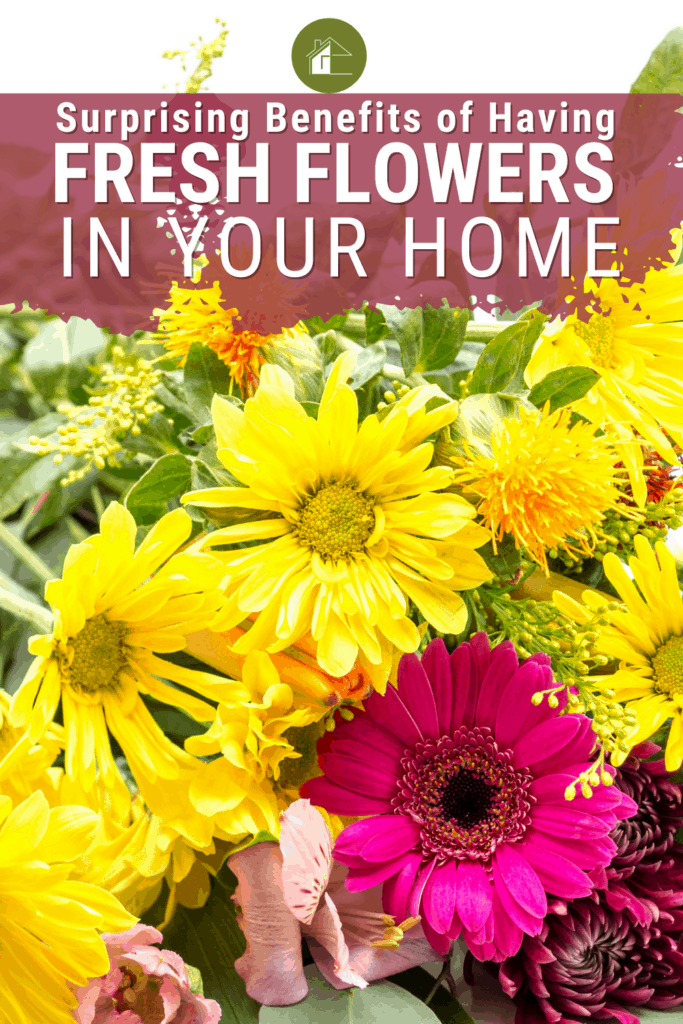 Design Versatility
If you're someone who struggles to commit to a single interior design scheme, you'll appreciate the design versatility of fresh flowers. Investing in a fresh flowers delivery subscription means getting a new arrangement every month. While purchasing new art or painting the walls every few weeks isn't feasible, swapping out the floral arrangement will give you the fresh pop of decor you want.
Changing out the floral arrangements also provides an opportunity to explore and find a style that appeals to you. A subscription will give you a chance to try flowers you hadn't consider and experiment with different looks. It's also a fantastic way to incorporate seasonal decor into your home in a tasteful, elegant way.
Creative Culinary Applications
When we consider bringing fresh flowers into the home, decor tends to be the primary focus. However, there are endless creative culinary applications to try with fresh flowers.
If you're getting ready for a special event, you can use fresh flowers as a garnish on your dessert. Lay a few roses on top of a cake or gently insert them for a stunning culinary display. If you choose to use flowers for decorating food, be sure to shop organic and confirm that the florals are non-toxic. Many popular flowers aren't safe for human consumption. You can also use a barrier layer of wax paper or wrap stems in tinfoil for extra protection.
Several desserts and dishes also incorporate flowers as an ingredient. For example, lavender and roses are popular in baked goods, and pansies create a surprising pop of color in pasta dishes. Using flowers in cooking is a fantastic way to elevate your dishes and surprise your dinner guests.
Natural Aromatherapy
The atmosphere of a room is about more than just how the visual elements come together; it's about stimulating all of the senses. The olfactory system is closely entwined with memory and mood.
Displaying fresh flowers has aromatherapeutic benefits. Some of the best fresh flowers for aromatherapy include:
Roses
Jasmine
Orchids
Geraniums
Gardenia
Eucalyptus (as accent greenery)
Lavender
The natural aromatherapeutic benefits make fresh flowers ideal for stress relief, encouraging sleep, and adding dimension to home decor.
The memory-boosting effects of aromatherapy are especially beneficial for homes where people have memory disorders like Alzheimer's and dementia. In addition, some studies show that aromatherapy is an effective non-medical intervention that benefits those with dementia, ADD, and other neurological issues.
Homemade Beauty Products
Moving toward a natural, chemical-free lifestyle is a common goal in our modern world. Removing harmful toxins from the home and replacing them with natural alternatives can improve overall health and wellness. One of the best ways to do this is through the introduction of natural beauty products.
Fortunately, you can create amazing homemade beauty products with fresh flowers. Not only will this project help you replace potentially harmful chemicals with a natural alternative, but it promotes sustainability by extending the flowers' lifespan.
Roses are one of the best floral options for creating natural beauty products. You can use rose petals to create a nice rosewater cleanser or toner to keep your skin looking fresh and vibrant. Lavender is a common ingredient in skin care products to soothe the skin.
Violets and chamomile are other common ingredients in natural skincare products. Both of these plants help treat blemishes and can even be used for skin conditions like eczema or sunburns.
Finally, there are plenty of fresh flowers that offer no benefit other than smelling fantastic. You can use these to make a light body spray or add them to moisturizer for a natural perfume.
Drying and Repurposing
Another way to extend the lifespan of your fresh flowers and take a sustainable approach to home decor is to dry and repurpose your favorite petals. You can dry some flowers to use as long-lasting arrangements or give them new life by repurposing them into other things.
Consider pressing and drying flowers to display as wall hangings or to give as gifts. You can create beautiful jewelry, dinner trays, and paperweights by encapsulating your blooms in resin.
Many dried flowers will also retain their scent for months to come, making them perfect for potpourri and scent bags. You can also save some of your favorite petals to add to bath water for a luxurious self-care experience.
Mood-Boosting Effects
As mentioned previously, fresh flowers offer several aromatherapeutic benefits. However, some of the mood-boosting effects are related to the visual aspects of flowers rather than the aroma they emit.
Fresh flowers can brighten a space and improve your mood. They create an emotional response— especially if they're a gift! Fresh flowers also contribute to the biophilia hypothesis, a theory suggesting that humans have a deep-rooted desire to seek out a connection with nature.
In essence, the biophilia hypothesis reminds us that humans are a part of nature too, and having a reminder like flowers or a walk through the woods creates a sense of happiness through connection.
Art and Creativity Applications
As mentioned before, you can repurpose fresh flowers in a variety of ways. You can use your blooms to make jewelry and other trinkets or incorporate them into art projects. You can use flowers in candle making, paper crafts, and to make natural fabric dyes.
Flower arranging is an art form in itself. Purchase fresh flowers and arrange them into something original and lovely as a hobby or self-care activity.
Humidity and Air Quality Benefits
Finally, some flowers can assist with humidity control and contribute to better air quality. Blooms like bromeliads, marigolds, orchids, and lilies help filter toxins and lower humidity in the air. While the benefits are small and localized, it's a nice feature to consider when choosing flowers.
Using fresh flowers for this purpose is also a great way to offset house plants that increase the humidity. Use fresh flowers to add balance to your home.
There are various benefits to showcasing fresh flowers in your home. If all else fails, there's always the fact that you like fresh flowers and they look pretty. Consider using a floral delivery subscription to help you find what flowers you like best and ensure there's always a fresh bouquet ready to display.