Instant Pot Puerto Rican Potato Salad
This post may contain affiliate links which might earn us money. Please read my Disclosure and Privacy policies here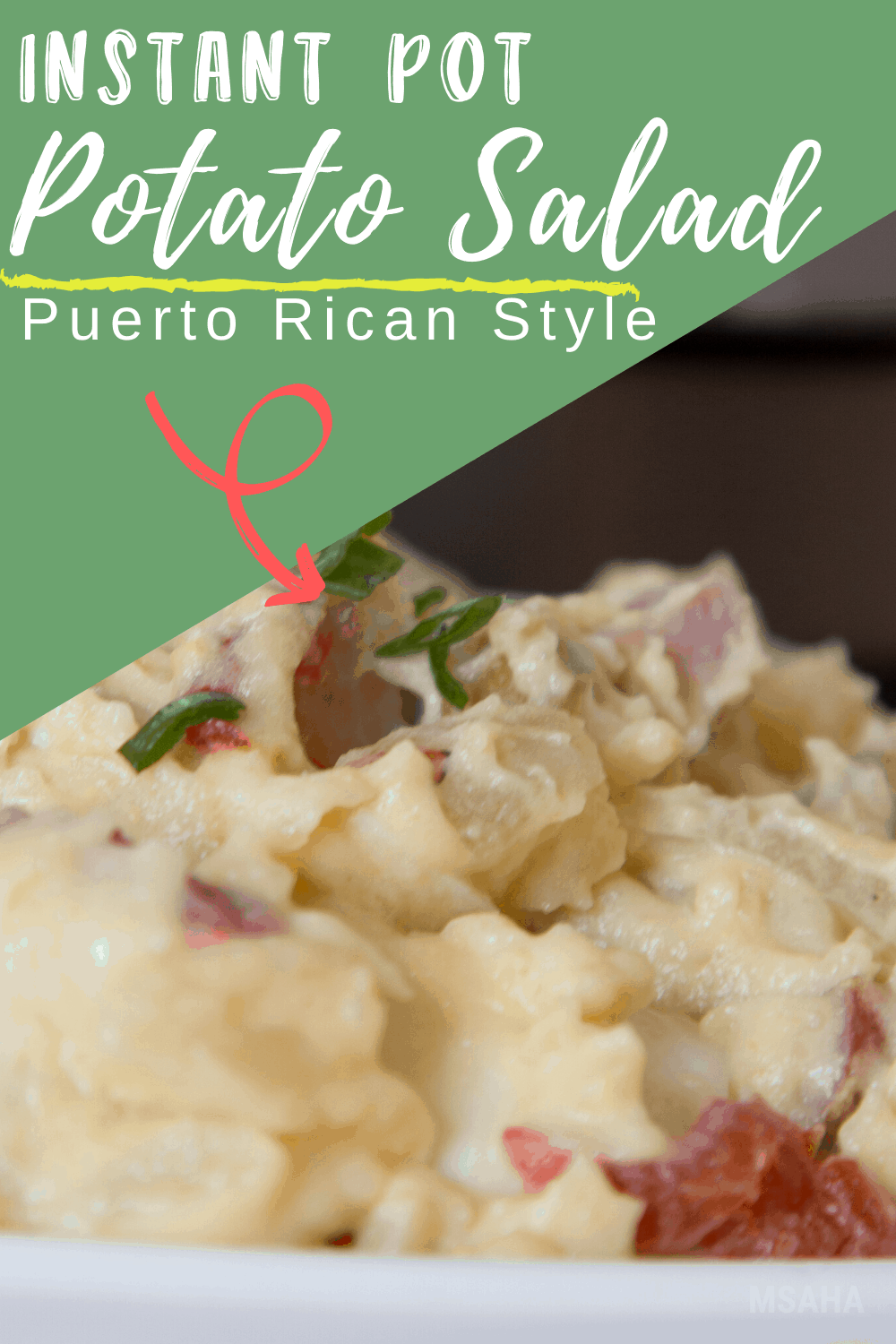 Puerto Rican potato salad is the creamiest and most flavorful and is made using an Instant Pot.
Instant Pot Puerto Rican Potato Salad is the best potato salad you have. This Puerto Rican recipe favorite is full of flavor, super creamy, and very different from the store-bought one.
What I love about this recipe is that you can add apples to give it a little extra kick of flavor.
Of course, if apples are not your thing, you can always not add them. However, this potato salad will still taste amazing!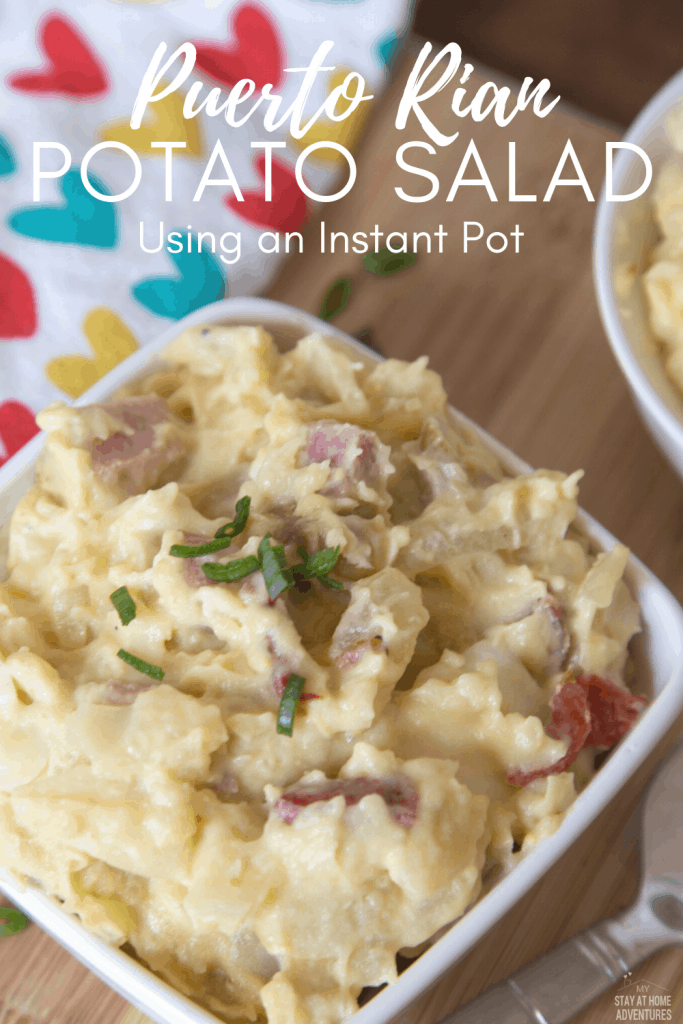 How to Make Instant Pot Potato Salad
This Puerto Rican recipe is easy to make especially if you use an Instant Pot or any other electric pressure cooker.
This will work if you are using a Crock-Pot Express Crock Multi-Cooker. We have one, and we love it too!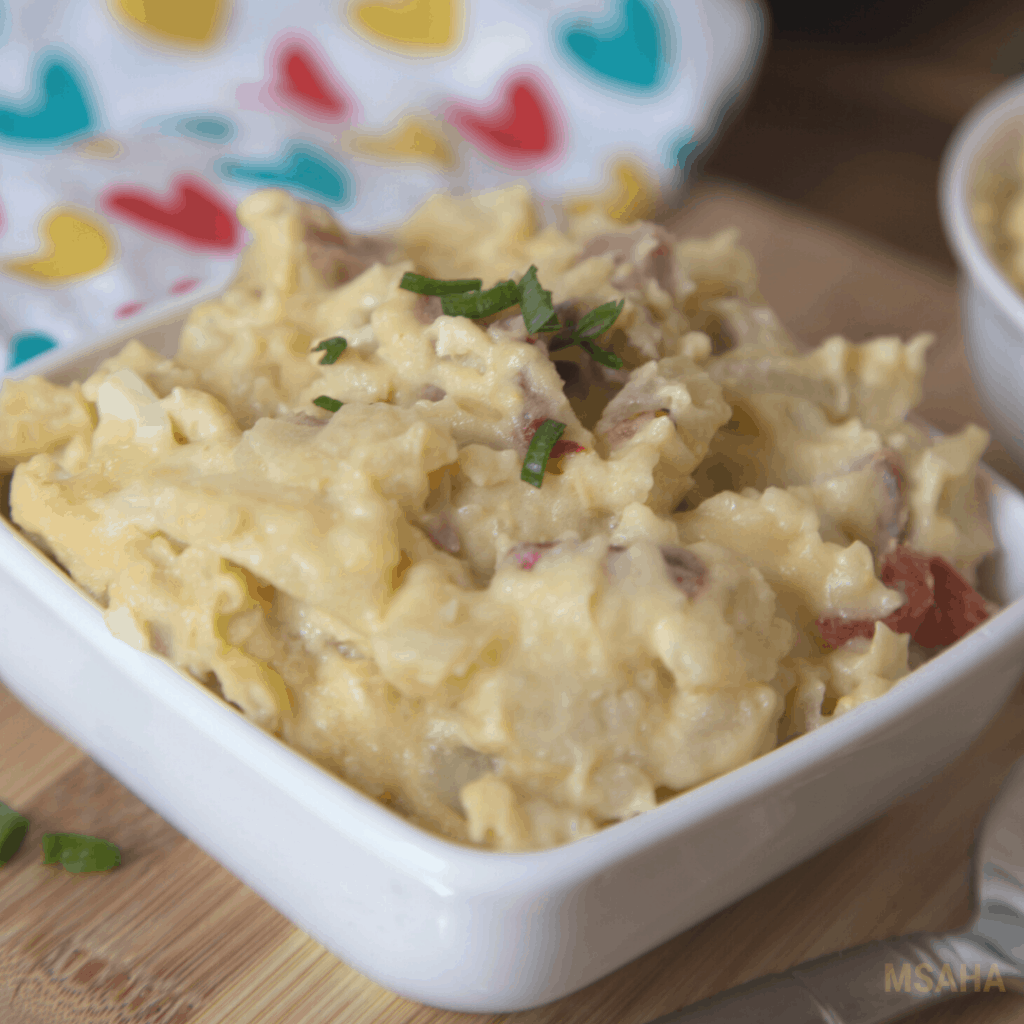 Puerto Rican Potato Salad Ingredients
Using an Instant Pot is an easy way to make this authentic Puerto Rican potato salad because you can add the potatoes and the eggs together, and you will cook them to perfection.
For this Instant Pot Potato Salad, you are going to need:
White potatoes
Red Apples (optional)
Water
Eggs
Onion
Mayonnaise
Cooked ham (your favorite brand)
Cumin
Mustard
Spanish Olives pitted with Pimientos Condimento
Salt & Pepper
Now that you have all your ingredients, it is time to cook the potatoes and eggs in the instant pot and make the salad.
Follow the step below to make this recipe.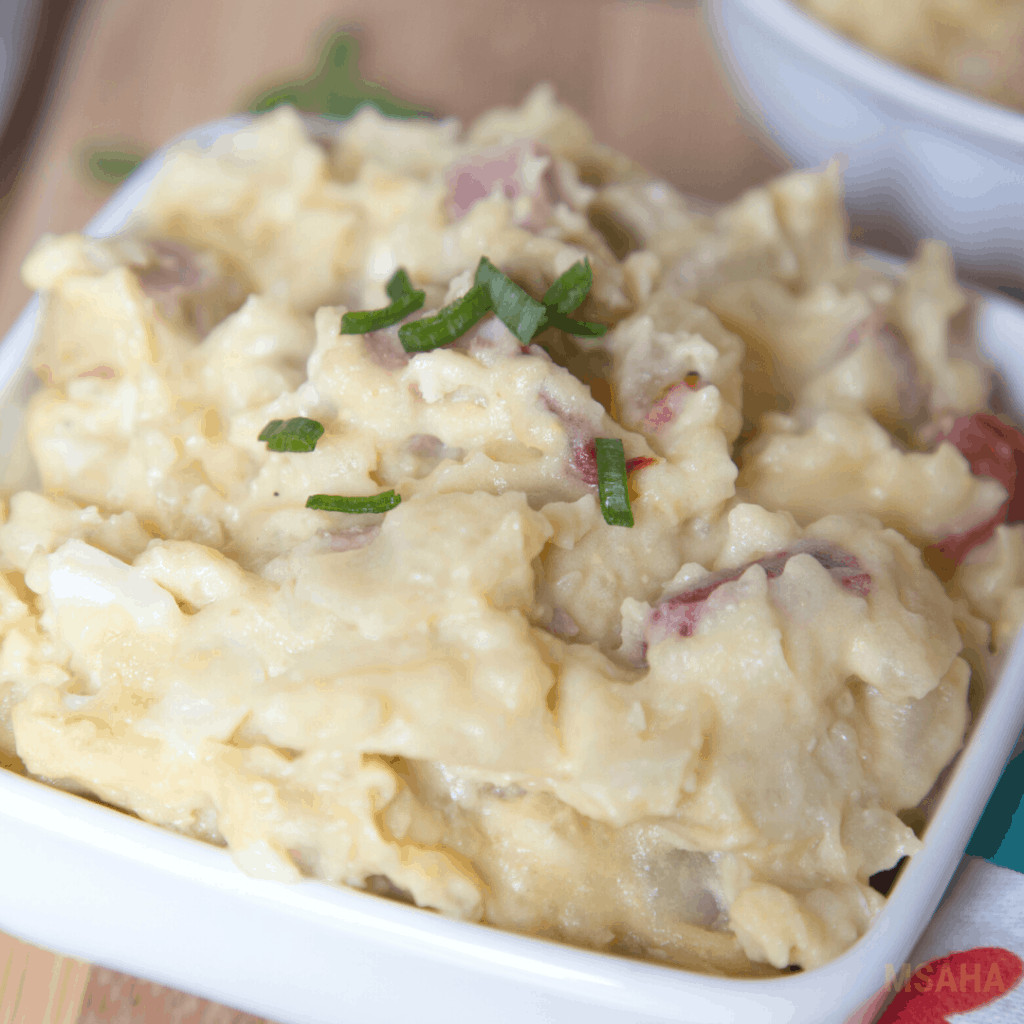 How to Cook Potatoes and Eggs Together In The Instant Pot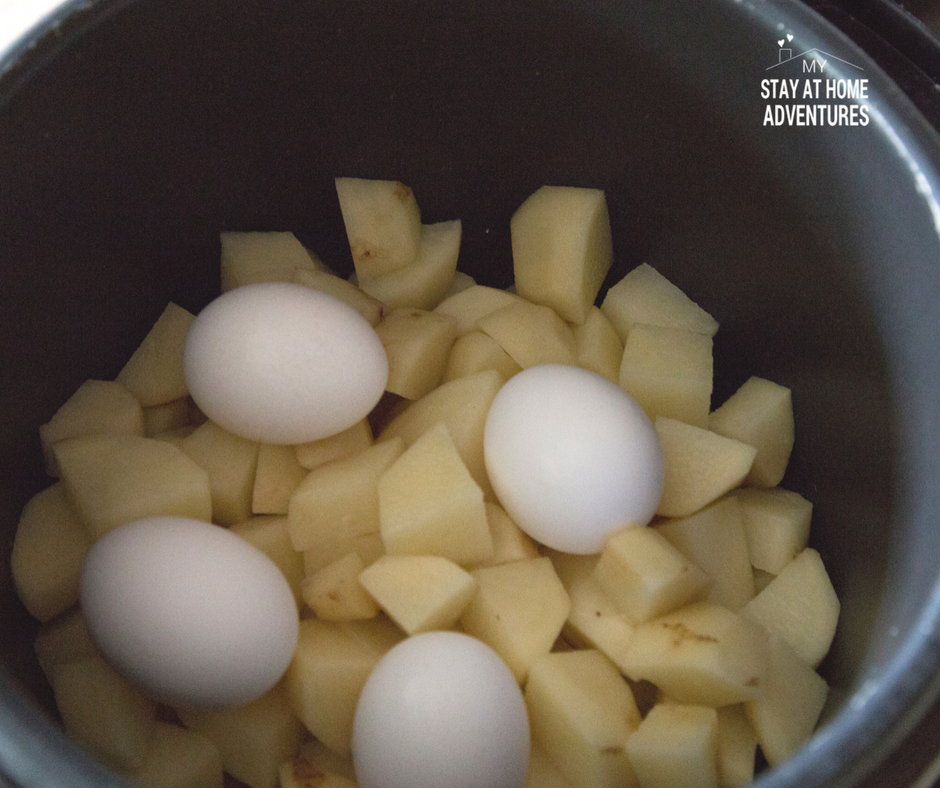 Using your Instant Pot or electronic pressure cooker, follow the steps below:
First, add the potatoes to the Instant Pot liner.
Second, add the uncooked eggs on top of the potatoes.
Third, add the water.
It is essential to place the eggs above the potatoes.
Next, you will close the lid and hit the Manual or Pressure Cook button, high for 4 minutes. For newer models of Instant Pot, please hit the Pressure Cooker button.
Once it is done, hit quick release and drain any water.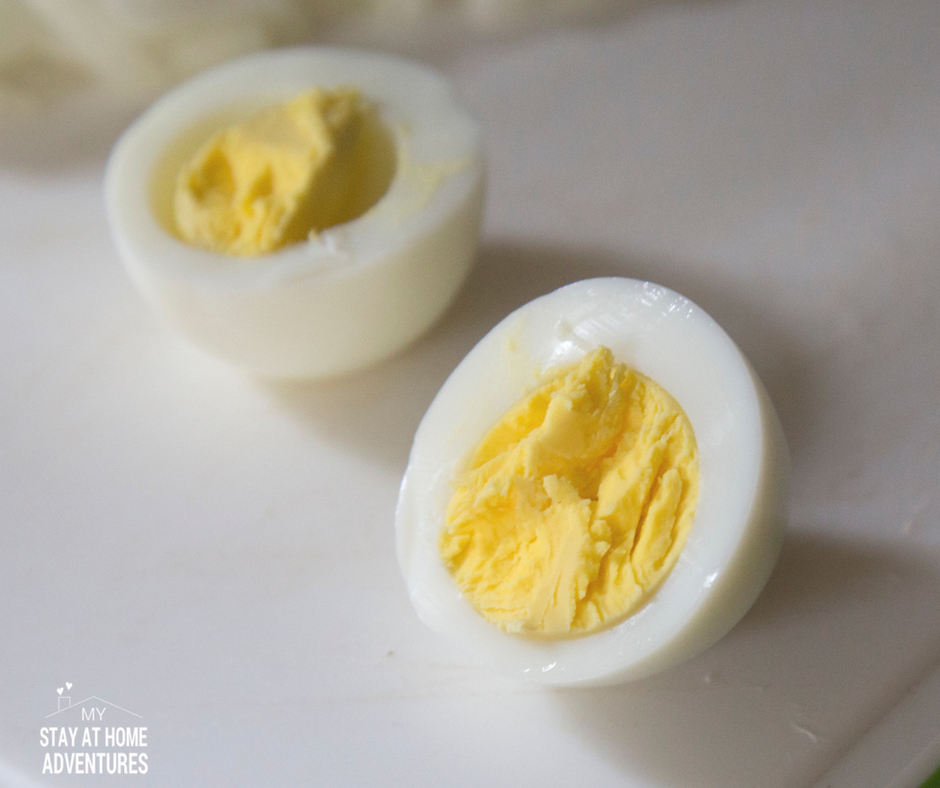 You can place the eggs in an ice bath if you want. I didn't, and my eggs came out fine.
Make sure you slice up the eggs and apples.
In a large bowl, grab the potatoes and place them with the rest of the ingredients.
Mix well and taste to make sure it tastes good to you and it's to your liking.
You can refrigerate the potato salad or serve it at room temperature. I prefer to refrigerate the potato salad.
Your Instant Pot Puerto Rican Potato Salad is ready to serve!
You can serve this with your favorite rice and beans recipe or take it to the next family gathering or picnic.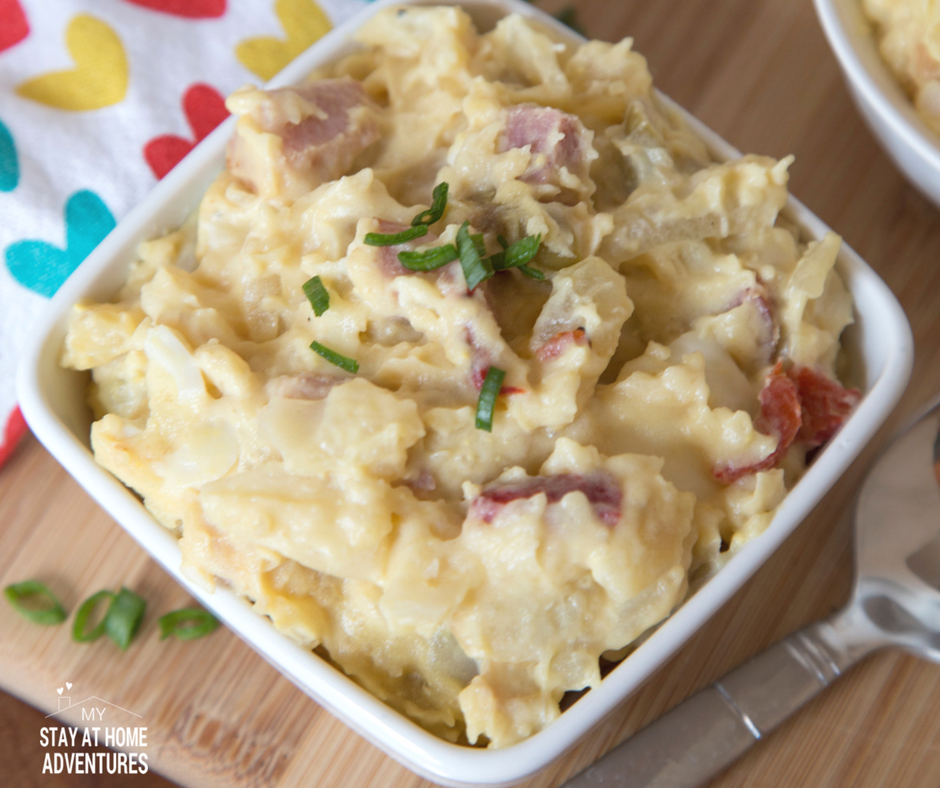 Puerto Rican Potato Salad Recipe
Now that you know the essential keys to make potato salad using an Instant Pot, it is time to print the recipes with the exact measurements.
To print this recipe, click the Print button on the recipe card below.
Not ready to print this Instant Pot Puerto Rican Salad with Apple Recipe? Then pin it for later to your Pinterest accounts, add it to your Yummly account or your Mix.com account.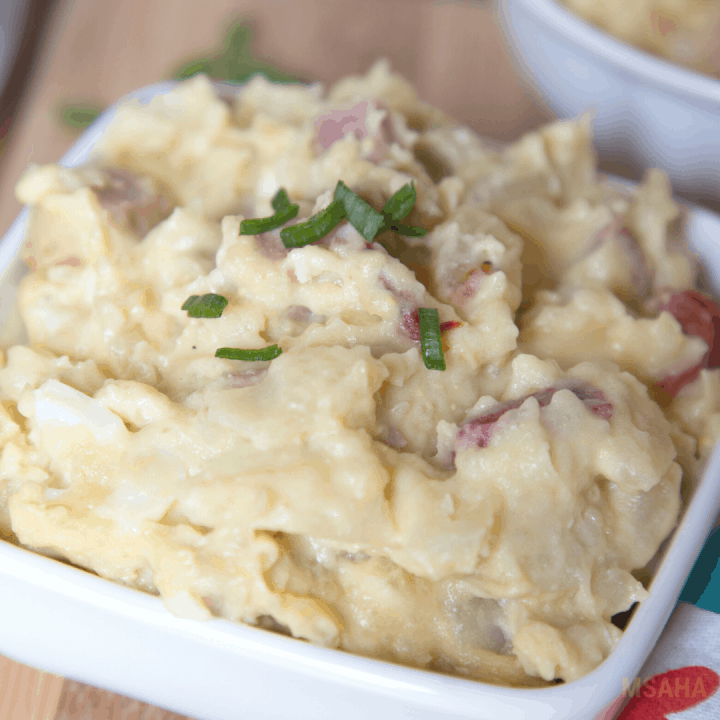 Instant Pot Puerto Rican Potato Salad
Are you looking for a delicious and easy potato salad recipe? Look no further than this Instant Pot Puerto Rican Potato Salad!
Made with simple ingredients, this recipe is perfect for any occasion.
Plus, it's ready in just minutes using your Instant Pot! So why wait? Try this amazing potato salad today!
Ingredients
8 - 10 white potatoes, skinned and diced
1 cup of water
4 eggs
1/2 cup diced onion
1 teaspoon of cumin
½ medium red apple, peeled and chopped
½ cup of cooked ham (or 1 cup)
1/2 cup mayonnaise
1 tablespoon mustard
1 Tablespoon of Spanish olives with Pimientos
Salt & pepper to taste
Instructions
Place your potatoes and eggs into the bottom of your Instant Pot. Make sure the eggs are above the potatoes.
Add the water.
Close the lid and set the IP to Manual high pressure for 4 minutes.
Turn the knob to Quick release.
Drain the water. You can place the eggs in an ice-water bath if you want. I didn't do this.
Slice the eggs and chop the apples.
Add potatoes and all the ingredients into a bowl.
Mix them.
Refrigerate or serve at room temperature.
Nutrition Information:
Yield:

8
Serving Size:

1
Amount Per Serving:
Calories:

358
Total Fat:

14g
Saturated Fat:

3g
Trans Fat:

0g
Unsaturated Fat:

10g
Cholesterol:

104mg
Sodium:

294mg
Carbohydrates:

49g
Fiber:

5g
Sugar:

5g
Protein:

11g
These nutritional calculations might not be accurate. Please speak with a licensed nutritionist to assist you.
More Instant Pot Puerto Rican Recipes