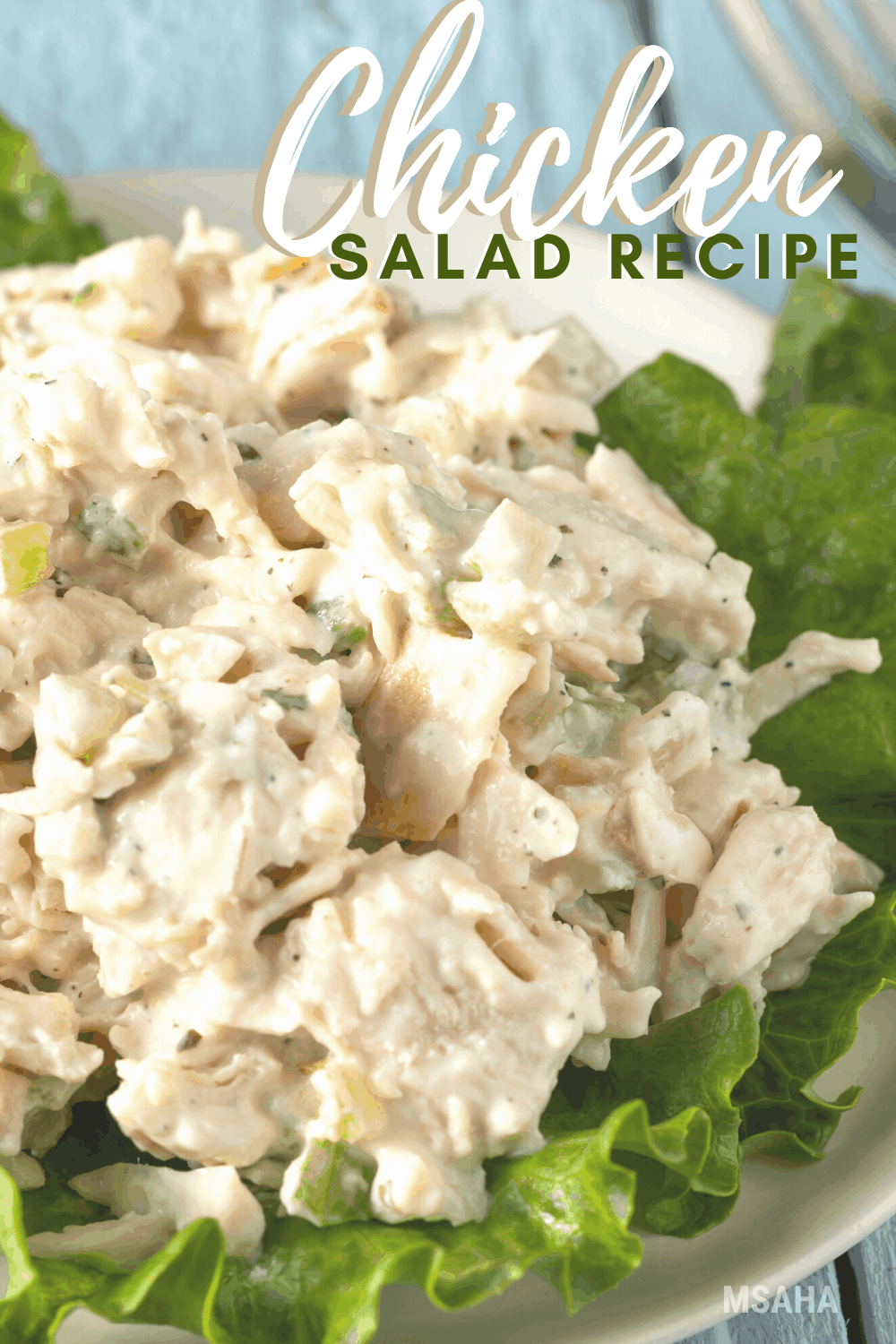 This easy chicken salad recipe is made with cooked chicken, celery, hard-boiled egg, relish, mayo, and Greek seasoning.
This has been one of our favorite recipes and so easy to make, this chicken salad is so cool and refreshing and a great recipe to enjoy during the summer.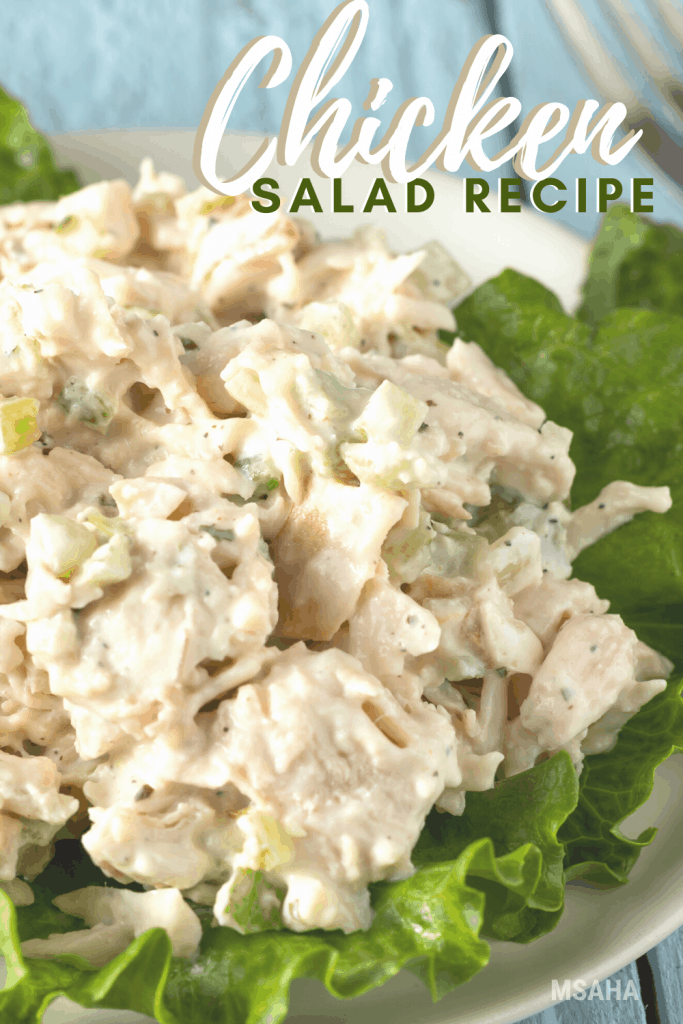 How long does chicken salad last in the refrigerator?
Chicken salad can last between up to 5 days in the refrigerator if store properly.
How long can I leave my chicken salad out?
If chicken salad left out at room temperature should be thrown out after 2 hours. Bacteria grow at a rapid pace after temperature goes over 40F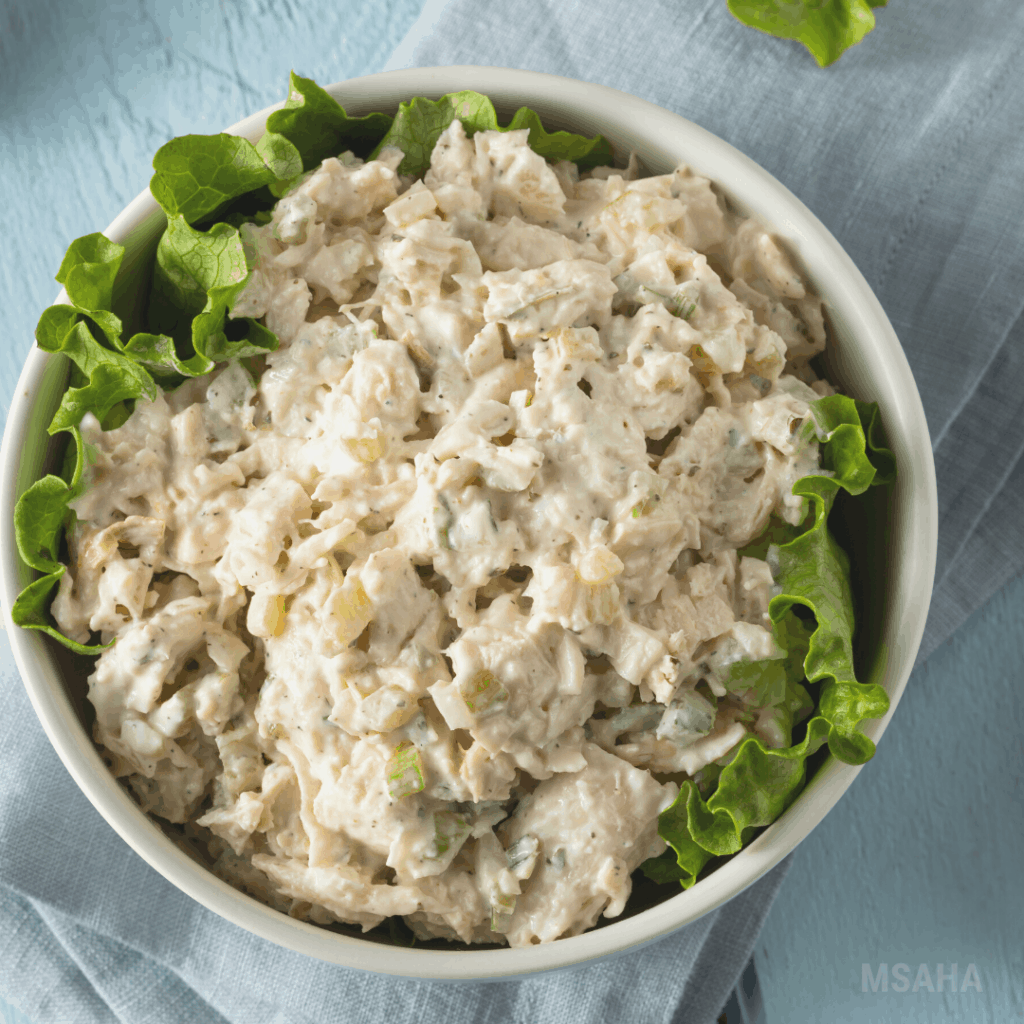 Can you freeze chicken salad?
If you are planning to freeze your chicken salad, do not add mayonnaise. When mayonnaise freezes, its oil, eggs, and vinegar separates leaving it looking liquidly and mushy.
You might like these chicken recipes:
What type of chicken can you use to make chicken salad?
You can use chicken breast, chicken thighs, rotisserie chicken, even canned chicken to make chicken salad.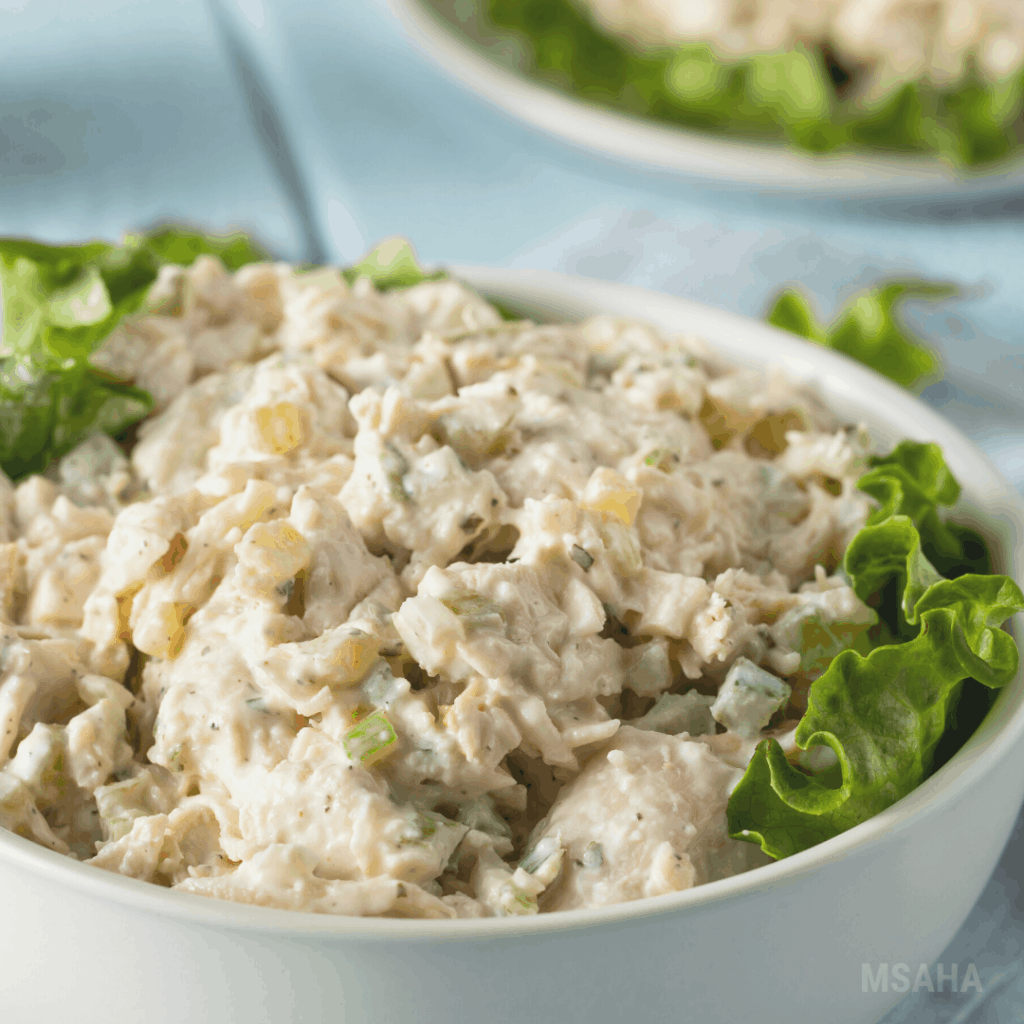 What are the ingredients for Easy Chicken Salad?
To make this easy chicken salad you are going to need the following ingredients:
Cooked chicken (white meat)
Celery
Hard-Boiled
Relish
mayo
Greek Seasoning
How to make chicken salad
Now that you have your ingredients it is time to make your chicken salad by following the steps below.
Dice the chicken into smaller pieces.
Next, chop the hard-boiled egg.
Add the chicken and egg into a bowl and add the rest ingredients into a bowl and mix well.
Your Easy Chicken Salad is ready to serve.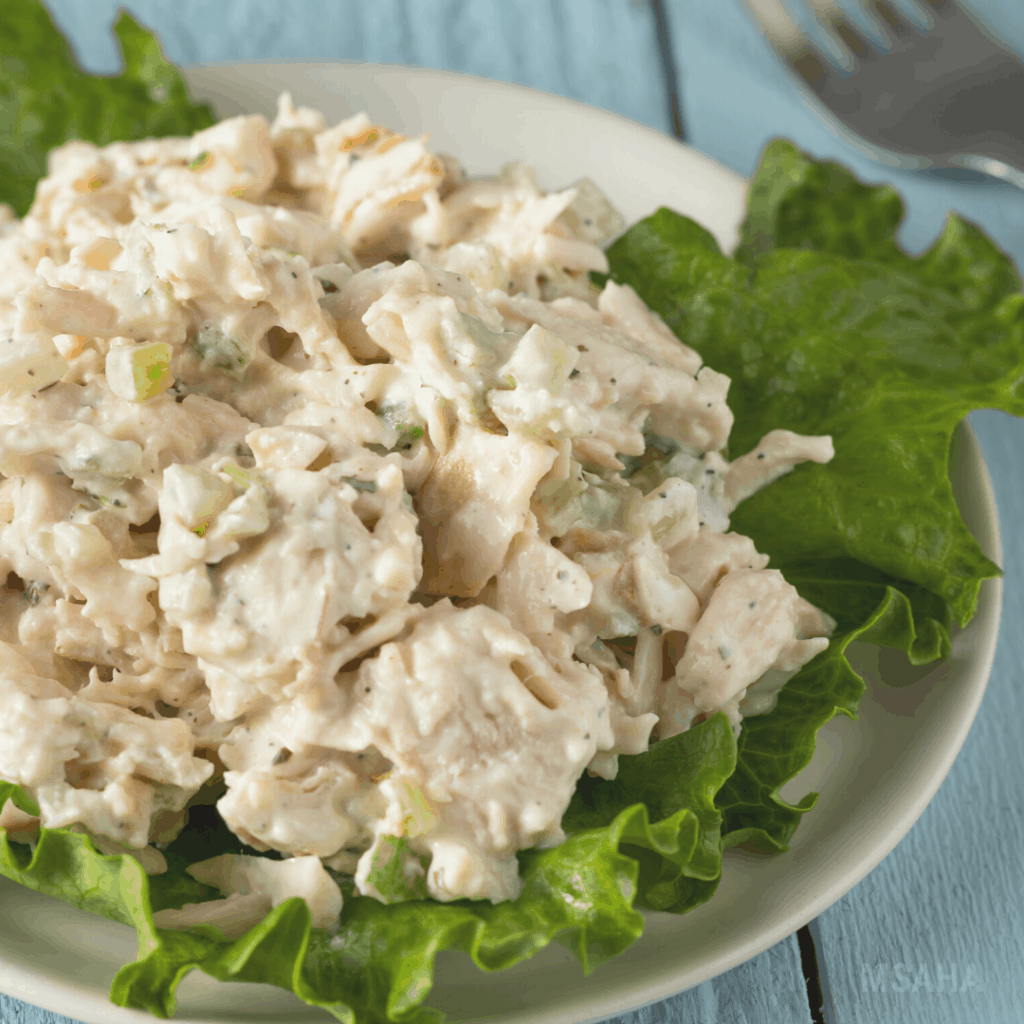 Easy Chicken Salad Recipe
Now that you know all you need to know about your easy chicken salad recipe it is time to print the recipe with the exact measurements.
If you are not ready to print this recipe, pin it for later, save it to your Yummly account or to your Mix account.
To print this recipe just click the print button below.
Easy Chicken Salad Recipe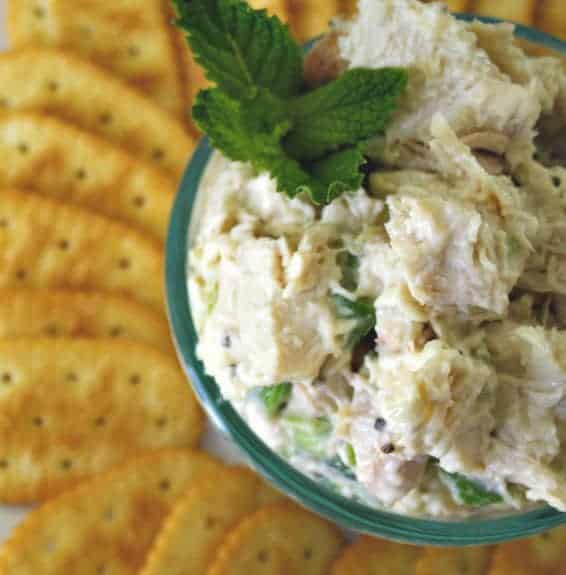 This easy chicken salad recipe is made with cooked chicken, celery, hard-boiled egg, relish, mayo, and Greek seasoning.
Ingredients
1 cup cooked chicken (white meat)
1/4 cup Celery, diced
1 Hard-Boiled Egg, diced
2 tbsp Relish (I use sweet, but you can use dill too)
1/3 cup mayo
Greek Seasoning to Taste
Instructions
Dice the chicken and egg.
Mix everything in a bowl.
Serve.
Nutrition Information:
Yield:
2
Serving Size:
1
Amount Per Serving:
Calories:

457
Total Fat:

39g
Saturated Fat:

8g
Trans Fat:

0g
Unsaturated Fat:

29g
Cholesterol:

172mg
Sodium:

638mg
Carbohydrates:

7g
Fiber:

1g
Sugar:

5g
Protein:

20g
This calculations might not be accurate.
How to Make Chicken Salad Video
The following two tabs change content below.
Latina mom of 4 married to wonderful Greek gentleman. Living in southeast PA and trying to juggle family and a household while trying to earn an income from home. Follow my stay at home journey as I discover how to earn money and save money so we can continue to live debt-free.
Latest posts by Joyce @ My Stay At Home Adventures (see all)