Easy Strawberry Lemonade With Seltzer
This post may contain affiliate links which might earn us money. Please read my Disclosure and Privacy policies here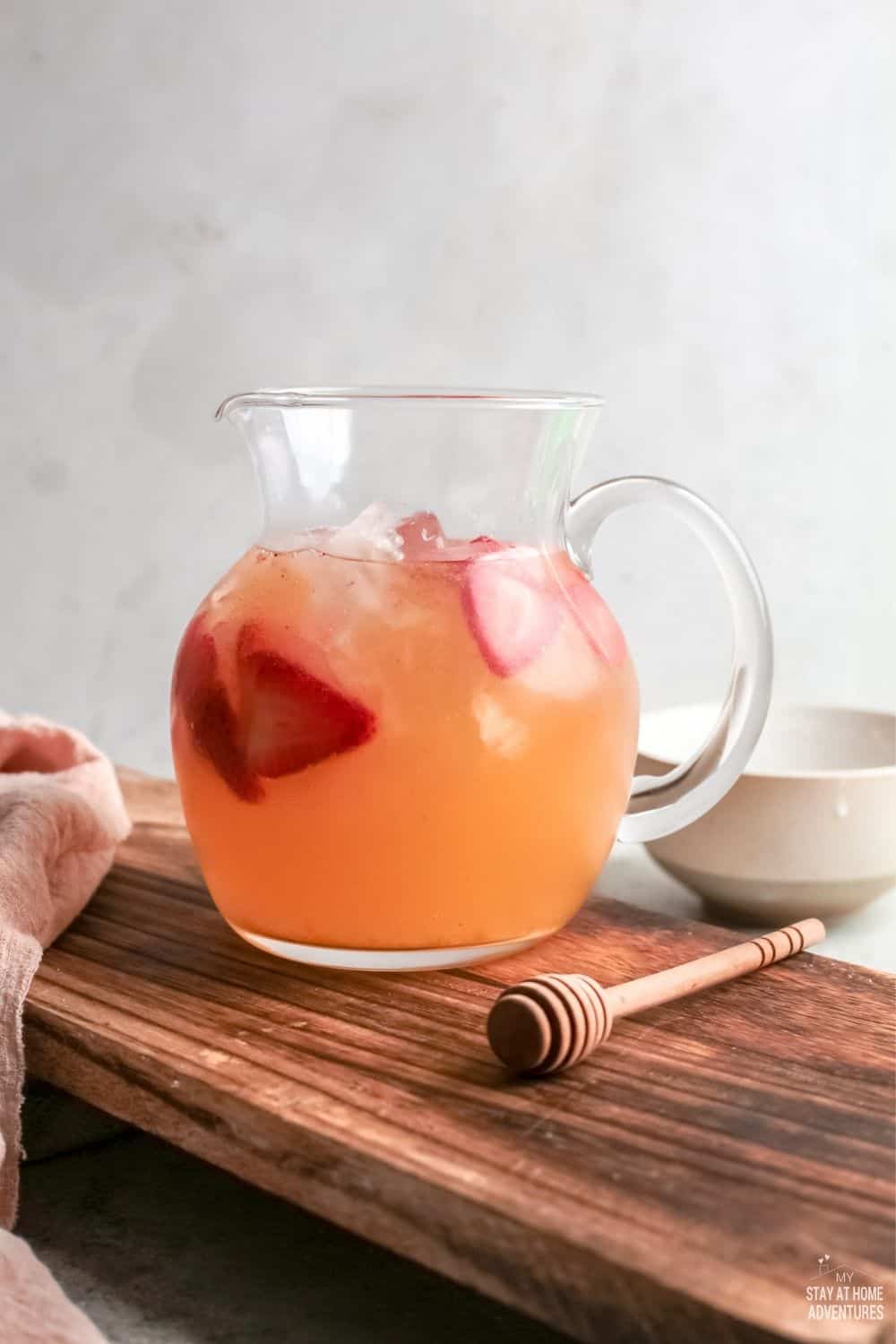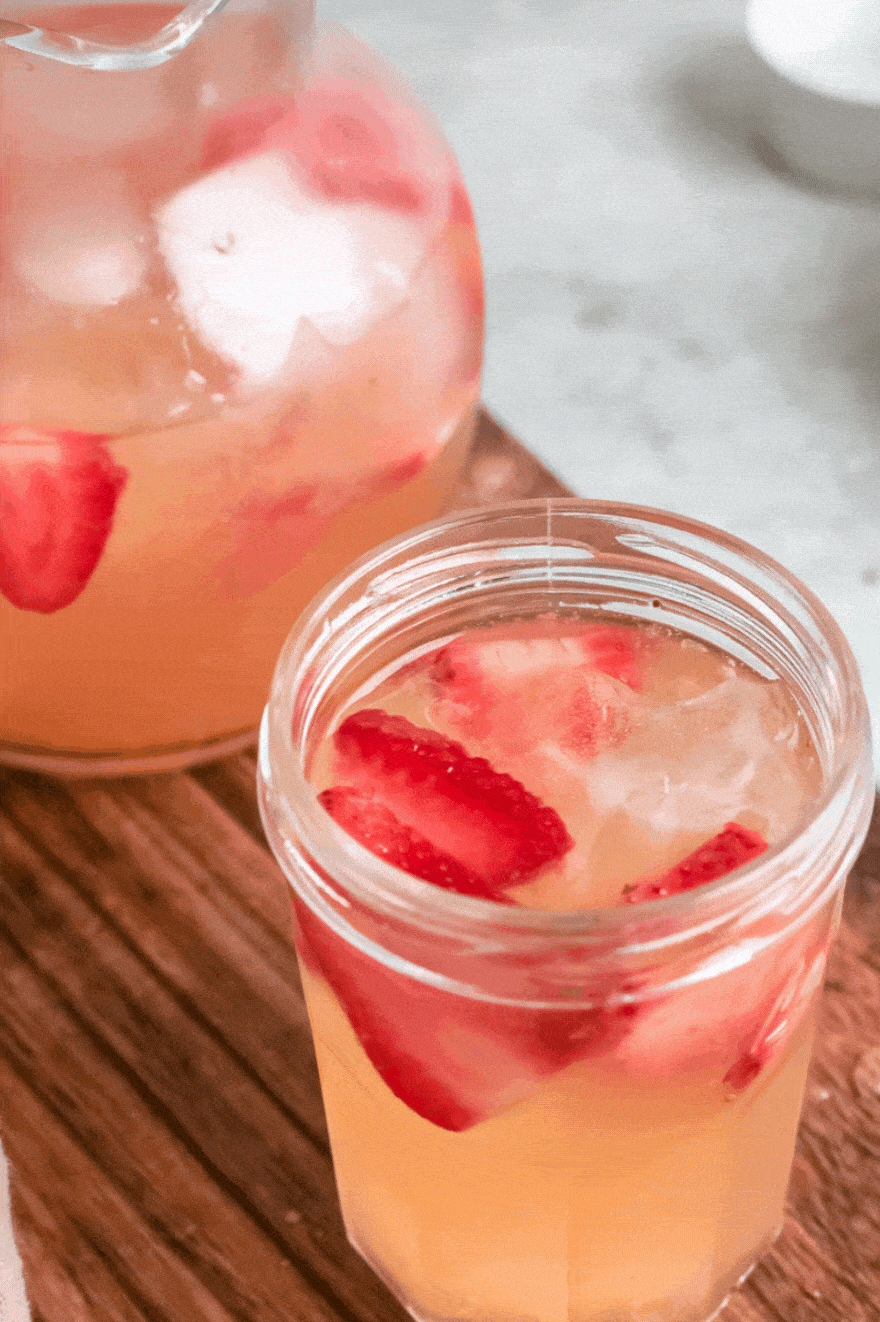 The summer is a beautiful time to enjoy the outdoors and have some refreshing drinks. One drink that you may want to try this summer is sparkling strawberry lemonade. This drink has all the ingredients of your favorite lemonade, but it's got an extra fizziness from seltzer water.
What is seltzer water?
Seltzer water is carbonated water. It is created by forcing compressed CO_2 and nitrogen into regular tap or spring water under high pressure, which causes the drink to be effervescent.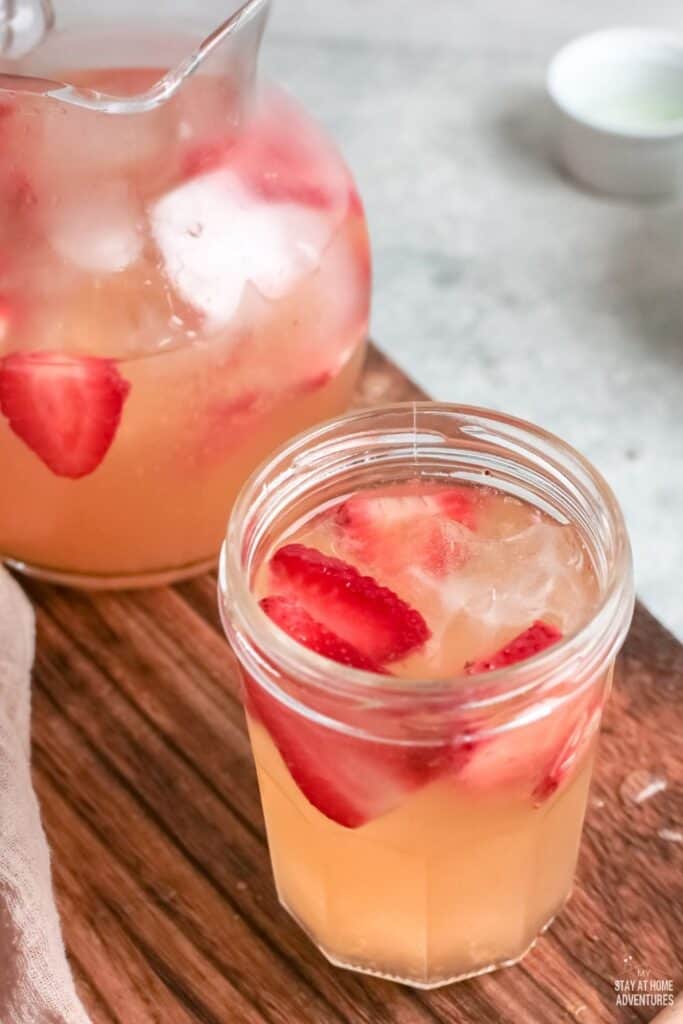 What is the difference between sparkling water and seltzer water?
There is a difference between sparkling water and seltzer water. Sparkling water is the same as seltzer but has a higher level of CO_2.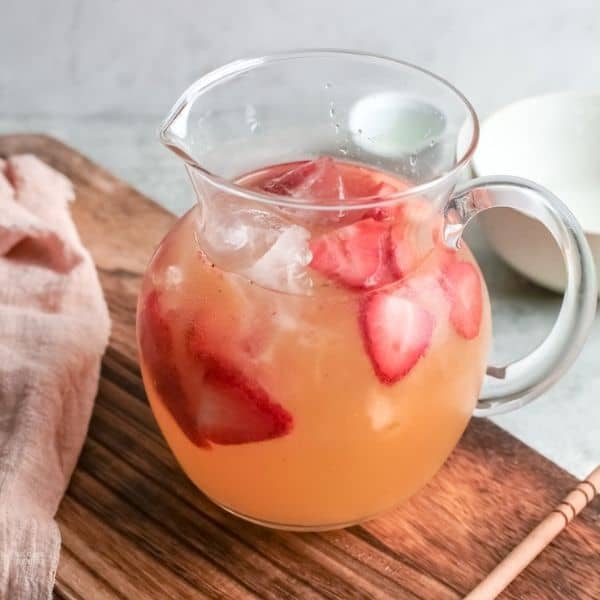 What are the ingredients to make strawberry lemonade with seltzer?
To make this recipe, you are going to need:
Seltzer water – we used Vintage Seltzer Original, but you can use your favorite seltzer.
Powder lemonade – we used Country Time Lemonade, but you can use your favorite powder lemonade.
Sugar – we used white sugar, but you can use your favorite type of sugar or replace it with honey.
Frozen strawberries – we recommend using a small package for this recipe, but not the whole Bag!
Related Lemonade Posts:
How much does sparkling strawberry lemonade with seltzer cost?
We did our best estimate based on the prices at Walmart. Remember that prices vary; not all brands are available in every store.
We used the cheapest products we could find. Remember that you can always use Walmart pickup or delivery.
Great Value Sodium Free Seltzer Water, 33.8 fl oz: $0.77
Country Time Lemonade powder: $2.60
Great Value Pure Granulated Sugar, 4 lb: $2.08
Great Value Frozen Whole Strawberries, 16 oz. Resealable Bag: $2.00
Honestly, it doesn't cost much to create this refreshing drink.
How do I make strawberry lemonade with seltzer?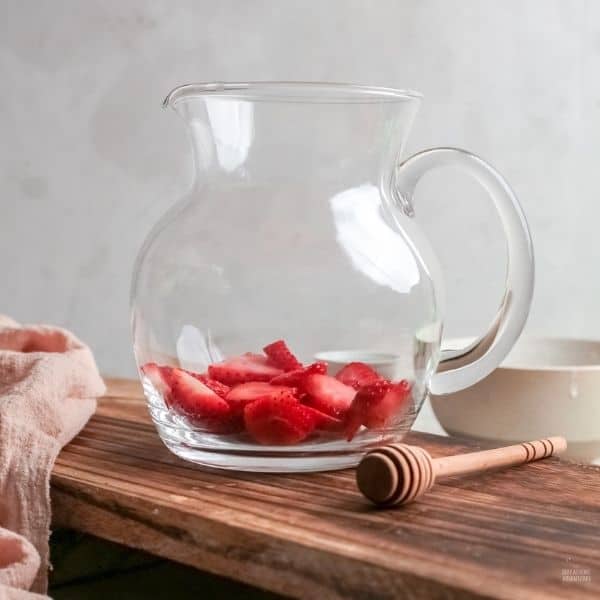 To prepare your sparkling drink, you must mix fruit juice or powdered drink mix with the carbonated water.
Give them time to soak the flavor if you use fresh fruits.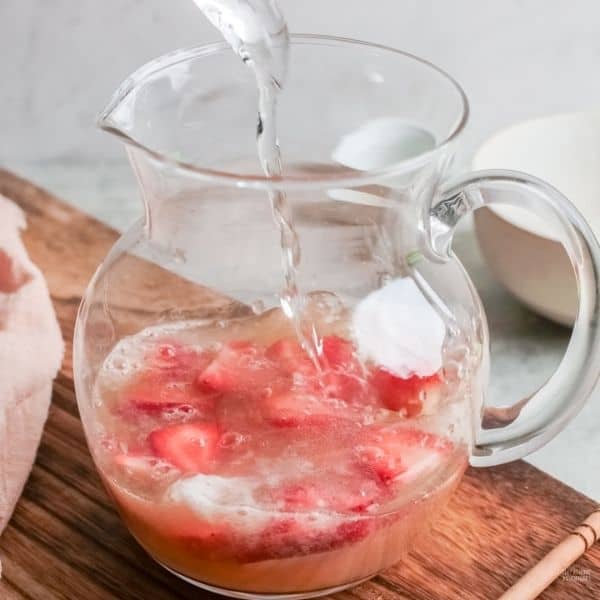 It's best to use a seltzer with natural ingredients like Vintage Seltzer* Original since that will make your drink taste better and not too carbonated.
*According to Vintage Seltzer, the "natural flavors" may be an essence, extract, or oil from the natural fruit listed on the label.
Next, refrigerate the drink until chill and serve cold.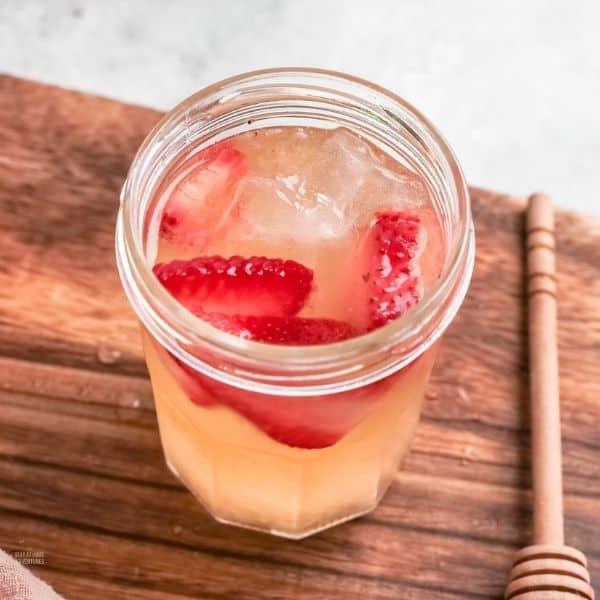 Notes:
If you use frozen strawberries with syrup, reduce sugar intake as this syrup will have sugar.
If you use a bigger cup, use the entire can!
If you use a lemon flavor seltzer, use less powder lemonade.
Remember that this is made to your personal liking. Some people like it more lemony flavored, and others like it more strawberries. You can't mess this recipe up!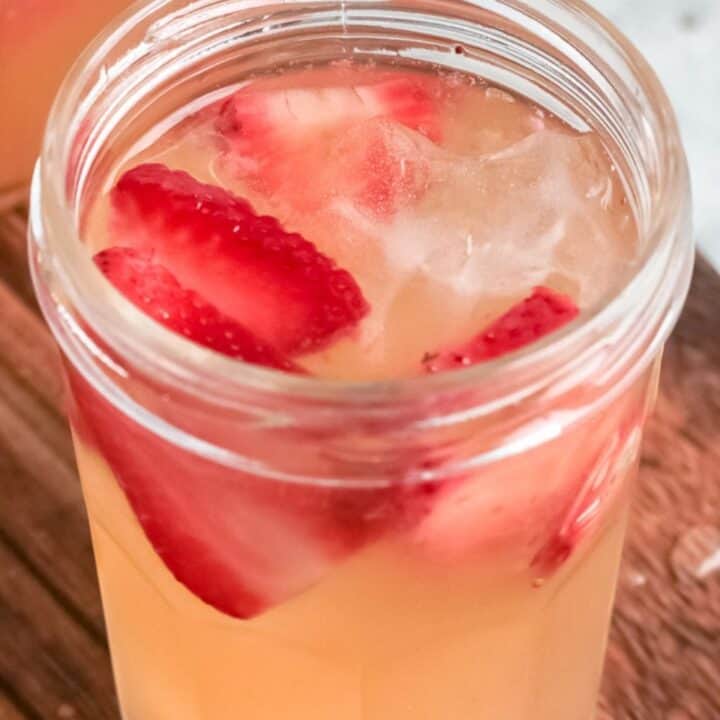 Easy Strawberry Lemonade With Seltzer
Are you looking for a no-fuss, refreshing drink to cool off with? Look no further than this Easy Strawberry Lemonade With Seltzer! It's easy to make, tastes amazing, and is perfect for any summer day.
This recipe features fresh strawberries, sweet lemons, and seltzer water. Pour the ingredients into a pitcher, then let it sit in the refrigerator for at least an hour before serving over ice.
This strawberry lemonade will be your new favorite summertime beverage that can't even compare to store-bought brands. Check out our recipe below!
Ingredients
1 1/2 cups Vintage Seltzer Original
2 Tablespoon of powder lemonade
1 Tablespoon of sugar
3 spoon full of frozen strawberries
A dash of honey (optional)
Instructions
Pour Vintage Seltzer into a large cup or pitcher depending on the amount you want.
Add lemonade and sugar (or honey) and mix.
Add frozen strawberry and stir.
Rerfigerate until ready to serve.
Notes
This recipe is made to your liking, so make sure you test out the amount of lemonade you want.
You can skip the sugar and use honey.
If you use frozen strawberries with syrup, then omit the sugar.
You can use fresh lemon (best thing ever!) juice for this recipe.
Recommended Products
As an Amazon Associate and member of other affiliate programs, I earn from qualifying purchases.
Nutrition Information:
Yield:

2
Serving Size:

1
Amount Per Serving:
Calories:

38
Total Fat:

0g
Saturated Fat:

0g
Trans Fat:

0g
Unsaturated Fat:

0g
Cholesterol:

0mg
Sodium:

3mg
Carbohydrates:

10g
Fiber:

0g
Sugar:

9g
Protein:

0g
These nutritional calculations might not be accurate. Please speak with a licensed nutritionist to assist you.