Strawberry Kiwi Slush Recipe
This post may contain affiliate links which might earn us money. Please read my Disclosure and Privacy policies here
Do you love the taste of summer? In this Strawberry Kiwi Slush Recipe, we have combined the flavors of strawberries and kiwis to create a refreshing drink that will cool you down on hot days. You can make it for your family or enjoy it with friends anytime!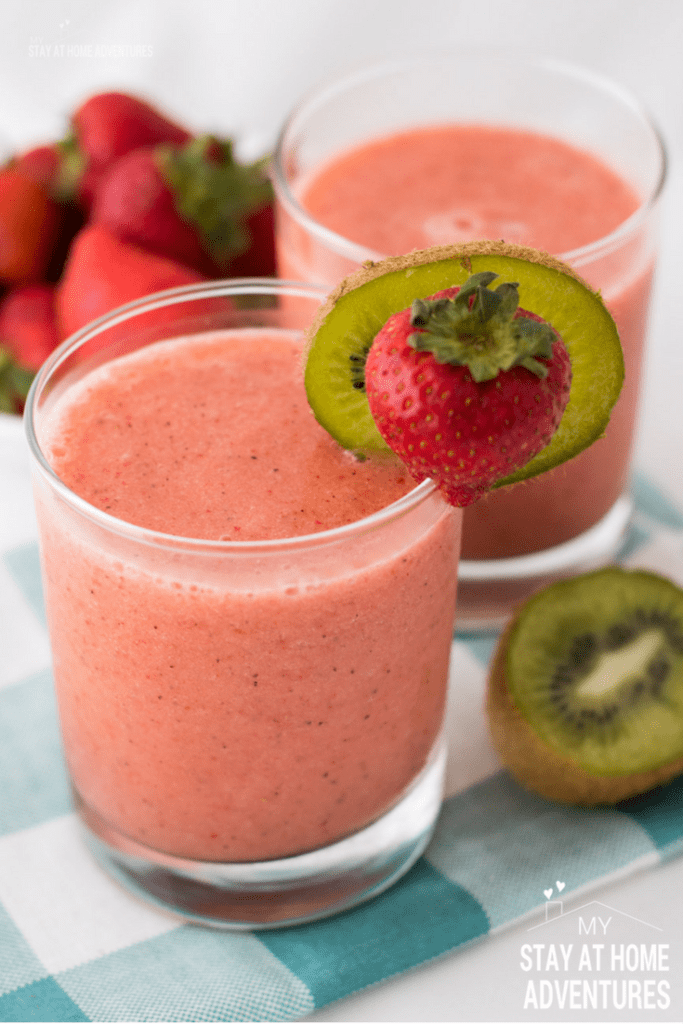 The best part is that this recipe is healthy and delicious – perfect for anyone who loves fresh fruit. Please read below to find out how easy it is to make this slushy recipe at home!
Fun facts about making homemade slushie recipes
Making homemade slushie recipes is not only a great way to use your favorite fruit but also an inexpensive dessert option for family gatherings. It's quick and easy to prepare.
What are the popular fruits to make slushies?
There are no rules for what fruits to use when making a slushie. You can make one with your favorite fruit or try something new each time. Some popular choices include watermelon, pineapple, and strawberry kiwi!
How long does homemade slushie last in the fridge?
Since slushies are made with fruit, they will typically last about a week in the refrigerator. Some fruits have more natural sugar (like watermelon) and others fewer sugars (berries), changing how long it lasts!
What size should I make my homemade slushie?
One large serving of about 16 oz. is a great size to serve at home, but if you are serving this for company then it might be best to make two servings of about 16oz each!
What do I put in my slushie?
The possibilities are endless- use your favorite fruit and add some lemon juice or sugar as needed!
How much ice should I add to a slushie?
Since you will be blending this slushie, there is no need to add any more ice unless it does not have enough liquid.
How many calories are in a Strawberry Kiwi Slush Recipe?
There are 105 calories total in one serving of the recipe- about 45 from sugar!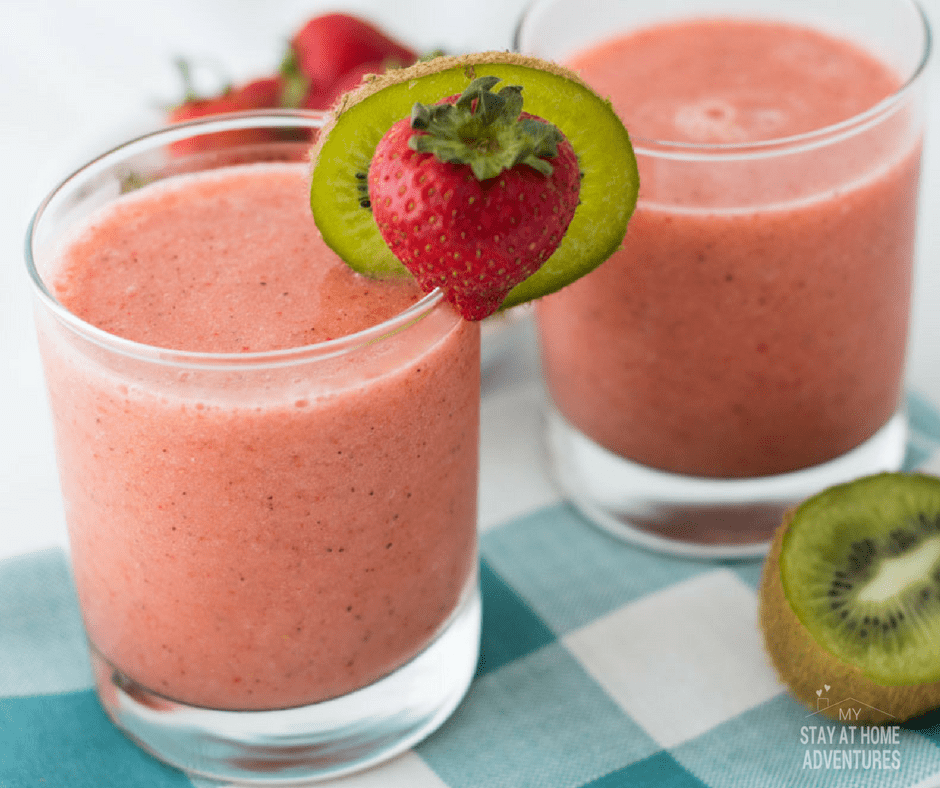 What are the ingredients to make Strawberry Kiwi Slush Recipe?
To make this strawberry kiwi slush recipe, you are going to need the following ingredients:
Strawberry halves, fresh or frozen (make sure to leave enough for garnish)
Kiwi fruit peeled and chopped (about a .50 c. per drink)
Water about ½ cup per serving of slushy mix
Sugar between two tablespoons and three tablespoons, depending on how sweet you like your slushie
Lemon juice about two tablespoons per serving
Ice cubes, enough to fill up a glass or large cup
How to Make Strawberry Kiwi Slush
Now that you have all of the ingredients, it is time to make this slush recipe. Follow the instructions below, and you will be enjoying this recipe in no time.
Mix the fruit and water in a blender until it is well blended. Add sugar, lemon juice, and ice cubes (enough for your desired amount of slushy). Blend on high speed for 30 to 60 seconds until the slushy is frothy.
Refrigerate for at least one hour depending on if you want to wait and enjoy!
RECIPE NOTES:
If you are using frozen fruit, there should be plenty of ice already in your mix.
The fruit will soak up the sugar, so be sure to use it to your liking! If you are using frozen fruit, then there should not need any additional sweetener.
You can substitute sugar for honey or other types of sweetener.
Strawberry Kiwi Slush Recipe
Now that you know all you need to know about creating this recipe it is time to print or save the recipe with the exact measurements.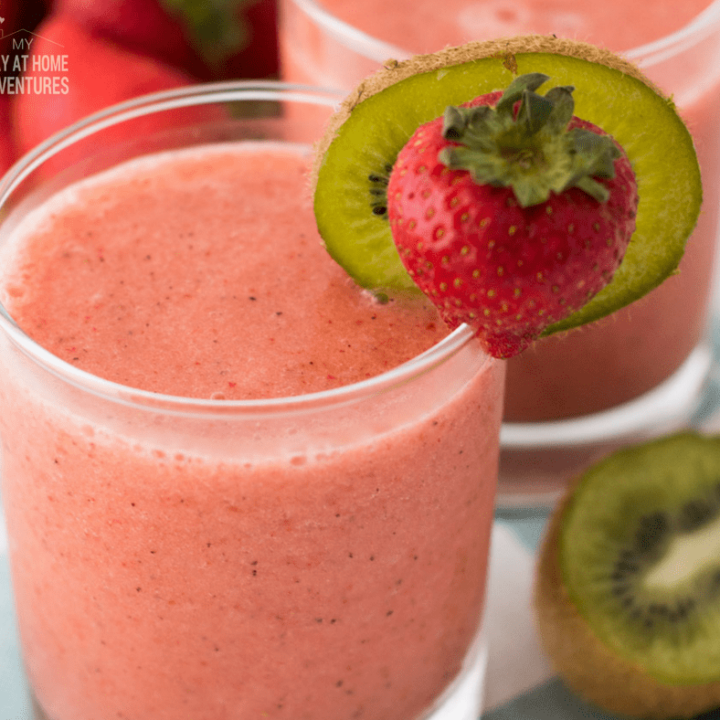 Strawberry Kiwi Slush Recipe
So, you want to go out on a hot summer day and enjoy your time spent outdoors?
If so, we have the perfect recipe!
This Strawberry Kiwi Slush Recipe is a refreshing drink that will cool down anyone who enjoys fresh fruit.
Making it for your family or with friends anytime is an option too. The best part about this beverage is that it's such a delicious treat for anyone who loves fresh fruits.
Ingredients
1 c. strawberries halved
1 kiwifruit, peeled and chopped
½ c. water
2-3 tbsp. sugar
2 tbsp. lemon juice
1-2 c. ice
Instructions
Add water, lemon juice, strawberries, kiwi, and sugar to the blender.
Blend and pulse for 30-60 seconds, and add ice.
Blend an additional minute until the mixture is thick and slushy.
Notes
-You can substitute sugar for honey or other types of sweetener.
Recommended Products
As an Amazon Associate and member of other affiliate programs, I earn from qualifying purchases.
Nutrition Information:
Yield:

1
Serving Size:

1
Amount Per Serving:
Calories:

394
Total Fat:

1g
Saturated Fat:

0g
Trans Fat:

0g
Unsaturated Fat:

1g
Cholesterol:

0mg
Sodium:

21mg
Carbohydrates:

100g
Fiber:

6g
Sugar:

90g
Protein:

2g
These nutritional calculations might not be accurate. Please speak with a licensed nutritionist to assist you.
Love this recipe? Check out these recipes below: