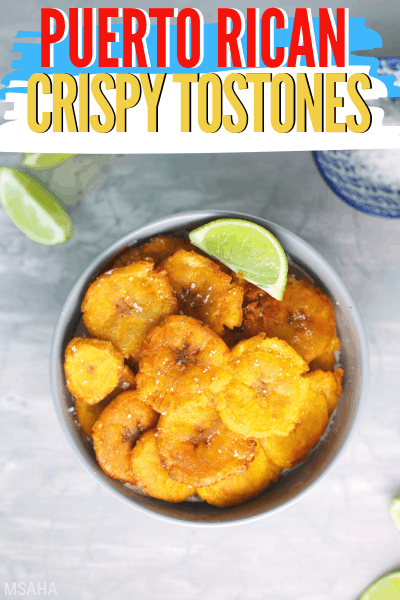 You are going to love this crispy salted Puerto Rican tostones. I made them with green plantain, a right amount of oil (we are deep frying here after all) and just a touch of sea salt or garlic salt.
I also like to squeeze a bit of lime juice on top before serving, but that's completely optional.
Ready to Print the Puerto Rican Tostones Recipe? Click Here!
With tostones, you have to do a double frying, and I will explain more about this later, just keep on reading.
So you basically fry the plantain once, smash if with the back of a wooden spoon or tostonera and then fry again until golden and crispy.
I have also made tostones with ripe plantain instead of green and the result is also really delicious! It's sweet and salt and slightly softer.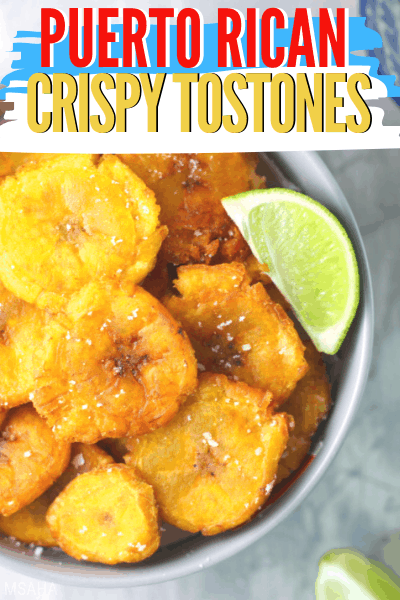 What are tostones?
Tostones are made from green plantains that are slicked and twice fried. Tostones are common in the Caribbean and many Latin American cuisines.
Puerto Rican Recipes You Might Love:
What are plantains?
Plantains are members of the banana family and are very starchy and are considered the main side dish in the Caribbean.
Why are they so popular?
Plantains are very popular because they are ready to eat no matter their stage of growth.
Just in case you think you can only eat them raw, eh, no! They are not bananas. Though they look like bananas, plantains must be cooked before serve.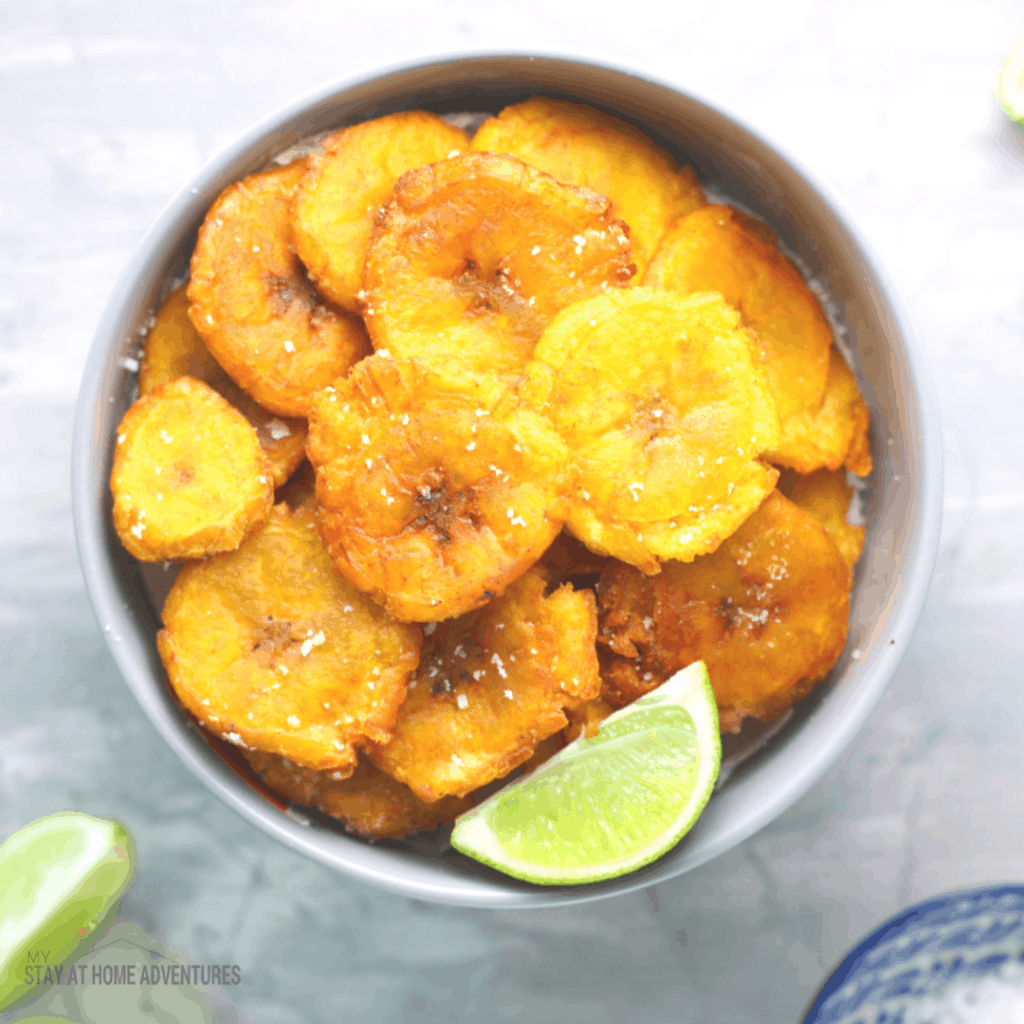 What are other names for tostones?
tachinos
chatinos
platano frito
verde frito
tajadas
bananes pesées
patacón pisao
patacones
Puerto Rican Tostones calories are?
For a medium-size Puerto Rican tostone it's about 96 calories. A small tostone is about 46 calories.
Tostones dipping sauce
Mayo-Ketchup is one of our favorite Tostones dipping sauce.
How to make Mayo-Ketchup Dipping Sauce?
½ cup of mayonnaise
½ cup of ketchup
1 garlic clove, pressed
Mixed the ingredients and refrigerate for about 20 minutes.
How to make Tostones?
What are the ingredients to make Puerto Rican tostones?
Green plantains
Vegetable oil
Salt or Garlic salt for a garlic taste
How to cook Puerto Rican tostones
Let's get started making these crispy tostones just follow the steps below and you will be enjoying them in a few minutes.
Let's begin.
Start by peeling the plantains.
Once you have removed, the skin from the plantains cut them into 1-inch thick pieces.
Using a heavy-bottomed pan, heat the oil.
Add the plantains and fry for about 3 minutes on each side until they are a light golden color.
Remove the plantain from the pan, set them aside on a paper towel to drain the oil.
Using a wooden spoon or tostonera presser smash each plantain. By this point, it will look like a toston.
After smashing the tostones, place them back to the frying pan for about 2 minutes each side.
Place them on a paper towel to remove excess oil.
Sprinkle sea salt or garlic salt.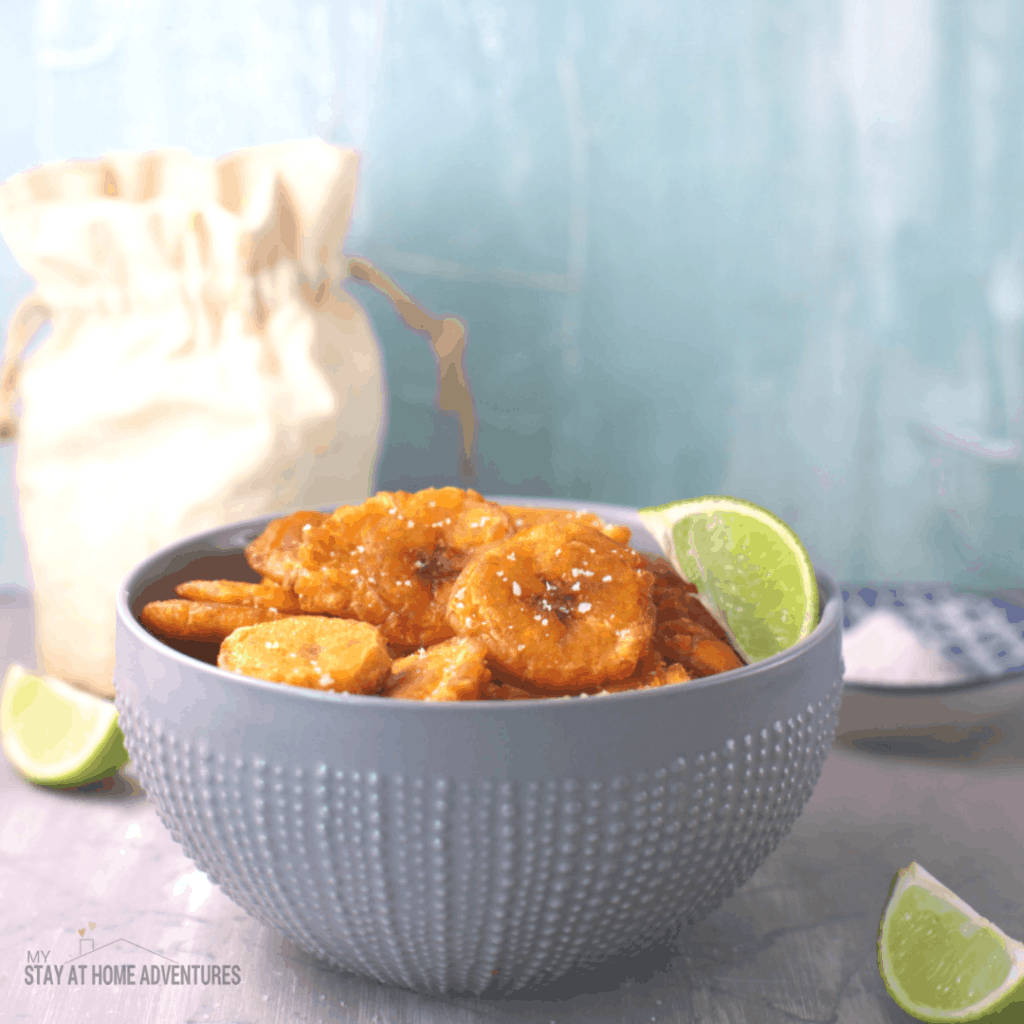 Your Crispy Puerto Rican Tostones are ready to serve.
Crispy Puerto Rican Tostones Recipe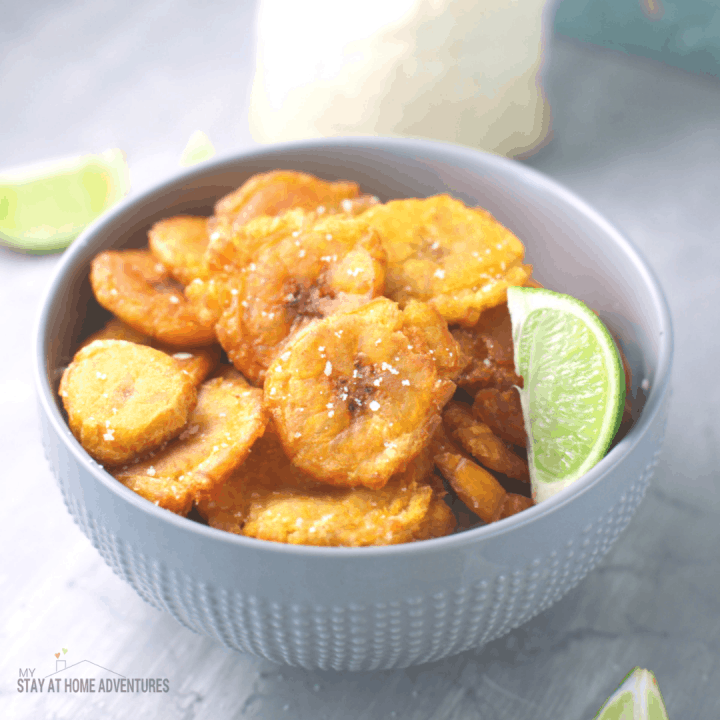 Puerto Rican Tostones
Delicious crispy salted Puerto Rican tostones, made with green plantain, a right amount of oil and a touch of sea salt or for a garlic flavor, add garlic salt.
Ingredients
2 Green plantains
1 Cup vegetable oil
Salt to taste or garlic salt to taste
Instructions
Peel the plantains and cut into 1-inch thick pieces.

Heat oil in a heavy-bottomed pan.

Fry the plantains for 3 minutes per side or until lightly golden. Remove from pan and transfer to paper towels.

With the back of a wooden spoon, smash each piece to flatten it up.

Transfer back to the back and fry for an additional 4 to 5 minutes (around 2 minutes per side).

Take back to paper towels to remove the excess oil. Sprinkle with sea salt.

The following two tabs change content below.
Latina mom of 4 married to wonderful Greek gentleman. Living in southeast PA and trying to juggle family and a household while trying to earn an income from home. Follow my stay at home journey as I discover how to earn money and save money so we can continue to live debt-free.
Latest posts by Joyce @ My Stay At Home Adventures (see all)