Puerto Rican Tostones
This post may contain affiliate links which might earn us money. Please read my Disclosure and Privacy policies here
You are going to love these crispy salted Puerto Rican tostones. I made them with green plantain, the right amount of oil (we are deep frying here, after all), and just a touch of sea salt or garlic salt.
I also like to squeeze a bit of lime juice on top before serving, but that's completely optional.
With tostones, you have to do double frying, and I will explain more about this later; keep on reading.
So you fry the plantain once, smash it with the back of a wooden spoon or tostonera and then fry again until golden and crispy.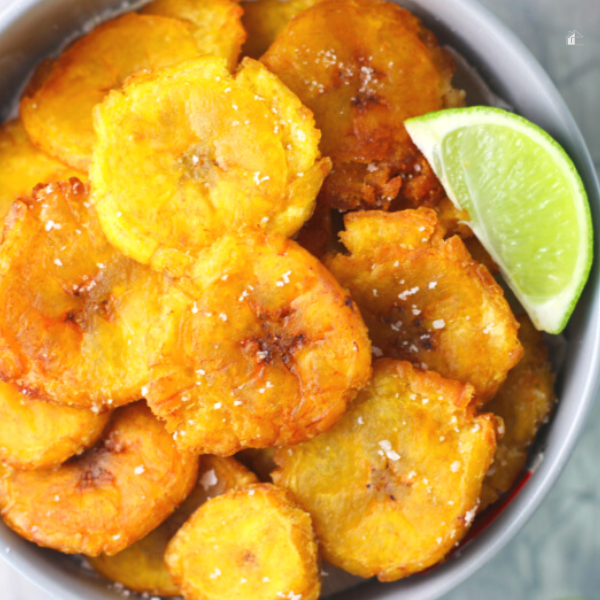 What are tostones?
To make tostones, plantains are first fried until they are soft and golden brown. Then, they are flattened and fried again until they are crispy and fluffy on the inside. Finally, serve them with your favorite dipping sauce and enjoy!
Puerto Rican Recipes You Might Love:
What are plantains?
Native to Southeast Asia, plantains were brought to the Caribbean by Spanish settlers and have since become a staple of Caribbean cuisine.
Plantains are a type of banana that is often used in cooking. Unlike regular bananas, plantains are typically eaten when they are still green and not yet ripe. They can be cooked in several ways, making them a versatile ingredient for many dishes.
You can cook plantains in many different ways, but one of the most popular methods is tostones.
Plantains are also a good source of dietary fiber and potassium. When unripe, plantains have a starchier texture and less sweetness than regular bananas. As they ripen, the sweetness increases and the texture becomes softer.
For this reason, plantains are often used in both savory and sweet dishes. No matter what stage of ripeness they are in, plantains are always a popular choice.
Why are they so popular?
Tostones are a type of fried plantain that originates from Latin America and the Caribbean. They are made by slicing a plantain into thin strips, frying them until they are golden brown, and then flattening them with a tostonera. Tostones are usually served as an accompaniment to the main dish, but they can also be enjoyed on their own as a snack.
One of the reasons for their popularity is that they are extremely versatile. You can season them with salt, pepper, and other spices or enjoy them with dipping sauces such as ketchup, mayonnaise, or salsa.
Additionally, tostones can be served anytime, making them a perfect option for breakfast, lunch, or dinner. So whether you're looking for a quick snack or a satisfying meal, tostones will hit the spot.
Can I eat a plantain without cooking it?
While you can technically eat raw plantains, they are not delicious in that state. Plantains are a type of starchy green banana that is often used as a vegetable. They are common in the Caribbean and Latin American cuisine, where they are usually cooked before being eaten.
When raw, plantains have a firm texture and a slightly bitter flavor. They can be added to salads or smoothies, but they are usually not eaten on their own. If you decide to eat raw plantains, it is best to wait until they are ripe.
Ripe plantains have yellow or black skin and are much sweeter than green ones. Again, they can be eaten raw but are often fried or boiled.
What can you eat with tostones?
Tostones can be eaten as a side dish or an appetizer and pair well with various foods. For example, you can dip them in sauces such as ketchup, mayonnaise, or salsa. You can also top them with shredded cheese, avocado, or tomatoes.
In addition, tostones can be served alongside meat dishes such as chicken, fish, or pork. So whatever you're in the mood for, tostones are a versatile food that is sure to satisfy.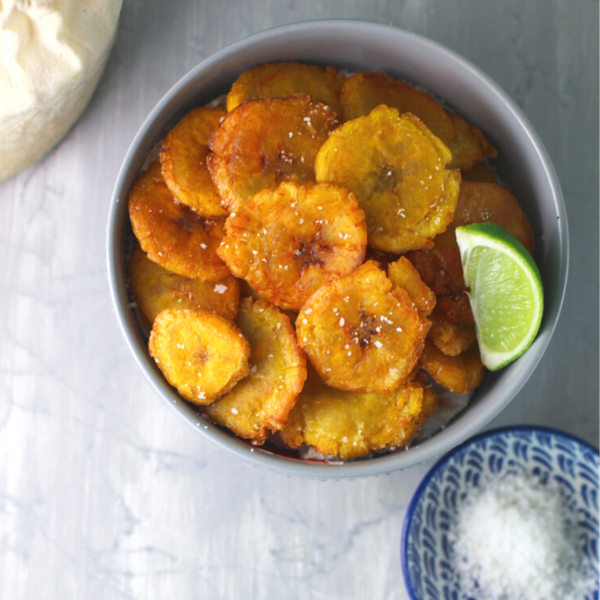 What are other names for tostones?
tachinos
chatinos
platano frito
verde frito
tajadas
bananes pesées
patacón pisao
patacones
Puerto Rican Tostones calories are?
For a medium-size Puerto Rican tostone it's about 96 calories. A small tostone is about 46 calories.
Tostones dipping sauce
Tostones are a delicious Latin American dish made from fried plantains. They are usually served as a side dish or appetizer and can be enjoyed with various dipping sauces. One popular sauce is mojo, a Cuban-style sauce made from garlic, olive oil, citrus juice, and herbs.
Another popular option is chimichurri, an Argentinean sauce made from parsley, garlic, vinegar, and olive oil.
Other popular dipping sauces for tostones include salsa, guacamole, Mayo-Ketchup sauce, Guasacaca, and sour cream. So no matter your preference, there is sure to be a tostones dipping sauce that you will enjoy.
Mayo-Ketchup is one of our favorite Tostones dipping sauce.
How to make Mayo-Ketchup Dipping Sauce?
½ cup of mayonnaise
½ cup of ketchup
1 garlic clove, pressed
Mixed the ingredients and refrigerated for about 20 minutes.
How to make Tostones?
What are the ingredients to make Puerto Rican tostones?
Green plantains
Vegetable oil
Salt or Garlic salt for a garlic taste
How to cook Puerto Rican tostones
Let's get started making these crispy tostones. Follow the steps below, and you will enjoy them in a few minutes.
Let's begin.
Start by peeling the plantains.
Once you have removed the skin from the plantains, cut them into 1-inch thick pieces.
Using a heavy-bottomed pan, heat the oil.
Add the plantains and fry for about 3 minutes on each side until they are lightly golden.
Remove the plantain from the pan, and set them aside on a paper towel to drain the oil.
Using a wooden spoon or tostonera presser, smash each plantain. By this point, it will look like a toston.
After smashing the tostones, place them back in the frying pan for about 2 minutes on each side.
Place them on a paper towel to remove excess oil.
Sprinkle sea salt or garlic salt.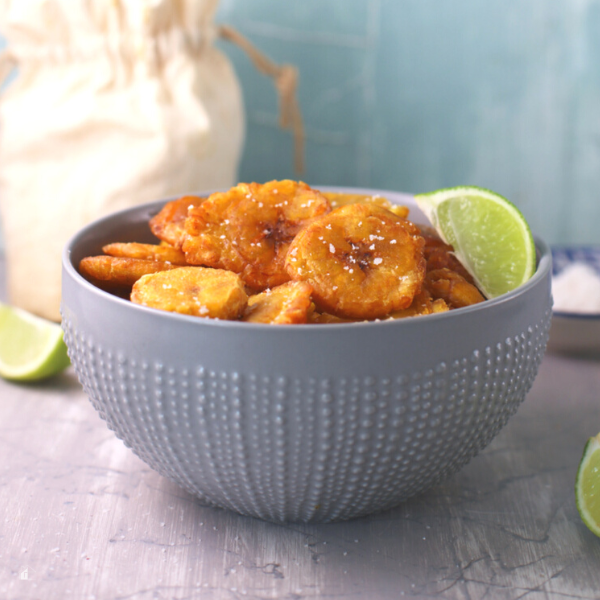 Your Crispy Puerto Rican Tostones are ready to serve.
Crispy Puerto Rican Tostones Recipe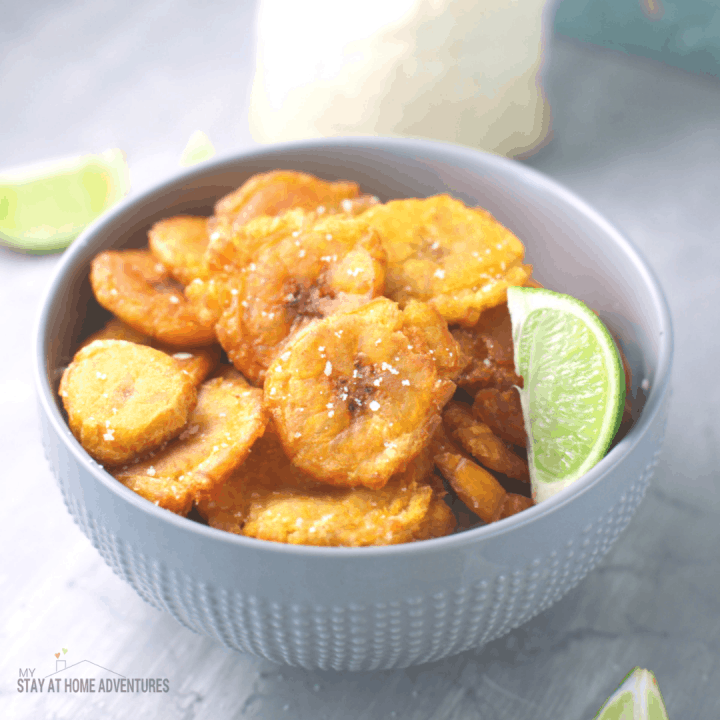 Puerto Rican Tostones
Delicious crispy salted Puerto Rican tostones, made with green plantain, a right amount of oil and a touch of sea salt or for a garlic flavor, add garlic salt.
Ingredients
2 Green plantains
1 Cup vegetable oil
Salt to taste or garlic salt to taste
Instructions
Peel the plantains and cut into 1-inch thick pieces.
Heat oil in a heavy-bottomed pan.
Fry the plantains for 3 minutes per side or until lightly golden. Remove from pan and transfer to paper towels.
With the back of a wooden spoon, smash each piece to flatten it up.
Transfer back to the back and fry for an additional 4 to 5 minutes (around 2 minutes per side).
Take back to paper towels to remove the excess oil. Sprinkle with sea salt.

Recommended Products
As an Amazon Associate and member of other affiliate programs, I earn from qualifying purchases.
Nutrition Information:
Yield:

20
Serving Size:

1
Amount Per Serving:
Calories:

124
Total Fat:

11g
Saturated Fat:

1g
Trans Fat:

0g
Unsaturated Fat:

10g
Cholesterol:

0mg
Sodium:

50mg
Carbohydrates:

7g
Fiber:

1g
Sugar:

3g
Protein:

0g
These nutritional calculations might not be accurate. Please speak with a licensed nutritionist to assist you.