Leftover Ham & Plantain Soup (Sopas de Platanos)
This post may contain affiliate links which might earn us money. Please read my Disclosure and Privacy policies here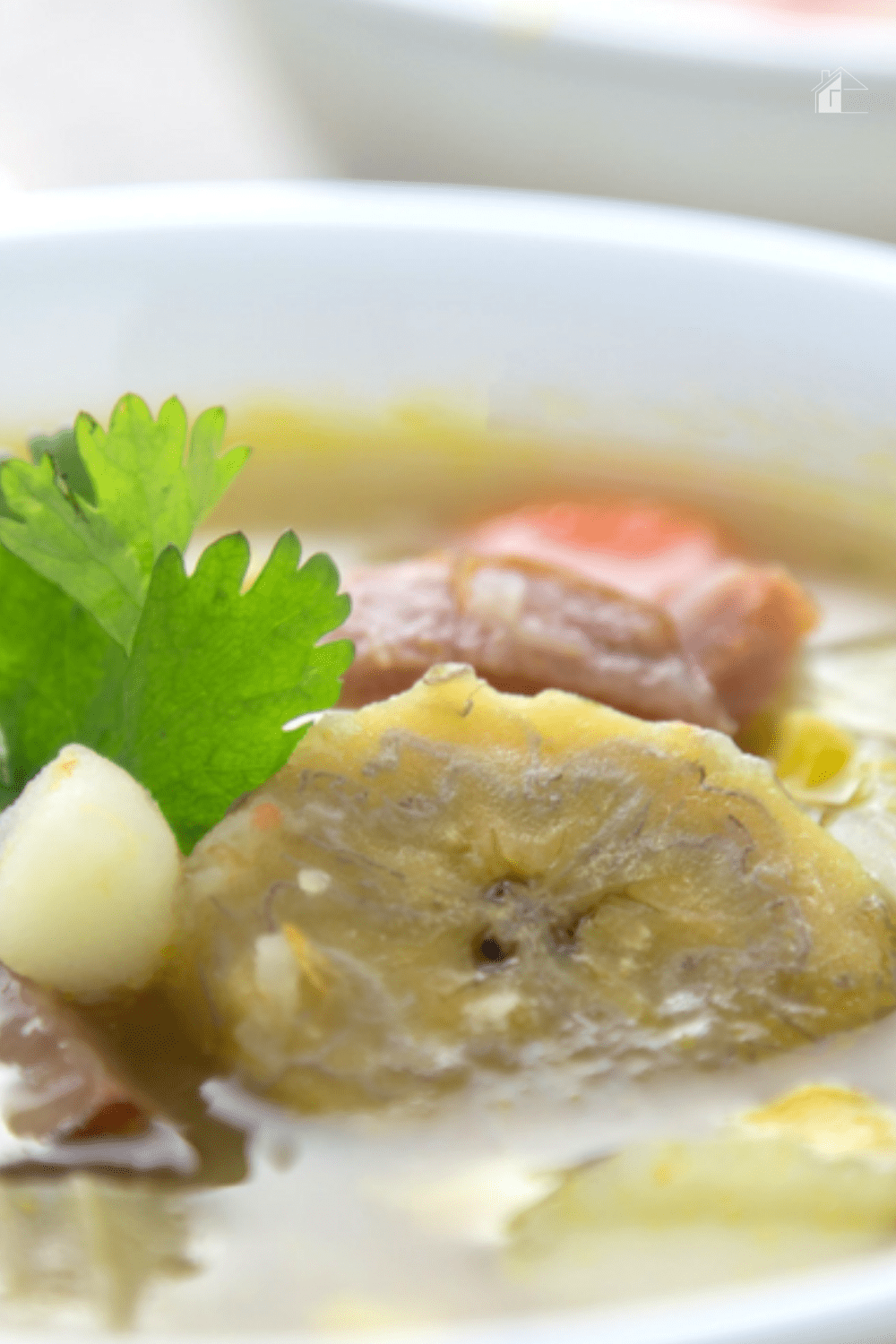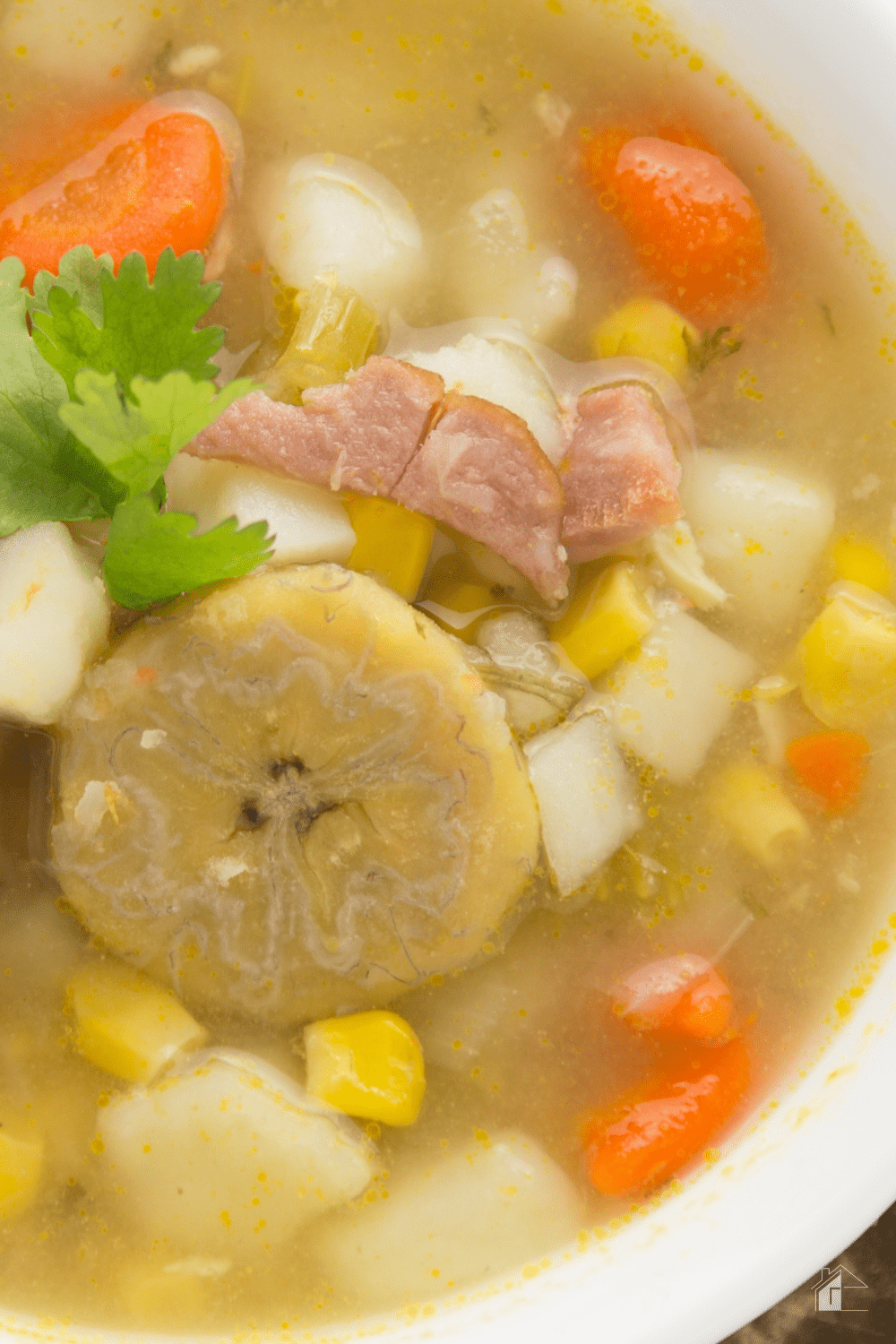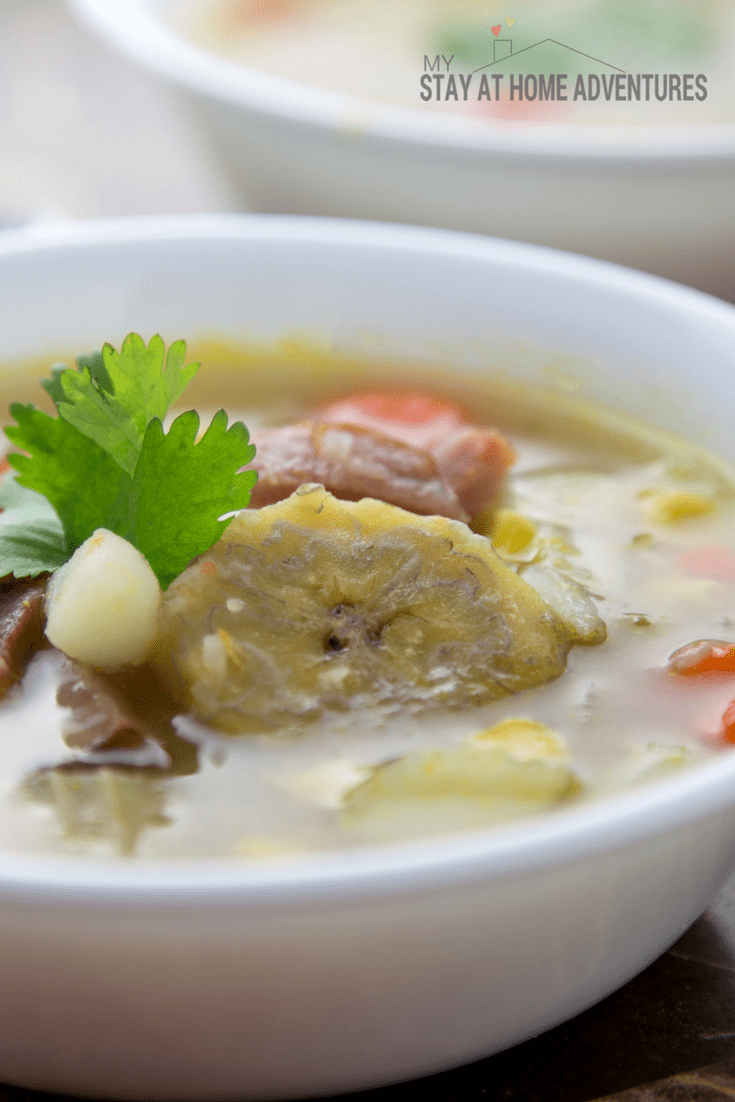 Have leftover ham and plantain? Then learn how to create this simple yet delicious ham and plantain soup or what we call in my house Sopas de Platanos.
Leftover ham and plantain soup is a beautiful way to use your ham from the holiday meal and turn it into absolutely delicious and nutritious.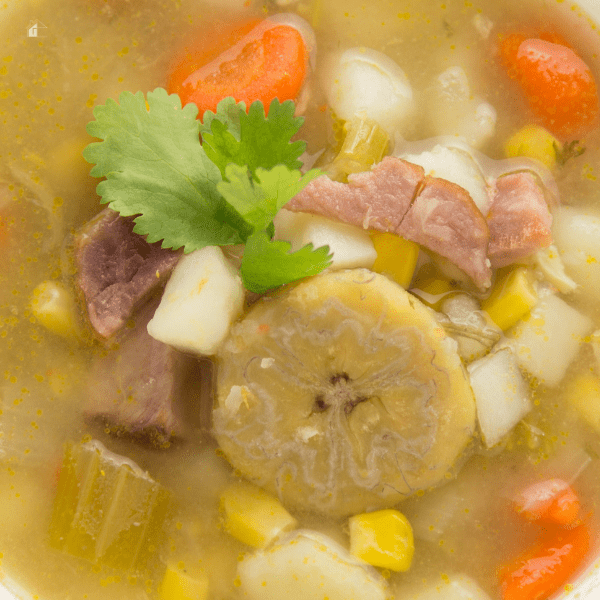 Leftover ham and plantain soup take 5 minutes to prepare, then you let it simmer, and the result will be a hearty, flavourful, piping hot soup ready to satisfy your taste buds.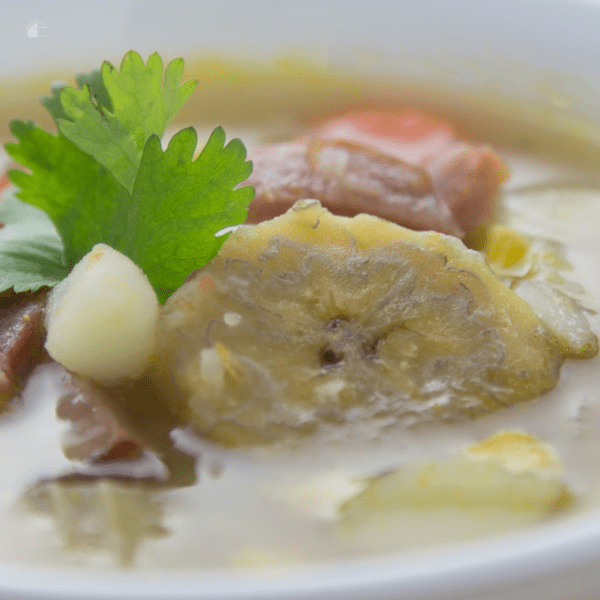 What are plantains
If you don't know what plantains are, they are members of the banana family: Plantains are very starchy and are considered the main side dish in the Caribbean.
Plantains are rich in dietary fiber, vitamins (A and C), potassium, magnesium, and iron. Plantains are popular because they are ready to eat no matter their growth stage.
That being said, plantains can not be eaten raw at all. This is because they are not bananas, and they will not taste as good as bananas. Therefore, though they look like bananas, plantains must be cooked before serving.
You can prepare plantains in many ways by boiling, mashing, frying, grilling, or baking. Once you try it, you will fall in love with the flavor. Plantains are found in most of the USA in the grocery store's produce sections.
This leftover ham & plantain soup is very simple and tastes delicious; it won't take long to make. You can prepare this soup using a slow cooker like I did when making my EASY HAM AND POTATO SOUP.
The Inspiration behind my Puerto Rican Plantain Soup
When I add plantains to any of my soups, I have to add them when the soup is about done. The reason why is that plantains will overcook and fall apart.
I had my leftover ham from New Year frozen in my freezer. Most of the ingredients were bought at Aldi, including the plantains.
As you can see, this soup won't cost much to prepare, but unlike the easy ham and potato soup recipe, it has more ingredients to give it more flavor.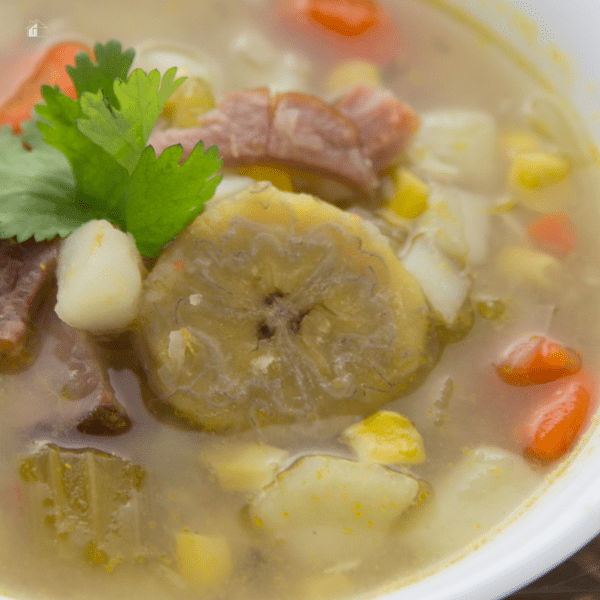 I used fresh potatoes and carrots and sweet canned corn for this soup and plantains that weren't ripe. You can add ripe plantains to this soup to give it a sweeter flavor to your soup too.
How to Make Plantain Soup Recipe
Now that you know how to create this recipe it is time to print the recipe with the ingredients.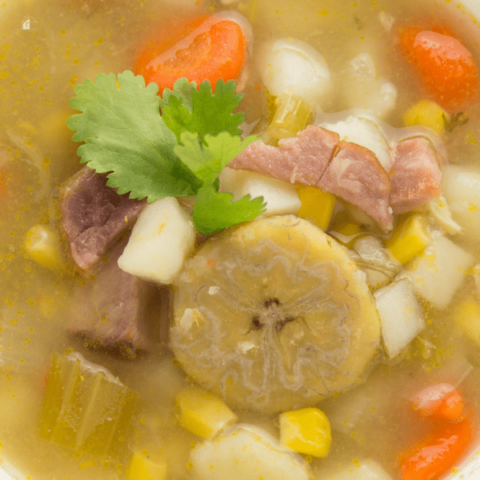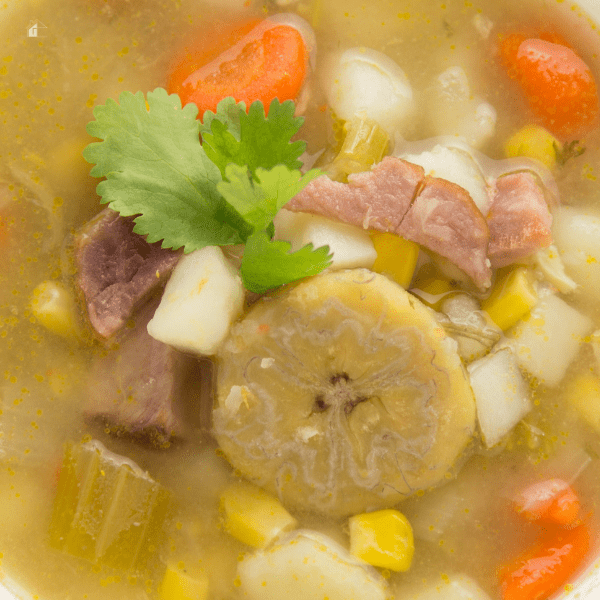 Leftover Ham & Plantain Soup (Sopas de Platanos)
There's nothing like a big pot of soup to warm you up on a cold day. This Leftover Ham & Plantain Soup is hearty and delicious and uses up any leftover ham from your holiday feast.
The sweetness of the plantains is a perfect balance for the salty ham and makes this soup feel like a special treat. Give it a try next time you have some leftovers!
Ingredients
1 clove Garlic, minced
1 tbsp Butter, salted
2 large carrots, raw
1 can (12 oz) Yellow Sweet Corn
4 cup Chicken Broth
1 slice, medium onions
2 cup slices plantains (green)
2 cup leftover ham
1 tbsp dried parsley
1 stalk, large Celery
1 cup diced Potato
1 cup water
Salt and Pepper to taste
Instructions
In a large soup pot, heat butter and add onions, carrots, celery, and garlic, and cook until onions are tender.
Add broth, parsley, water, and potatoes and cook until potatoes are cooked.
Add salt and pepper to taste.
Add leftover ham and corn and bring it to a boil.
Followed by adding plantains. Plantains will start floating once they are cooked.
Recommended Products
As an Amazon Associate and member of other affiliate programs, I earn from qualifying purchases.
Nutrition Information:
Yield:

6
Serving Size:

1
Amount Per Serving:
Calories:

207
Total Fat:

5g
Saturated Fat:

2g
Trans Fat:

0g
Unsaturated Fat:

2g
Cholesterol:

37mg
Sodium:

1140mg
Carbohydrates:

31g
Fiber:

3g
Sugar:

11g
Protein:

13g
These nutritional calculations might not be accurate. Please speak with a licensed nutritionist to assist you.