Leftover Ham & Plantain Soup (Sopas de Platanos)
This post may contain affiliate links which might earn us money. Please read my Disclosure and Privacy policies here
Leftover Ham & Plantain Soup (Sopas de Platanos) it's what's cooking today!
Today we are going to talk about this delicious Puerto Rican ham and plantain soup we love to make in our house.
I love plantain recipes and you are going to love this plantain soup!
You can enjoy it year round and from someone that just learned to cook the other day, is so delicious you are going to make it more than once!
Leftover Ham & Plantain Soup (Sopas de Platanos)
Using leftover ham I made this delicious soup that my entire family loved. Is another way to make a delicious recipe using leftover ham and this plantain soup will be added to your favorite recipes.
What are plantains
If you don't know what plantains are they are members of the banana family: Plantains are very starchy and are considered the main side dish in the Caribbean. Plantains are popular because they are ready to eat no matter their stage of growth.
That being said plantains can not be eaten raw at all. They are not bananas, and they will not taste as good as bananas. Though they look like bananas, plantains must be cooked before serve.
You can prepare plantains in many ways by boiling, mashing, frying, grilling or baking. Once you try it, you will fall in love with the flavor. Plantains are found in most of the USA in the produce section of the grocery store.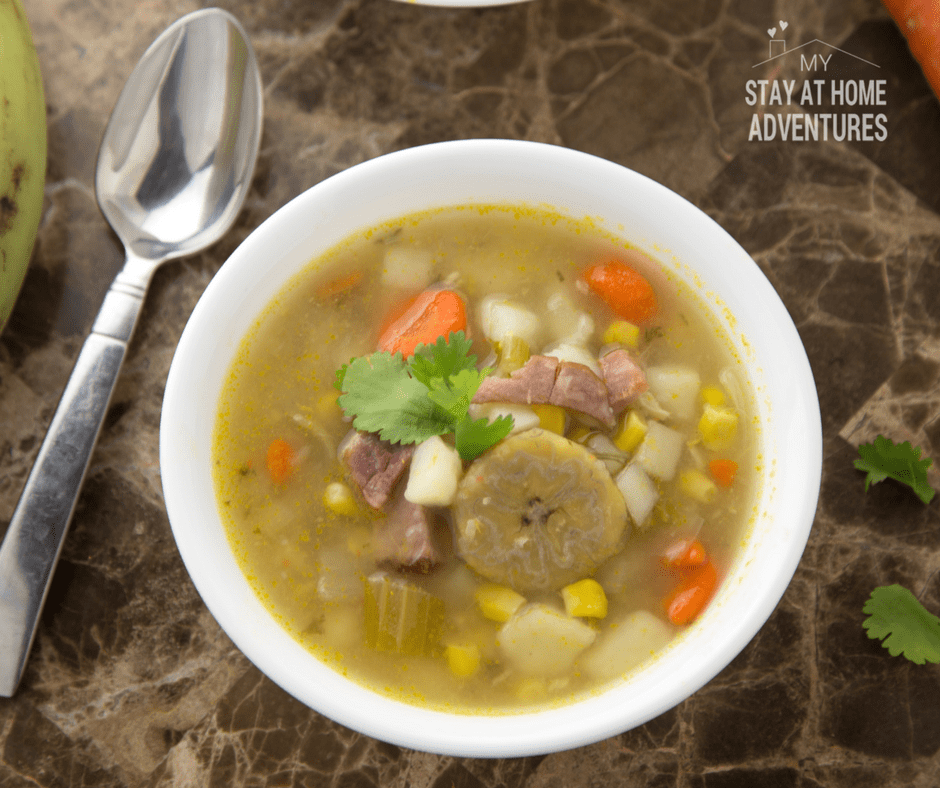 This leftover ham & plantain soup is very simple, and taste delicious plus it won't take you long to make. You can prepare this soup using a slow cooker like I did when I make my EASY HAM AND POTATO SOUP.
The Inspiration behind my Puerto Rican Plantain Soup
When I add plantains to any of my soups you have to add them when the soup is about done. The reason why is because plantains will overcook and fall apart.
My leftover ham was ham from New Years, and I had it frozen in my freezer. The majority of the ingredients were bought at Aldi, including the plantains (20¢ each).
As you can see this soup won't cost much to prepare, but unlike the easy ham and potato soup recipe it has more ingredients to give it more flavor.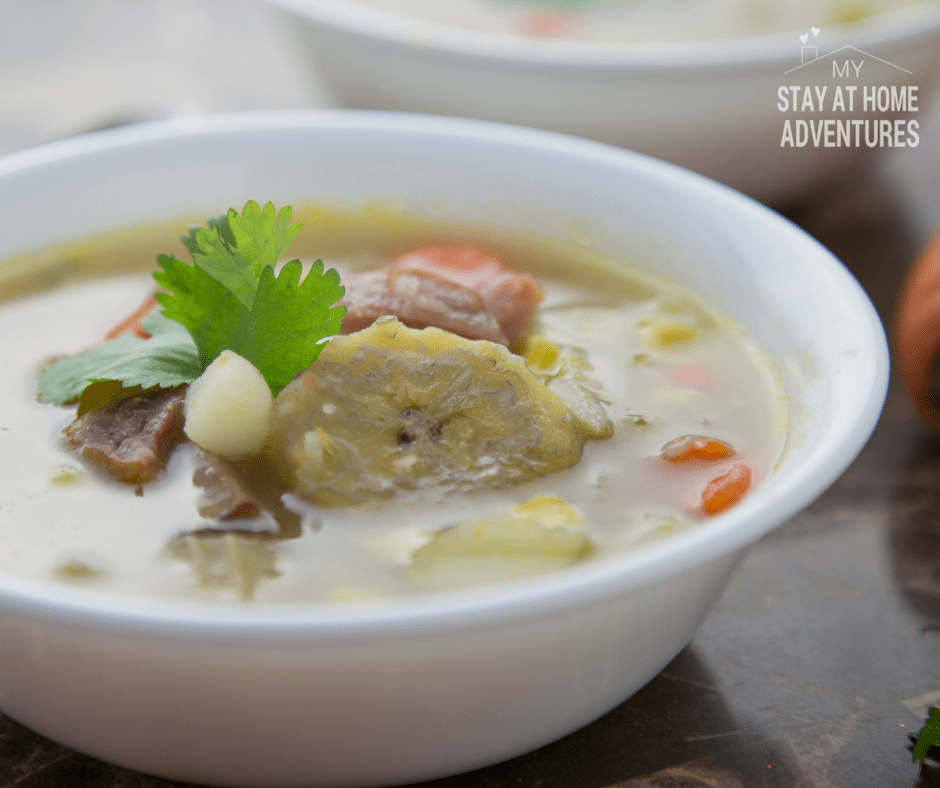 I used fresh potatoes and carrots and sweet canned corn for this soup and plantains that weren't ripe. You can add ripe plantains to this soup to give it a sweeter flavor to your soup too.
My husband likes a little bit of hot sauce added to his soup.
Related posts:
How to make this Plantain Soup recipe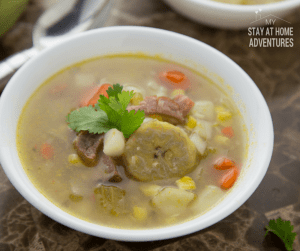 Print
Leftover Ham & Plantain Soup (Sopas de Platanos)
Ingredients
1 clove Garlic 1 tbsp Butter, salted
2 large carrots, raw
1 can (12 oz) Yellow Sweet Corn
4 cup Chicken Broth
1 slice, medium onions
2 cup slices plantains (green)
2 cup  leftover ham
1 tbsp dried parsley
1 stalk, large Celery
1 cup diced Potato
1 cup water
Salt and pepper to taste
Instructions
In a large soup pot, heat butter and add onions, carrots, celery, garlic and cook until onions are tender.
Add broth, parsley, water, potatoes and cook until potatoes are cooked.
Add salt and pepper to taste.
Add leftover ham, corn and bring it to a boil.
Follow by adding plantains. Plantains will start floating once they are cooked.
Notes
Cooking tip:
Add salt and pepper once you add the potatoes.
We used organic broth.
Add ripe plantain if desire.