20 of The Best Dominican Dinner Ideas
This post may contain affiliate links which might earn us money. Please read my Disclosure and Privacy policies here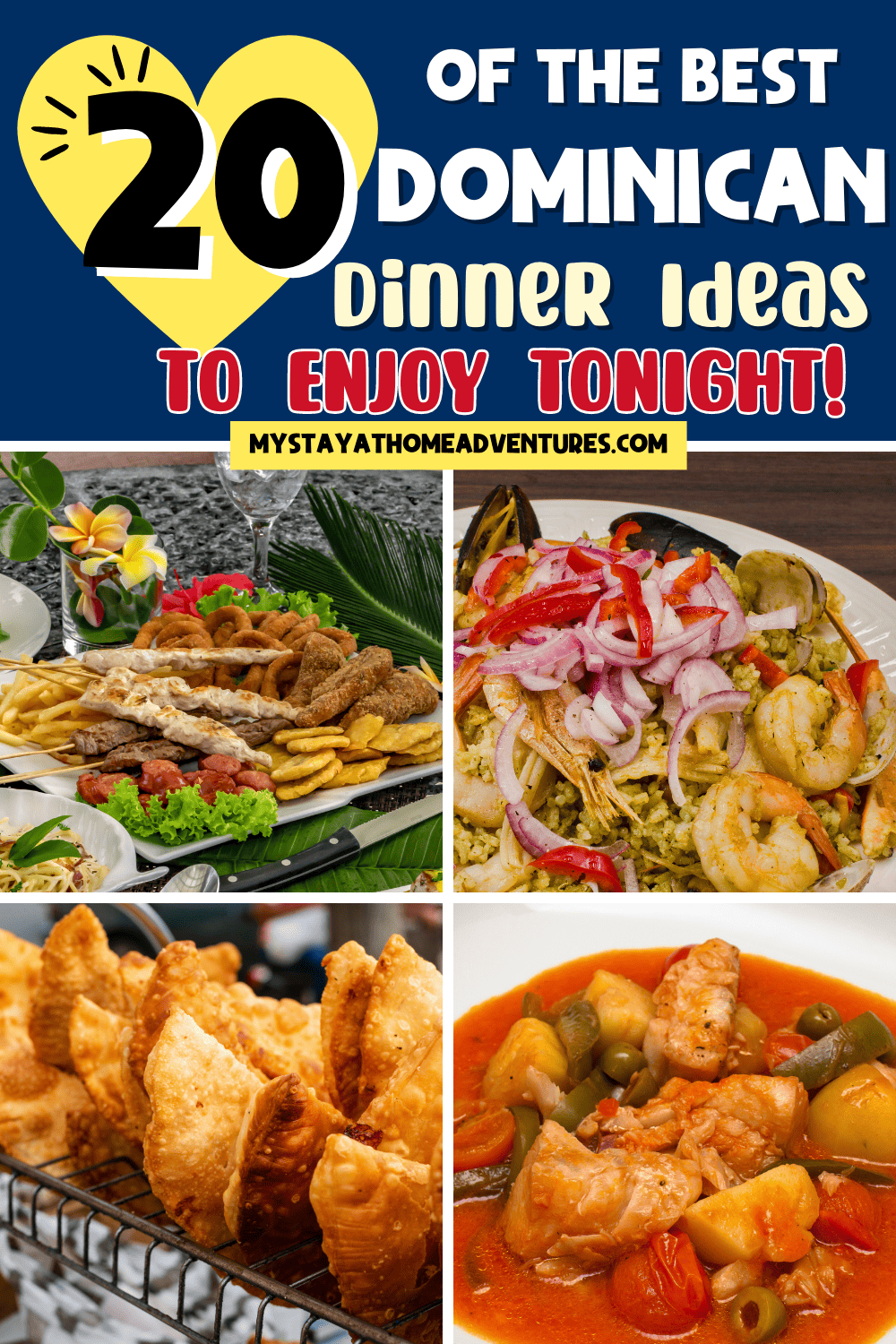 Welcome to the wonderful world of flavors and aromas that make up Dominican food! Celebrate your next family gathering with traditional dishes from this beautiful Caribbean nation. From slow-cooked stews, zesty salsas, flavorful soups, and plenty of options for scrumptious desserts – you won't be at a loss when it comes to ideas for what to cook up on your very own Dominican dinner night.
Let's explore the classic ingredients and recipes people love about their favorite dishes from the Dominican Republic and provide some new ideas for those adventurous eaters looking for something unique but still full of flavor.
So break out the batidas (Rum drinks) and get ready to plan an unforgettable evening filled with deliciousness!
You might enjoy these recipes:
What is a traditional food dinner in the Dominican Republic?
Here are traditional cuisines of the Dominican Republic featuring a variety of dishes that are sure to tantalize your taste buds.
A flavorful stew made with beef, chicken, pork, yucca, green plantains, and a variety of vegetables like cilantro, onion, garlic, and bell pepper. It is often served with white rice and a side of tostones (fried plantain slices).
Traditional mashed plantain dish that is typically served as a side dish or main entree. Typically made with mashed plantains, garlic, olive oil or butter, pork cracklings (chicharron), and spices.
A traditional Dominican Republic meal composed of white rice and red beans cooked in sofrito sauce (a blend of onion, garlic, bell pepper & tomato) and stewed meat or fish like beef or chicken. The three colors represent the nation's flag—white for purity, red for courage, blue for God's protection.
Chicken cooked in sofrito sauce, white rice, and vegetables such as carrots and potatoes for added flavor. Often served with a side of avocado slices or tostones.
Traditional mashed boiled green plantains seasoned with salt and topped with sour cream or cheese curds. It is often served as a breakfast item but can also be enjoyed as an accompaniment to any meal.
Fried sweet-plantain strips are often seasoned with cinnamon sugar for added sweetness. Typically enjoyed as a snack but can also be served as part of breakfast, lunch, or dinner.
Stewed goat meat cooked in an aromatic sofrito sauce made up of sautéed onions, garlic, bell peppers, tomatoes, cumin, thyme, oregano, and bay leaves. Served over white rice or fried ripe plantains (maduros).
A hearty soup made up of slow-cooked diced tripe, mixed vegetables like cabbage, carrots, potatoes, and yucca root simmered in an aromatic broth seasoned with coriander and annatto seeds. Accompanied by crispy tostones on the side.
Beef cubes browned in a robust tomato-based sauce along with diced potatoes. Seasoned with fresh herbs like cilantro and parsley. Commonly accompanied by steamed white rice and sliced avocados.
A soupy version of the traditional dish Arroz con Pollo which substitutes chicken stock for water when cooking the rice. Prepared with sautéed onions, peppers, and diced tomatoes before adding the chicken and seasonings like oregano, paprika, and Sofrito sauce.
Pinto beans simmered in an aromatic broth infused with bacon bits, smoked ham hocks, Sofrito sauce (onions, garlic, bell peppers, and tomatoes ), plus some allspice seasoning called "pimienta" in Spanish. Commonly paired alongside steamed white rice and sometimes accompanied by ripe fried plantains known locally as "Mangú"
It's simple to prepare and ideal for feeding a large group. This pasta dish is prepared with Dominican salami and tomato sauce as a base and is sometimes referred to as spaghetti a la Criolla, spaghetti rojo, and empaguetada.
Fried whole fish lightly coated in cornmeal flour batter before being pan-seared until golden brown. Commonly served alongside freshly cut salads dressed lightly in olive oil vinaigrette plus a side order of crispy tostones.
Continuing with Dominican dinner ideas, Locrio de Pollo, is a shredded chicken stir-fried together in an aromatic Sofrito base made from sautéing onions, garlic, bell peppers, cumin powder, and oregano before finally stirring it into long grain white rice while still hot resulting in fluffy flavorful yellowish colored Locrio De Pollo. Perfect to be enjoyed along side ripe fried plantains called "tostones."
Grilled steak marinated in garlic-citrus based marinade for several hours before being seared over hot coals or griddle until golden brown on the outside but still juicy on the inside. Served commonly with sides such as tostones, chimichurri sauce, pickled onions, or cabbage salad.
Another great Dominican dinner idea is Pastelitos. Similar to tostones, the pastelito is a beloved Dominican delicacy that is devoured in large quantities throughout the Caribbean and the rest of Latin America. It is essentially a round variation of the empanada, a pastry turnover with a meat filling that has a half-moon shape.
This dish for ensalada rusa in the Dominican Republic is simple to prepare, goes together very quickly, and adds a ton of color to the table. It is prepared using simple, flavorful flavors and fresh, healthy ingredients.
It is a hearty, filling, and powerfully delicious Latin American dish with ground beef, potatoes, onions, bell peppers, carrots, and raisins all cooked together in a seasoned tomato sauce.
In this Dominican Republic recipe for moro de guandules, rice and pigeon peas are cooked with vegetables in a coconut milk broth. It just takes 30 minutes to prepare, and only one pot is required.
This is another Dominican dinner idea, Chicharrones de Pollo. In this recipe, chicken is marinated in a mixture of lime juice, Worcestershire sauce, and garlic. After that, it is dipped in batter and deep-fried till crisp. The result is a burst of flavor that will leave your taste senses begging for more.
What is the most important meal in the Dominican Republic?
The most important meal in the Dominican Republic is lunch. It's usually a large, hearty meal that includes staples like rice, beans, and some meat or fish. Many Dominicans also include a variety of side dishes like fried plantains, tostones (fried green plantains), yucca, and potatoes. Lunch often features local delicacies like sancocho (a stew made with seven types of meat) and mangu (mashed plantains).
Other staples include empanadas, pasteles en hojas (meat pies wrapped in banana leaves), and moro de guandules (rice with pigeon peas). In addition to being a major part of everyday life for many Dominicans, these meals are often served on special occasions such as birthdays or baptisms. At times, it can be hard to distinguish between lunch and dinner as the two meals are often very similar – the only difference being that dinner tends to be lighter than lunch.