Let's Celebrate Breyers 150th Celebration!
This post may contain affiliate links which might earn us money. Please read my Disclosure and Privacy policies here
This is a sponsored post written by me on behalf of Breyers. All opinions are 100% mine.
Did you know that this year Breyers will be celebrating their 150th birthday? To join the celebration here at My Stay At Home Adventures, we are re-creating a fun family-friendly recipe to celebrate with Breyers.
Breyers has partnered with Chef Curtis Stone and his wife, actress Lindsay Price Stone, to celebrate its 150th birthday. For this celebration, Chef Curtis and Lindsay have created 12 recipes featuring Breyers Natural Vanilla Ice Cream and are inspired by every month of the year.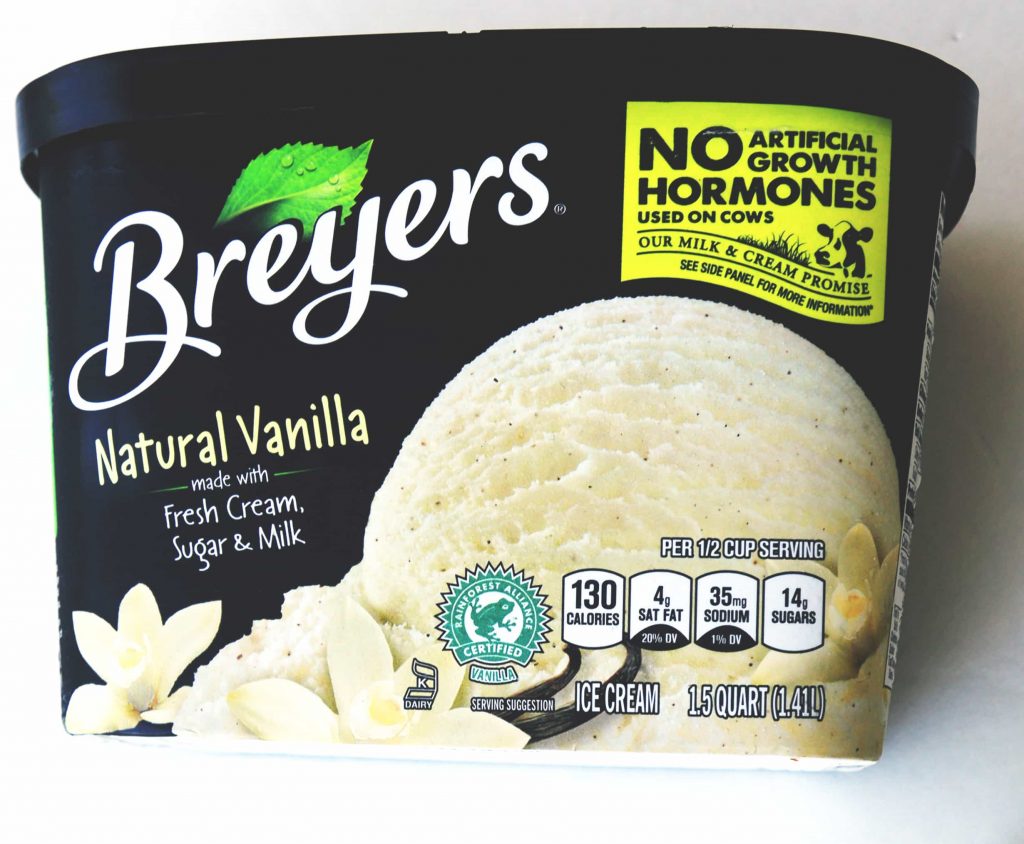 The fun part about these recipes is that it gives families a way to celebrate birthdays and special occasions with Breyers all year long!
August's recipe, which is the one we will be recreating for you all, is Spice Roasted Figs with Hazelnuts and Vanilla Ice Cream.
If you didn't know, Breyers vanilla ice cream is made with milk and cream from cows only sourced from locations not treated with artificial growth hormones.* All Breyers vanilla ice cream is real and from sustainable farms, Rainforest Alliance Certified™ vanilla beans.
When we took on this fun challenge to recreate this recipe, we were pretty determined to include everyone in the family and have fun with it. First, we never tried figs in our lives, and secondly, we love hazelnuts in our family.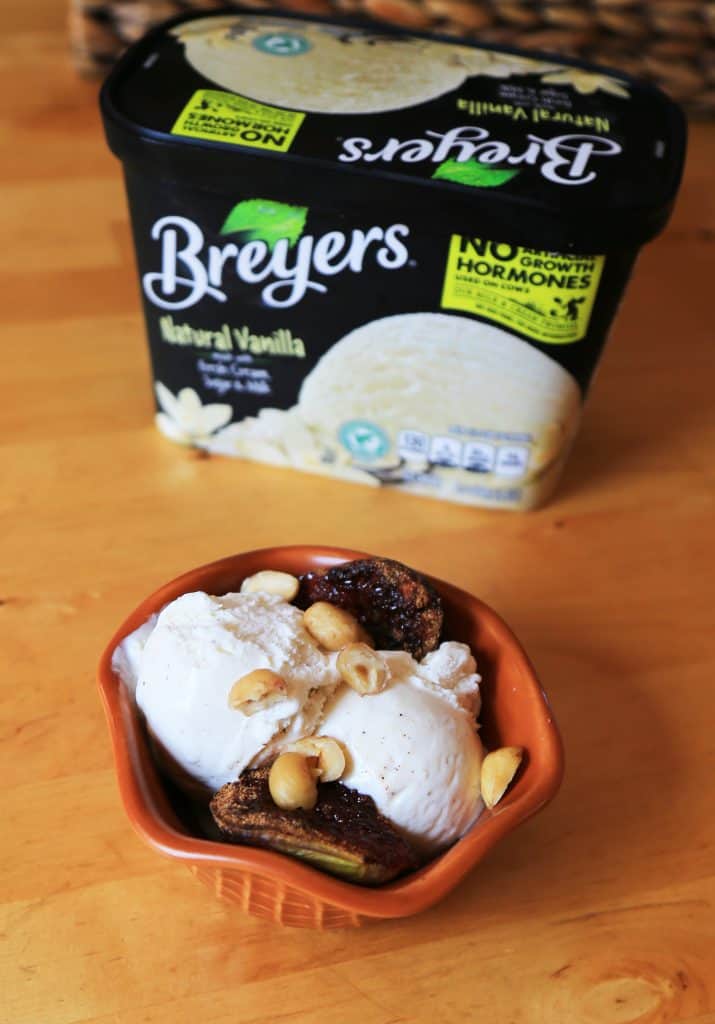 While recreating this recipe, the heat index was over 98F, and we don't have central air in our home; however, we didn't let that stop us from enjoying making this recipe.
If you are having a hard time finding figs this time of the year, I will let you know that if you do a search online, you will find grocery stores that do carry them. This is how we found our figs for this recipe, doing an online search. They are not expensive at all!
Spice Roasted Figs with Hazelnuts and Vanilla Ice Cream
Ingredients
2 tbs. sugar
1/2 tsp. each ground cinnamon, ground ginger
1/8 tsp. ground cloves
8 ripe figs, halved lengthwise
1 1/3 cups Breyers® Natural Vanilla Ice Cream
1/4 cup blanched hazelnuts, toasted, coarsely chopped
Instructions
Position broiler rack 6 inches from heat source and preheat broiler. Line a large baking sheet with aluminum foil.
In a small bowl, mix sugar and spices. One at a time, dip figs (cut side down) in sugar mixture to coat. Then coat figs a second time with sugar mixture and arrange cut side up on baking sheet.
Broil figs, watching closely, for about 4 minutes, or until sugar melts and begins to caramelize and figs soften slightly and begin to ooze their juice.
Divide figs among 4 bowls. Spoon 1/3 cup of Breyers® Natural Vanilla Ice Cream into each bowl and sprinkle with hazelnuts.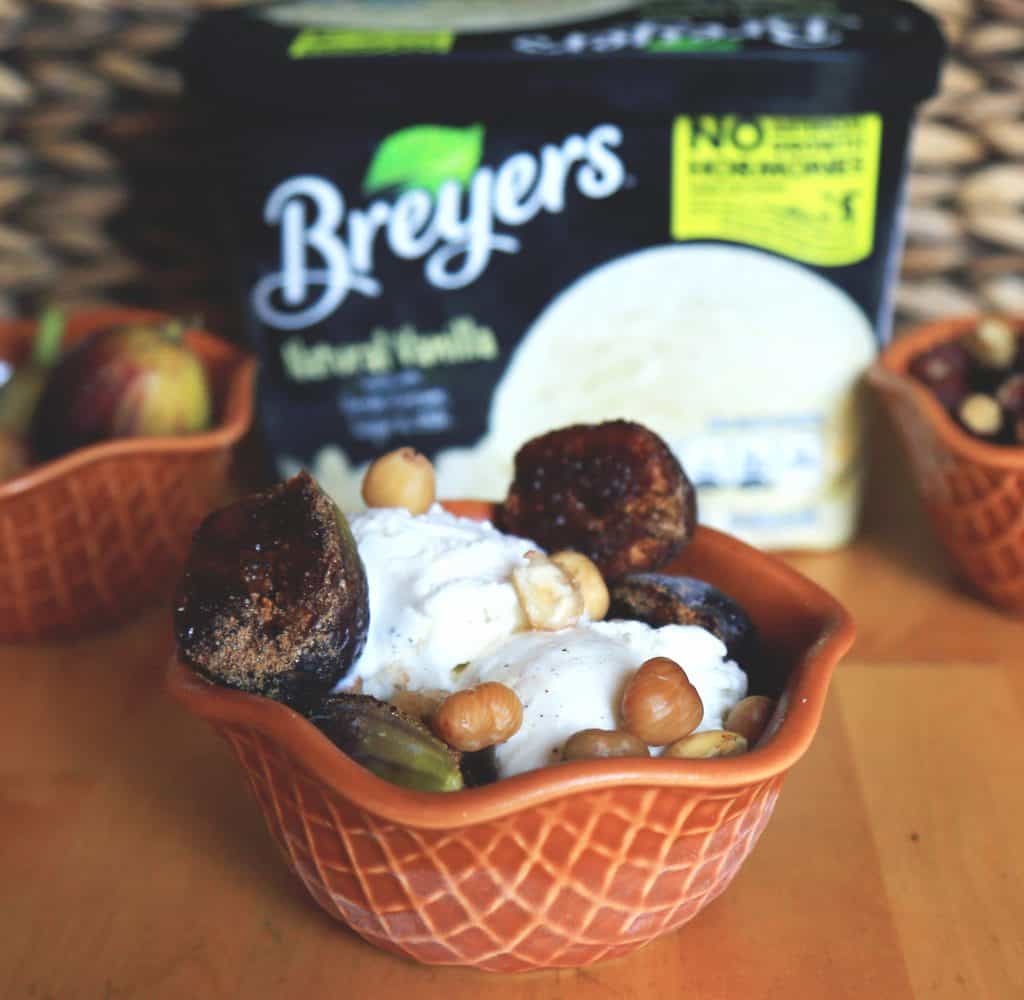 The end result of this recipe was this:
This is a delicious recipe that the entire family enjoyed. Spice Roasted Figs with Hazelnuts and Vanilla Ice Cream recipe has been repeated numerous times in our home because it just hit the spot during the hot summer days.
Follow Breyers on Facebook, and Pinterest and Twitter.
*Suppliers of other ingredients such as cookies, candies & sauces may not be able to make this pledge. The FDA states that no significant difference has been shown between dairy derived from rBST-treated and non-rBST treated cows.
Save
Save
Save
Save
Save
Save
Save
Save
Save
Save
Save
Save
Save
Save
Save
Save