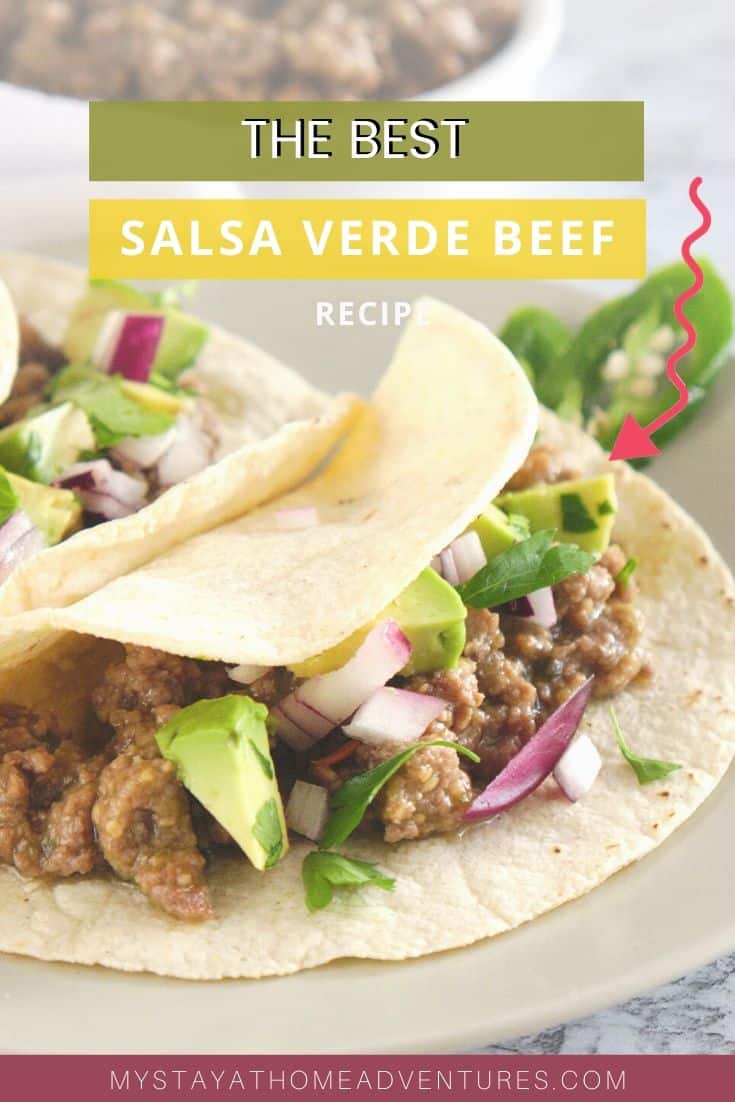 This Salsa Verde Beef Filling is so flavorful and authentic and made using a pressure cooker or Instant Pot.
Who doesn't love Mexican food? Of course, you can't always go out to your favorite restaurant. Thankfully, you can make amazing dishes like salsa verde beef easily at home.
And, when I say easily, I mean easily. Thanks to the Instant Pot, you can enjoy this beef filling in a matter of minutes. Let's take a closer look at how to make pressure cooker salsa verde filling.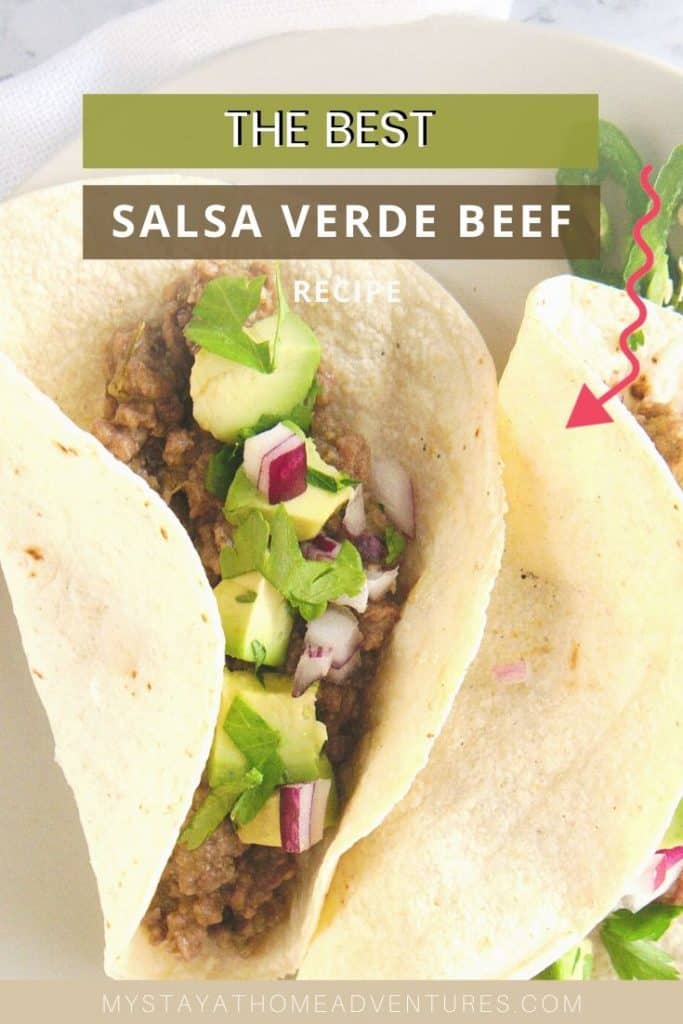 What is salsa verde beef?
Salsa verde beef is a mixture of spices, beef, salsa verde, and beef broth. The meat is cooked halfway in the seasonings and then salsa verde and beef broth are added.
You might like these recipes:
This creates a very flavorful beef filling that can be used however you might use a taco filling. You can use ground beef or even a roast. For this recipe, we'll be using ground beef.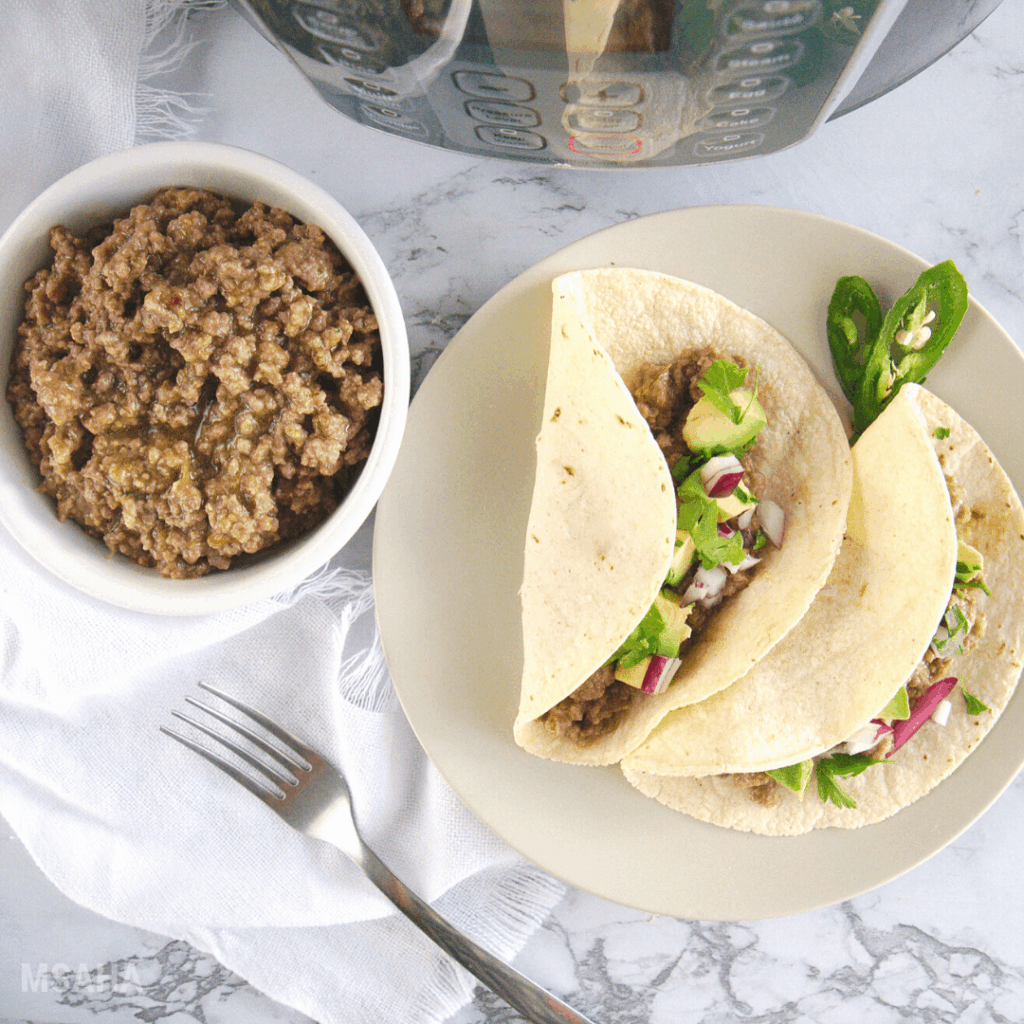 What is salsa verde made of?
A salsa verde filling is made with beef that is seasoned with Mexican spices including cumin and cilantro. Onion powder, garlic powder, and salt are added. Salsa verde is the main component of the dish though.
You will use roughly a cup (8oz) of salsa verde when making this recipe along with beef broth.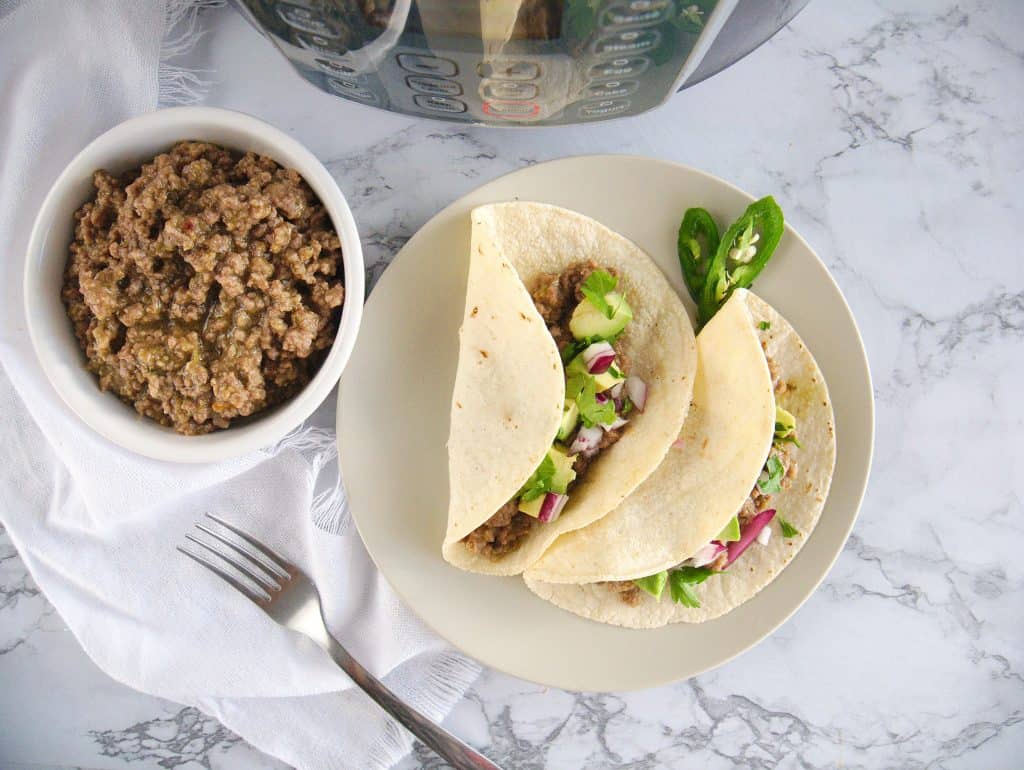 Can you freeze salsa verde beef?
Yes, much like a taco filling, salsa verde beef freezes beautifully. Allow to thaw overnight in the refrigerator and then reheat in a skillet.
What type of pressure cooker can I use to make Salsa Verde Beef filling?
You can use any type of pressure cooker you like. If you're old-school, you can even use a stovetop model. For this recipe, we'll be using the Instant Pot, but many digital pressure cookers are the same or very similar.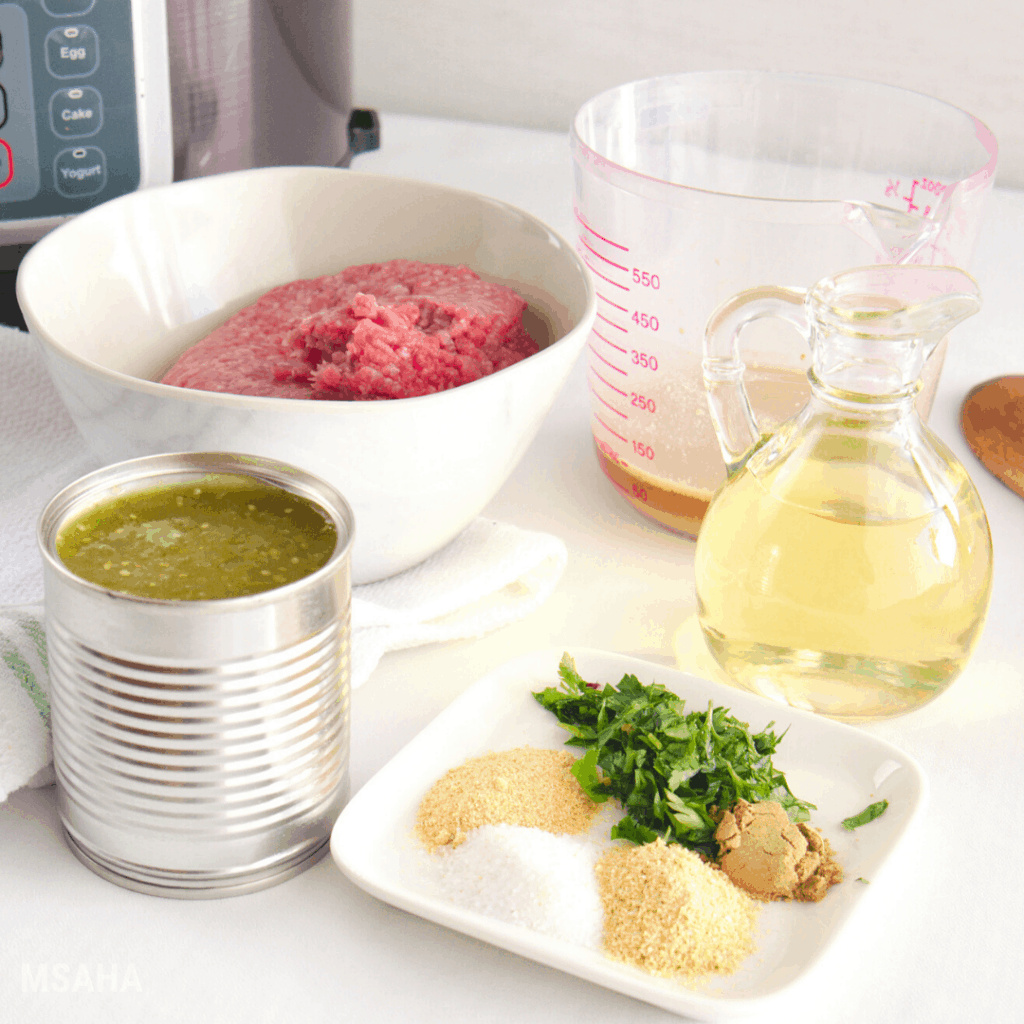 What are the Ingredients to Make Pressure Cooker Salsa Verde Beef Filling?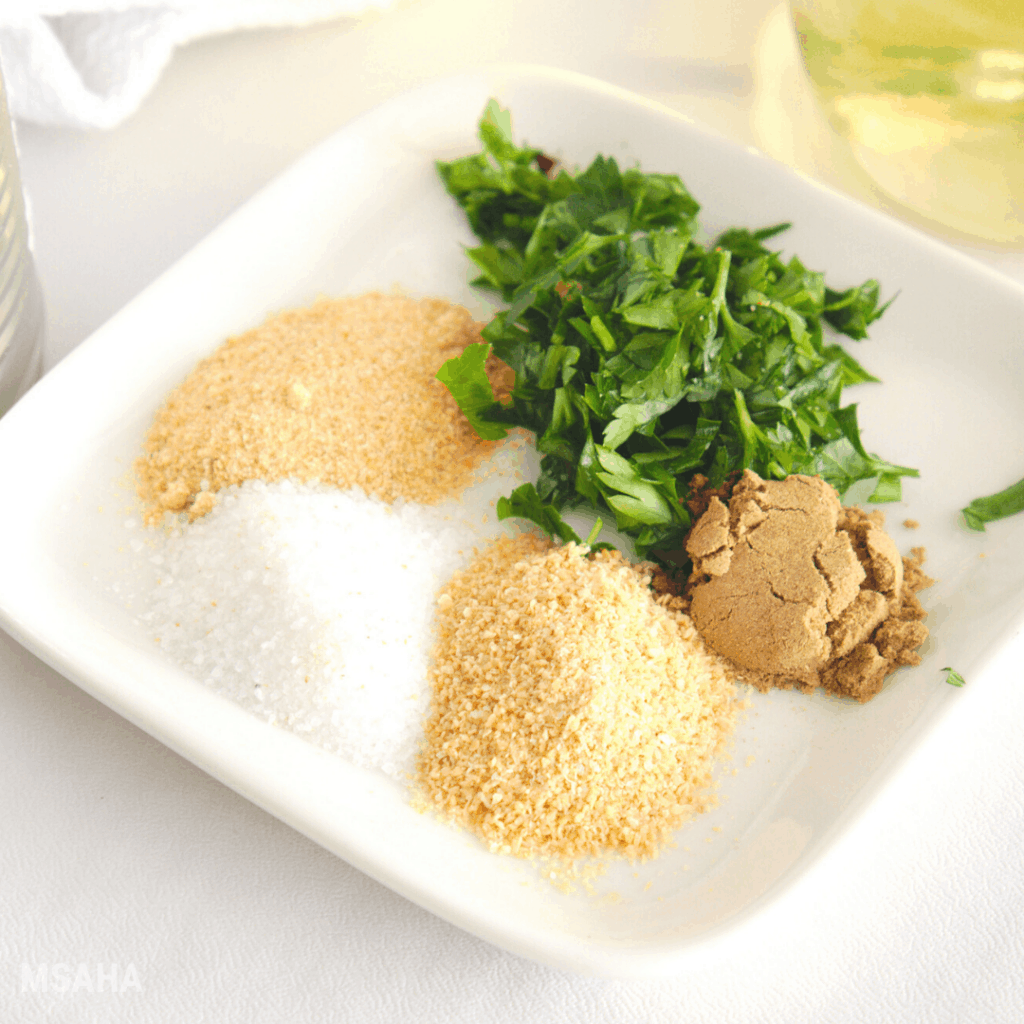 To make this salsa verde beef filling, you'll need the following:
Vegetable oil
Ground beef
Garlic powder
Onion powder
Ground cumin seed
Salt
Cilantro
Salsa verde – Try our Air Fryer Salsa Verde Recipe
Beef broth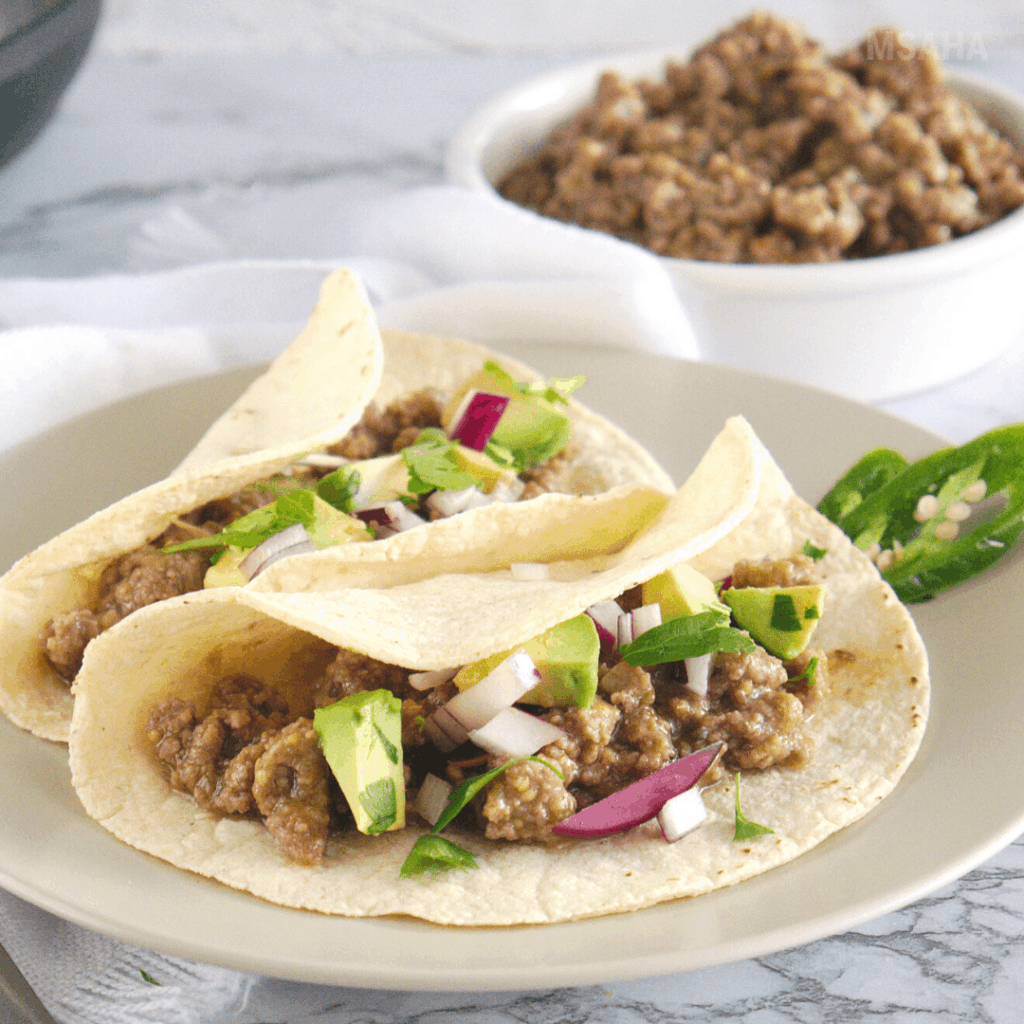 How to make Instant Pot Salsa Verde Beef Filling
Now that you have gathered your ingredients it is time to make salsa verde beef filling. All you have to do is follow the steps below:
The first thing you'll do is set your pressure cooker to the Saute setting. Add your vegetable oil and then your ground beef and seasonings.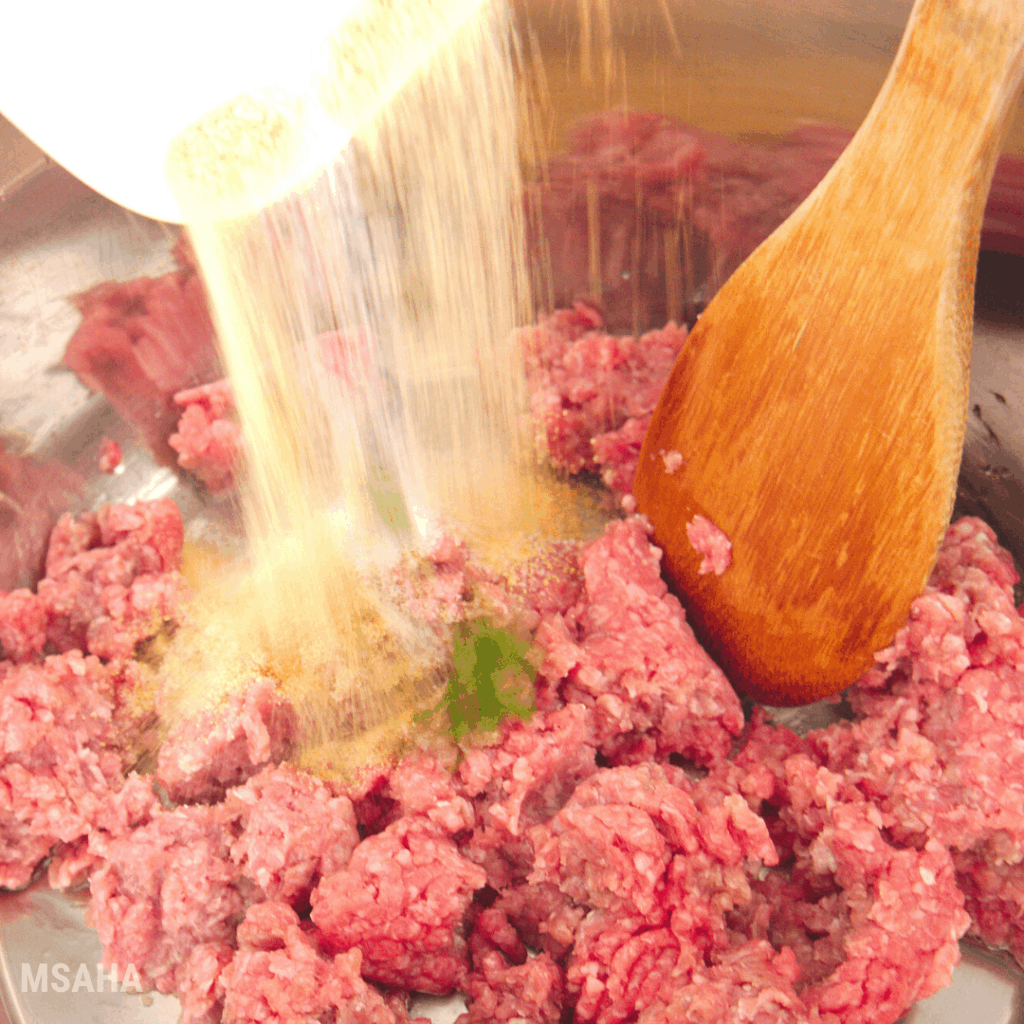 Cook until the meat is halfway cooked and then turn off the saute function. Add the salsa verde and beef broth, stirring well.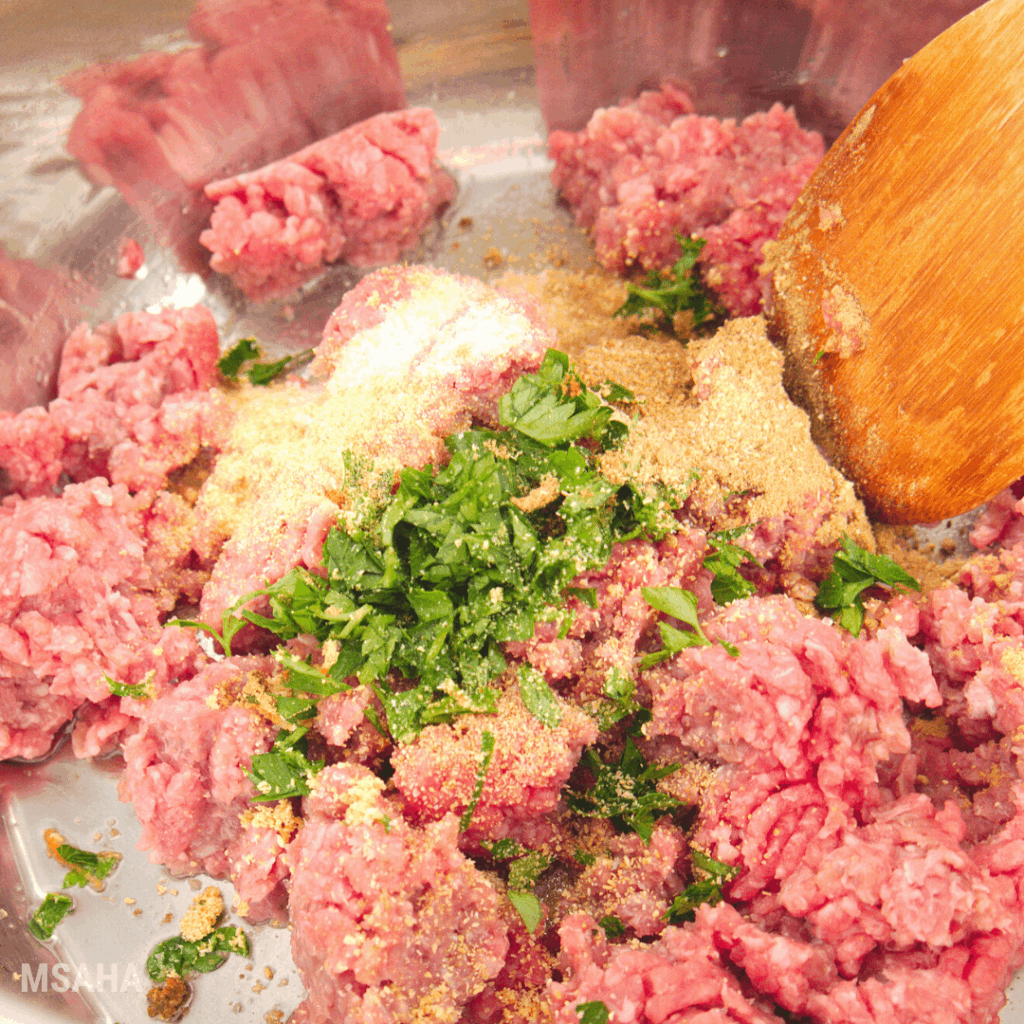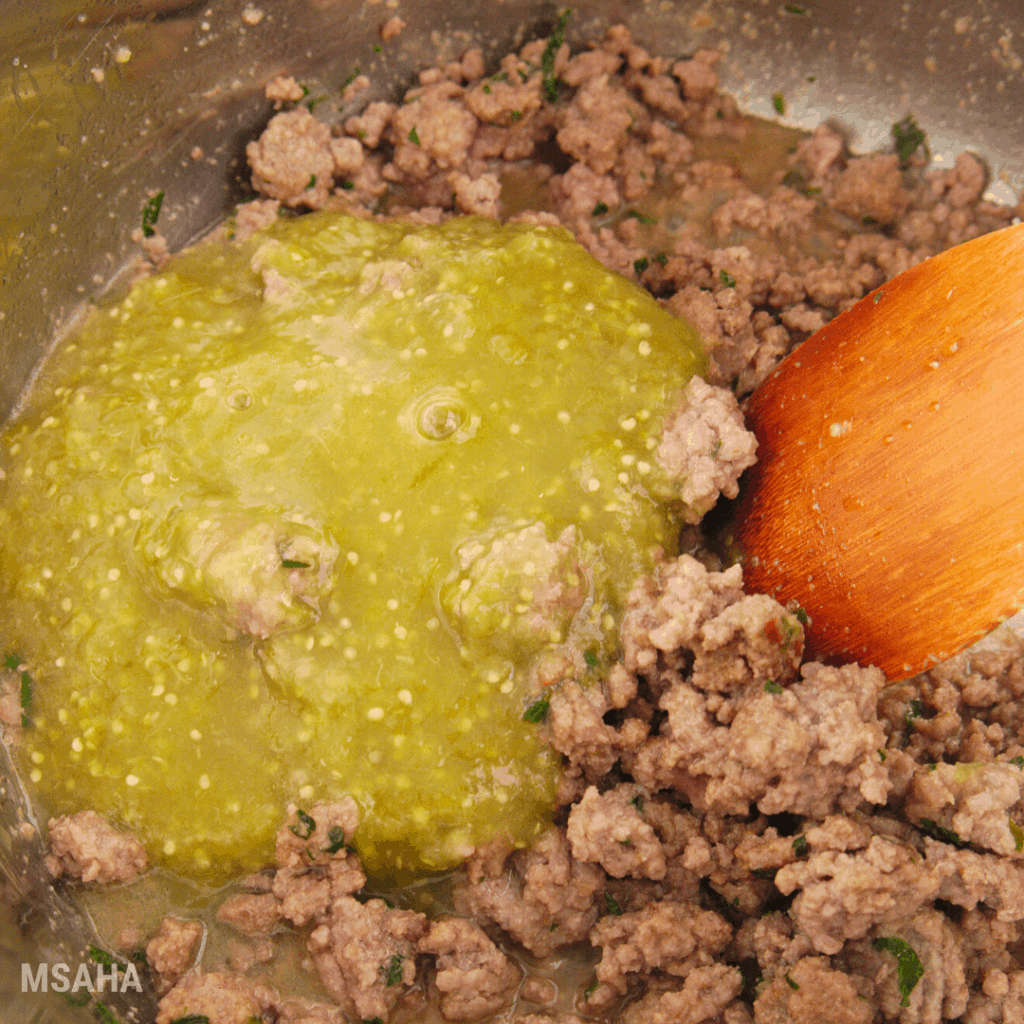 Next, choose the High-Pressure setting and put the lid on the cooker, locking it in place. making sure the valve is shut. It will take time for the cooker to come up to pressure. Once it does, it will cook for four minutes.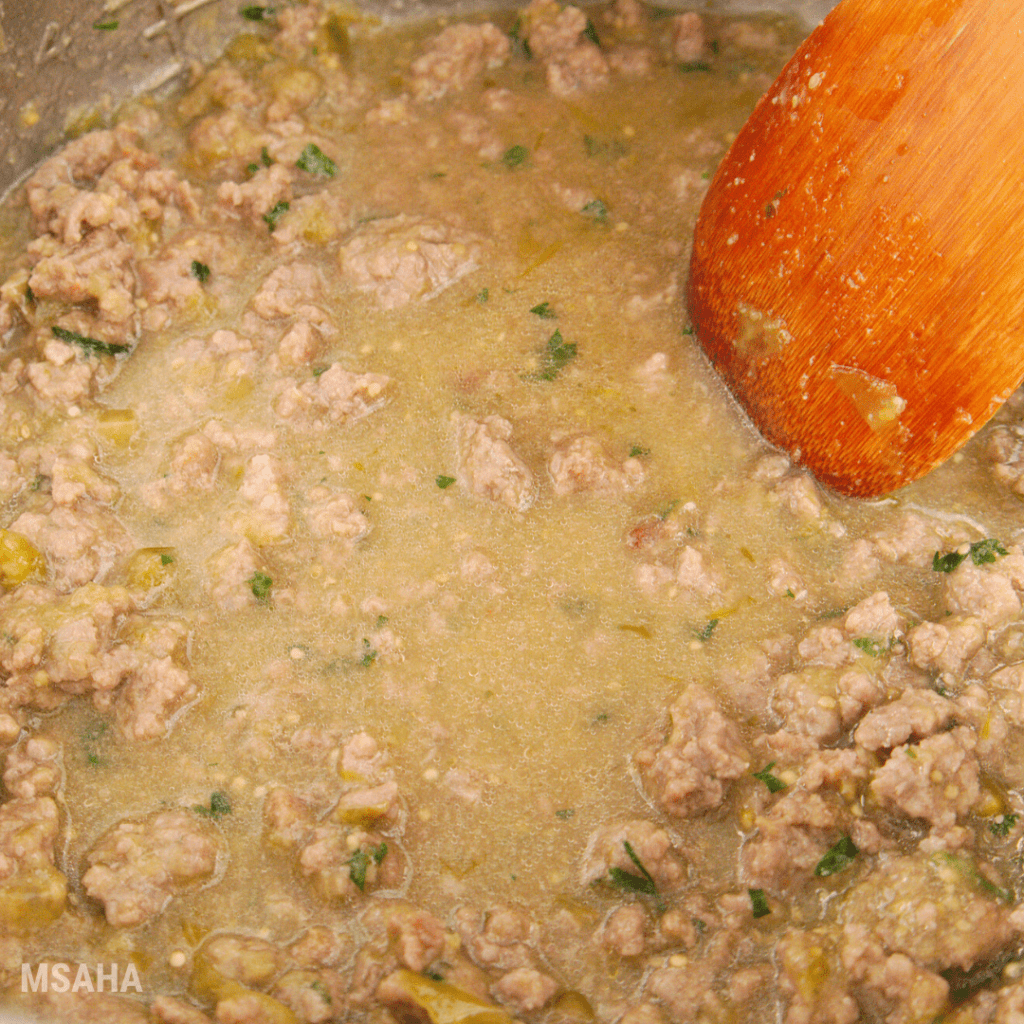 Once the four minutes is over, use the quick release method by carefully opening the vent. Remove the lid, once the pressure is fully released, and serve over rice.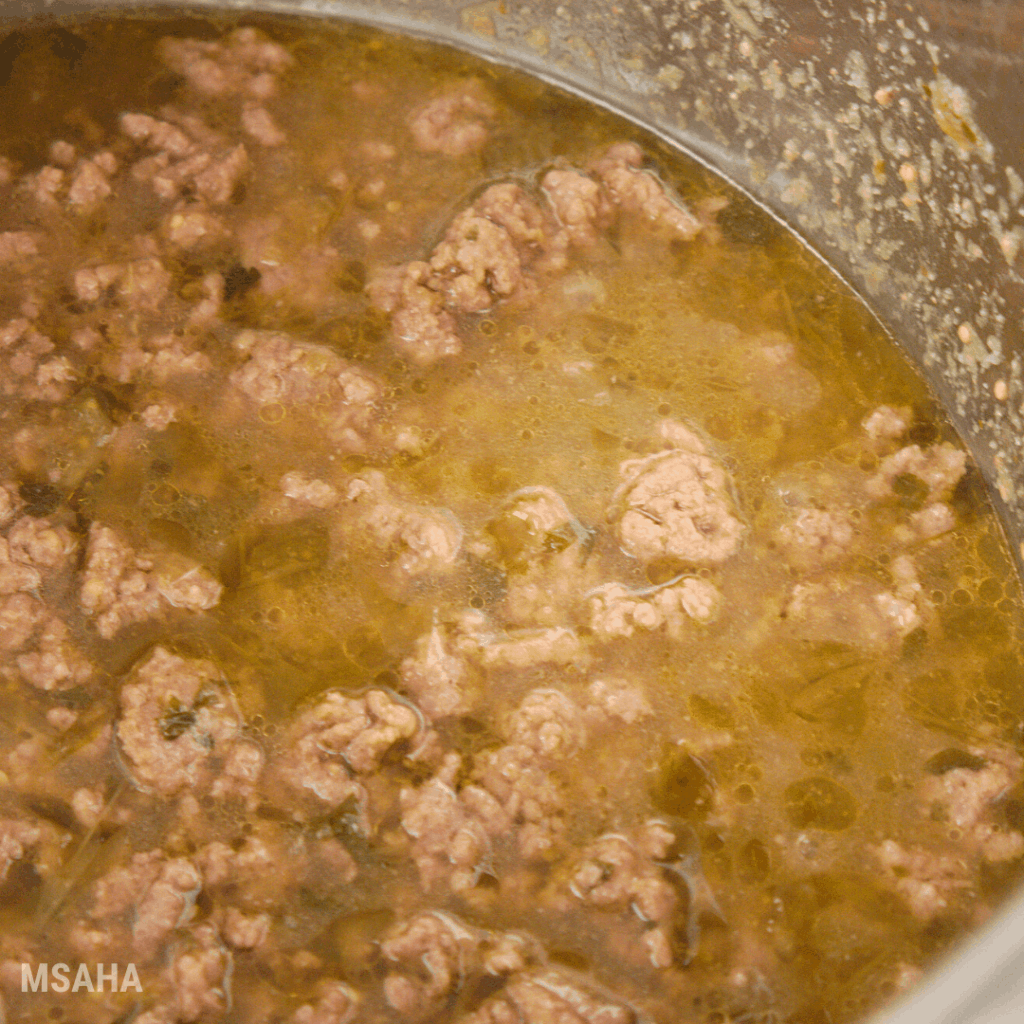 If you want to use for tacos or burritos, you can hit the Saute button again and cook for 5 minutes or until the liquid has reduced to the consistency you like.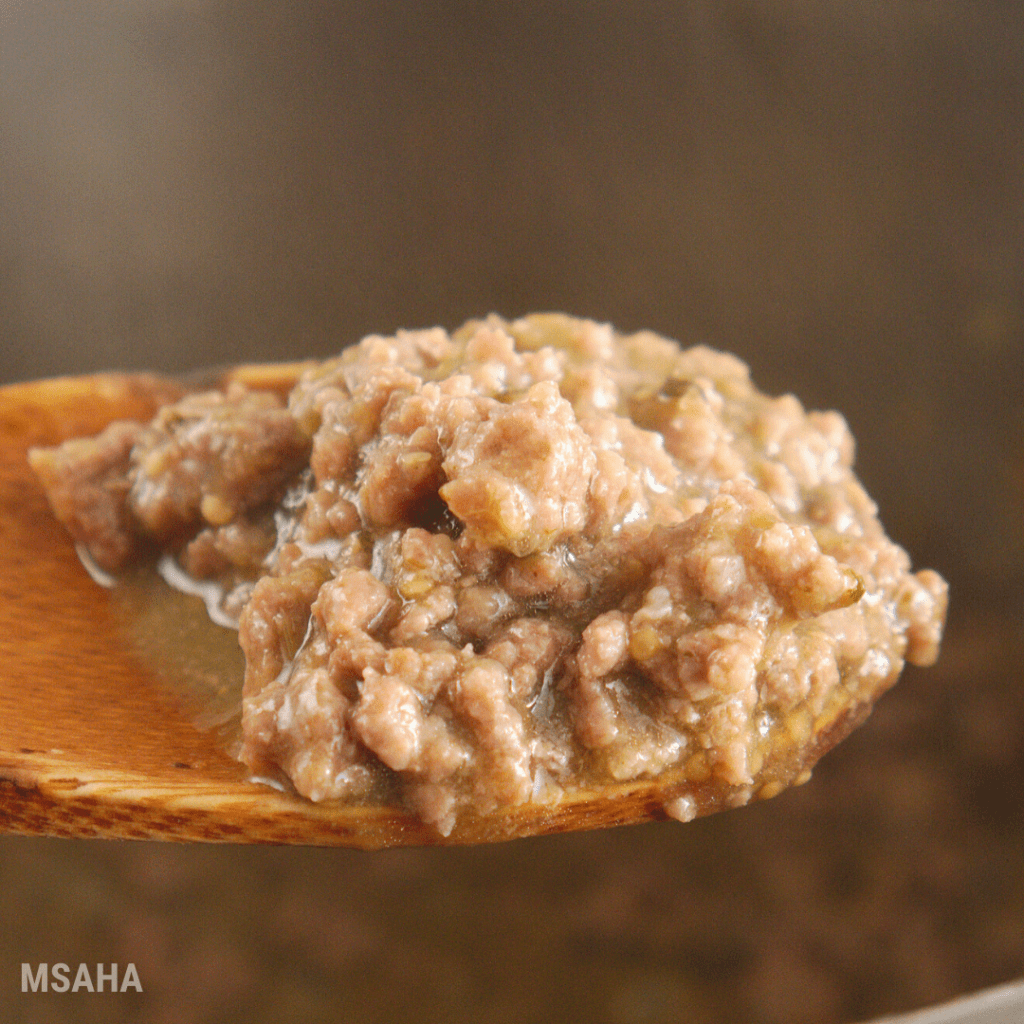 Your Instant Pot Salsa Verde Beef Filling is ready to serve!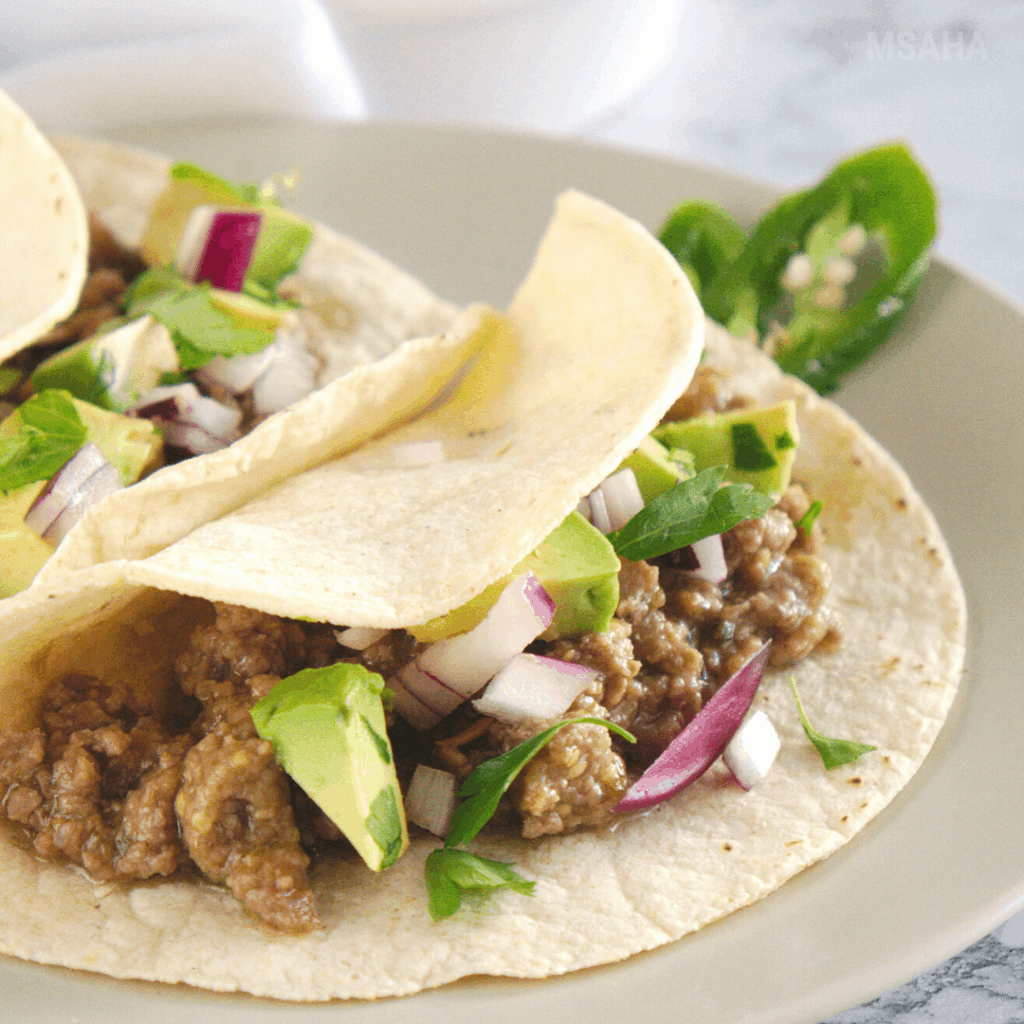 Pressure Cooker Salsa Verde Beef Filling Recipe
Now that you know everything you need to know about how to make Pressure Cooker Salsa Verde Beef Filling it is time to print the recipe.
To print the recipe, click the print button below. Want to save this recipe for later? All you have to do is use the share button to pin it for later, Mix it or add it to your Yummly account.
The flavors of Mexican food on your table in about 10 minutes. This recipe can be made in any pressure cooker and if that's not great enough you can enjoy this recipe in a multiple of ways, read the notes.
Double or even triple the recipe and you can also freeze it to have it ready for any last-minute meals.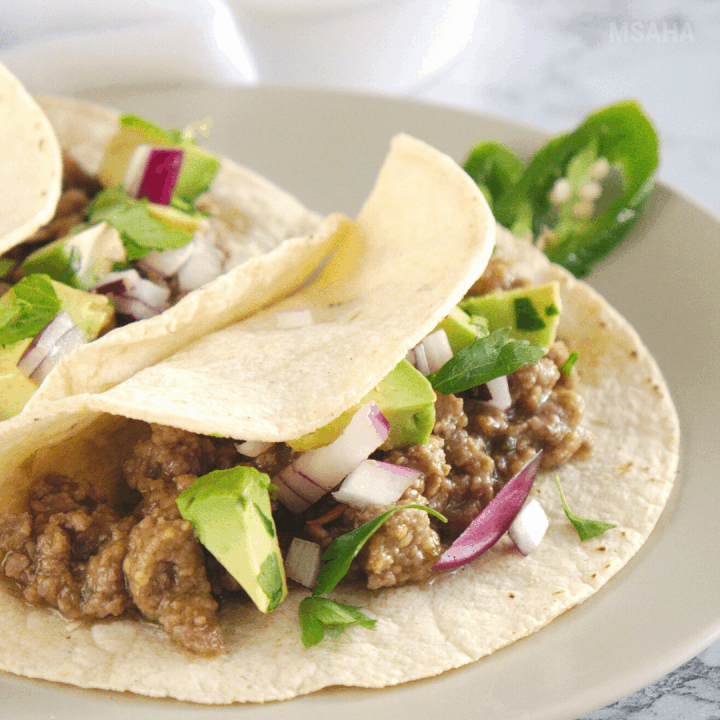 Pressure Cooker Salsa Verde Beef Filling Recipe
Ingredients
1 Tablespoon vegetable oil
1 lb ground beef
1 Teaspoon garlic powder
1 teaspoon onion powder
¼ teaspoon ground cumin seed
1 teaspoon salt
1 heaping Tablespoon chopped cilantro
8 oz mild salsa verde (I used Herdez salsa)
½ cup of beef broth
Instructions
Instructions
1. Drizzle oil into pressure cooker pot, select Saute, and set for 4 minutes. Once warm, add the ground beef and sprinkle in the garlic and onion powder, ground cumin seed, salt, and chopped cilantro and stir until well mixed. Continue to saute until meat is cooked almost through then cancel the Saute setting. Pour in the salsa verde then the beef broth. Place the lid on the pressure cooker, move the valve to Sealing and then select High Pressure and set for 4 minutes.
2. Once cooking time is up, do a quick release by carefully moving the valve to Venting. Once all of the pressure has been released, carefully open the pressure cooker away from your face.
3. The beef will be very saucy at this point. Now, if you want to serve this over rice, you can go ahead and just serve as is. If you're using for filling, then select Saute and set for 5 minutes and cook down until it reaches the consistency you'd like. Of course, for a drier filling, you'll need to cook longer.
Notes
You can enjoy this recipe over white or Spanish rice or serve it as a filling for tacos, burritos, quesadillas, or even top nachos!
Nutrition Information:
Yield:

4
Serving Size:

1
Amount Per Serving:
Calories:

367
Total Fat:

24g
Saturated Fat:

8g
Trans Fat:

1g
Unsaturated Fat:

12g
Cholesterol:

101mg
Sodium:

1085mg
Carbohydrates:

5g
Fiber:

1g
Sugar:

2g
Protein:

32g
This nurtition calculations might be incorrect. Please speak with a professional for more information.
The following two tabs change content below.
Latina mom of 4 married to wonderful Greek gentleman. Living in southeast PA and trying to juggle family and a household while trying to earn an income from home. Follow my stay at home journey as I discover how to earn money and save money so we can continue to live debt-free.
Latest posts by Joyce @ My Stay At Home Adventures (see all)