Mexican Twice Baked Potatoes Recipe
This post may contain affiliate links which might earn us money. Please read my Disclosure and Privacy policies here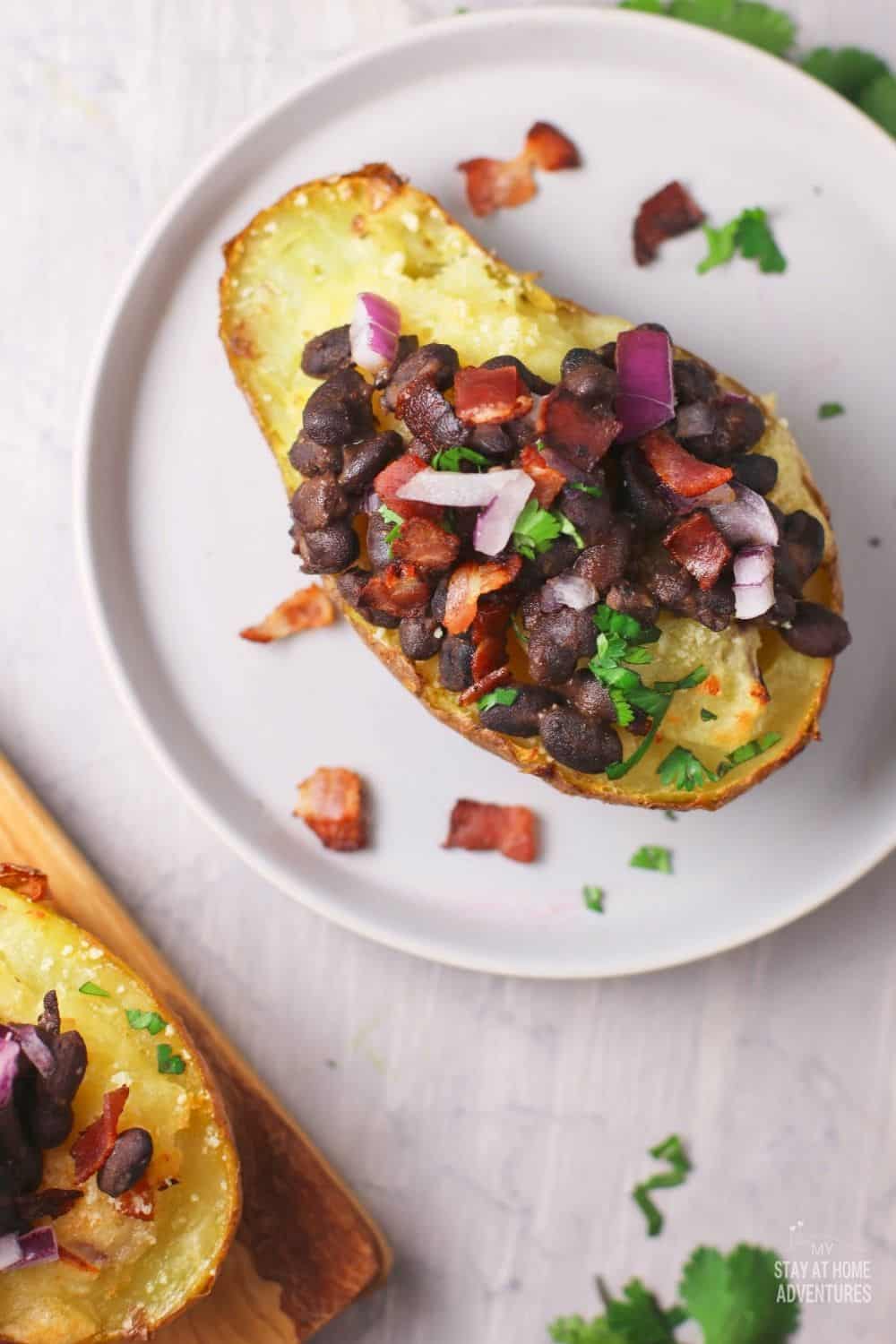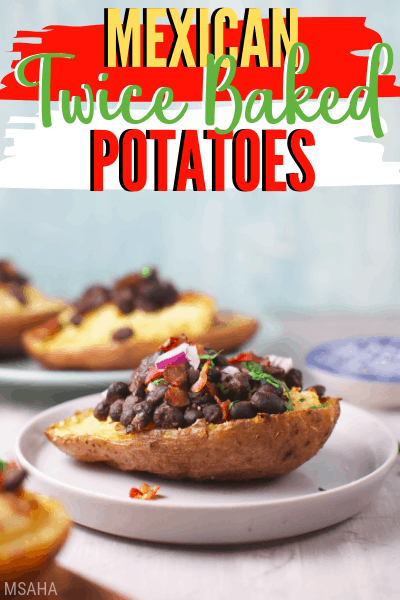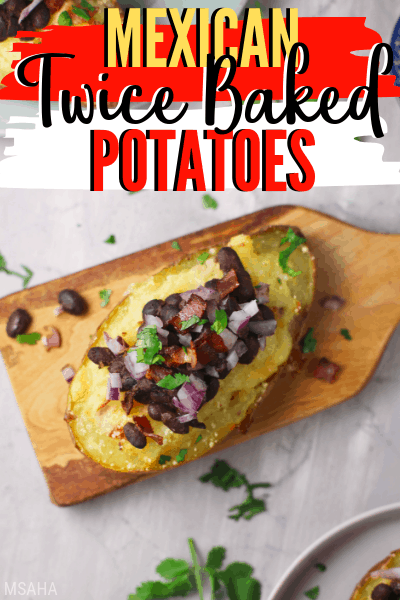 You are going to love this delicious and simple to make Mexican Twice Baked Potatoes.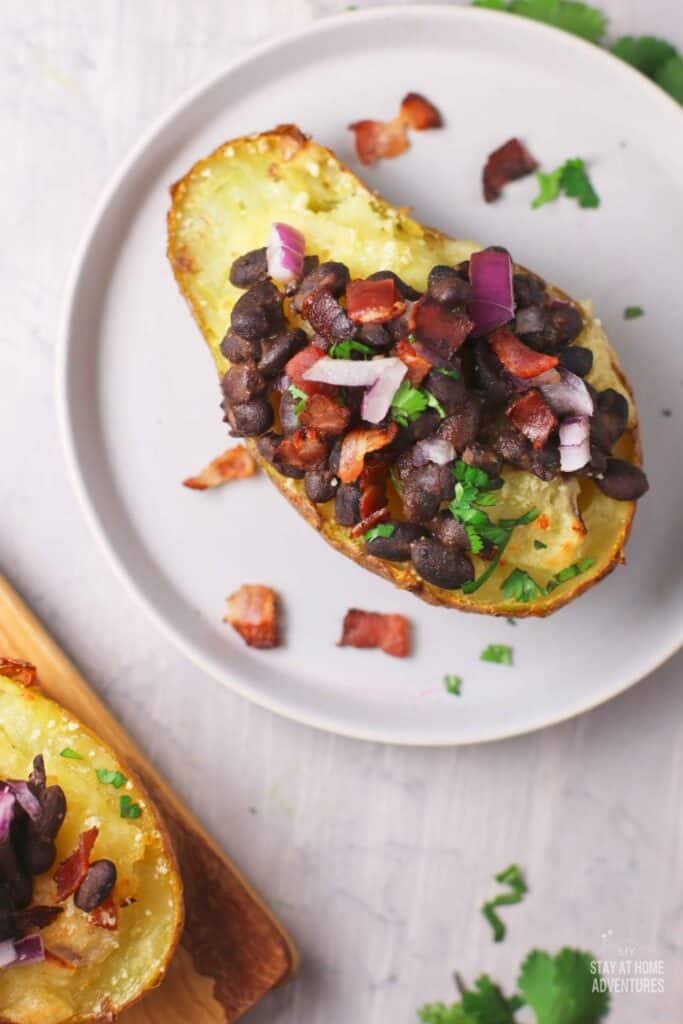 Why may you ask?
Here's the reason to love this Mexican Twice Baked Potato recipe, it's a crowd-pleaser. It is a great baked potato recipe to serve as dinner with some fresh salad on the side.
And if you are having a gathering, server this twice baked potatoes as an appetizer.
Baked Potato Toppings
For this recipe, I filled my baked potatoes with refried beans or black beans, but like many other toppings will do too.
Toppings such as:
Ground beef
Fajita Veggies
Sour cream
Cheese
Yogurt
Cottage cheese
Butter
Green onions Chili
Basil
Cilantro
Shredded chicken
Salsa
Pesto
Guacamole
You may like these recipes:
How to Make Baked Potatoes?
The secret to extra soft on the inside and crispy on the outside is rubbing the potatoes with a generous amount of olive oil before baking.

I try to scoop as much filling as possible to make the potato skins super thin. If you want your potato skins to be even crispier, coat the skins with more olive oil and bake for 5 minutes while you mix the fillings.
I hope you like it!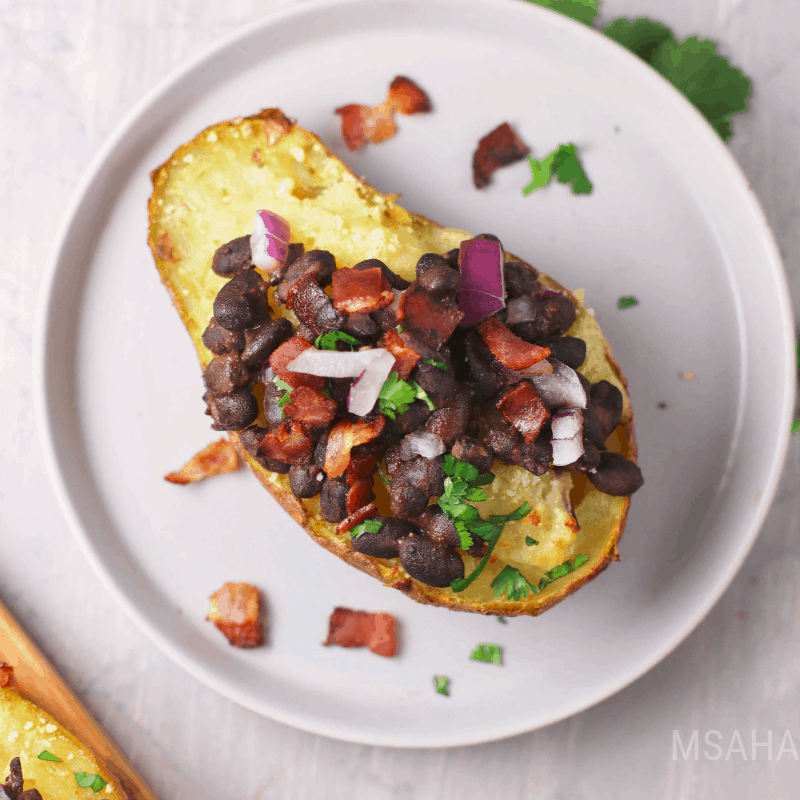 What are the ingredients to make Mexican Twice Baked Potatoes?
The ingredients to make this Mexican style twice baked potatoes are the following:
Big potatoes
olive oil
salt
garlic powder
melted butter
sour cream
cream cheese
shredded cheese
re-fried beans
bacon bits
red onion
Now that you have all the ingredients, let's make this twice-baked potato recipe by following the steps below.
Preheat your oven to 350F degrees.
Using a small bowl, mix the garlic powder, olive oil, and salt and code the potatoes.
Next, place the potatoes in the oven using a baking sheet and bake for one hour.
Allow the potatoes to cool.
Once the potatoes are cool, cut them in half, and using a spoon, scoop out some of the insides of the potato and place it in another bowl.
Once you have scooped the inside of the potatoes out, add the melted butter, sour cream, and cream cheese and mix.
Add the shredded cheese.
Fill the potato skins with the potato filling.
After you have filled the potatoes, place them in the oven, and bake an additional 6 minutes.
Remove the potatoes from the oven and top them with refried beans, bacon bits, diced red onions, or your favorite toppings.
Your Mexican Baked Potatoes are done and ready to serve.
Mexican Twice Baked Potatoes Recipe
Mexican Twice Baked Potatoes
Cook Time:
1 hour
6 minutes
Total Time:
1 hour
16 minutes
Baked potatoes baked twice made with Mexican ingredients such as sour cream, cream cheese, beans.
Ingredients
2 Big potatoes
2 Tbsp olive oil
½ Tsp salt
½ Tsp garlic powder
¼ Cup melted butter
¼ Cup sour cream
¼ Cup cream cheese
1 Cup shredded cheese
1 Cup refried beans
¼ Cup bacon bits
¼ Cup red onion, diced
Instructions
Preheat the oven to 350 degrees.
In a small bowl mix the olive oil with garlic powder and salt.
Rub the potatoes with the oil and take to the oven.
Bake for 1 hour and remove from oven.
Let cool.
Cut potatoes in half and with the help of a spoon scoop out some of the potato and place into a bowl.
Mix the mashed potato with melted butter, sour cream and cream cheese. Add shredded cheese.
Fill the potato skins with the cheesy filling.
Take to the oven and bake for 6 more minutes.
Remove from oven and top with refried beans, bacon bits and diced red onion.


Nutrition Information:
Yield:

4
Serving Size:

1
Amount Per Serving:
Calories:

530
Total Fat:

39g
Saturated Fat:

19g
Trans Fat:

1g
Unsaturated Fat:

16g
Cholesterol:

82mg
Sodium:

970mg
Carbohydrates:

32g
Fiber:

5g
Sugar:

3g
Protein:

15g