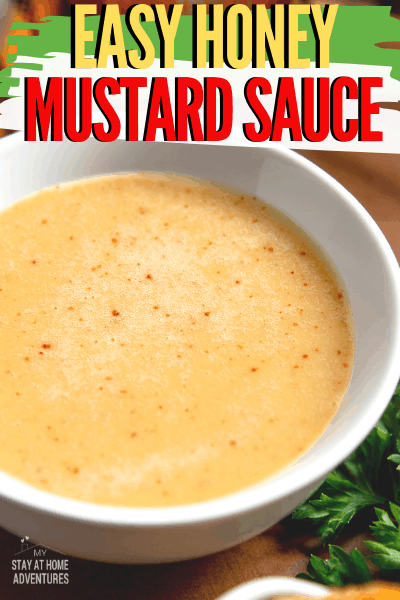 We love to enjoy Air Fryer Nuggets, chicken streams and anything that requires us to dip it into this honey mustard sauce.
This simple Honey Mustard Sauce it's so good, we bring it to family gatherings because our friends and family love it so much, or because they are too lazy to make it since it takes less than five minutes to make it.
Ready to print this Honey Mustard Sauce? Click here to print the recipe.
But because this is my blog, I'm going to say that is because I make it and it's our "secret" recipe, and they want it all the time.
TO make this mustard sauce, we use Dijon mustard because we are fancy like that, no because Walmart has it for cheap and we like the taste of it.
Anyway, you can also use yellow mustard as well if you don't want to be as "fancy" as us. 😊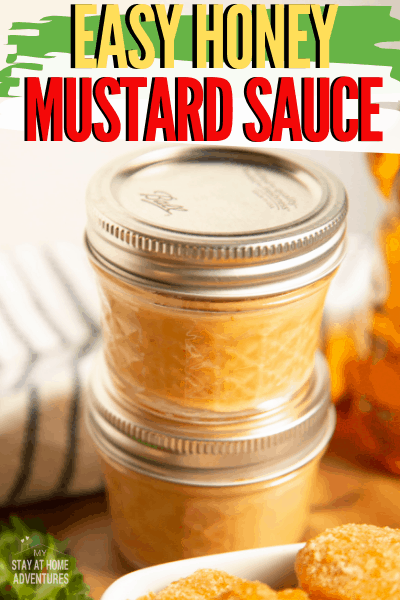 What is Honey Mustard Sauce made of?
Honey mustard is creamy and tangy and sweet, which makes it different than regular mustard. It's made with honey, mustard, vinegar, mayonnaise and other spices such as cayenne pepper.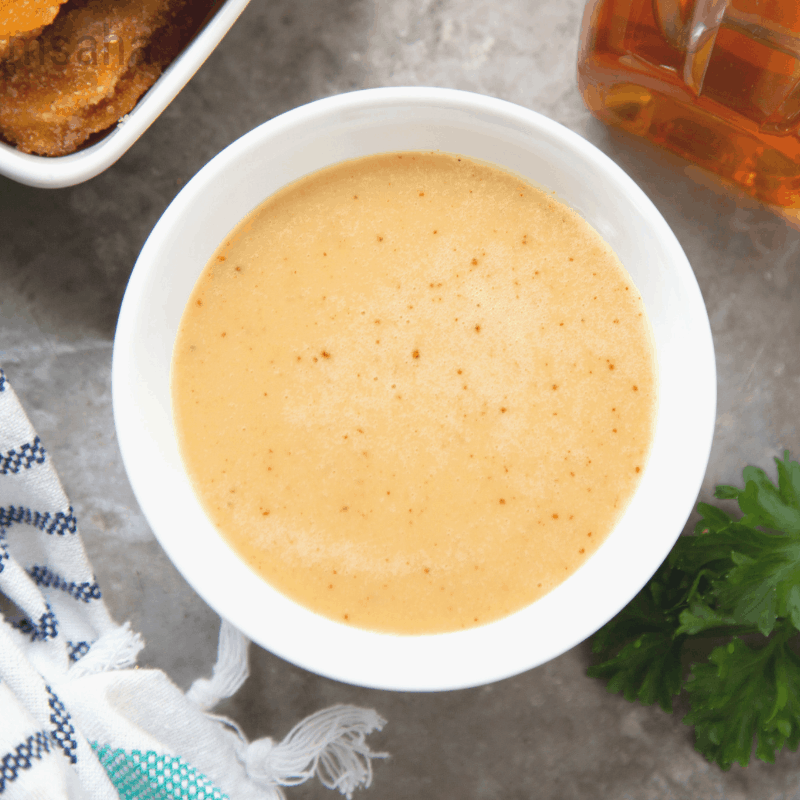 What can you dip in Honey Mustard?
You can dip whatever you want, who am I to pass judgment. 😊 The truth is that you can serve the honey mustard sauce with:
Salads
Chicken nuggets
Chicken strips
Wraps
Chicken sandwiches
Pork sandwiches
Anything you want is up to you!
Try these recipes:
What are the ingredients to make Honey Mustard Sauce?
To make the honey mustard sauce, you are going to need the following ingredients:
Dijon mustard
Honey
Mayonnaise
White distilled vinegar
Cayenne pepper
How to Make Honey Mustard Sauce
Now that you have all five ingredients, it is time to start making this mustard sauce. Just follow the steps below, and you will be dipping into this sauce in less than five minutes.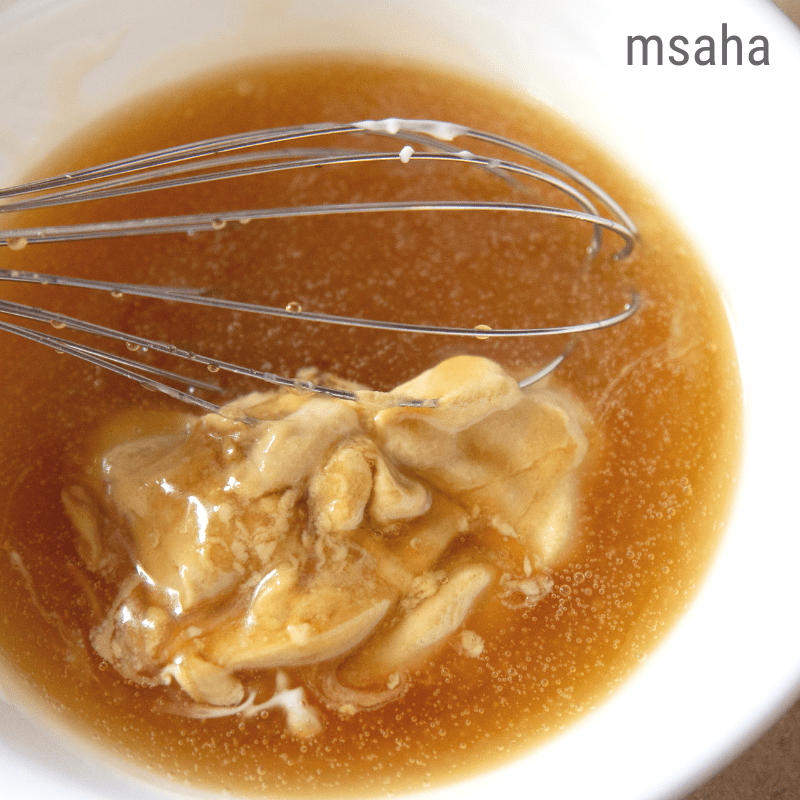 The first step is to add all the ingredients together into a small bowl or soup plate.
The second step is to use a whisk and mixed them ingredients well.
You got yourself some honey mustard sauce that is ready for dipping.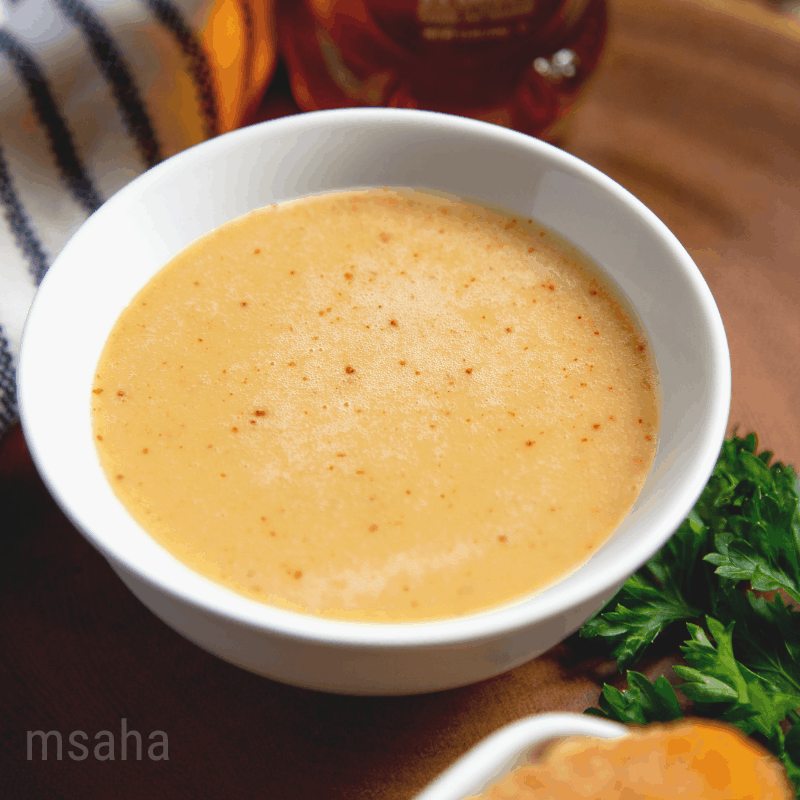 Honey Mustard Sauce Recipe
Now that you have read everything you need to know about making this mustard sauce, it is time to print the recipe with the exact measurements.
Yield: 3/4 cup of sauce
Honey Mustard Sauce Recipe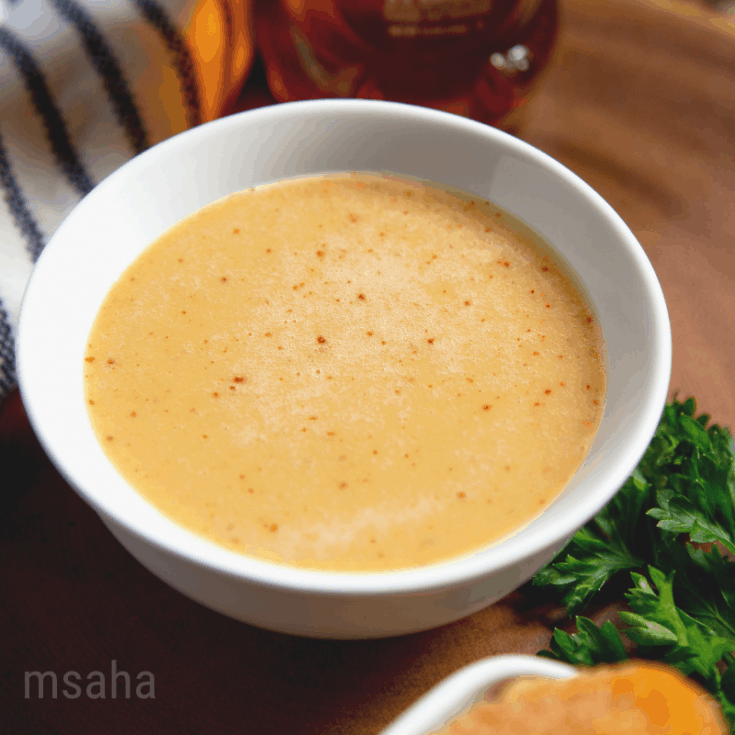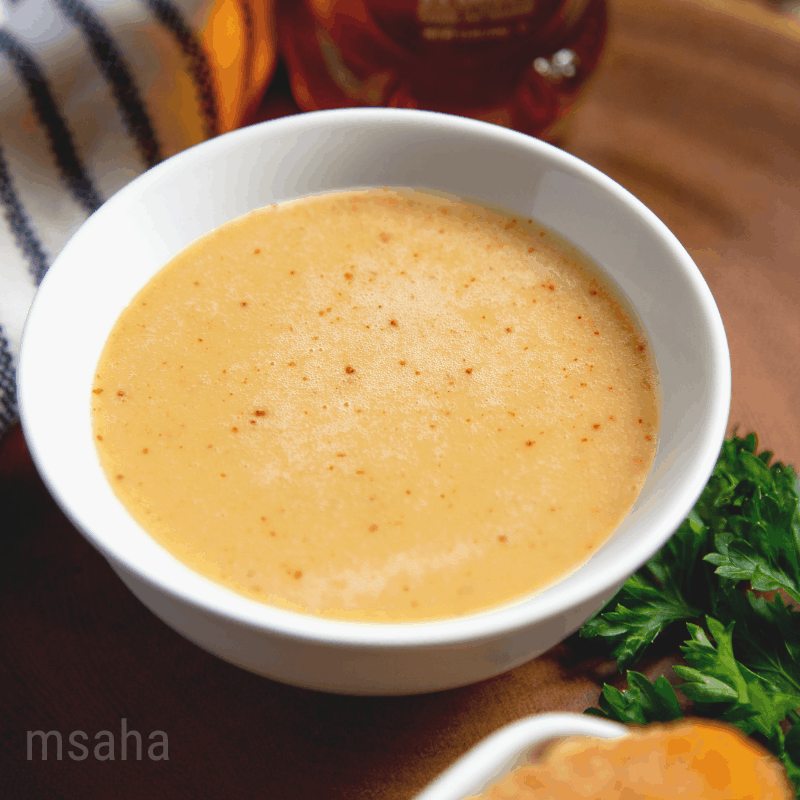 Ingredients
¼ cup of honey
¼ cup of Dijon mustard
¼ cup of mayonnaise
1 Tablespoon of distilled white vinegar
½ teaspoon of cayenne pepper
Instructions
Mix all the ingredients into a small deep bowl and using a whisk mix together until creamy.
Notes
Add ¼ teaspoon if you don't want it that spicy
Nutrition Information:
Yield:
1
Serving Size:
1
Amount Per Serving:
Calories:

675
Total Fat:

43g
Saturated Fat:

7g
Trans Fat:

0g
Unsaturated Fat:

36g
Cholesterol:

23mg
Sodium:

1974mg
Carbohydrates:

74g
Fiber:

3g
Sugar:

71g
Protein:

3g
These nutritional calculations might not be accurate. Please speak with a licensed nutritionist to assist you.
The following two tabs change content below.
Latina mom of 4 married to wonderful Greek gentleman. Living in southeast PA and trying to juggle family and a household while trying to earn an income from home. Follow my stay at home journey as I discover how to earn money and save money so we can continue to live debt-free.
Latest posts by Joyce @ My Stay At Home Adventures (see all)