7 Helpful Ideas to Reduce Your Cable Bill
This post may contain affiliate links which might earn us money. Please read my Disclosure and Privacy policies here
Love cable but hate the insanely high prices? Are you looking for ways to reduce your cable bill fast?
Just like the cost of other utilities, cable can get to be very pricey.
The good news is that you can reduce your cable bill and below you will find 7 ways on how you can accomplish this.
Now, before we go even further there is a big difference in lowering your cable bill and just not being able to afford it.
Average Comcast bill for internet and cable my varied depending on where you live and the average being around $107 with an estimated 1% – 3% (this increase happened in 2017) increase each year.
There are many other affordable alternatives to cable my friends but if you love your cable or need it since many areas cable is the only thing available here some tips for you.
Now, keep in mind that for these tips to work you must pay your bill on time, a superb customer, and have the time (about an hour or so) to reduce your cable bill.
Also, keep in mind that making a phone call and following the cable rep script that is very popular on the internet is not going to work much longer or may not work at all.
We will talk about this later! Let's continue.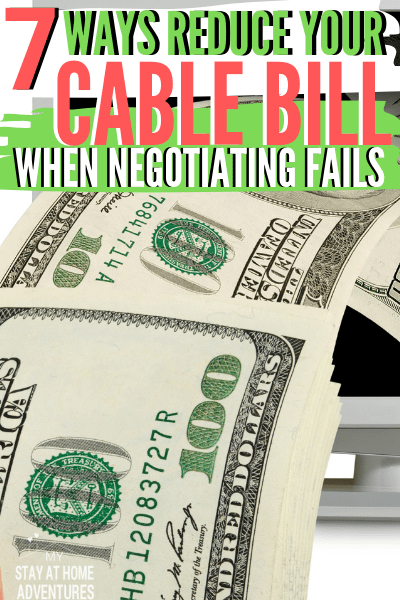 How to Lower Your Cable Bill
Here is some truth, in 2019 the idea that you call and bargain with the cable company representative may or may not working anymore.
The bundle prices that we continue to fight for are no longer available. If Comcast is the only company servicing your area and there is not much of a competition, this technique is not going to work for you.
But don't get discouraged because we took our Xfinity cable bill and lowered it by $40 a month and you are going to learn what we did, and you can do too.
The cable company representative will work and help you reduce your cable bill by giving you ideas and suggestions, but again it all depends on how friendly the person is.
So, let's begin!
Unlike years ago, thanks to technology and the internet, you don't have to settle for a high price set by cable companies.
So settling for high prices is not an option. Even when prices continue to rise, there are many ways to reduce your cable bill.
How To Reduce Your Cable Bill This Month
SWITCH CABLE PROVIDER
The first thing you will want to do is compare the costs of different cable companies in your area. You may be able to get a bigger discount by switching to a different company.
Now, depending on the area you live this can be very tricky. For example, we live in an area that only has Comcast and my in-laws live in an area 20 minutes from us that only allows another cable company.
Still, shop around and see what options are available in your local area that will help you to reduce your cable bill.
ASK FOR A DISCOUNT
Once you've decided on a cable company, be sure to ask them what discounts they offer. I know I mentioned above that the famous reduce your cable bill script might not work, but first, you have to give it a try.
Remember if you live in an area with competition, calling and asking for a discount might work for you.
Some companies may reduce your rate if you sign a contract for a period of time, about 2 years some even 1 year. Others may offer cable and internet bundle packages at a reduced rate.
Believe it or not, if you are a good customer just call customer service and they will reduce your cable bill for about a year. Cable companies tend to reward good customers by giving them discounts without even committing to a contract.
Now to do the negotiation here are some tips:
DO YOUR RESEARCH
You need to take the time to do some research and find out the competitive prices and what people are paying for them. Know what you want to pay but keep it real! Gather all this information before making the call.
BE POLITE
My husband is the negotiator when it comes to dealing with companies and being polite is key!
Being rude doesn't get you anywhere and remember that there's a human being working the phone who has no idea what is going on and doesn't set the prices for you.
GET TO THE POINT
Be nice but firm about the reason you are calling make sure you let them know.
TAKE YOUR TIME
Be ready to be on hold for a while, my husband was on hold for about an hour.
NEGOTIATE
Be ready to negotiate, remember the cable company has room to wiggle and does not want to lose you as a customer. Again depending on where you live and the competition.
Now that you have some quick tips let's keep going with these tips, shall we?
STICK TO THE BASIC
Although it may seem worthwhile to opt for a cable package that includes more channels, it can make your bill a lot pricier. Opting for a basic cable package is often the way to go if you're looking to cut costs.
What happens if negotiating your cable bill doesn't work?
As stated above, the negotiating script that is very popular online is failing big time. During our 2019 negotiating phone call it didn't work.
Why didn't it work?
You see Comcast Xfinity made some major changes to their bundles and caught on to this negotiating scripts that helped many of us maintain a lower cable bill each year.
How to reduce your cable bill when negotiating fails
What you need to do is scale down your current package, if you have a quad or an old bundle that has a high price bundle scale it down.
An example:
If you have cable, phone, internet bundle service, go down to cable and internet. Comcast Xfinity will offer you a bundle deal to go back up in a few weeks.
The cons about this are that you might have to settle with fewer services that you want, but the good news is that within a month or so, the company will start offering you better bundle rates when you scale up.
Of course, these offers will come if you are a great customer and pay your bill on time.
Again, the key is to lower your bundle service and wait for the upgrade a few weeks later. That's how it works.
STOP RENTING
When you rent from your cable company you are going to pay a monthly fee and this rental fee will go up!
For Comcast Xfinity, our rental fee went up to about $14 a month which is pretty high!
When you call your cable provider ask them about what cable modern/router they recommend and start from there.
For Comcast we purchased this cable modem/router:
MOTOROLA MT7711 24X8 Cable Modem/Router with Two Phone Ports, DOCSIS 3.0 Modem, and AC1900 Dual Band WiFi Gigabit Router, for Comcast XFINITY Internet and Voice
Now, I know some of you are going to be a bit upset about the price of about $200 but here's the thing.
We have had cable for many years, the minute we could afford it on our budget, we went with cable and yes antenna, but that's later.
Cable was the only company to service our area and we pay our bills on time. I am telling you this because if you are planning on being a long-time cable customer, investing $200 for a cable modem/router is worth it.
We saved about $14 a month on rental fees and will avoid any other rental fee increase in the future.
Also, shop around for this cable modem/router because eBay has it even cheaper. We use Wikibuy and I recommend you use this extension because it will find not just cable modems cheaper but anything else.
Stop renting cable boxes
Now that you know about purchasing your very own cable/modern if you have more than one cable box, you need to return the rest.
With technology having one room with a cable box is more than enough. Cable companies, like Xfinity, offers wireless/streaming alternatives to have access to cable in other places of the home.
You can stream your cable via tablet, phone, and have cable services using a Roku streaming device.
Certain Roku devices give you access to Xfinity app (beta) and my friends this is so good. You can have up to 3 devices on your account.
A Roku for:
Family room
Bedroom
Mancave
Anywhere in your home. What we love is that you can record, save your favorite channels and show with this device.
What Roku devices have Xfinity App?
Now understand that not all Roku Streaming Devices have the Xfinity beta app. Only certain ones do and below is a list. These devices sell for about $30 to $40.
Roku Express Streaming Player (3900R) – You can order online and pick it up at your local Target. I think this is a great price and one of the lowest.
The Roku 5XXX, 6XXX, 7XXX and 8XXX series TVs
Roku Streaming Media Players:
Express (3700, 3900)
Express+ (3710, 3910)
Premier (4620)
Premier+ (4630)
Ultra (4640, 4660)
Roku 4 (4400)
Roku 3 (4200, 4230)
Roku 2 (4210)
Roku Streaming Sticks:
Streaming Stick (3600)
Streaming Stick+ (3800, 3810)
*Devices must be on minimum firmware version 7.5
Are these devices easy to install to Xfinity?
Yes, all of these devices, the cable modem, and the Roku streaming devices are simple to install.
For the cable modem, you must go online and then call Comcast. We had our setup online first and that didn't work for long. Make sure you call and speak to a technician to make sure everything went smoothly.
To connect the Roku device, follow the Roku directions and log into Xfinity Authorize and type the code. Your Roku will be activated right away.
Check out these money-saving posts:
DON'T GET CABLE
Depending on your budget, you may even want to consider cutting out the cost of your cable bill completely. Consider opting for a streaming video service, such as Hulu, Netflix, or Amazon Prime.
FIND IT FREE
Television networks may offer many shows and movies on their sites. This gives you another option to watch your favorite TV shows online.
Check out the websites for your favorite TV networks to find out if they offer episodes of your favorite shows online after they've aired.
Sometimes even live events are available online as well. If you love red carpet pre-show, you can find it for free online. Also, YouTube offers some shows for free.
DIGITAL ANTENNA
MOHU ANTENNA
As much as we speak about cutting our spending and how to save money on this blog, you will know that I have a solution to help you save money. One way to cut back on spending is by cutting cable or satellite.
You all know cable is expensive, and if you are struggling financially, I will tell you that you can watch television with the help of a Mohu antenna.
Free TV, brought to you by the Mohu antenna, which offers unlimited access to free, over-the-air (OTA) broadcast TV (including ABC, NBC, CBS, FOX, etc.) for a budget-friendly, one-time fee.
This means you can watch your favorite holiday movies and shows in HD without a costly cable or satellite subscription that runs for about $99.10 per month. On average, Americans are spending more than $231 per year just on cable box rental fees alone.
One thing I want to make clear is that depending on the model purchased, and where you live, it will affect how many channels you will have available.
The higher priced the model is, the more channels you are possible to receive. To be sure and see what is available in your area, head over here and fill out the quick form.
These antennas are affordable and work extremely well. We were able to receive one and review it a few weeks ago and we were surprised at the quality and how many channels we were able to get with Mohu antenna we received; even with our home being next to a giant mountain (OK hill) and surrounded by other homes. You can find them for as low as $17.95 and up.
To sum up, here's a video with more tips on how to reduce your next cable bill.
While the cost of cable can get expensive, there are a number of things you can do to reduce your cable bill without having to miss out on your favorite TV shows and movies.
YOUR TURN: SHARE YOUR FAVORITE TIPS ON HOW YOU REDUCE YOUR CABLE BILL.