Chilean Mechada is a shredded beef slowed cooked dish, and you might know it as Ropa Vieja in other Latin American countries.
This Mechada recipe rocks and if you are ready to skip essential details about this recipe and print you can click the link here to do so!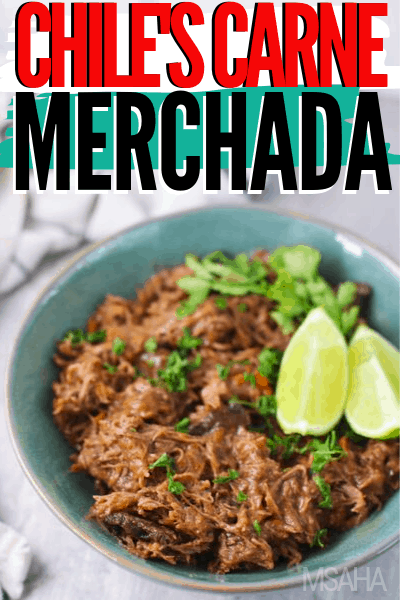 What is Carne Mechada?
Carne Mechada is a popular dish found in basically all Latin America cuisine. Is beef slowly with onions, broth, and all kinds of delicious ingredients and later shredded.
This is the traditional Chilean variation, but it's also very typical in Venezuela and Cuba, Puerto Rico, and Panama (as ropa vieja).
Other Latin Recipes:
How to make Mechada?
Mechada is made in many different ways. Again, each country has its own take of this, and it can be cooked using a slow cooker, stove, and baked. Heck, you can even use a pressure cooker such as an Instant Pot to make it.
But if you want to enjoy Instant Pork, using a pressure cooker will be the way to go!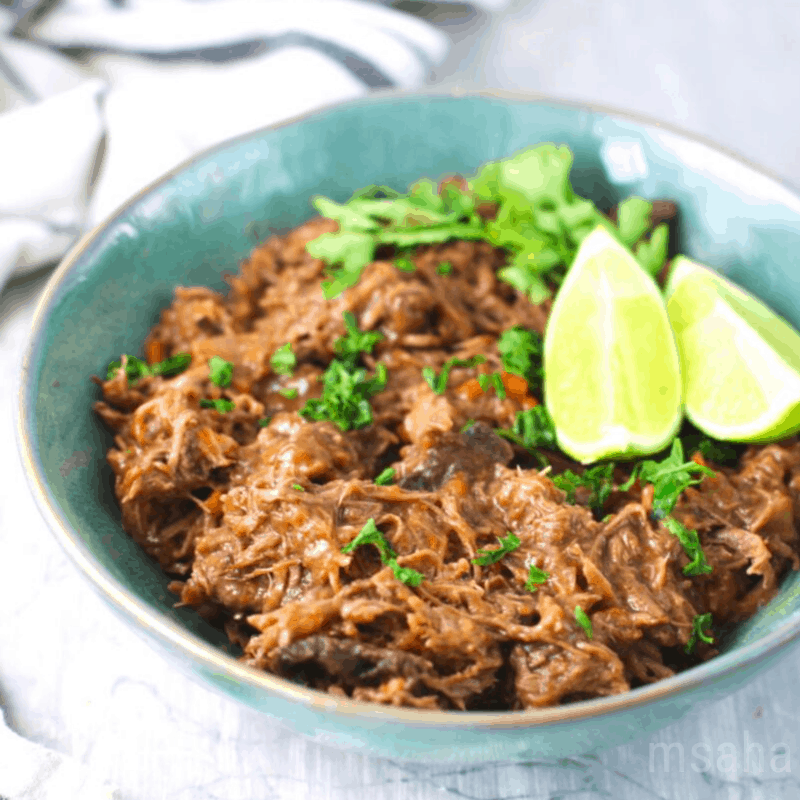 How to make Mechada using an Instant Pot
Now, this recipe we used a Dutch oven on the stovetop but making this recipe using an Instant Pot is not hard at all.
Simply add the ingredients into your Instant Pot, press manual or pressure cook, depending on your Instant Pot model.
Set the timer for 1 hour and let it natural release (or at least for 15 minutes) the meat will be so easy to pull apart!
And you will have Instant Pot Pork ready to serve!
What to serve with Mechada?
You can serve Mechada with:
You can even make it into tacos and empanadas!
In Chile is served as a sandwich filling (with tomato and avocado) and in Venezuela is served with arepas, and I also tried it with Pupusas, and the result was really delicious!
Can you freeze Mechada?
This Mechada recipe or Ropa Vieja recipe will freeze well. I love to make a big batch and freeze half for later when I want to make empanadas.
To freeze this Mechada recipe, use a freezer friendly bag or container, date it and place in your freezer. Mechada will freeze well for up to 4 months. I'm sure if you use a Food Saver, it will last longer.
What are the ingredients to make Mechada?
To make this Chilean Ropa Vieja version, you are going to need the following ingredients listed below:
Chuck roast
Onion
Garlic cloves
Carrot
Celery stick
Wine
Broth
Olive oil
Salt
Pepper
Now that you have gathered all of the ingredients, it's time to cook this Mechada.
Grab your favorite pot; we used a Dutch oven to make this shredded meat recipe.
Add around two tablespoons (Tbsp) to the pot and heat (medium-high).
Meanwhile, pat dry the meat and seasoned it with salt and pepper.
Once the pot is warm, add the meat and browned for about four minutes per side.
After both side of the meat has been browned, add the rest of the olive oil.
Then add the onions, garlic, carrots, and celery.
Continue to cook over medium-high heat for about 5 minutes.
Next pout the wine and broth and cover.
Lower the heat a bit and let it simmer for about 2 hours.
Always check to see if you need to add more broth to it.
Once the meat is falling apart, shred the roast using two forks.
Allow it to cook for 30 more minutes before serving.
Your Chilean Mechada is ready to serve!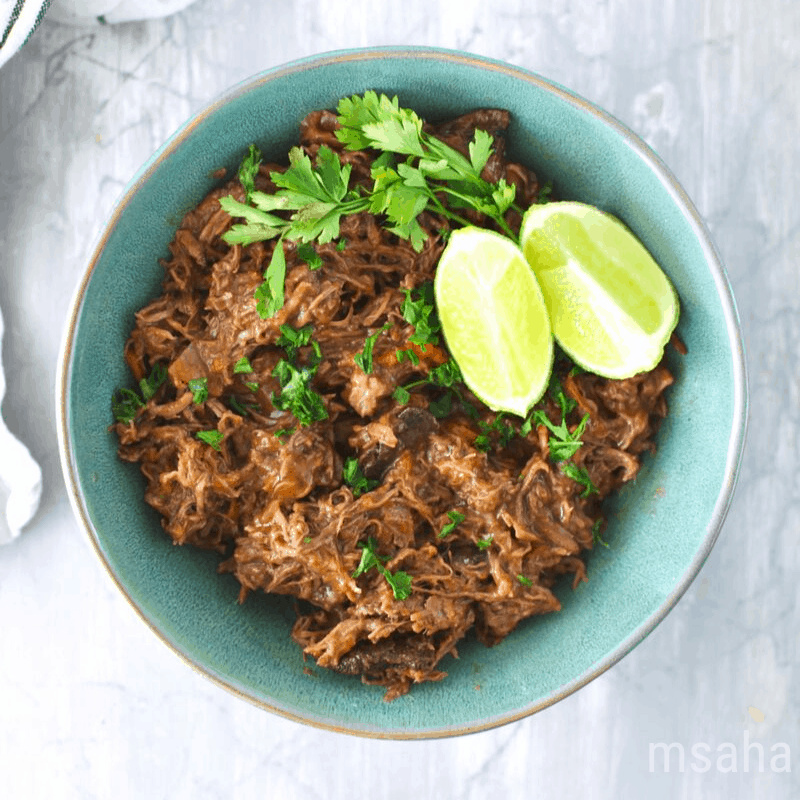 Simple Mechada Recipe
Now that you read all you need to know about making this Mechada recipe, it is time to print the recipe.
Yield: 4
Carne Mechada de Chile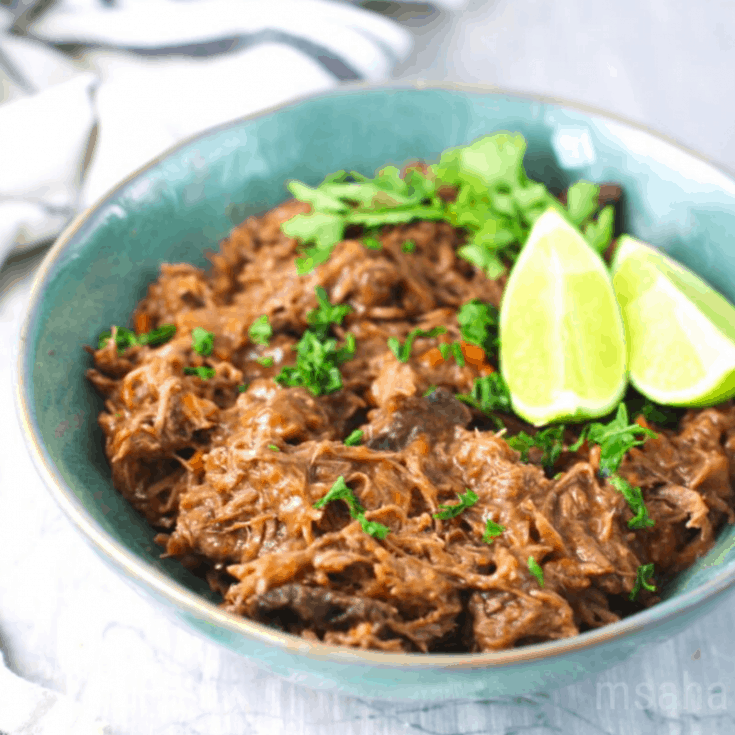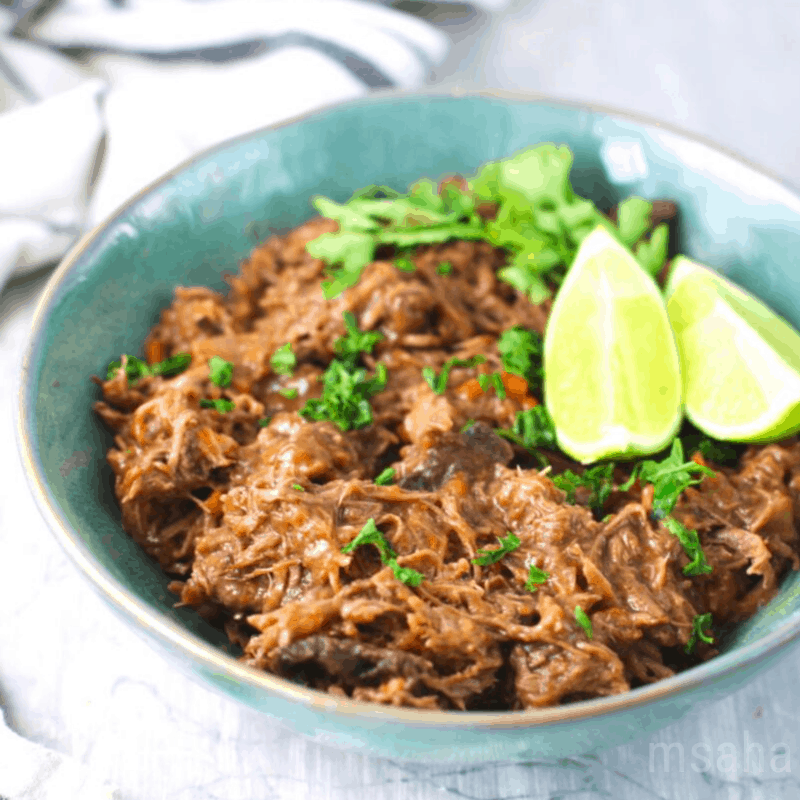 Chilean Mechada is shredded beef slowed cooked dish, and you might know it as Ropa Vieja in other Latin American countries.
Cook Time
2 hours
30 minutes
Total Time
2 hours
45 minutes
Ingredients
2 Pounds chuck roast
1 Onion, diced
3 Garlic cloves, minced
1 Carrot, diced
1 Celery stick
1 Cup wine
5 Cups broth
4 Tbsp olive oil
1 teaspoon of salt
1 teaspoon of pepper
Instructions
Heat around 2 tbsp olive oil in a Dutch oven. Pat dry the meat and season with salt and pepper. Cook for around 4 minutes per side.
Add the rest of the olive oil and add onion, garlic, carrot and celery — Cook for 5 more minutes.
Pour wine and stock.

Cover and let it simmer for 2 hours. Check constantly in case you need to add
more stock.
With the help of two forks, shred the roast — Cook for 30 more minutes.
Remove from fire and serve.
Notes
We are not Nutritionist and rely on an online calculator to give out the best nutrition calculation. Please ask a certified nutritionist for information.
Nutrition Information:
Yield:
4
Serving Size:
4
Amount Per Serving:
Calories:

731
Nutrition information isn't always accurate.
The following two tabs change content below.
Latina mom of 4 married to wonderful Greek gentleman. Living in southeast PA and trying to juggle family and a household while trying to earn an income from home. Follow my stay at home journey as I discover how to earn money and save money so we can continue to live debt-free.
Latest posts by Joyce @ My Stay At Home Adventures (see all)