How to Make Argentinian Cheese and Mushrooms Empanadas
This post may contain affiliate links which might earn us money. Please read my Disclosure and Privacy policies here
Empanadas are a type of pastry that is popular in Latin America. They can be filled with various things, such as cheese and mushrooms. Today, I will show you how to make empanadas filled with Argentinian cheese and mushrooms. These empanadas are delicious and easy to make! Let's get started.
What is an Argentinian empanada?
An empanada is a type of pastry that originates from Argentina. It is made by folding a dough or bread dough over a filling, including various types of meat, cheeses, vegetables, and fruits. Empanadas are then baked or fried.
Empanadas are very popular in Argentina and other Latin American countries. In Argentina, they are often served as a starter or appetizer. They can also be found in many Argentine restaurants around the world.
What are Argentinian empanadas made of?
Argentinian empanadas are typically made with a flour-based dough and filled with various types of meat, cheeses, and vegetables. The most common fillings include beef, chicken, and ham. Other popular fillings include spinach, onion, mushrooms, cheese, and tomato. Empanadas can be baked or fried and are often served with a dipping sauce such as chimichurri.
Are empanadas better fried or baked?
There is no right or wrong answer to this question – it all comes down to personal preference. Some people prefer the crispy texture that frying provides, while others prefer the more subtle flavor of baked empanadas. Ultimately, it is up to the individual to decide which method they prefer.
Fried and oven-baked empanadas, each type has its own unique flavor and texture.
Fried empanadas are made with corn flour dough and filled with meats, cheeses, or vegetables. They are then fried in hot oil until the dough is golden brown and crispy.
Oven-baked empanadas are made with wheat flour dough and filled with meats, cheeses, or vegetables. They are then baked in an oven until the dough is golden brown and crisp.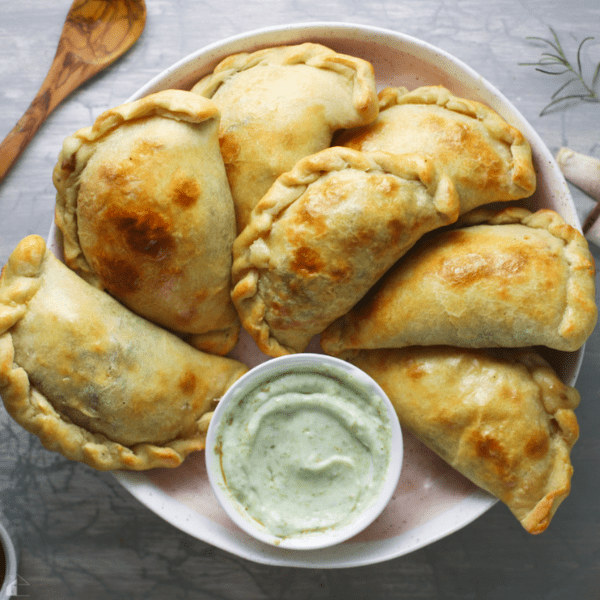 What are some of the most common empanada fillings throughout Argentina?
Many different empanada fillings can be found throughout Argentina. Some of the most common include beef, chicken, ham and cheese, spinach and cheese, and corn. Empanadas can also be sweet, and some popular sweet fillings include dulce de leche (caramel), quince jam, guava, and sweet potato.
What distinguishes Argentine empanadas from those found in other countries?
Argentine empanadas are typically baked rather than fried. They also tend to be larger and thicker than other types of empanadas. The fillings are also usually more substantial and often include meat and vegetables.
What is the history of the empanada in Argentina?
Empanadas have been a part of Argentine cuisine for centuries. They are thought to have originated in Spain and then made their way to South America with Spanish settlers. Empanadas quickly became popular in Argentina and have since become a staple food.
Argentinian Mushrooms
Argentinian Mushrooms are a type of fungi that is found in the Argentinean region. They are known for their nutritional value and for their ability to help improve the immune system. These mushrooms have been used in traditional medicine for centuries and are still used today in many parts of the world.
Argentinian Mushrooms are a source of essential nutrients such as proteins, vitamins, and minerals. They are also a good source of dietary fiber. Additionally, these mushrooms contain compounds that can help fight off infection and disease.
Can I use Argentinian mushrooms in my empanadas?
Argentinian Mushrooms can be used in a variety of dishes, including empanadas. When choosing mushrooms for your empanadas, it is important to select those that are small in size and have a mild flavor. Additionally, you will want to ensure that the mushrooms are cooked thoroughly before adding them to the dough.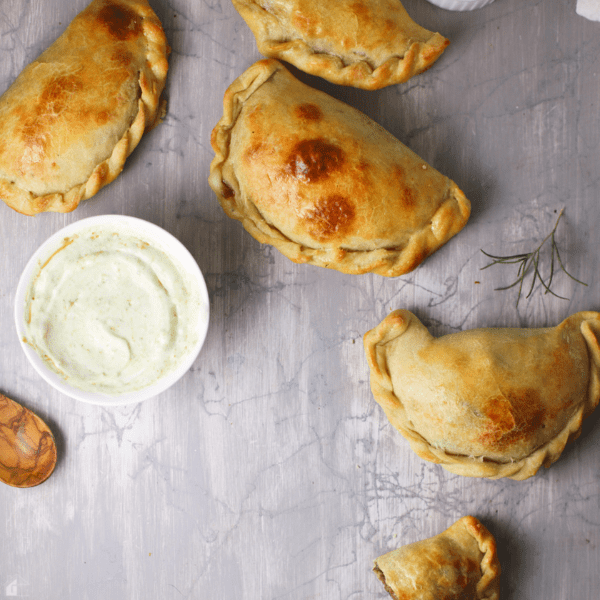 Argentinian Mushrooms and Cheese Empanadas
Argentinian cheese and mushrooms empanadas are a delicious pastry that are sure to please. These savory pastries are made from puff pastry dough filled with melted cheese and fresh mushrooms, rolled into small balls, and deep-fried until golden brown.
Ingredients needed:
The ingredients for making this Argentinian Cheese and Mushrooms Empanada that the whole family will enjoy are listed below. Please scroll down to view our printable recipe card, which includes detailed steps and measurements.
Corn cobs
Olive oil
Salt and pepper: To taste
Yellow onion: Chopped
Chili powder: You can also use paprika if you want it less hot
Garlic cloves: Minced
Chicken broth
Sour cream
Lime juice
Mozzarella: You can use parmesan cheese instead
How to cook Argentinian Cheese and Mushrooms Empanadas from scratch?
Grill the corn cobs: Put some olive oil on the corn cobs first. Add salt and pepper, then grill the corn until it begins to turn black. Then take the kernels out of the grill and allow it to cool. After that, cut the kernels off the cob with a knife and save the cob for later.
Cook and simmer: Over medium heat, warm up the remaining oil in a big pot. Add the minced onion, chili powder, and roasted corn kernels. Cook for 3 minutes or until transparent. Next, add the minced garlic cloves and cook for 1 minute or until fragrant. Add the corncobs that have been stripped and the chicken broth after that. Bring to a simmer and cook for 30 minutes, then discard the corn cobs. Add sour cream and cheese and mix it.
Puree the soup: With the help of an immersion blender, puree the soup until creamy. Then add the lime juice and stir to combine.
Serve: Serve in bowls and top with more cheese, bacon, and chopped cilantro. You can also add cooked bacon bits, cheese, and chopped cilantro as a topping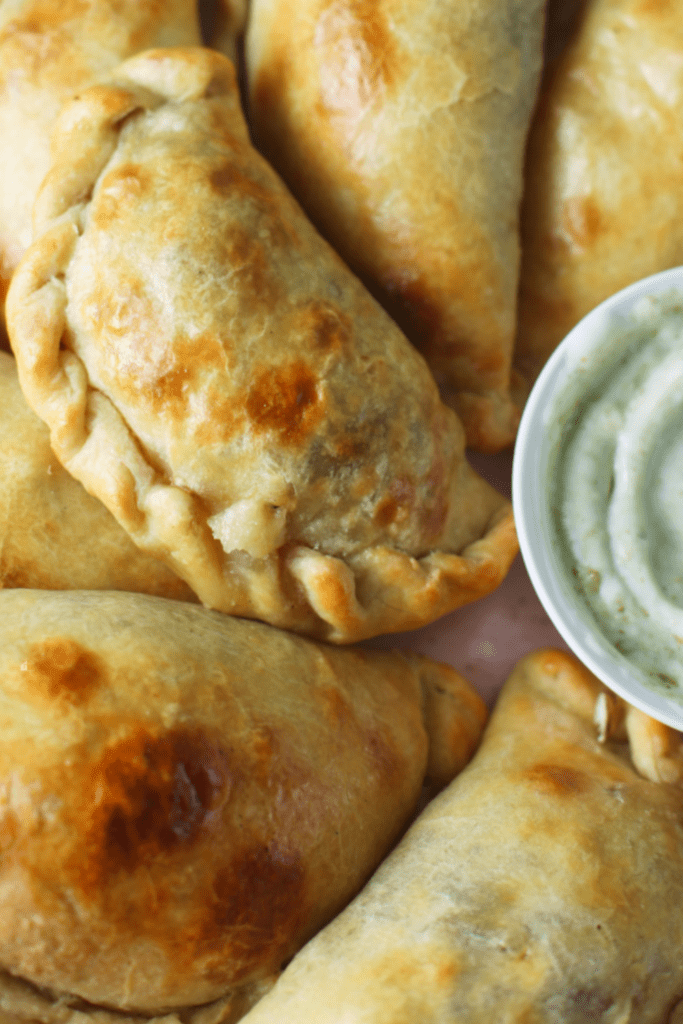 How to serve:
What should you serve with empanadas? Here are a few ideas:
Salsa verde: This is a tomato-based dip and sauce called which is ideal for your empanada and everything in between. Salsa verde is made from tomatillos or Mexican husk tomatoes, which give it its distinctively green color. You could always just purchase a jar of salsa verde at your neighborhood supermarket.
Potato salad: One outstanding salad is created when tender potatoes, sweet corn, black beans, cherry tomatoes, and a hot and creamy sauce come together. This Mexican salad contains a dizzying array of ingredients, yet they all come together harmoniously, especially when paired with your empanada.
Guacamole: Fill your empanada with guacamole for a tremendously addictive snack!
Refried beans: The beans are enhanced in flavor by a spritz of lime juice and a sprinkle of cilantro. The variety of tastes and textures complement the savory empanadas well.
Frequently asked questions
What is an Argentinian empanada?
Argentinian empanadas are a popular pastry that are usually filled with meat, cheese, or fruit. They are also commonly made with dough that is folded over several times to form a pocket-like shape. Although they can be found throughout Argentina, they are especially popular in Buenos Aires.
How are Argentinian empanadas different?
Unlike their Mexican or French counterparts, Argentinian empanadas are filled with savory ingredients like beef, chicken, or pork and are then wrapped in dough. Some unique variations of Argentinean empanadas include the milanesa (chicken) and croqueta (fish) empanadas, both of which are made with breaded meat and fried until crispy.
How do you keep empanadas soft?
Many people enjoy empanadas because they are simple to make and always taste delicious. However, if you want your empanadas to remain soft, then you'll need some tips. One way to keep them soft is to wrap them in plastic wrap before baking. Another option is to put them in a cake tin or an oven-safe bowl and heat them up slowly in the oven. Finally, you can also refrigerate your empanadas for a few hours before baking them so that they are softer.
How to store leftovers:
If you have leftover empanadas, there are a few ways to store them. The best way is to freeze them. Place the empanadas on a baking sheet and place in the freezer for about an hour or until solid. Once frozen, place the empanadas in a freezer-safe container. You can also cook the remaining empanadas and store them in an airtight container in the fridge for up to two days or in the freezer for up to four months.
Recipe tips:
Argentinian empanadas are a favorite dish in the country. Here are some tips for making them perfect.
Use quality ingredients. Argentinian empanadas are often made with fresh dough and high-quality fillings, so make sure to use the best possible ingredients when preparing them.
Preheat the oven before filling the empanadas. This will help them to cook evenly and avoid sticking to the baking sheet.
Use a pastry bag fitted with a star tip or a spoon to fill the dough empanadas. Be sure to use plenty of filling, as these little treats are definitely not shy about their flavor!
Bake the empanadas on a lightly oiled baking sheet for about 20 minutes, until they are golden brown and crusty on top. Serve hot, and enjoy!
Cheese and Mushroom Empanadas Recipe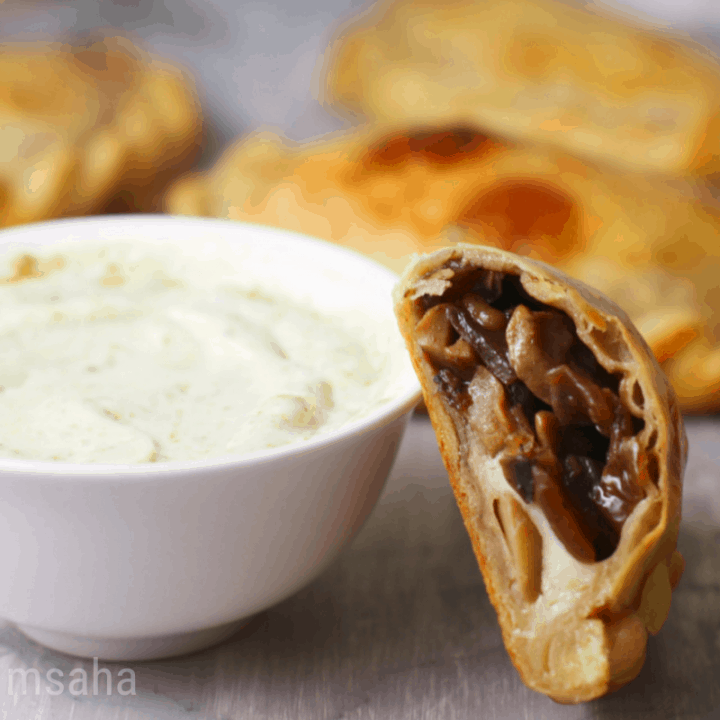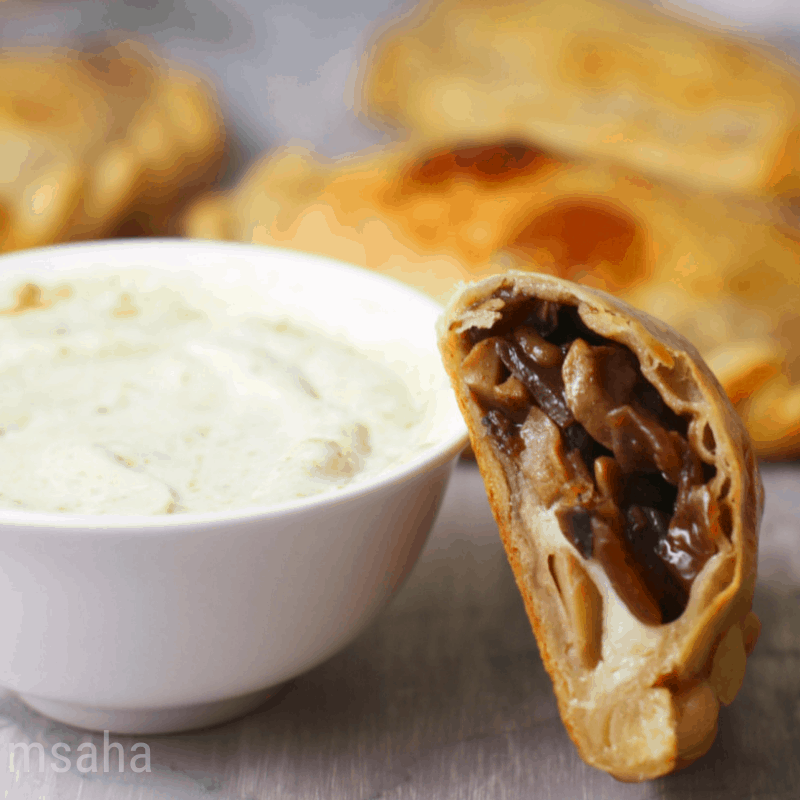 Cheese and Mushroom Empanadas
Yield:
About 6 Medium Empanadas
Total Time:
1 hour
5 minutes
Empanadas are a traditional Argentinian dish that can be made with various fillings. This recipe shows you how to make empanadas with cheese and mushroom filling. They are easy to make and delicious! Enjoy!
Ingredients
For the dough:
1 ½ Cups flour
¼ Tsp salt
¼ Cup butter
½ Egg, beat one complete egg, use half and reserve half
¼ Cup water
For the filling
1 Tbsp butter
1 ½ Cup mushrooms, sliced
¾ Cup onion, chopped
Salt and pepper to taste
¼ Cup wine
1 Cup shredded cheese, mozzarella will work fine
½ Egg, reserved from the dough
1 Tbsp cream or milk
Instructions
Prepare the dough: In a bowl, combine flour and salt.
Add the butter and pinch until it resembles coarse sand.
Incorporate the half egg and slowly mix in the water until you
have a workable dough.
Refrigerate for 15 minutes.
Remove from fridge and form disks. You can use a rolling pin, a cookie cutter, a bowl, or a tortilla press.
Prepare the filling:
In a skillet over medium heat, you melt the butter. Add the onion and cook until translucent (around 5 minutes).
Pour the wine and let it simmer until reduced (around 4 minutes).
Add the mushrooms and cook without stirring or flipping for 3 minutes. Flip and cook for an additional 2 minutes. Mushrooms should be golden brown.
Add salt and pepper and remove from stove. Let cool.
Preheat the oven to 350 degrees. In a small bowl, combine half egg with milk or cream.
Fill each disk with 2 tbsp mushrooms and around 1 ½ tbsp shredded cheese. Close the empanada, twirling the border.
Place in a prepared baking pan and brush with egg mixture.
Take to the oven and bake for 15 minutes or until golden brown.


Nutrition Information:
Yield:

6
Serving Size:

1
Amount Per Serving:
Calories:

512
Total Fat:

27g
Saturated Fat:

14g
Trans Fat:

0g
Unsaturated Fat:

11g
Cholesterol:

108mg
Sodium:

548mg
Carbohydrates:

52g
Fiber:

3g
Sugar:

5g
Protein:

13g
These nutritional calculations might not be accurate. Please speak with a licensed nutritionist to assist you.