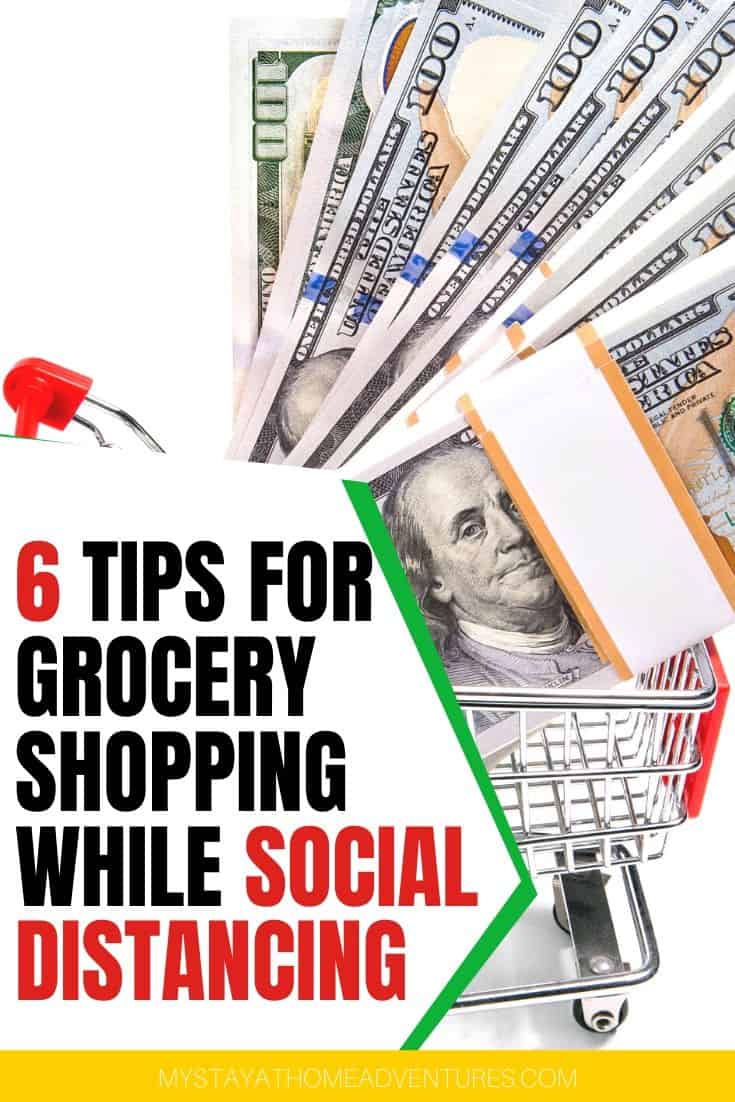 Going grocery shopping is not the same as it was a few weeks ago. Grocery shopping, while social distancing for many of us, will continue until summer. Here are tips and ideas to make the best of it and save money at the same time.
A few weeks ago, we could go out and head to our favorite stores and shop our hearts out. We could look at sales ads, plan our weekly meals, create a meal plan, and pick any day and time and just go shopping.
Fast forward to today and store are open with limited hours, you can't go outside after 8 pm, planning a week is more challenging due to shortages in essential items, stores are not always honoring sales due to what's going on today.
The truth is that what is happening now, it's scary, and we just don't know. Many of us knew this was coming, a tanking economy, SURE!
But a virus! This type of virus? No.
We're now being told that not only are stores short on supplies, but we also need to stay at least 6 feet away from other shoppers and avoid being in crowds of ten or more people.
There are some states where the citizens are under lockdown and being required to stay home unless going out for groceries or other necessities, such as medicine.
As a parent of special needs children, and elderly parents living with us, I need to make sure not to bring the virus into our home at all costs. My husband is an essential worker and continues to work in a state that positive counts continue to grow daily (over 4,000 cases so far).
You might like these posts:
With many stores having restrictions on the number of products you can purchase, hours that they are open, and stay at home ordinances, this led me to this topic. In this post, I'll share some tips on grocery shopping while social distancing to help you stay safe and save money and time.
Let's begin!
What Is Social Distancing?
Social distancing is just what it sounds like. You are distancing yourself from others in society. In this case, social distancing is being done to avoid the spread of illness.
Are Grocery Stores Enforcing Social Distancing?
Some. In some areas, people are being allowed into grocery stores in small numbers. In other areas, people are expected to be mindful of others and stay at a distance.
Should I Take My Family to the Grocery Store?
No. This is a huge problem. Many people are going grocery shopping with the entire family. This is NOT social distancing. This creates many more people in the stores than needs to be and increases the chances of the virus spreading. If possible, only one person in the family should go shopping.
Can I Protect Myself While Grocery Shopping?
Yes! Wipe down your cart with one of the provided sanitizing wipes before shopping. As you shop, keep at least a 6-foot distance between you and other shoppers. Wait for others to move from an area before moving in to gather your groceries. When you leave the store, use hand sanitizer to kill any germs.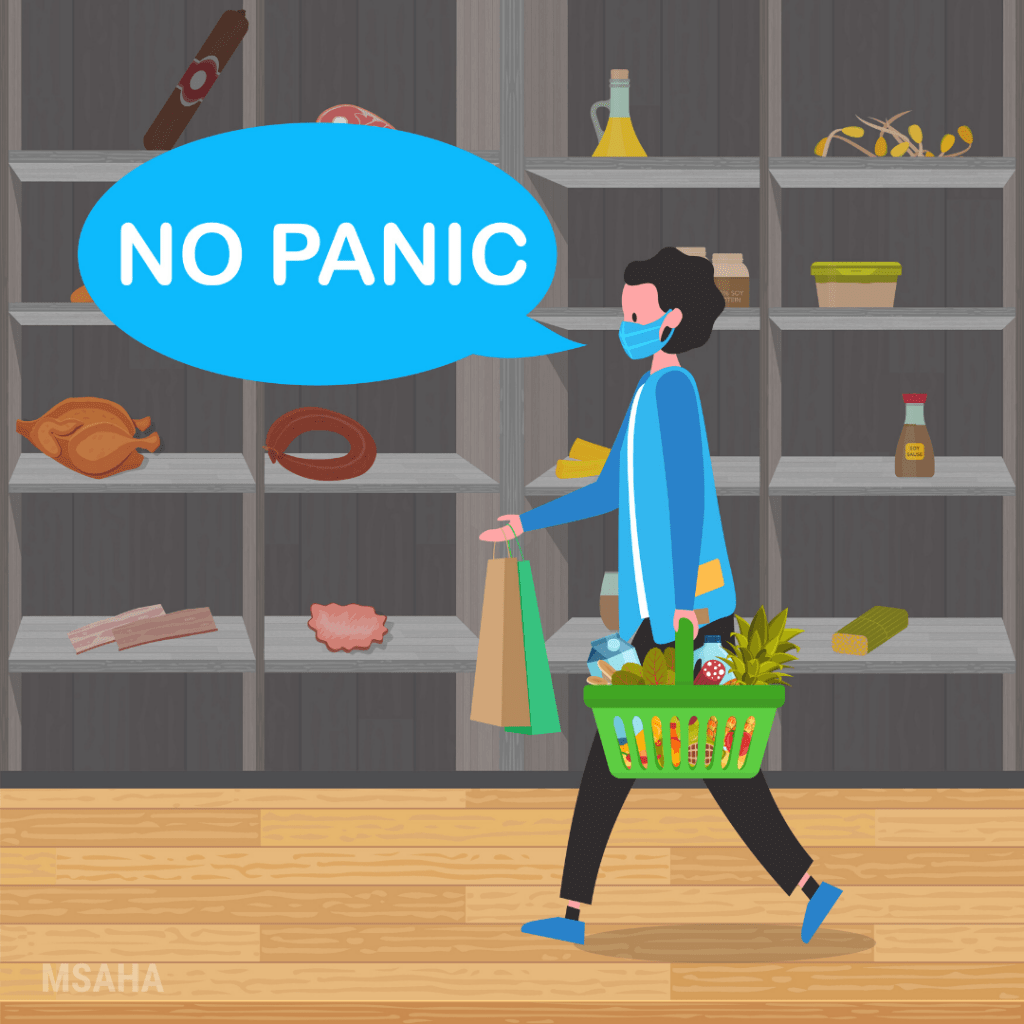 Tips to Grocery Shopping While Social Distancing
Make a Grocery List
This is not a time to dawdle and browse the shelves. Make a list so you can get in and get out. Yes, some of the items you're looking for will be sold out.
Make sure you have alternatives in mind. Also, organize your grocery list by aisle so that you're not running back and forth to find what you need.
You can read more about weekly meal planning and download our free editable meal planning printable kit.
Consider Grocery Delivery
An option you may want to consider, if available in your area, is to have your groceries delivered.
You can even ask that the groceries be left on the porch and then gather them after the delivery person has left. This lessens your exposure to others.
This is also a great tip if you're having trouble finding the things you need, you can easily see which grocery stores have what or even order from somewhere like Amazon or Boxed.
Opt for Grocery Pickup
If grocery delivery isn't available, consider grocery pickup. This limits your time in the store by a lot. At some stores, such as Walmart, you won't even have to leave your car.
Grocery shopping while social distancing is much easier when you're having the items gathered for you.
Stores like Sam's Club offer curbside for seniors where they can give their shopping list to associates and they will go inside and shop for you. You can read the article, Sam's Club Introduces Special Shopping Hours, Concierge Service for Seniors and Those at Risk
Below is an excellent video about PSA Safe Grocery Shopping.
Choose the Slowest Part of the Day
Obviously, things have changed, and the busiest times for grocery stores may not be the same.
However, you can ask around and determine when the stores are the least crowded. You might think the busiest time will be first thing in the morning.
But according to many retailers and retail workers, weekdays early morning are the best time to shop.
This is when most stores are the best stocked, and people will be trying to get what they need. If you're not on diet restrictions, you may want to wait and see what's left after the initial rush.
Avoid shopping during the weekend, since workers are reporting high volume of people during the weekend.
Really, it depends on your area and how scarce supplies are in your area.
Remember to Use Those Rebate and Reward Apps
Just because you're social distancing doesn't mean you can't use apps like:
Also, MyPoints, Rakuten, Swagbucks, etc. to save money and earn points.
Who doesn't want to get paid to buy groceries? If you're shopping through Walmart for your grocery order, you can earn cashback or points for rewards.
Think Outside the Grocery Store
Dollar stores can be a lot less crowded and still have some of the groceries you need. If you just need a gallon of milk, running into a dollar store can help limit the number of people you encounter. It's also usually one of the least expensive places to pick up things like milk.
Also, visit your local grocery stores instead of big popular retailers. Places like liquidators and discount stores are open and selling affordable food and other essentials at a lower cost.
Read How to Score Cheap Groceries and find out how to save on groceries by doing this "odd" things.
Grocery shopping while social distancing isn't impossible. You can do you and your family a great service by choosing grocery delivery or pickup. This will significantly cut down the number of people you're exposed to.
If you do have to go out, make sure you have a list and that you choose the right time of day to do your shopping. Lastly, don't forget to think outside of the grocery store. Not only can you save money, but you'll also deal with smaller crowds.
The following two tabs change content below.
Latina mom of 4 married to wonderful Greek gentleman. Living in southeast PA and trying to juggle family and a household while trying to earn an income from home. Follow my stay at home journey as I discover how to earn money and save money so we can continue to live debt-free.
Latest posts by Joyce @ My Stay At Home Adventures (see all)