How can we prepare for the 2020 recession?
This post may contain affiliate links which might earn us money. Please read my Disclosure and Privacy policies here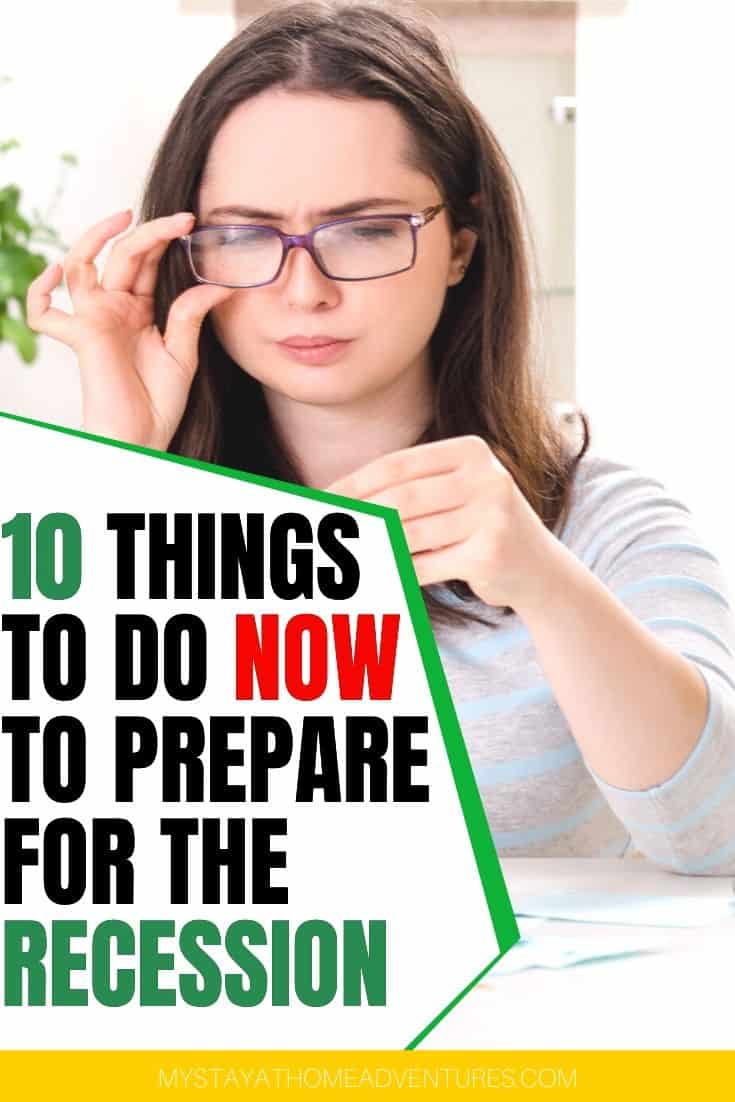 The 2020 recession is inevitable, but there are things everyday people can right now to save money and get prepared.
Let's be real we never thought that 2020 would be like this. Here we are making drastic changes to our personal budget and changing our 2020 money goals.
Now, I know that there are other ways people are being affected by this situation and we want to focus on things that we can do now and that we are doing now to save money.
Our mentality is to go back to our frugal ways, save and invest until we can and hope for the best.
I know many people are asking these questions:
How can we save in a recession?
How can we prepare for the 2020 recession?
The truth is that we don't have the answer, but we do know that a 2020 recession is investable.
What is a recession?
A recession is a widespread severe decline in wages, customer demands, and employment and it tends to last for about a year.
Now in the last couple of weeks unemployment had sore to 33% and that was a few days ago according to the NY Times and this number will continue to grow as more states are affected by this situation.
Read – What To Avoid During A Recession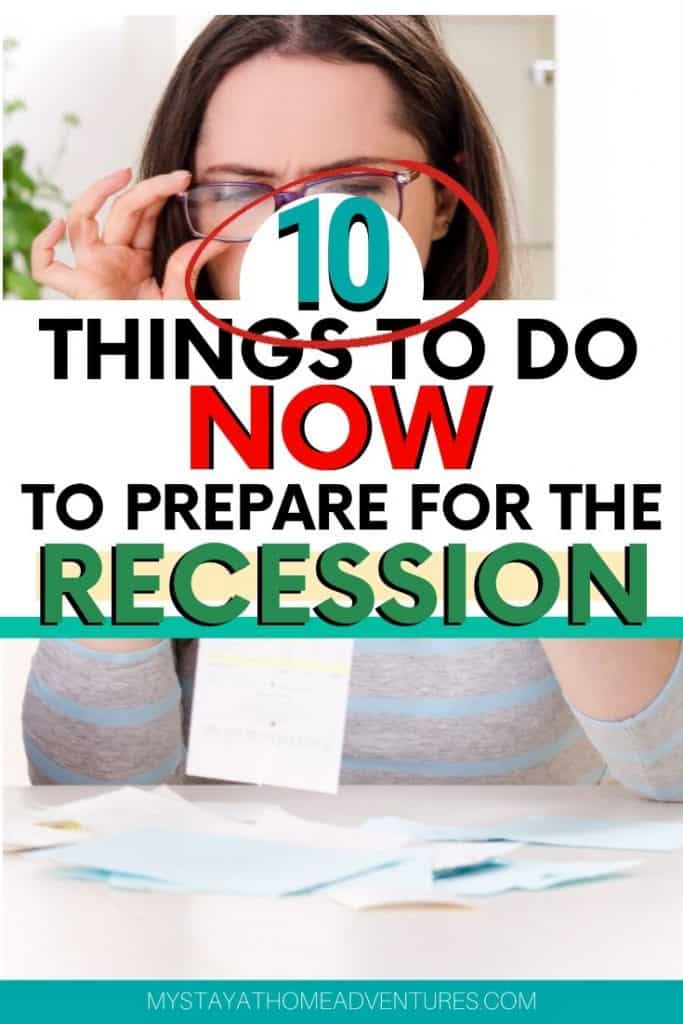 10 Things To Do Now to Prepare for the Recession
There are many things you can do right now to start saving money. Many of these things we are doing and others are ideas that might work for you.
Remember we don't have the same financial situation, but we know how the economy is now it will affect many of us.
Frugality should never be out of style!
I am frugal. Frugality is my way of living. Now take the time to start practicing frugality. ALWAYS!
What do we mean by living frugally? We live by living simple and economically. We are not cheap we are frugal, we love to value our money and make the best of it.
In times like this, it is better to adopt a frugal lifestyle even if now things economically have not to change for you. Make sure you are valuing your money and start simplifying your lifestyle.
Remember that what we are experiencing now will have a long term effect on our economy.
Read – Frugal Living Tips From the Great Depression
Go back to your budgeting goals and plans
This is the time to go back to your budget and financial goals you made for this year and see if they are still applicable and make changes.
If spring break vacation was on your goal for this year, chances are this was canceled. Knowing how things are maybe it is best to use that money saved and add it to your savings or leave your vacation account as is.
Due to this current situation, we decided to go back to saving as much as we can and investing until we are able.
Another change we did to our budget was up the grocery budget and household budget since kids are not in school anymore.
Spending Freeze
During this time, freeze your spending by only buying and paying for what you and your family need.
These are uncertain times, and every penny must be accounted for. Think about it this way, if the economy recovers you come out of this with more money saved and a new perspective about your spending habits.
Reduce the cash
The cash envelope system is amazing, but during this time, banks and other institutions are limiting hours and the way they run their banks.
Less human contact is crucial, and this is a good chance to cut back on your envelopes and stick to using cards.
Due to the stay at home situation, we are using cards to order online and limit as much interaction with others.
Cashiers and other retailers are dealing with the public and for us, using the card reader is better than handing the cashier cash.
To support our local businesses, we are ordering online and taking advantage of curbside pickup and delivery.
Remember this is only temporary and we will go back to cash budgeting after this, we want to do our part and if giving up our cash envelope method help, we will do it.
Save the cash!
By using cards instead of cash, the next question might be, what are we doing with the cash.
Save the cash and use it as an emergency cash fund. We decided to increase our cash, and if you watched my Sinking Fund video, I covered the $500 cash goal. And that's where the money we took out is going for now.
Meal planning
To help you save time and money, meal planning is key. With all the panic shopping going on, sticking to a meal plan is what we recommend.
Have your family help you create a weekly meal plan and if you need an editable meal plan we offer them at no cost to you in our subscriber library or here.
Use the resources available
With how serious the situation is, another way to prepare yourself for a recession is to take advantage of the resources and programs that are being available to you right now.
Companies are offering discounts, services, and more to help consumers during this time.
TAKE ADVANTAGE OF THEM!
Cable companies are offering free Wi-fi hotspots, take advantage of this service.
Free Wi-Fi for low income, again, if you qualify to take advantage of this.
Once this got serious and companies started offering free services and exclusive discounts, we took advantage of that.
My cellphone service is with Republic Wireless, and I pay about $25 a month includes fees. I have traveled all over with my phone and service has been excellent.
I also know that since I'm mostly home and due to hot spots, I can I don't even use all my 1 GIG.
We also have cable. YES! We have cable in our home, and yes, we know it is expensive, but we decided once we could afford it to get cable. My parents are here, and my dad loves his Spanish channels.
We also live an area that gives you a few choices, and Comcast internet is the fastest. Now, the cable company gave us an additional 1T, and hot spots are free to anyone and free service for low-income families, we will take advantage of the services we can qualify for.
You see, I will eliminate the one gig I pay to my mobile company and take advantage of the hot spots. I am not planning on going anywhere, and there is no need to pay for any extra currently.
Here's my advice, if you are going to be home and you have Wi-Fi or live in an area that, for the next 60 days you will have free access to free wi-fi, downgrade your cellphone package!
Tello Mobile has plans started at $5 and you can bring your phone! I am currently testing their service and about to make the switch since I would be paying about $13 for 1Gig. Cheaper than Republic Wireless, but more about that later.
Read – 7 Helpful Ideas to Reduce Your Cable Bill
Many educational sites are offering free services, take advantage of that. Research and take advantage of free 30 to 60 days trial that are available now.
Find out what services are offered in your local area.
Lunches are being offered in our area for kiddos to go and eat lunch and breakfast, no questions asked. I know that many working families are struggling financially, and here there are no questions asked.
If you have older parents, go and take advantage of these services and drop off food for them. 😊
Electric companies and many utility companies are offering services if you are affected by this. Go and research and find out.
Do not panic shop
One mistake people are doing is panic shopping and you know this leads to overspending money.
First, you will not run out of food. Second, grocery stores will be open.
What you are seeing is a shortage due to the high volume of consumers shopping for them. The stores can't keep it stock at the rate people were buying it.
This is not the stores' fault, the worker's faults, it happens. The overbuying leads to others to buy more because they feel the shelves will not be stock. This leads to a cycle of overbuying.
If you are having trouble reducing your spending due to panic shopping do this:
Create a shopping list
Set a stop shopping date
Shop for at least one week of supplies
Don't go out until one week has passed
The problem I'm seeing is that people are just buying and buying and buying with no point in stopping. If you are doing this, set yourself a date and a plan when you are not going to shop.
I know that it is hard to go out and shop because the items that you usually buy are out. BUT believe me, they will restock but buy with a plan.
When you are shopping PLEASE take advantage of:
Clearance food items
Rebates apps:
Now even if you are buying online many of the apps above will credit you. Fetch Rewards will scan your emails for online receipts!
Shop and Create a Meal Plan
You might have to shop and then create a meal plan because you might not know how your store is stocked.
A good plan is to buy two weeks' worth of food IF YOU CAN AFFORD TO. Create a meal plan from what you found at the store and then repeat it. Look for discount food if you can too! You can freeze bread and so many things.
Take advantage of Walmart Grocery pickup (if available), Walmart delivery, and drop services if you can.
If you set yourself limits and follow your budget and goals, you won't overspend. 😊 If you have any questions, want to chat, you can always hit the reply button or find me on Instagram. Stay safe. Don't stress. We will be ok together! 😊