Frugal Living Tips From the Great Depression
This post may contain affiliate links which might earn us money. Please read my Disclosure and Privacy policies here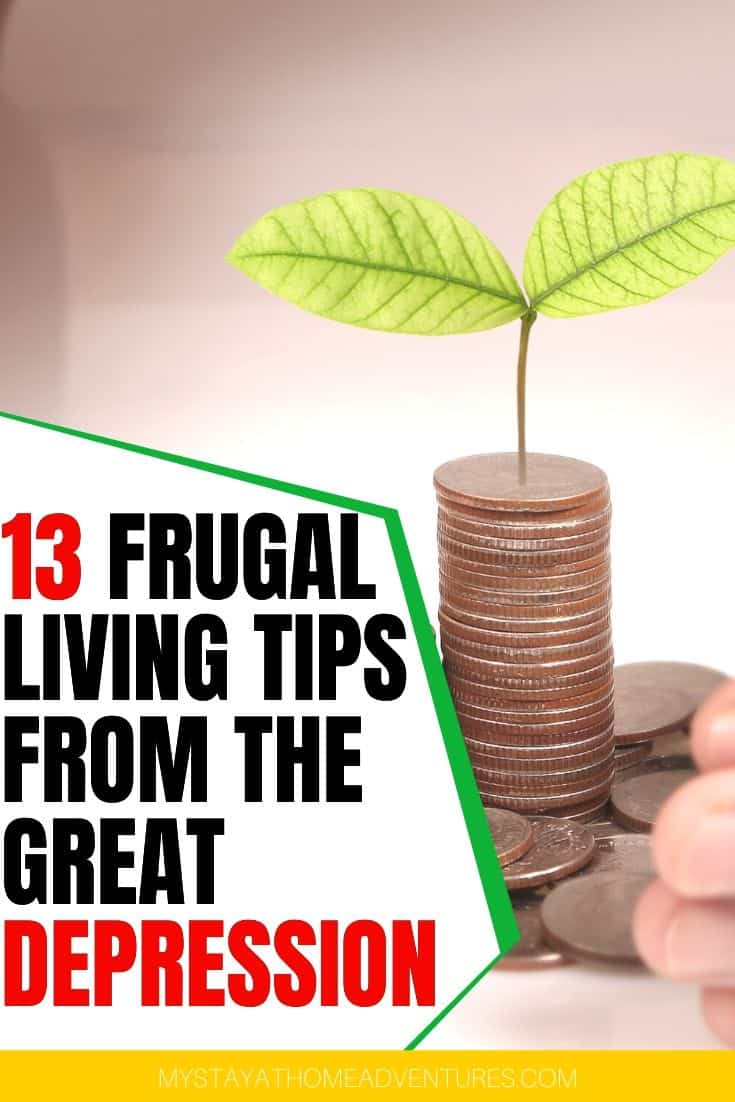 Today we are going to talk to you about frugal living tips from the great depression that we should all follow.
Let's begin!
When I think about a time in America when people were the most frugal I know that the great depression was definitely one of those times. Our country is probably living in the most un-frugal time ever with spending at an all-time high.
Why?
I tell you why because we are enjoying this so call the good economy we have now and not thinking fo the future.
Here's my thing, right now everything keeps going up during this "good" economy. The price of gas is up, fees keep going up, interest rates are going! The price of homes in our area is crazy high!
Somehow during this good economy, I'm spending more and wondering how people are able to live with the price increases because our income hasn't increased by much!
This is why we have to do what we have to do to continue to live a better life.
It is so important to learn from what worked in the past. People are forgetting that what goes up must come down and have yet to learn.
These frugal living tips from the great depression will help you stick to your budget for sure!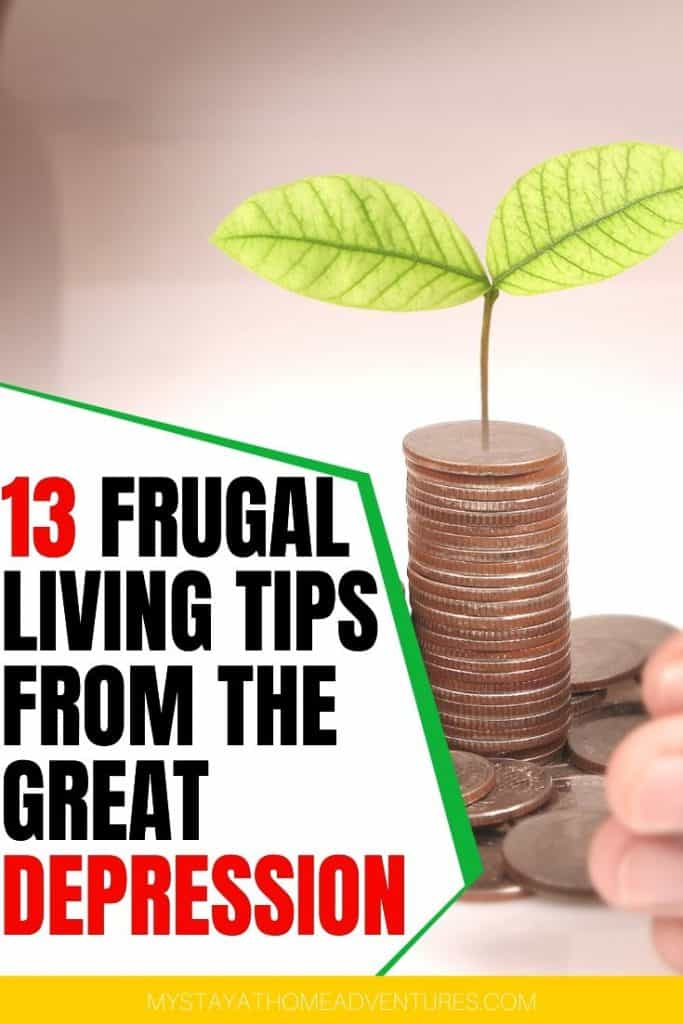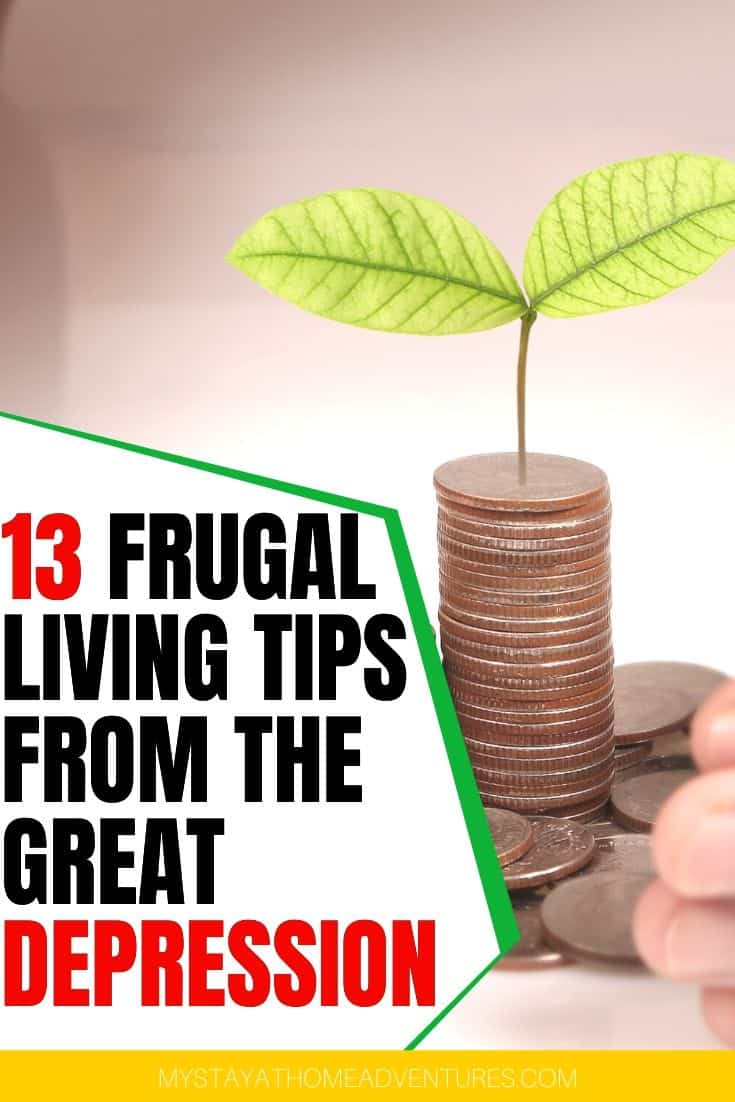 13 Frugal Living Tips From the Great Depression
The biggest theme from the great depression was wasting nothing. We have done a 180 and waste is the norm now. There is so much we can do to be more frugal!
Buy Preowned Items
One of my favorite items to buy second-hand are baby clothes. There are SO many things we can buy used. I shop at garage sales, thrift stores and even estate sales to look for items my family needs BEFORE I buy new.
The bonus to buying pre-owned items is that we are being eco-friendly and keeping perfectly good items out of the landfill.
Wear It Again
Most people throw their clothes directly in the dirty clothes hamper as soon as they take them off. How many times are we washing clothes that really aren't dirty??
Washing clothes wear them out much faster. Not to mention that washing uses electricity, water, and detergent.
An easy way to start is to wear pajamas for a couple of nights in a row and work up from there!
Grow a Garden
Many, many people living during the great depression had a garden. Growing a garden can save you money on produce. The most cost-effective way to grow a garden is from seed.
Having a garden is also a way to earn a little extra money if you have excess produce.
It is also possible to grow a garden that will feed you year-round if you can produce to use in the winter.
Cooking From Scratch
There were not a ton of premade options during the great depression, but stores did exist. We all know that cooking from scratch is typically cheaper than buying premade food items. It is also MUCH healthier!
It is easy to stock up on basic pantry items at Aldi so you can cook from scratch!
Get a Library Card
During the depression, people SHARED a lot. I admit that libraries were just getting started during the great depression, but the concept of book sharing was already popular.
Going to the library and checking out books you want to read will save you a lot of money especially if you are a book-worm. Libraries have much more than just books to check out. They have cookbooks, DVD's, board games and even music CD's! Why buy these items when you can borrow them for free?
Reduce Spending
People didn't spend money during the great depression unless it was absolutely necessary. We just spend, spend, spend…even if we don't have the money.
One of the biggest frugal living tips from the great depression is to reduce our spending!!
Do It Yourself
DIY is not all about making cute home decor items! Doing things ourselves is definitely a way to imitate the ways of the great depression. People used to fix things themselves…make things…create things! They learned how to do things they didn't know how to do.
One thing we have that people in the depression didn't have is YOUTUBE! We can watch a video to teach us almost anything. It is easy to learn how to fix a dishwasher, change the oil, etc. with YouTube.
Fix It Up
Even I am guilty sometimes of just wanting to buy something new instead of fixing the old item. We shouldn't just throw out something that isn't working quite right. Most things can be fixed cheaper than buying new ones.
It is important to research the cost of repair because occasionally it will be more expensive to fix an old item and if that is the case it may be more cost-effective to buy new.
Read: 5 Things To Avoid During A Recession
Learn Basic Sewing Skills
The vast majority of women knew how to sew during the great depression. They made their own clothing, bedding, and even pillows.
I know that not every person reading this wants to sew clothes for their families and that is okay! If we learn basic sewing skills we can make our clothes last longer by being able to fix easy issues.
If you need to learn some basic sewing skills check out the great courses on Craftsy! They have tutorials for beginners and it is a really cheap way to learn!
Make Homemade Gifts
It is fairly easy to make quality homemade gifts. These work great when you need a gift for a co-worker or someone's birthday.
If you are not crafty with gifts…you can give delicious baked goods or treats. Don't forget that giving a handmade card will also save you several dollars.
Learn the Difference Between Wants and Needs
I am always trying to teach my kids the difference between wants and needs. It isn't always kids who struggle with this concept.
People during the great depression faced real needs and rarely were able to get things they wanted. If we think about this concept BEFORE we buy we may realize that we don't need what we are getting ready to purchase.
Related posts:
Be Part of Your Community
Open up to being part of your community. The great depression was a hard time, but people had their community to rely on. There were neighbors and friends to pitch in and help.
America has lost its sense of community in a lot of ways. We can learn that simple entertainment with our neighbors and friends is actually more fun than going out on the town. It is also cheaper!
Stop Impulse Buys
Paying cash for big items was the norm back in the day. People didn't whip out a credit card when they wanted to buy new furniture.
If we learn to SAVE our money for large purchases we will be following in the ways of the great depression. We will also save money on interest!
What is Your Favorite Frugal Living Tip From the Great Depression?
These are just a few EASY ways to live frugally that are inspired by the great depression. We could get really frugal and start making our own soap if we wanted to!
What is your favorite way to live frugally?