How to Live Frugally and Save Money Now!
This post may contain affiliate links which might earn us money. Please read my Disclosure and Privacy policies here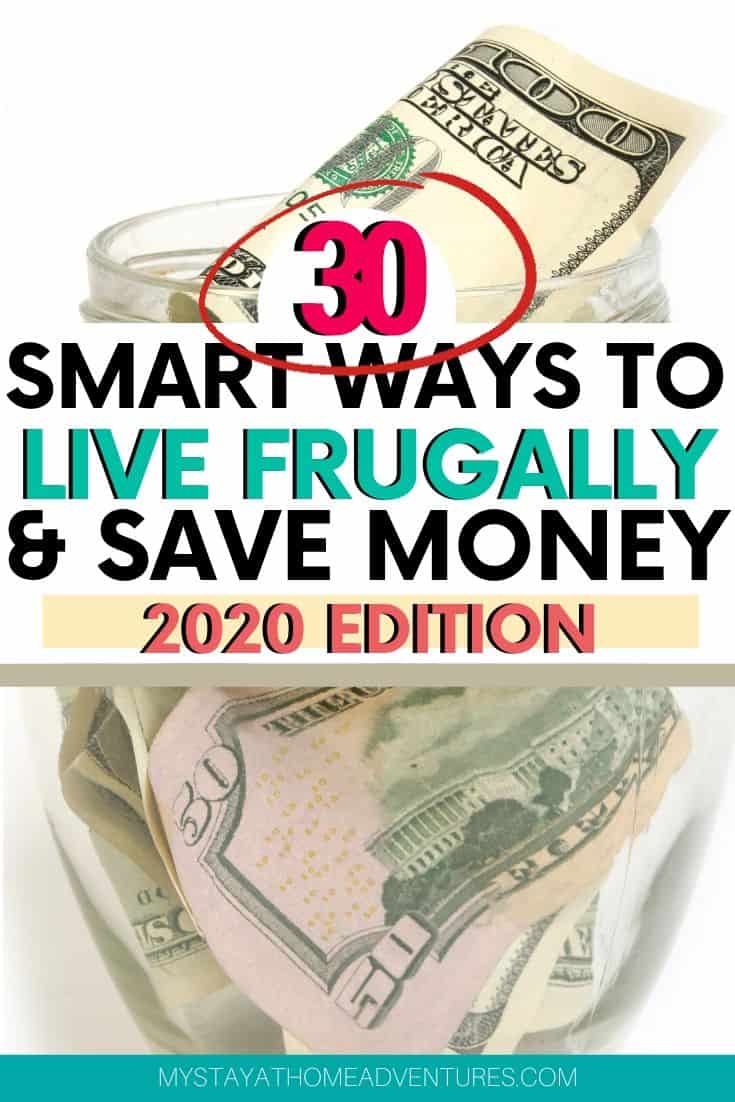 To live frugally is to live a simple life and save money no matter the income. Learn how you can live frugally and save your money starting today.
Why does living frugally and saving money matter now more than ever?
There are many ways to live frugally and save money, and today we are about to cover some of them. You see, as I look around and see the economy increasing, the sense of saving money and living frugally we saw around when the recession seems to be gone.
Fast forward to 2020, and within weeks we are facing one of the biggest economic catastrophes in history.
Total household debt rose by $193 billion during the last quarter of 2019, and this includes mortgages, credit card debt and so on.
During 2020, Americans felt so confident about the economy we were spending and growing debt.
It was a repeat of 2008 all over again, and within weeks we are facing a tanking economic and uncertainties.
Even with a good economy, it is important to continue to manage your finances responsibly.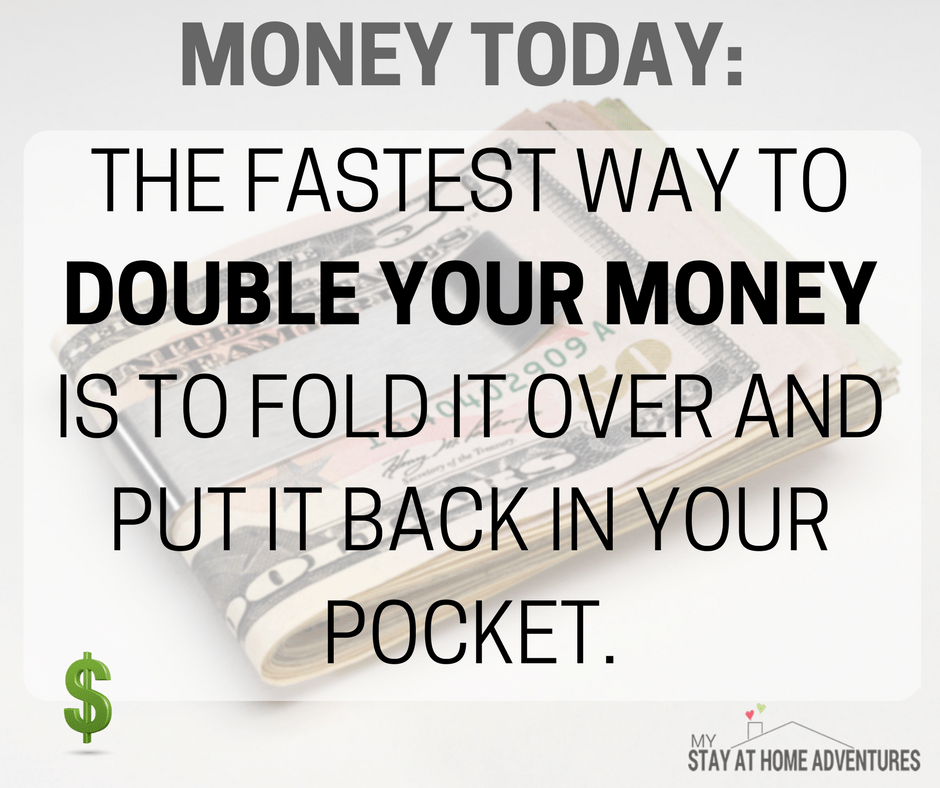 When the economy is growing does this mean that living frugally and saving money is out the window?
Frugal living is not a fad, it's a way of life. If people were not spending money, it wasn't because they were living frugally, it was because they couldn't afford to when the recession hit.
Related posts:
People that are living a frugal life know how to make sense of their money, and I hope that many who were affected by the recession learned about money management and living with less; but as I said before, frugality is a mindset, and having a broke mindset is not going to help you with your finances.
Again, I hope that people who were affected find the joy of living frugally and never go back to the habits that lead to their bad finances. I hope they learned to live with less and within their means, but one can only hope.
One thing I would love is to show you how to live frugally and save money. Can anyone continue to live this way after seeing that our economy is getting better and credit card usage is increasing?
How can we continue and prove that a life of frugality and saving money is a better way of living?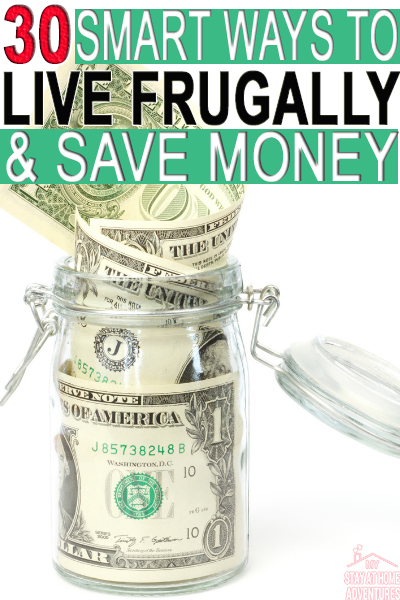 Over 30 Tips to Live Frugally & Save Money
If you are new, or need the motivation, to live frugally and save money, then these tips are for you. However, I will say that frugal living is not just a quick fad and that you should know why you are living it.
If you want to start living frugally now, here are some quick tips below:
1 – Why do you want to do this?
The answers to these questions are going to be essential. You see you need to understand why you want to live a frugal life. There are going to be sacrifices made and things you are going to do without that you usually buy or use. Answering these questions is going to help you stick to your frugal journey.
2- Live thriftily
Use it, make it, get by with it or do without. During your frugal journey, you are going to learn that sometimes you are going to be crafty! You are going to learn to repair things to keep the cost down. Learn to stretch things when you usually would have tossed it out.
3- Start now!
Start making changes right now! Implement what you can today make significant changes in the future. Frugality is not about what you can save now but about what your future. There is no plan or research about it. Just start living frugally today.
Now that you have an understanding that frugality is not a fad and to start today, let's continue, shall we?
The truth is that the temptation of how the economy is doing right now, and social influences, might affect your frugal journey. Seeing the increase in credit card usage with people that have low credit scores proves how temptation is setting in.
I am pretty sure that they have frugal struggles of their own as well, and if you are one of them, here are some tips for you and how we are doing today.
How to Live Frugally
As mentioned above, you have to question yourself as to why you want to live frugally. First, you must accept what being frugal is because definitions vary depending on who you ask.
My definition of frugal is being in control of your money, your family living life, and not letting money control you. Being frugal, or how frugal you live, depends on you. You and your family define how frugal you want to be.
Frugal is not a contest; it's a lifestyle. Each individual defines it differently and lives it differently. You must come to terms with how frugal you want to live. This takes time; the struggle will come with accepting and adjusting to the new frugal life you set for yourself and your family.
Of course, leaving room to adapt to the economic changes today will affect your frugal living, but it's how you adapt to these changes that are important.
Are you going to be able NOT to give in to those bad habits that lead you to your financial mess? These are hard questions to answer, and believe me, right now we are struggling with this too!
Now let's continue talking about the best frugal living tips you are going to learn, shall we?
Communicate
This year alone, we have grown not just in family size, we welcomed baby P in May of 2016; but my husband found a higher paying job and my online income is growing.
This means we have more money available, and though this is generally good, it can also be bad.
Overspending on things we think are important can lead us to bad habits. Though this year we had a great increase in income, we also had our share of hardships such as unexpected emergencies and surgeries that affected our savings.
Even now, keeping the lines of communication open is helping us get through our difficult financial challenges. Sitting down, talking, and listening to one another and even having family meetings help us to continue to live the frugal life even years later.
We have been doing this for quite some time, and even after the past couple of rough years, we continue to enjoy living with less because we communicate. Communicating is key to a successful frugal life always remember this.
You Are Weird
I have said this many times before, and you have to accept the "I don't give a crap" attitude when it comes to your frugal life.
Even now, years later after everyone is buying the latest cell phones and whatever is the latest trend, staying true to your beliefs is important.
We are called weird today, but the good news is that we still don't care because now it's being referred to as something cool.
You see, as we began our journey, people doubted us and didn't understand. Now they do!
We have become the people to go to when it comes to giving financial advice and giving out our opinions, and that is pretty cool. All because we chose to change the way we live that brings us joy and stability to our family.
Remember that you are not living your life for others, you are living for yourself and your family. If calling you weird affects you so bad, then get over it. You are! You are weird! You are not living like others, you are living for you!
Be Open
Even now, as the economy starts improving, I don't hide my frugal ways nor will I shy from it! I am open; heck I write a blog about it! I love my thrifty ways, and I love my budgeting ways.
Even to this day, I won't attend any "parties" that include selling or buying things I simply don't need nor care for.
Do I still get invited to host some social media parties so people can buy things?
Yes, and I decline. Look, I'm not against anyone who is selling products they love and believe in. Heck, I'm all for it, and I will support anyone. I even wrote about becoming debt-free with MLM companies because it is possible!
The point I am trying to say is that I am still open about my way of living; I am still living a life where I control my money and do not overspend my money.
If you want to live frugally and save money, this is the way to do it. Even after an increase in income, I have to be careful with my spending because this will lead to my old ways as an emotional spender.
Listen
Even now, I still listen to my inner voice and question what I buy. You see, when I am emotional, I overspend; and this can be bad for me. A few years ago I had a rough year finding out I had a miscarriage and then was pregnant, it was a rollercoaster of emotions, to say the least.
Shopping makes me happy, and then I feel terrible afterward. I hate having stuff and things I don't need, but the funny part is that I don't think of this when I'm shopping.
Over the year when I think I NEED something, I give myself time and answer a few questions. If it is a big-ticket item, I sleep over it and think about it the next day because that way I have a clear mind of what I want to do.
At the end of the day, it's my inner voice of sanity that helps me to keep my focus on what is important, and it hasn't let me down yet.
Support
Having a great support system when you are living a frugal life is important. We have people that are supportive and share the same beliefs as us. Frugal people keep you up and support you. They have the right mindset to keep you going on your journey.
Learn to Say NO
Learning to say no was the hardest thing for me, and now, it's not so hard to simply say no. I can seriously go into detail as to how it gets better, to be honest, but this post is too long for that.
After people finding out about our income increase and such, we have to say no a few times for things that we really didn't want to do.
Again, spontaneous vacations are not our things if we don't have the funds; going shopping, going out and having a few drinks is not our thing if we don't have the budget for that.
Turning down babysitting because people feel that just because you are a stay at home mom, you can do it; it has happened.
We worked so hard to be where we are right now, and I don't have a problem saying no when I simply can't commit.
Enjoy the Journey
Living frugally and saving money has been a wonderful journey that I share with anyone that wants to listen. The freedom it has given us to be able for me to stay at home and not worry about finances.
To be able to keep giving because we can and to continue to grow as people as well is all thanks to this financial journey.
How to Save Money When Living Frugally
Life is not easy, and it sometimes sucks! But being able to dust yourself up and keep going is an important lesson I have learned through the years. Living frugally and saving money is the way to be, and if you need tips to help you save money, I have written plenty of them.
Create a budget
Without a budget, there is no frugal life! Start by creating a budget, a spending plan that will help you see where your money is going.
A budget is a blueprint for your finances and the first thing you need to start doing if you want to live frugally and save money, my friends.
Start a yearly or monthly financial challenge
I dare you to challenge yourself financially! Create a challenge that involves money. Want to save $1000 in 3 months? Challenge it! Do it!
We did the 52 Week Saving Challenge and didn't give up in 2014. I will admit that it was hard, but it got us doing whatever we could to "beat" this challenge.
My idea behind suggesting a financial challenge is because many of us get bored quickly or just love to be challenged. By doing some sort of challenge, it will bring some spark to your financial journey.
Use coupons
Coupons are not dead my friends. There are available and easily accessible now more than ever.
Coupons are available online, in newspapers, and even your smartphone!
Print your coupons online:
Money-making apps you can download:
Set aside any extra money
This could be from loose change to money left over from your budget. Use the money you don't spend and save it!
Buy items on sale
Every week, stores have weekly sales. Take advantage of the items that are on sale each week to save some money.
Use a shopping list
Always shop with a shopping list and write down what you need and stick to your list, this will help you avoid buying unwanted items.
Write a menu plan for the week
Write a weekly menu plan around items that are on sale for that week. Creating a menu plan each week will save you time and money in the kitchen.
Quit eating out
This was one of our weakness years ago, eating out. It was when we did our budget and saw how much money we were spending that we simply stopped eating out during our debt journey.
Pack your lunch
This is simple; bring your own food from home and save the money of buying it at work. Calculate how much you spend buying lunch and snacks at work, and you will see how much you are spending.
This could save you more money than you think by simply packing your own lunch to work. You could take leftovers to work too!
Make your own coffee
Adding up the cost of that coffee you buy every morning on your way to work will surprise you. Why not make your own coffee at home and take it to work instead? You will save a lot of money this year by doing this.
Quit smoking
Start the new year with this resolution; it's good for your health and your wallet.
Buy Energy Star rated appliances
Energy Saving appliances not only help you reduce your electric bill, but it also helps the environment.
Have a yard sale
This is a great way to de-clutter your home and get paid for your unwanted stuff.
Insulate your home during the winter
Take the time to properly insulate your home this winter. This will help you reduce your heating costs.
Make homemade meals
Home meals don't have to be difficult at all. I am thankful for slow cookers, bread makers and such. You can find hot deals at Target, Wal-Mart or Amazon.
Turn off and unplug your appliances
If you are not using it, then unplug it. This helps bring the cost of your electric bill down, and it works. We do this at home, and you can see a difference in our bill.
If you have children, make it a game and assign them to be "Power cops" to check every day on things that should be unplugged (Just make sure it's supervised).
Use Swagbucks to earn free gift cards
Start using Swagbucks now and start accumulating points so you could score big on free gift cards later on in the year!
Get rid of cable
You don't need all those channels. Find other alternatives to watching TV like Hulu, Amazon Prime, Netflix, etc. I can guarantee you that you will find something you love with these alternatives. Learn how you can reduce the cost of cable here.
Find the right mobile plan for you
Do you need a smartphone? Compare service plans and see what plan works for you. You might be surprised how much money you will save. Check out this hot deal from Republic Wireless $15/month no contract! I pay as little as $13 with my cell phone bill.
Switch Insurance
Every two years switch insurance companies. Maybe this is the year you need to look at your house or car insurance and shop around. Any amount of money you save is worth it.
Conclusion to Live Frugally and Save Money
The reality is that no matter how good the economy is, living frugally and saving money will never go away. I love my lifestyle choice, and I encourage those who are struggling to think about how bad it was a few years ago with the recession. What's to say that it will never happen again?
Starting to live a frugal life means starting now! These tips and ideas are what you need to do to start your journey today and save money.
Your turn: You red Live Frugally and Save Money what are your thoughts and ideas? Share it with us!