4 Thrifty Costume Ideas For Halloween
This post may contain affiliate links which might earn us money. Please read my Disclosure and Privacy policies here
If you love thrifty and Halloween, then you are going to love these thrifty costume ideas for Halloween. Keeping reading and learn how you can save and enjoy your Halloween without breaking the bank.
Halloween sneaks up around the corner every year. One minute it's summer, and then all of a sudden, children are in school, and everyone you know is drinking spiced pumpkin lattes.
And WHAM! Halloween is next week, and you are just wondering while drinking your pumpkin spiced something that thrifty costume ideas can you do this year.
If you have yet to get your hands on a Halloween costume, here are some thrifty options just in time for the festivities.
4 Thrifty Costume Ideas For Halloween

Get Creative and
DIY
With a little creativity, you can create a costume from things you have literally sitting around the house. When you go DIY, the easiest thing to do is stay topical, pulling from current events.
Remember how chat roulette was a big thing in 2010? A really simple costume that year was a cardboard box with the center cut out. Attach it to a belt and add some of those super basic buttons found on the website, and you had yourself inside the computer screen.
If you're missing some of those ingredients, you can pick up glasses at the dollar store, and fab jumpers can be found at Walmart. Use headlines as inspiration and creativity as your only limitation.
In 2016 Ken Bone was a top costume and all you created this look by wearing a red sweater, fake mustache, glasses, and mic as a DIY costume for Halloween and be the talk of the night!
For 2017 it is too soon to call so just keep an eye on the news to see what gets popular and get creative and get inspired to create a thrifty costume for this Halloween.
If you're not interested in being topical, other great DIY costumes are really simple. Tape purple balloons all over your body and you've become grapes.
Use a black strip of material to the two pillows in pink, yellow, or orange pillow cases to either side of your body, and you've become sushi. Paint a refrigerator box pink, cut out the middle, and take on some makeup to become a mint-condition Barbie.
If you're struggling to come up with thrifty costumes ideas, two minutes on Pinterest will do the trick. You'll be able to match up what you have on hand with creative ideas from people all over the internet.
Shop Big Stores for Less
Are you more of a pull-it-out-of-the-bag kind of person? There's nothing wrong with that. And you still have time to get your hands on a costume. To do it for less, check promo codes for big websites, stores, and retailers before you check out. It's an easy way to save money on something you were going to buy anyway and can trim large percentages off your bill at checkout.
Related posts:
Hold a Swap for a Thrifty Halloween Costume
If you have a friend that's a similar size as you, ask them if they'd be interested in swapping last year's costume. You both skip going to the store or getting overly creative, and neither of you will have to spend a cent. Unless you both go to all of the same Halloween parties, no one is going to notice. If you have a group of people that would be interested, this can also be a fun swap party to host.
Go as Your Friend or Partner
If you are going to all the same Halloween parties, consider dressing up as each other. If you're a similar size, you can just swap clothes right out of each other's closets.
If you're not, it's easy enough to go shopping at a discount retailer together, and each pick out outfits that you like. Pick them in the other person's size, and you're set to go.
You can also do your hair or makeup the same way the other does on a daily basis. If your partner or friend is the opposite sex, women can pull their hair up under a ball cap or beanie, and men can buy a wig. If the swap isn't obvious enough, pick out some "My name is" nametags to seal the deal.
Conclusion
You can enjoy Halloween without breaking the bank when you use these 4 thrifty costume ideas. Whether you shop at the store or pull something together by shopping your closet, there are still lots of ways to get your hands on a thrifty Halloween costume. Get shopping now, though. Time is running out!
If you love this post make sure you check out these Halloween wreath ideas for non-crafters and get inspired!
What other thrifty costume ideas for Halloween do have for us? Share it with us!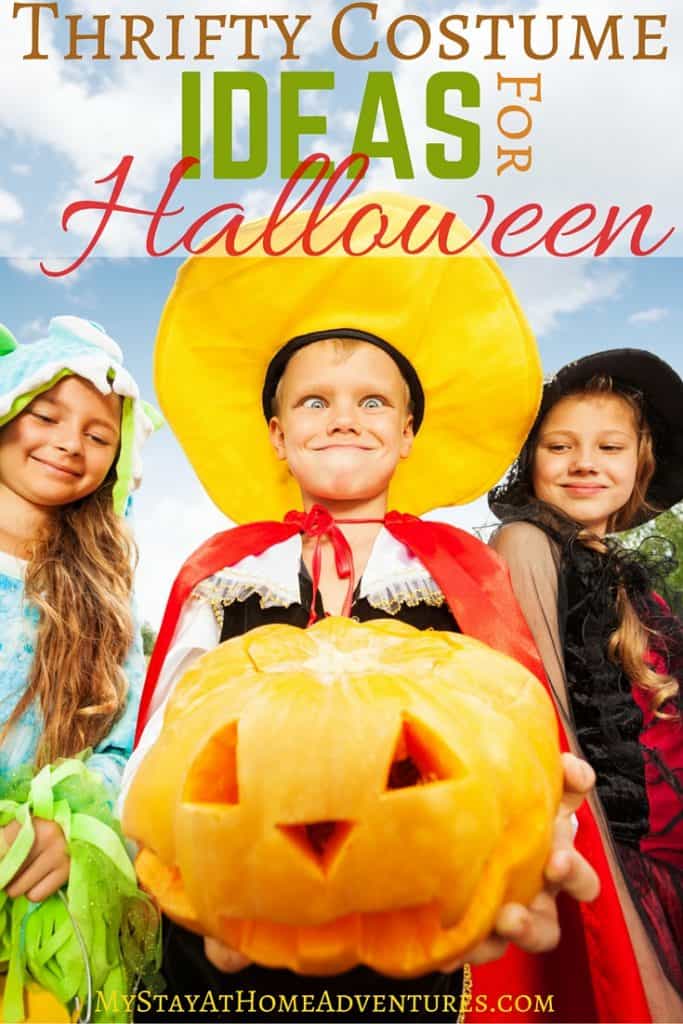 Save