Is Buying in Bulk Worth It?
This post may contain affiliate links which might earn us money. Please read my Disclosure and Privacy policies here
If you're thinking about buying in bulk, you may be wondering if it's worth it. As with most things, there are advantages and disadvantages. Here are some things to take into consideration before making your decision.
The primary advantage of stocking up on products when they're on sale or at a wholesale shopping club such as BJ's or Sam's Club is that you will typically get steep discounts. If you're trying to save money, it can be well worth it to stock up on certain items. However, it's a good idea to do some price comparison shopping. Sometimes you may think you're saving by buying in bulk when you're really not.
The type of items you are thinking about purchasing in bulk can also determine whether or not it's worth it. Frozen foods, canned goods, grains, and paper goods, such as toilet paper, tissues, and paper towels, are all great products to buy in bulk.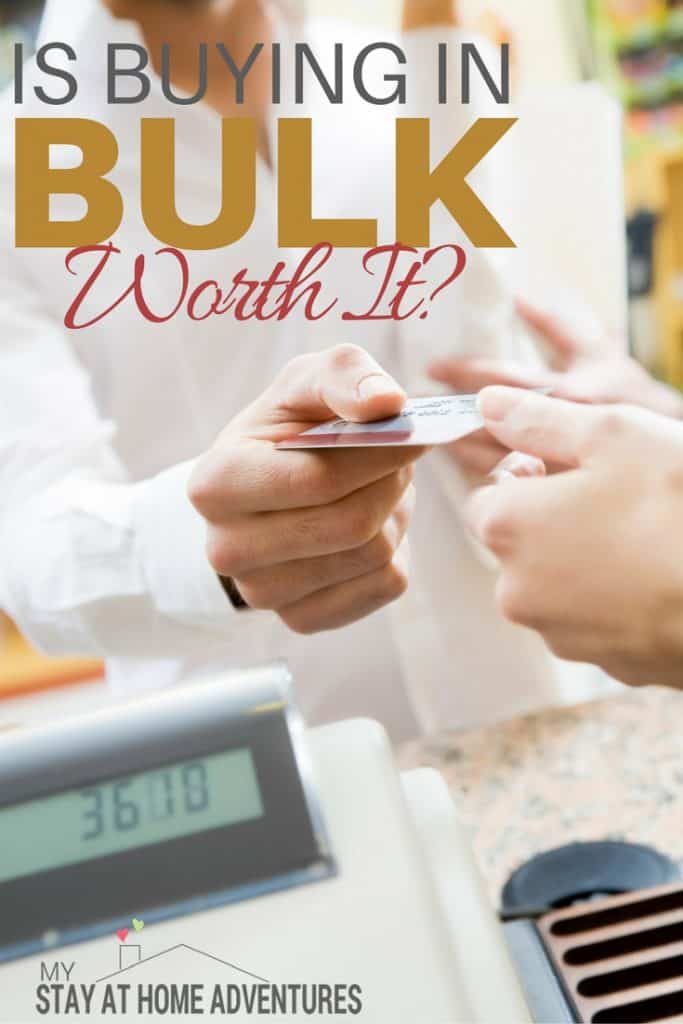 However, it's not ideal to purchase large amounts of certain products. As a general rule of thumb, it's best to avoid anything that has a short shelf-life, such as dairy or produce.
Items that will expire before you have the chance to use them will likely go to waste. The only exception to this rule would be if you're planning to donate the items to an organization or shelter. Also be sure to steer clear of items that you've never tried or that you don't know if you will ever be able to use.
List of items you shouldn't buy:
Items that can grow stale or rot – Perishable items that have a short life spand before you even get to eat it all are a complete waste of money. The only solution to this is if you are planning to freeze the items.
New item you never had before – HA! Learned that buying something I never had before in bulk was purely a waste of money.
Buy nonperishable items – Purchasing items that you have plenty of is a waste of money if you are buying bulk. Over buying an item means you will be eating more of it for example, you buy a bag of chips but you already have a bag of chip at home. What is going to happen is that you are going to eat more chips because you have to not need to. If you haven't purchase this bag of chip you could have save the money and eat the chip you have at home.
Items you don't have room for – OK I used to be guilty of these and all of the above when I would buy items in bulk, but this one was my number one issue. I will buy items I have no room for in my home.
Higher price-per-unit – The entire point of buying bulk is to buy items with the lowest price-per-unit as possible.
Overall, buying in bulk can be a good option in some cases. In other cases, it may be more ideal to purchase items individually.
Love this article? Check out Do the Pros Outweigh the Cons of Buying in Bulk?
Save
Save
Save