If you believe in groundhog shadows, then you probably heard an early spring is predicted for 2019.
But if you're anything like me, you're already thinking past spring and into summer. There's nothing better than planning a summer vacation!
Whether you're a seasoned traveler or sketching out your first big trip, there are lots of creative ways to save on your summer vacation.
Here are a few tips to get you started, whether you're traveling across the state or across the globe.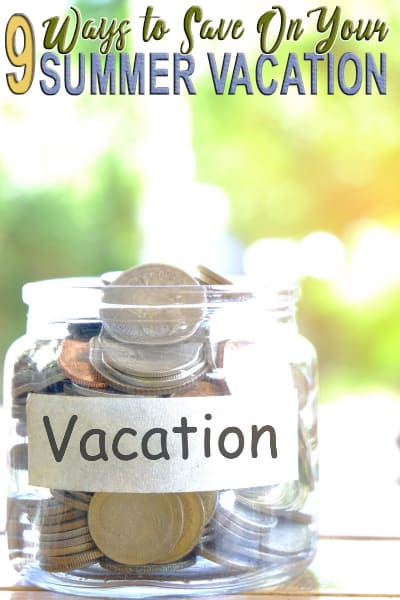 9 Ways To Save On Your Summer Vacation
1. Be Flexible With Your Dates
The cost of airfare can make or break your travel plans. But with a little bit of research, you can score great deals on flights — especially if you're willing to be flexible with your dates. One of the best tools for flight searches is Google Flights.
You can plug in your destination and see the cheapest flights across multiple dates. Rather than just picking a random week from the calendar, choose your vacation dates to align with the cheapest flights.
Making this your first step of summer vacation planning may save you hundreds of dollars.
2. Read the Fine Print Before You Book a Package Deal
I've had some friends recently who raved about a package deal they booked through Groupon. But as I looked closer into the fine print, I noticed some red flags.
Turns out that the package deal itself was fine, but it didn't include as much as it claimed.
There were extra costs to fly out of certain airports, extra costs associated with different days of the week, and even sometimes extra costs to stay in the hotels advertised with the deal!
So do the math and make sure that the "deal" you're getting is actually worth the price before you book. Often times it's possible to create a similar summer vacation for less by doing some of the planning legwork yourself.
3. Learn "Travel Hacking" to Travel Free with Points and Loyalty Programs
If you have a credit card, you're probably already collecting the points and miles.
Travel hacking is a strategy where you use credit cards very deliberately to maximize the amount of reward points you earn.
More points means more opportunities to travel for cheap or even free! There are also clever ways to get the most out of loyalty programs.
From your hotel to your rental car to your flights, you should never travel without earning some kind of reward.
And it's easier to do than you think! This guide will teach you all you need to know about travel hacking and how it can help you save on your summer vacation.
4. Score an Airbnb
Not only can an Airbnb save you money, it can also enhance your travel experience. You can read all about how to save with Airbnb in this article, but here's the short version.
Staying in an Airbnb is often cheaper than hotels. Most will give you access to a kitchen, Wifi, laundry, and makes finding the perfect location super easy.
And while you're staying in an Airbnb on your summer vacation, why not consider renting out your own home on Airbnb while you're away?
It's the easiest way to quickly subsidize or even completely cover the accomodation costs of your trip!
5. Use Alternative Transportation Methods
Renting a car can be pricey, and that's just the car alone. Many places will make you pay extra for parking or will charge you for fuel.
Instead of renting a car, check out what other transportation might be available.
Can you take a bus, subway, or other public transportation?
Perhaps you can rent a bike or choose a slightly more expensive accommodation in a location where there's more to see within walking distance?
Even relying on ride sharing services can be more economical in some cases than renting a car.
So before spending the extra money on a rental car, do your research to see if alternative transportation could help slash your summer vacation costs.
6. Pack Your Snacks
Even the most experienced travel planners often forget to factor in the cost of snacks. Instead of paying airport prices for food, pack your own!
Most people don't know that TSA will allow you to take most food items through the security checkpoint.
So load up on your favorite snacks and bring an empty water bottle so you don't have to shell out extra money for meals or snacks at the airport.
Once you arrive at your destination, stop by a local grocery shop and stock up on more snacks that you can easily carry with you throughout your trip.
That way, you can spend your money on the delicious local cuisine (or wine, we don't judge).
7. Ditch the Fancy Dinners
Let's be honest, one of the best aspects of traveling is that you get to sample the local foods!
Food is a universal language, so of course you'll want to experience the local flavors on your vacation.
One of the easiest ways to save is to dine out at more expensive restaurants for lunch, rather than dinner.
While dinner menus may be more elaborate, they're almost always more expensive. You can get the same amazing food – for a much better price – during lunchtime hours!
8. Plan Ahead for Popular Points of Interest
If you have your heart set on a museum, park, landmark, or show, don't wait until you arrive to purchase your tickets.
A quick website search can often tell you if there are special days or hours where you can take advantage of discounted (or free!) admission.
You may also be able to find coupons, 2-for-1 deals, or special advanced pricing discounts.
With a little extra research, you can plan your summer vacation around that memorable experience without paying premium prices.
9. Mix Business with Pleasure
One of my favorite ways to save on travel is to maximize travel opportunities through work.
If you already have a work trip scheduled, your company may allow you to take a few extra days before or after for a personal trip.
Or, consider maximizing your limited vacation days by working remotely for a day or two during your trip.
With the wide availability of Wifi, you can probably find a place to work nearly anywhere in the world.
Even if your workplace has strict policies, it's worth asking to see if a creative workaround can help you get the most out of your summer vacation.
As you can see, there are lots of awesome ways to save on your summer vacation. So what are you waiting for?
Start planning now and take advantage of as many strategies as possible to make 2019 the year of your most memorable – and least expensive – summer vacation!
Your turn: You read 9 Ways to Save on Your Summer Vacation now we want to know what are your other tips you have. Share them with us
Lucy Oake is a business analyst by day and a contributor to One Smart Dollar by night. In her free time, she can be found sipping a drink at a local brewery, hiking the beautiful trails of Northern Minnesota, or competing in a karaoke contest.
The following two tabs change content below.
Latina mom of 4 married to wonderful Greek gentleman. Living in southeast PA and trying to juggle family and a household while trying to earn an income from home. Follow my stay at home journey as I discover how to earn money and save money so we can continue to live debt-free.
Latest posts by Joyce @ My Stay At Home Adventures (see all)