Summer is officially here, and so are the high temperatures! To help you stay focus on your finances, you are going to find resources to save and manage money this summer that works!
For many of us, summer months tend to be hard for us financially. Let's be real here for a minute, kids are out of school, vacation, and utility bills tend to affect our finances.
And if you are in the process of managing your finances or continuing to stick to your budget, the summer season can be challenging.
So, challenging that I feel is harder financially than Christmas shopping season!
If you are still not convinced on how summer season can affect many of us financially let me recap again:
I am pretty sure that there are more reasons as to why summer can affect our finances but these are some of the top reasons.
For the good news.
You can save and manage your money this summer regardless of income and excuses. Don't believe me keep on reading.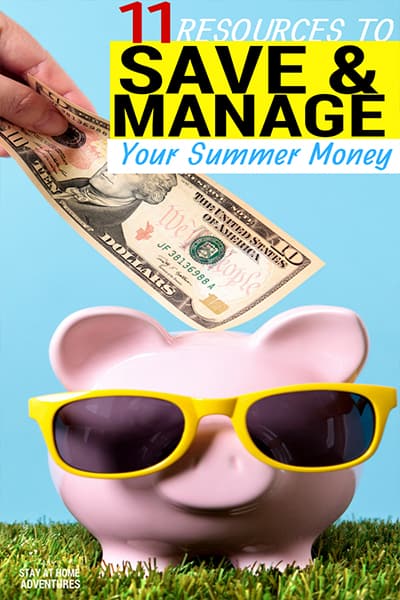 Resources To Save And Manage Money This Summer
Summer Financial Tips To Remember
Let's begin with these summer financial tips to help you manage your money.
Keep track of all your spending
It is essential and a topic we cover time and time again is to keep track of your spending. You can start by going over your budget and your financial goals.
By going over your budget and goals, it will help you to see and understand where you are at in with your finances.
Keeping track of every expense during the summertime and you will be able to continue to stay in control.
And a reality check.
During the summer month as overwhelming as it might get having the kids home and summer activity take the time to track your expenses at least once a day.
Budget
We talked about budgeting earlier, but if you have not created a budget, then you need to start right now.
It is never too late to start budgeting and for the rest of the summer season stick to your budget.
We have a summer budget we follow dedicated to summer spending. Now, this is a great tool to have because our kids are home most of the summer and we tend to do more outdoor and go places during the summer break.
To reduce the financial stress that comes with it, we set aside a summer budget that we follow. We have a fixed amount, and once that amount is gone, it's gone.
Create Summer Goals
When we talk about summer goals we are not just talking financial goals, we also include regular goals.
Writing summer goals and including your family in this goal making process will help you reduce your spending.
An example, we want to visit the beach this summer. As a family, we decided if we wanted to make this trip a one-day trip or a two day. This lead to researching the cost of motels and so on which lead us to look at our summer budget.
We decided that a two-day trip to the beach was possible because we had the funds, now the trick is that we need to make sure that the funds stay in place.
The family knows that we can't do or go to another place that is not in the summer goals we created.
Visiting Hershey Park or other costly places might not be possible because we decided as a family that two-day beach trip was what we wanted.
Do you see what we did here?
By creating a family goal together as a family, we create a goal that helped us stay financially on course and taught our children accountability and responsibility when it comes to goal making.
Now, don't feel bad for our kids we threw them a surprise road trip to Alabama and Texas in June, and they had a blast!
No Spending Challenge
During the month of July, we tend to go into a spending freeze or a no spending challenge and the reason why is because it helps us to stay focus on finances and help us evaluate our plans.
Not spending challenge helps us to grow our savings too and to be honest, there is something so therapeutic about it. Not sure how I can explain it I seriously say you should try it.
Accountability
Stay honest and hold yourself accountable for your summer finances. Seriously please do, but most importantly stay positive and keep it positive.
Stay away from excuses and don't let your finances ruin your summer fun. You are not alone when it comes to trying to stick to your finances.
Remember that to enjoy your summer you don't need money and remember always to stay grateful!
Now how to continue to save money during the summer.
How to Save Money During The Summer
During the summer there are many things you can do to save money believe it or not. Let's find out what some of these money-saving summer tips are:
Reduce the use of utilities
Is no surprise that with the summer heat the increase of home bill increases. Always try to do whatever it takes to reduce your household bills.
Reduce your electric bill by avoiding wasting electricity by turning off lights and using big appliances during off-peak times.
Reduce the amount of water you waste thought it might be hard during the summer heat but is doable.
For example, save water in the kitchen by reusing water and using tubs to wash dishes.
When it comes to laundry save money by washing your clothes on full loads instead of small loads and doing your laundry using cold water will save you money.
Instead of using your dryer to dry your laundry, hang your clothes outside and take advantage of the warm temperatures.
Money saving apps
Consider using money-saving apps when purchasing items to take advantage of their rebates. Examples of these apps are the following:
Another way to save money and make money this summer is to use companies such as:
These companies will earn you rewards that are either cash or gift cards. We use the three mentioned above, and they do work.
Make money this summer by using survey companies and putting the money you earn toward your savings.
You can also try these online survey companies too:
To help you enjoy your summer, I gathered these fantastic financial posts that will help you to save and manage your money this summer so you can enjoy it!
The Ultimate Guide To Save And Manage Money This Summer
Travel
Summer Budgeting
Family Events
Save On Utilities
How To Save Money
Back to school
Conclusion
Here you have resources to save and manage your money during summer that will help you stay on track and eliminate financial stress.
Summer is stressful as it is when your kids are home and these crazy temperatures are unbearable, so why stress over money.
Use these summer money resources and enjoy the rest of the summer knowing that you are doing right by your budget.
What do you do to save and manage your money during the summer time? Share your tips with us!
The following two tabs change content below.
Latina mom of 4 married to wonderful Greek gentleman. Living in southeast PA and trying to juggle family and a household while trying to earn an income from home. Follow my stay at home journey as I discover how to earn money and save money so we can continue to live debt-free.
Latest posts by Joyce @ My Stay At Home Adventures (see all)