June Online Income Report & July Goals
This post may contain affiliate links which might earn us money. Please read my Disclosure and Privacy policies here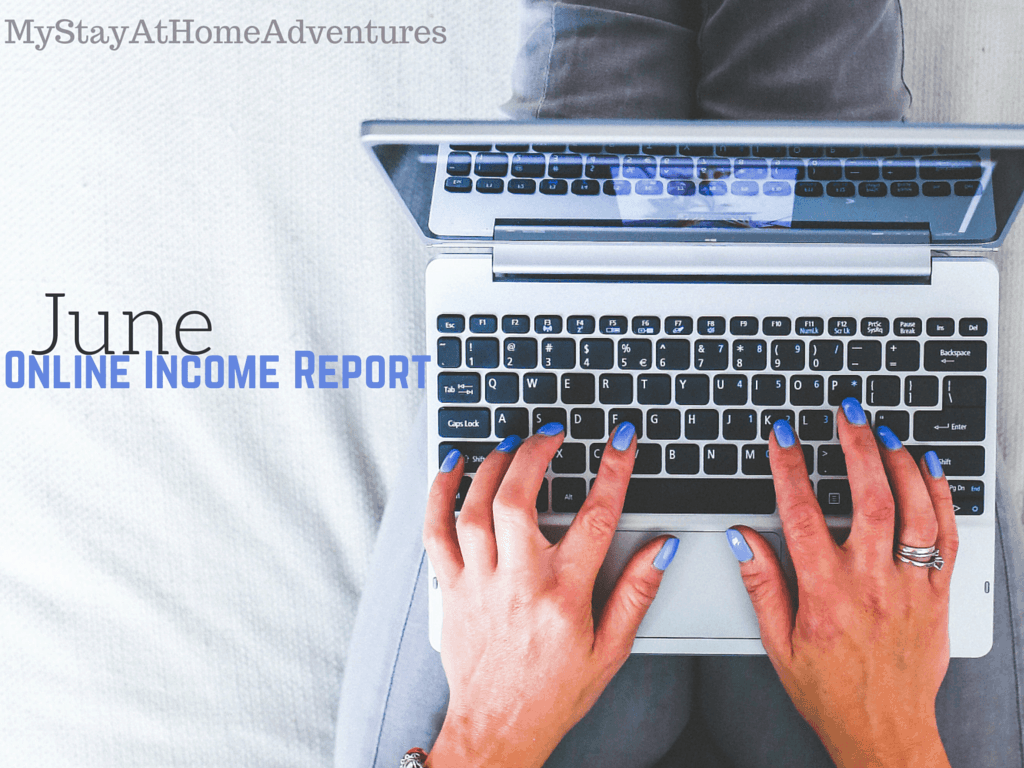 Hello July! Wow, can you believe the 4th of July is this Saturday and next week is Christmas? OK, I'm going overboard, but I am just simply surprised that it's July and another online income report is due. It's your favorite time of the month, where you go and read every single blogger's income report.
You know what I'm talking about. 😉
If you haven't read my income reports, maybe you need to so you can understand my progress and share my ups and down. I decided to start an income report the minute I decided to take my blog to the next level and be open about my progress.
Thanks to my decision of taking my blog to the next level, and getting rid of my insecurities, my income is increasing. Can it be better? Maybe, but this is my journey and not someone else's. I am also obsessed with learning more about the blogging business and myself.
June Goals
May Personal Goal Update

Well on the personal front, we didn't get much accomplished when it came to the personal goals we set out to do. I'm starting to think that it's not worth writing personal goals each month if I'm not getting them done. Then I remind myself that we do things and have amazing afternoons and time together; it makes me feel better.
DATE NIGHT – This didn't happen because either husband was working overtime, or we just decided to hang outside with our kids. Father's day he just spent the day cleaning our van and just relaxing.
Start walking the trails once a week – This is something we started once a week and it's working IF my 2 year old doesn't come with us. He tends to want to walk around the block and back home to our pool.
Set our summer schedule and routines – This summer, our schedules and routines will be changing. My 4 year old will be going back to school and my 2 year old will be starting speech therapy. So we shall see a change in routines and schedules, wish me luck. 🙂
Aside from that our boys are having an amazing summer with our little pool we bought at Wal-Mart, they are having fun playing outside and I won't have it any other way.
June Blog Goals
Oh, the blog; well, things are falling into place. I am busting my behind writing awesome content and writing a small e-Book. I never would have thought that I would be contemplating writing an e-Book.
Submit posts for The Happy Home Life – This is complete.
Work on BTS projects – This is complete as well, also half of my July posts. Been pretty motivated to write.
Start working on my e-book – Of course this is continuous work, but I am super excited about my small accomplishments.
June Blog Income Report
June was pretty exciting and I got to do some sponsor posts. That being said, I am a bit new to this and a bit guarded as I don't want to compromise my readers trust, but I also want to earn some money. Just testing some waters this month and I made some good money, just not sure if it's where I want My Stay At Home Adventures to go.
Visits –

21,000
Pageviews –

27,135
Ad Network Income: $105.75
Adsense –

$55.31 (up 15.57%)

Media Net – $44.19
Infolinks – $6.25 ( I temporarily stopped using it.)
Affiliate Sales: $85.50
Sponsored Post – $80.00
Total June Site Income – $271.25
Now this is the money I received in my accounts.
Escalate Network – $35.36 (May money)
CapitalOne360 – $40.00
Sponsored Post – $80.00
Media.net – $104.95
Linqia– $5.00
Total amount actually paid in June – $265.31
Total June Blog Expenses
So my June expenses were a bit high, and that is OK. I am investing in Facebook ads and I am seeing results in my investments. Though I don't invest a lot, I am seeing the results I want. I still don't understand why many bloggers kind of get upset when I mention about paying advertisement, like I'm breaking some sort of rule.
If there are any rules I am breaking please, let me know because as far as I know when I took a chance and invested on EBA, I saw result and got my money back from what I learn and am still learning.
What I continue to say is this, my blog is my business and I will treat it as such. What works for me, might not work for you and I get it. Letting me know that I would never pay for this and that is your personal opinion.
Investing my money back to my business, especially when I am seeing results, is what works for me and My Stay At Home Adventures. I am not selling out. I am not buying "Likes," I am simply running my business.
OK, now that you all know how I feel about paying ads, let us look at my expenses for the month of June, shall we?
BoardBooster –

$10.00

Facebook Advertisement –

$16.56

– I paid the month of May and June this month. Advertisements in FB reach an amount before they charge.
Canva –

$20.00

I am working on July posts early so I paid my normally $10 budget for photos. I also worked on updating old posts and updating ads. I can tell you that this will be going up again come August.
Izea –

$1.00

– I ran out of my money so I had to pay $1 there. Let us see what this brings me in July.
Total Expenses for May – $47.56
June Social Media Update
Pinterest Followers – 1687 June –

2059

Facebook – 1344 June –

1374

Twitter – 794 June –

851

Google + – 651 June –

656
July Personal Goals
I said it earlier, I think I'm over getting a bit upset when I don't get things done on my personal goals. If in July I can't spend time on with him.. LOL
I WILL SPEND TIME WITH MY HUSBAND – My husband is having a fabulous milestone of a birthday. 3-0!! (yup… that's right do the math.)
Work on a new summer routine for my boys – They seem to handle it OK when we change things around. I think my boy who will be turning 5 July 7th, 2015 is doing a fantastic job with changing routines. I tried to keep him on the same sleeping schedule he has had, even when he's not in school.
Make our vacation plans for August – We haven't even decided what we want to do or where we want to go.
July Blog Goal
Invest in my blog – Going to continue to invest some of my money in my blog. I am also looking for a new design for the fall. Any suggestions on design or designer, I'm open. Get me in Facebook, comments, or email me at [email protected] if you have any suggestions.
Continue to write in my e-Book -I don't have a specific date for when I will complete this e-Book, or if it will ever get published. It is something I am enjoying.
Continue work on Christmas in July Challenge – I hope you all join me doing this fun challenge and help others to have a debt free Christmas.
There you have my fabulous June income report & July goals. My personal goals sucked and my blogging goals did fabulous.
How was your June? Did you meet your goals?
CONFESSION: While writing this, I have been listening to Shania Twain (I LOVE HER) and below I will post one of my favorite songs. I hope you enjoy it as much as I do.
Bucket list: Meet Shania Twain.
Have a happy July!!