This post has been sponsored by Pfizer Consumer Healthcare. All thoughts and reviews are my own.
Traveling with our whole family poses many challenges. We have 3 young children plus a teenager plus my husband and I will go too if there is room in the van, LOL. To say we have to pack a ton of stuff is an understatement.
I know our trip will be successful if I am organized and remember our road trip essentials for family travel. Forgetting those important items can wreak havoc on our fun.
We just got home from a huge family road trip to Florida and the trip started off a little rocky due to some illness at the beginning. Luckily for me, I was prepared for anything that might go wrong.

9 Road Trip Essentials for Family Travel
Activities for the Road Trip
We drove for 20 hours to get to our destination.  That is a long way for adults, but it seems like even further for kids. 
I knew I had to pack some fun activity bags for my boys to stay occupied while we were on the road. They enjoyed playing with Melissa and Doug On the Go Water Wow Activity Books and I was happy because those don't get anything dirty.
We played some car games where we spotted license plates from other states, cars that are different colors and new restaurants we hadn't heard of before. I brought along some fun kids music CD's and we sang along at the top of our lungs.
One of their favorites was Disney's Silly Songs and since we were going to see the mouse anyway, it was fitting!
Car First Aid Kit
My friend showed me how she makes her car first aid kit and I knew we would need one on this long trip.  I stocked my tote with my favorite pediatric brands from Pfizer Consumer Healthcare. 
We were so glad we didn't leave home without our supply of Children's Advil®, Children's Robitussin® and Children's Dimetapp®.
Related posts: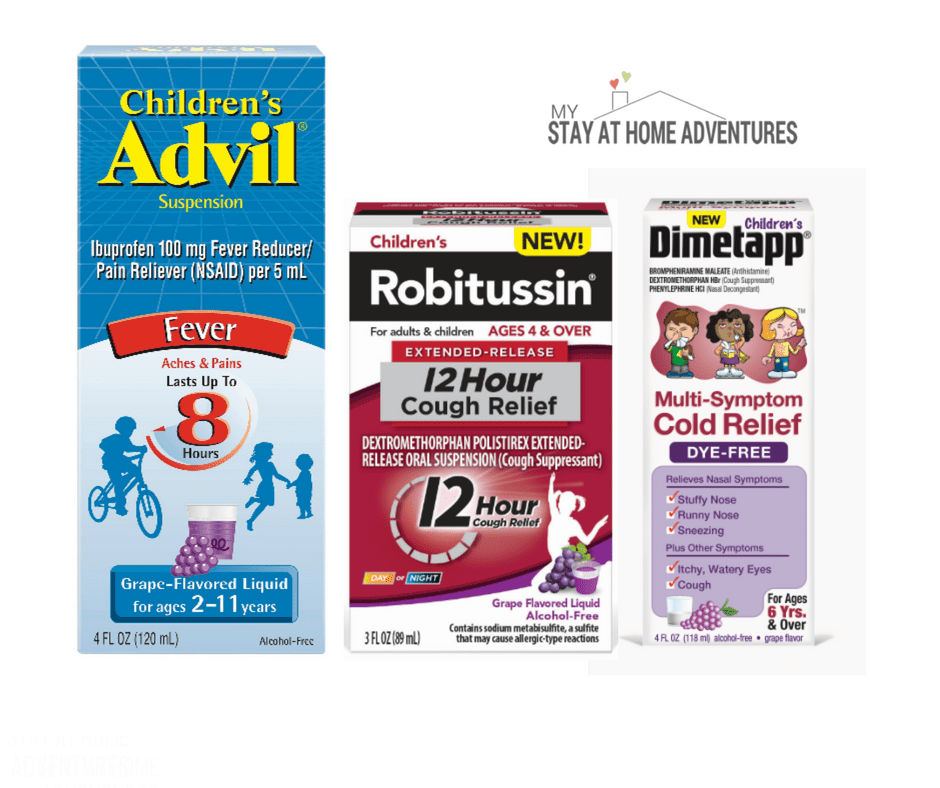 Two of my kiddos were sick on the way down to Florida. These products came in so handy and having them in my car first aid kit meant I didn't have to make an extra stop on the way.
Camera
Have you ever left for vacation and forgot your camera?  Well, I have done it before and was heartbroken.  I know we have our cell phones now for taking pictures, but it isn't always the same. 
There are always so many great photo ops on vacation that a camera is a must take item!  Plus you never know when you might lose your cell phone!
Be Ready to Clean Up
Little ones can equal big messes, especially inside a vehicle for hour upon hour. I never leave for a road trip without a bag of clean-up essentials. Wet wipes, extra plastic bags for dirty clothes, tissues for noses (especially with the illness on our trip!) and hand sanitizer are items we always need.
Keep Them Hydrated and Full
Never leave home without extra drinks and snacks says every mom I know!  We made sure to let each child pick their favorite snack and we had a small cooler of bottled water. 
This helped us save money on the trip too because we weren't stopping for snacks and drinks along the way. I like to make the trip special by getting snacks we don't normally buy at home.
Comfort is Key
I like to be comfortable when I travel and I want my kids to be comfortable too.  
Taking along cute kid-size travel pillows helps their little necks from getting stiff.  I also know that someone will be cold when I am hot!  
We always throw a blanket or two into the vehicle so they can cover up and I can keep the AC blasting!!
Never Leave Home Without Lovies
Do your kids have a stuffed animal or blankie that they can't stand to be without?  
If so then this item is going to be at the top of your packing list!  My kids all wanted to bring along a special stuffed animal to snuggle with on the road.  It is also a comfort to them when we are in a new environment.
Flip-Flops Save Time
When we travel by car we always bring along a pair of flip-flops for in the vehicle.
When we stop for bathroom breaks it is so quick to have the kids slide into their flip-flops instead of putting socks and shoes on.  Sometimes it is the smallest road trip essentials that save the most time.
Pack for the Unexpected
I may try to be a minimalist in some areas of my life, but not when it comes to packing for a trip with kids.  We seem to go through MORE clothes and more of everything then we should.  
I always try to pack a little bit more than I think we will need and I am usually really glad I did.  Even though it was going to be HOT in Florida we still took jackets along.  
They came in handy at certain places because the air conditioning was so cold the kids were freezing.
What are Your Road Trip Essentials for Family Travel?
What do you make sure to never hit the road without? What are your favorite pediatric Pfizer Consumer Healthcare products for when sick gets real?
About our sponsored:

Ease those aches and pains, while reducing a child's fever fast with Children's Advil®, a great solution for kids as young as 2 and up to 11.
Children's Advil® comes in several great-tasting flavors, including Sugar-free Dye-free Berry, Bubble Gum, Grape, Blue Raspberry, Fruit and Dye-Free White Grape flavors.
There's also Infants' Advil® White Grape, which provides unsurpassed fever relief (among OTC pain relievers) with a syringe for easy dosing for children 6-23 months.
For your child's cough, trust Children's Robitussin® Extended-Release 12 Hour Cough Relief to control and relieve symptoms all-day or all- night.
Available in grape or orange flavor, for children ages 4 and up. Please note, certain Children's Robitussin® products are only suitable for children ages 6 and up.
Children's Dimetapp® Multi-Symptom Cold Relief Dye-Free eases your child's stuffy and runny nose, while quieting a bothersome cough.
All in a great-tasting grape flavor that's dye-free, for children ages 6 and up.
Visit Sick Just Got Real Facebook page for more information.
**It is important to remember to always read and keep the cartons for complete warnings and dosing information on Pfizer Pediatric products and to use as directed.
Your turn: When it comes to road trip essentials for family travel what are your thoughts, tips, and ideas? We want to know!
The following two tabs change content below.
Latina mom of 4 married to wonderful Greek gentleman. Living in southeast PA and trying to juggle family and a household while trying to earn an income from home. Follow my stay at home journey as I discover how to earn money and save money so we can continue to live debt-free.
Latest posts by Joyce @ My Stay At Home Adventures (see all)