How I Save Time And Money In The Kitchen and You Can Too!
This post may contain affiliate links which might earn us money. Please read my Disclosure and Privacy policies here
I have been working to save time and money in the kitchen since I first got married!
Now that 18 years have passed and our family has grown to include 6 people…saving time and money in the kitchen is even more important to me! I think that everyone is capable of saving time and money in the kitchen with just a little effort and creativity!
Here are my favorite tips to save time and money in the kitchen
Saving Time and Money with Ground Beef
We use a lot of ground beef at our house. I use it in casseroles and lots of simple meals like chili and tacos.
The past several years I have been shocked at how high the price has gone for a pound of ground beef. In my area of Kansas the main grocery and retail stores sell ground beef for around $6 per pound for lean beef.
That is a crazy high price, and I don't pay it if at all possible!
I try to buy all of my ground beef at a nearby meat locker. I typically get a pound of lean ground beef for around $4.30 per pound.
This savings really adds up during the year!
I try to go once every month or two and get what I will need for 6-8 weeks at a time. It comes frozen and I just put it in my deep freeze and I am set!
Check out these money-saving posts:
To save time cooking with ground beef I like to cook up my ground beef all at once. I will thaw out 8 or 10 pounds at a time and get two pans going.
I will brown the meat and then put one pound in a quart size freezer bag. Once it has cooled, I label the bag and pop it in the freezer.
When I get ready to use ground beef for a recipe I can just grab the bag from the freezer and thaw it in the refrigerator or the microwave if I am short on time!
Saving Time and Money with Chicken
I like to use chicken when I can because it is a nice lean, healthy meat! I can honestly count on one hand the number of times that I have bought chicken for regular price at the store! I always try to buy chicken on sale.
When chicken goes on sale I buy a LOT. I stock up during great sales!! I like to buy boneless chicken breasts or whole chickens. These are so easy to freeze if they don't come frozen already!
Once a month or so I will fill my crock pot with frozen chicken breasts, add some water or chicken broth and some salt and pepper. Then I just cook the chicken all day long on low and that evening the chicken breasts will be falling apart!
I take the chicken and shred it or cut it up into small cubes and put in freezer bags! I try to measure out 1 or 2 cups per freezer bag to make it easy to cook with. Then I have cooked chicken ready to go for soups, fajitas, casseroles and more!
Saving Money During Holiday Sales
Some of the best sales happen around holidays. It isn't just for toys either, LOL! If you start paying attention to food sales around holidays you will be surprised to see the great deals available!
I know that a lot of people don't have extra money for stocking up on food during the holidays….but it is worth budgeting money to stock up during holidays!! This is a great time to buy staple products like: sugar, flour, canned pumpkin, canned veggies and LOTS more!
These are items that are used ALL YEAR LONG! Most of these items have a long shelf life and you will get them for a fraction of the regular price…the best news….you don't even need coupons for most of these deals!
These are some of my favorite ways to save time and money in the kitchen! Here are some low-cost recipes that will feed your family a delicious and easy meal!
How do you save time and money in the kitchen?
---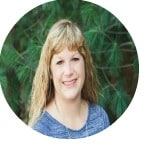 Jamie is a busy, married, mother of four from a small town in Kansas. She is a registered nurse who works part-time outside the home. The rest of her days are spent blogging, chasing around her four kids ages 2, 9, 13, and 17, scrapbooking, cooking, reading, traveling, trying out DIY and more! She is working hard to recapture the JOY in life! Check out her blog Life Is Sweeter By Design and learn more about this amazing family.
Save
Save
Save