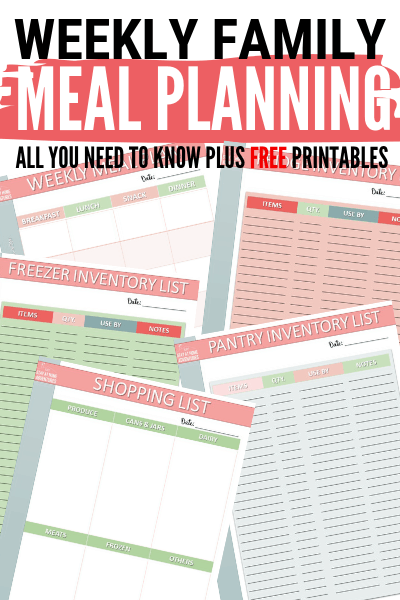 Does it seem like your family ends up eating out a lot? Do you never know what you're going to make for dinner? Are your throwing out a lot of food? What if you could fix all those problems?
A weekly family meal plan can make a huge difference in how much you spend, how well your family eats, and how much food goes to waste. Let's take a closer look at why you need a weekly family meal plan and its benefits.
Does this sound good? Are you interested in learning how to create a weekly family meal plan and start saving time and money in the kitchen?
Let's begin!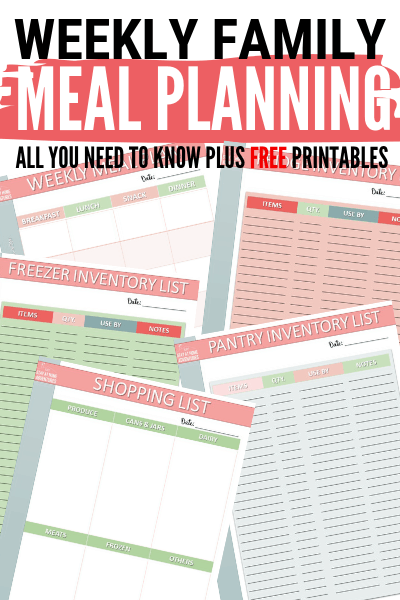 Why Every Family Needs a Weekly Family Meal Plan
What Is a Weekly Meal Plan?
A weekly meal plan is just what it sounds like. Each week, you'll sit down and choose what you're going to fix throughout the upcoming week. Chances are you know what will be happening throughout the week and be able to plan meals that work with your schedule.
For example, if you're going to be busy throughout the day, you know that a crockpot meal would be perfect for that day.
How Do You Choose What to Cook?
This is where many people feel lost. An excellent tip is to go through your pantry, fridge, and freezer and plan meals based on what you have on hand. This ensures that you use up what you have. If you have nothing on hand, think about what your family likes to eat. You can also make meals based on what's on sale that week.
You might like:
What Are the Benefits of a Weekly Family Plan?
There are so many benefits to a weekly family meal plan. When you plan a menu for the week, you're less likely to eat out. This means you'll save money. When you plan meals based on what you have, you'll throw out less food.
Best of all, you're able to plan meals based on what's going on throughout the week. This will ensure that you have something for those days when you don't have a lot of time or those days when people will be eating throughout the evening because of their schedules.
How Do I Get Started?
I'm so glad you asked! I've included a free weekly family meal plan to get you started. Now you have no excuse to continue winging it day after day when it comes to meals.
This free weekly family meal plan comes with:
Pantry Checklist
Fridge Inventory List
Freezer Inventory List
Weekly Meal Planning Sheet
Weekly Shopping List
Sign up and download your weekly family meal planner and let's get started. Below you are going to find sample family meals that are popular. Keep in mind that your family is unique and you know what your family likes and enjoy eating.
Sample Weekly Family Meal Plan
Below are three sites that contain recipes samples you can use to create a meal plan. From low -carb recipes to Weight Watchers you will find great recipes to start meal planning this week.
Every family is different and we advocate that you create a meal plan that keeps you and your happy family. Of course, you are more than welcome to use the recipes linked below to ease you into your weekly meal plan.
A weekly family meal plan can make your life so much easier. With a bit of time each week, you can make the rest of your week a complete breeze when it comes to meals. You'll also save money. It's a win/win.
The following two tabs change content below.
Latina mom of 4 married to wonderful Greek gentleman. Living in southeast PA and trying to juggle family and a household while trying to earn an income from home. Follow my stay at home journey as I discover how to earn money and save money so we can continue to live debt-free.
Latest posts by Joyce @ My Stay At Home Adventures (see all)