12 Environmentally Friendly Home Improvement Ideas for the Summer
This post may contain affiliate links which might earn us money. Please read my Disclosure and Privacy policies here
Let's talk environmentally friendly home improvement ideas for the Summer and their benefits, shall we?
School's out, the kids are home and days are longer. It's a great time to think about your home improvement wish list. The home improvements with the best returns are often environmentally friendly, eco-conscious projects. These projects aren't merely good for Mother Nature, they're also good for your wallet.
12 Environmentally Friendly Home Improvement Ideas for the Summer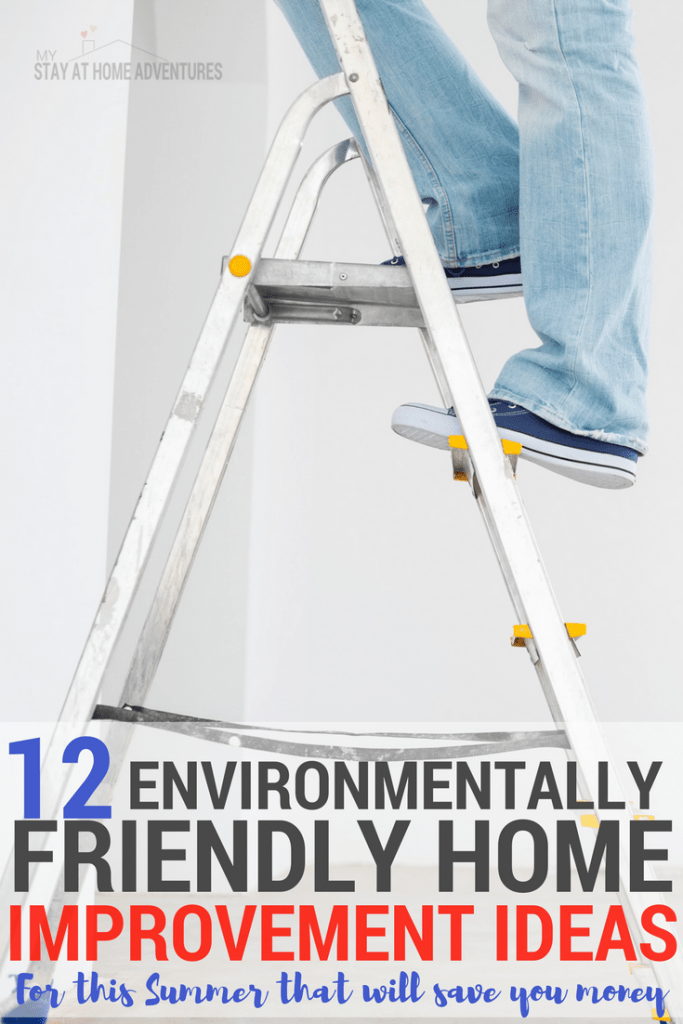 Whether your project dreams are big or small, here are 12 environmentally friendly options to consider this summer:
Low Budget Improvements
Lightbulbs
Making the switch from incandescent to compact fluorescent is one of the easiest updates you can make. Whether you wait for your old bulbs to die or replace every bulb at once, switching over will save you money, save energy and reduce waste.
Incandescents are incredibly inefficient, losing 90% of their energy to heat instead of lighting. CFLs may cost more upfront, but they'll last for years.
Clean and Filter
When was the last time you cleaned behind or under your fridge or changed the filters on your HVAC unit? These tasks seem simple, but neglecting them can be costly – and dangerous.
Check out these posts:
Dust build up and old filters lower the efficiency of your appliances and HVAC systems. Take a day to deep clean these important fixtures, change the filters and set up reminders. Stickers on your calendar or notifications on your smartphone can help you remember to replace filters on a regular schedule.
Power Strips
Home offices and media centers can drain a lot of power even when not in use. Add power strips to these problem areas and turn the strip off when not in use. This will keep these electronics from drawing phantom power. The 115 million households in the U.S. today collectively use around 22.5 percent of the country's energy so it's good to conserve when we can.
Fans
Your home can never have too many fans. Upgrade ceiling lights in bedrooms to include fans and stash a few box or stand fans you can move where needed. If you don't have AC, fans are needed to make it through summer. With AC, the extra air circulation can help you keep cool, so you can run the AC at a slightly higher temperature, making it more cost and energy efficient.
Thermostats
Programmable thermostats are cheap (as low as $20), so there's no reason not to invest in one. Programming your HVAC ensures you're not wasting energy and money.
Have a smartphone? Consider a bigger upfront investment in a smart thermostat that learns your schedule and preferences. You can also control your HVAC remotely, making it perfect for vacationing families.
Automate Lights
Never come home to a dark house again! Add motion sensors to your outdoor lights so they only come on when needed, like when you're fumbling for your keys. Put house lights on a timer so they come on at dusk and turn off at bedtime.
Defeat Leaks
Don't pay to cool or heat the outdoors. If your home is leaking air, chances are it can be easily remedied. Caulk around window and add weather stripping around doors. Add insulation to outlets and light switches. Also, check to see if you have any leaks on your roof by spraying it in different locations – trust me, you don't want to find out that your roof is leaking during the winter when it would be especially dangerous to climb up there.
You can easily tackle one or two problem spots a day, increasing your home's efficiency and saving you money for very little work.
Save Water
Swap your showerhead for low flow and make your toilets dual flush. These measures will save water and money, but they work best when combined with a few lifestyle improvements. Get the whole family on board with turning off faucets when brushing teeth, taking shorter showers and wearing clothes more than once unless they're truly sweaty or dirty.
Big Budget Improvements
Insulation
Insulating could be low budget if you only have a small area to fix, but many homes (especially older homes) have insufficient or no insulation. There are several eco-friendly options available, including sheep's wool, which is easy to DIY if you're looking to keep the budget down.
Windows and Doors
Replacing windows and doors offers multiple rewards, from an instant facelift for your home to outstanding energy savings. Older windows and doors are huge culprits when it comes to lost energy. Replacing them may be expensive, but you will reap savings on your heating and cooling bills.
Install Solar Panels
Solar panels are another big-upfront-investment-with-big-pay-off project. Even a single panel will allow you to offset your energy consumption and lower your bill. This project may seem daunting, but it's still possible to DIY.
Upgrade Appliances or HVAC
Old appliances and HVAC units tend to be terribly inefficient, especially when compared to newer, energy-conscious models.
If it's time to bite the bullet and replace an appliance, make sure to buy an Energy Star model for maximum energy savings. Newer HVAC models will automatically have a higher efficiency than an old unit, but don't be afraid to look into changing your system completely. If you have the means, switch to a highly efficient, eco-friendly option like geothermal heating for maximum benefits to your footprint and your wallet.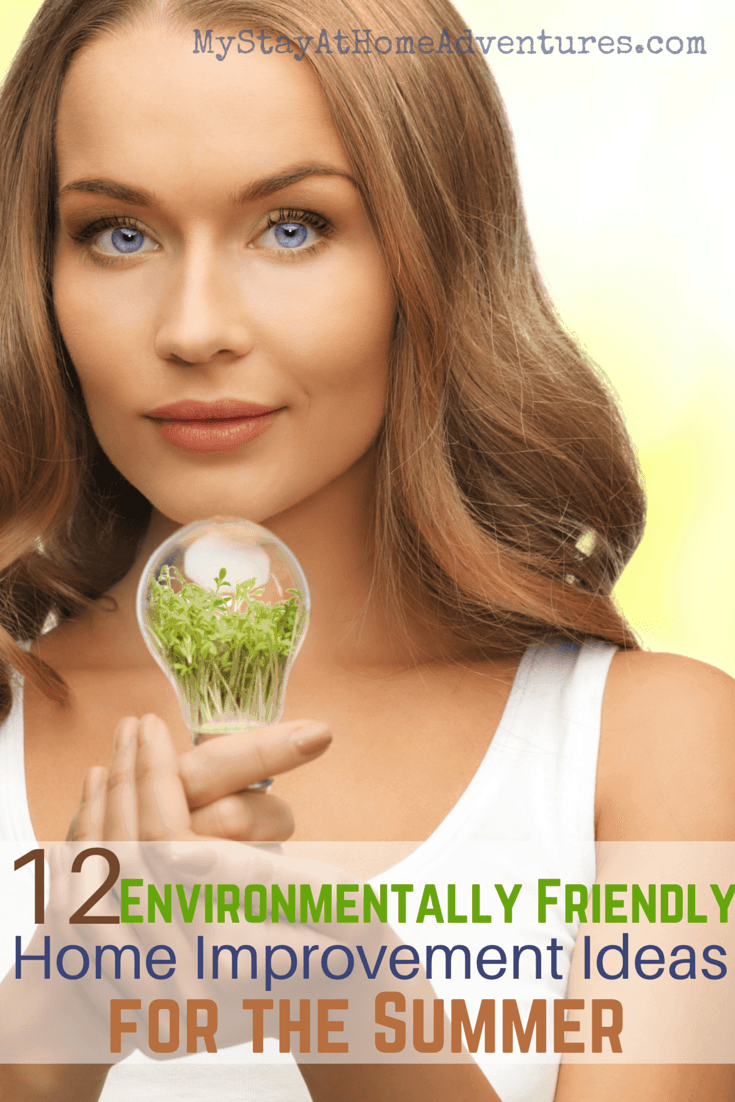 Conclusion to Environmentally Friendly Home Improvement Ideas
Home improvements, environmental or otherwise, come in a variety of cost ranges and skill levels. No matter where you fall on those spectrums, there are projects that will fit your needs and means. Don't waste the summer pinning wishlists when you can start making improvements today!
Anum Yoon blogs at Current On Currency and is dedicated to sharing her insights on money management with others. She believes that a greener, energy-efficient lifestyle is the key to living a more fulfilling life. When she's not typing away on her keyboard, you can find her poring over a new recipe she found on Pinterest or at the power rack in her gym. Catch her on Twitter or sign up for her newsletter here to find out what she's sharing!
Save
Save
Save
Save