6 Benefits of Joining Pampers Rewards
This post may contain affiliate links which might earn us money. Please read my Disclosure and Privacy policies here
Do you love companies that reward you for using products you love? I know that I do. One company that has an awesome rewards program is Pampers.
Pampers Rewards Program!
I have a little cutie in diapers and have always loved the quality of Pampers diapers. What could be better than getting rewarded for buying something I was going to get anyway? That is just a BONUS and a great way to save money!!
This summer Pampers just introduced an update to their Pampers Rewards program. The best part that it will make it easier for us to use! No longer do we need to type those long Reward codes!
Talk about the ultimate #MomHack!
Yes, Pamper now has a new Pamper Rewards app for your mobile device!
But more about that later!
If you are new to the Pampers Rewards program, I will give you our top 6 benefits to joining and where you can download Pampers Rewards newest app!
Here are 6 benefits of joining Pampers Rewards that you might not know about.

6 Benefits of Joining Pampers Rewards
Get Rewarded for Buying Something You Were Going to Buy Anyway
I get rewarded for buying something I have to buy anyway. Diapers of some kind are a must with a baby in the house. I don't use cloth diapers, so I have to buy disposable. I may as well get the rewards for something I am already buying!!
Pampers Rewards are Awesome
There are great rewards available to members. I love to browse the rewards section to see what I can get for my points. Some of my favorites are the Shutterfly deals for free prints, personalized calendars and more. I always have lots of baby photos I want to share! They also have toys, magazine subscriptions, and coupons. Saving my points for big items like a water table or a Little Tykes Wagon is also an option.
I Can Use My Rewards to Give Back
I can use my rewards to give back. We live on a strict budget and sometimes I need to get creative about ways I can give to others. One benefit of joining Pampers Rewards is that I can GIVE back and it doesn't cost me anything.
They have some awesome charities you can donate points to and Pampers will donate REAL money to that cause for you! Right now they are offering reward donations for Feeding America, March of Dimes, Graham's Foundation, Every Child Succeeds and P&G Disaster Relief Fund.
I Can Accumulate Points for Years
I can earn rewards for YEARS and years. Pampers rewards offers points for their diapers, cruisers, easy ups and wipes. I doubt I will ever stop buying baby wipes because they are so handy to keep on hand. It will be years before we are totally done with diapers and easy ups.
I can accumulate a LOT of points for some great rewards during the time that I have little ones. Don't forget that Pampers will offer free codes from time to time that can add to your points total!
Great Info for Parents
The Pampers website is a great hub of information for parents. Every time I log in to the Pampers Rewards website I am amazed by the helpful articles, videos and information they offer parents. This info is free and is a great resource.
Easy to Use App
The last great benefit of joining Pampers Rewards is that they are keeping up with technology. Pampers is making their rewards program easier then ever to use with their APP! I can scan diaper codes with my phone now to make the whole process of collecting points even easier. HIGH FIVE Pampers!!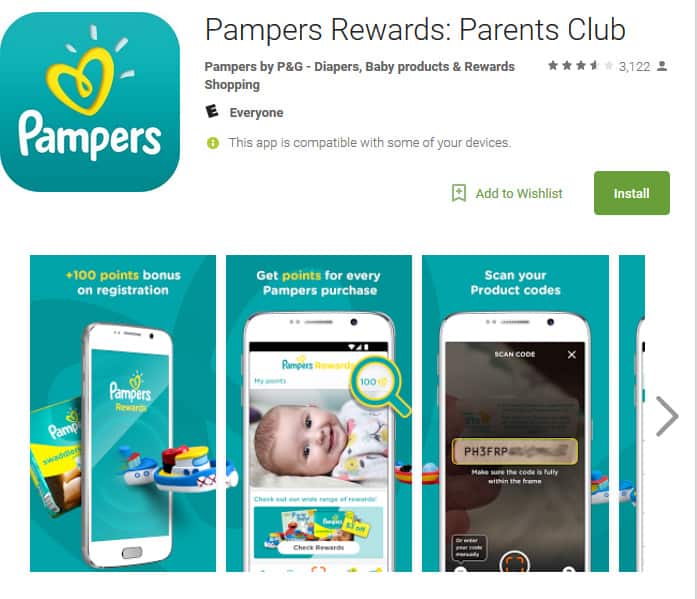 No longer do we need to type long codes!
You can download Pampers Rewards app via these links:
What are you waiting for? I think this list of 6 benefits of joining Pampers Rewards makes it clear that this is a no-brainer. I have already gotten some awesome rewards and can't wait to hear what your favorite reward will be!