The Benefits of Meal Planning
This post may contain affiliate links which might earn us money. Please read my Disclosure and Privacy policies here
We love to save money and we love to save money on food as well. There is no secret that I do love to save my hard earned money, but I also love the many benefits meal planning offers our family.
If you follow My Stay at Home Adventures you will know that meal planning is something that I write about often and suggest when it comes to saving money. My top post is about meal plans and how to create one that will save you money.
Many frugal moms and money saving moms will always speak about creating and using a meal plan to help you save money. However, there are many benefits to meal planning that just about saving money.
The benefits of meal planning will not only help your wallet but will help other aspect of your life. Meal planning doesn't take long and when you make it into a routine you will actually get to enjoy it.
The Benefits of Meal Planning
Saving money
Yes, meal planning will help you save money. Why will creating a meal plan help you save money?
Create a meal plan using your store ads.
Use coupons to save money on items in your menu plan.
Create a shopping list with items on your menu plan and create a shopping list.
Use money saving apps when you go shopping to save even more money.
If you need more tips check out this guide to easy meal prepping for more tips.
Waste less food
Knowing what you are making ahead of time and using what you have (including leftovers) will reduce food waste. When you are meal planning based on what you already have, make sure that you think of leftovers and be creative.
Save time
Meal planning saves you time in the kitchen and when you shop. You already know what you are going to make and you already know what you are going to buy when you head to the store. Knowing that you already have what you need to create the meal and avoiding guessing games when you shop will help you save time.
Good for your health
When you are at home and creating a meal plan you are in control of what you are creating. You have control of what ingredients you are going to add in your meal. What you are going to cook and the size of the meal you are creating.
It involves the family
When you meal plan together as a family, everyone benefits from it. The more the family eats together the better they do in school and the more the family gets to spend time together!
Meal planning is extremely helpful in so many ways. Imagine eliminating the "what's for dinner" which can be so annoying at times. Imagine that you can have variety when you have a meal plan in place.
Meal planning not only benefits you but it benefits your money, your time, your health, and your family. Why not start meal planning when there is nothing bad about it. It only takes a few minutes a week. The benefits of meal planning give you no reason to start.
What are the benefits of meal planning you see working for your family? What are you best meal planning tips? Share it with us.
To help you get started download this free meal planner and grocery list printable.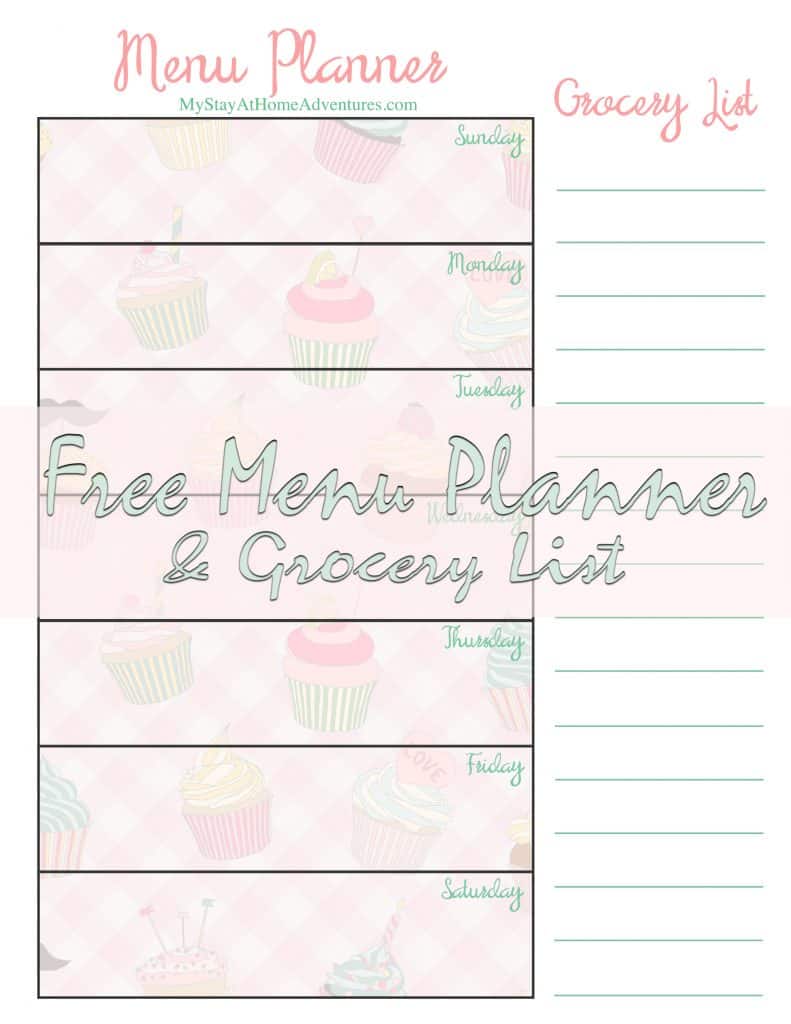 If you are busy and need help creating meal plans under budget check out this $5 Meal Plan. $5 Meal Plan is a weekly meal plan service that helps with your meal planning and makes it as simple as possible. For $5 a month you will receive a delicious meal plan with a cost of $2 per person or less.


Save