How to Make SNAP Benefits Last Longer
This post may contain affiliate links which might earn us money. Please read my Disclosure and Privacy policies here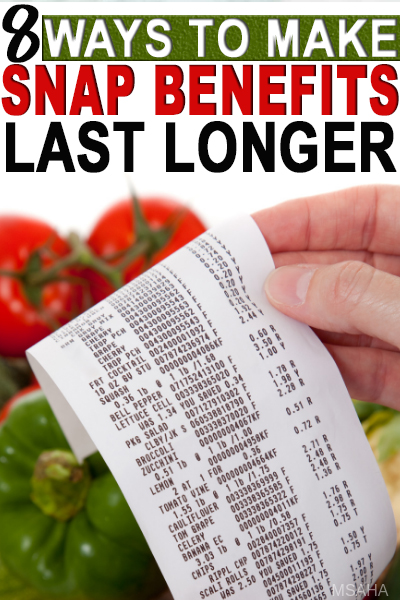 Living on a fixed income is hard enough. But what happens when you're faced with possibly not getting that money?
If you are one a low income, set income and SNAP user this post is for your.
Before we continue, if the word SNAP triggers something negative then may I suggest leaving and dealing with your personal issues.
We are here to help one another save money and live their own happy adventures.
Know that people come from different walks of life. We witnessed a government shutdown so …
Those that are on SNAP benefits can be affected when a government shutdown occurs or there is a mistake in the system.
How do you cope?
Let's look at how to make SNAP benefits last longer.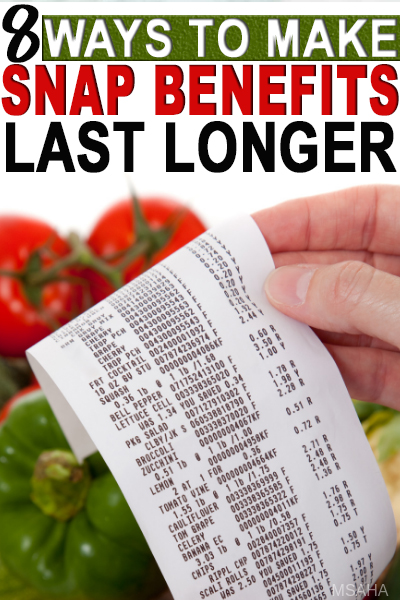 8 Ways To Make SNAP Benefits Last
Take Inventory
The first thing you want to do is take inventory. What have you got on hand and how can the food in your pantry be used to make meals?
Once you know what's in your pantry, fridge, and freezer, you can shop for items to go with those items.
This can greatly cut down on the amount of money you need to spend when you go shopping.
Consider Inexpensive Staple Items
Staple items like rice, dried beans, flour, eggs, and pasta are all excellent items to have in your pantry.
Number one, these items are incredibly affordable. Number two, they can be used to make so many different meals.
These may not be meals your family is thrilled with, but you'll have food on your table for a longer amount of time.
Create a Menu Plan
Once you have an inventory, and know which staples you need, sit down and make a menu plan.
A menu plan prevents you from constantly guessing what you're going to make.
More importantly, a menu plan ensures you actually purchase items that will make complete meals.
If you're trying to make your SNAP benefits last longer, the last thing you want to do is end up with a mishmash of items.
Below you can download the Meal Planning Printables to help you reduce how much you spend on groceries.
It works by making sure you know what you have in your pantry, refrigerator and your freezer.
Then you create a shopping list which will be covering next.
Stick to the List
If you're the type that often ends up with items in your cart that you hadn't intended to buy, keep your head down and stick to the list.
You'll also make it through the store so much faster when you focus on your list.
A great tip is to organize your list by your store's layout, so you don't have to do any backtracking.
Check with Area Food Banks
If you know that things are going to be tight, check with your local food bank to see if you qualify.
Related Posts:
This food can help you stretch your benefits further. Churches may also offer food to those in need.
Start at Discount Stores
An excellent tip to make your SNAP benefits last longer is to hit discount stores to see if you can find any of the items on your list.
Shop at grocery outlets, the Dollar Tree, bread outlets, and any other discount stores in your area.
With that said, make sure you know the prices in your area so that you don't overspend when you think you're saving.
Learn to Transform Leftovers
Many people aren't crazy about leftovers. Instead of wasting food, learn to turn your leftovers into something different.
For example, if you roast a chicken, take the leftovers and chop the meat into bite-sized pieces to add to a soup, stew, casserole, pot pie, or even chicken salad. There are so many great options.
In fact, you may even want to roast more than one chicken and turn the leftovers into a variety of meals for the week.
Look for Manager's Specials
Last, but not least, look throughout the store for manager's specials. When you shop for your produce, look for markdowns.
When you shop for meat, look for markdowns. There are so many great deals to be found.
You can also find clearance and closeout items. Some stores make it easier by having the clearance items in one area.
If you want or need to make your SNAP benefits last longer, these tips will make a big difference.
It doesn't matter if you want to save your benefits for a month when you'll need more food or because your benefits may be disrupted. Whatever the reason, you can make it happen.
You read How to Make SNAP Benefits Last Longer now we want to know what tips you have! Share them with us.