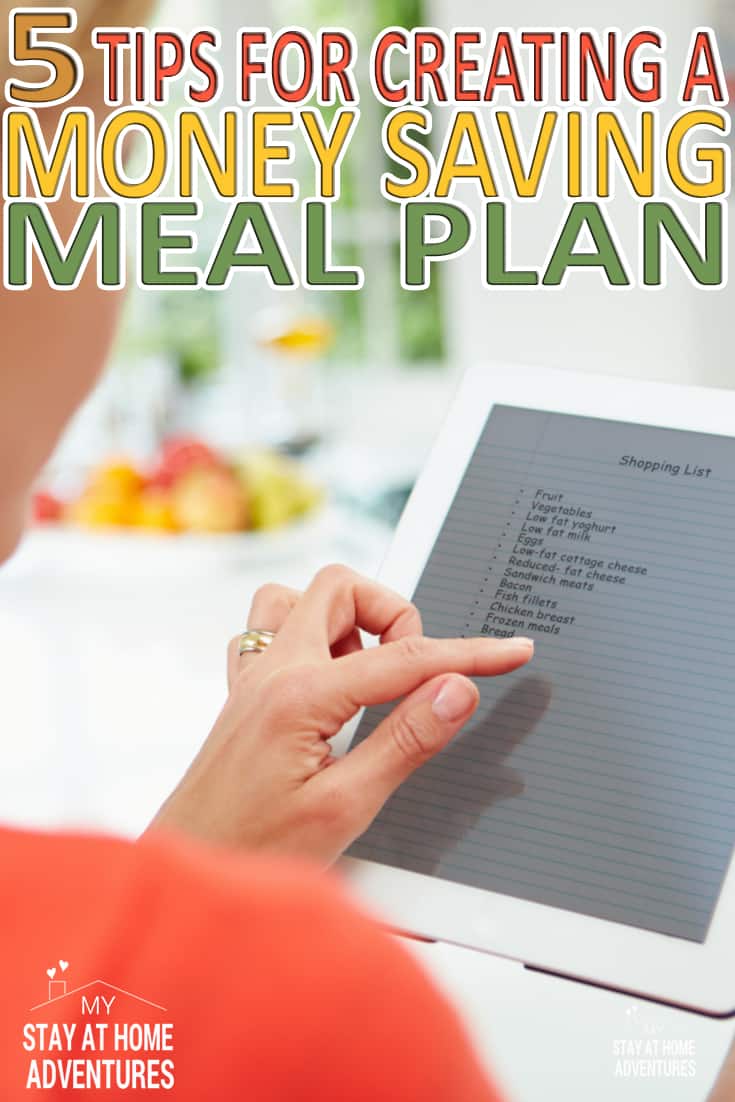 If you are a long-time reader of my blog, you will know that this chica here loves planning meals. I have a weekly meal plan that starts on Monday.
The benefits of creating a meal plan are many an on this post, you will learn how to create a meal plan that saves you money.
Meal planning doesn't have to be hard, it also gets easier as you continue to create meal plans.
Many people do a monthly meal plan, I do a weekly plan because it is easier for my family and me.
As I stated before, the benefits of creating a meal plan are many, but before I show you how to create one, I will start as to why you should create a meal plan
What is a meal plan?
Meal planning is the process of planning what you and/or your family will be eating. It is a plan to help organize what your meals will be ahead of time. Learn more about the benefits of meal planning and get a free printable by clicking here.
5 Reasons You Should Create a Weekly Meal Plan
Saves Money
When you create a meal plan, you will save money. The fun part that is meal planning made easy that anyone can do and save, seriously! More about this later.
Related posts:
Convenience
Creating a meal plan will reduce the amount you spent going to the grocery store to look for what you need. You have all the ingredients available for your meals. This will avoid stress and the "what's for dinner" from the rest of the family.
Healthier
This is very important and should be on everyone's list of reasons as to why you should create a meal plan.
When you don't use a meal plan, chances are you will be short on time and this will cause you to find a quick, easy meal which might not be the healthier meal.
By taking the time to create a meal plan, this will keep you focused on a healthier alternative to your meals.
Less waste
When you plan what your family is going to eat for the week, you will plan meals that you know everyone will enjoy.
This avoids having food wasted because you didn't overbuy products you didn't need. You avoided creating meals that were not popular with your family.
Variety
Sometimes we stick to what is simple, quick, and easy. This leads to having the same meal more than a few times. To avoid this, creating a meal plan will help. This will give you an idea of the meals you are planning without repeating the same meals for the week.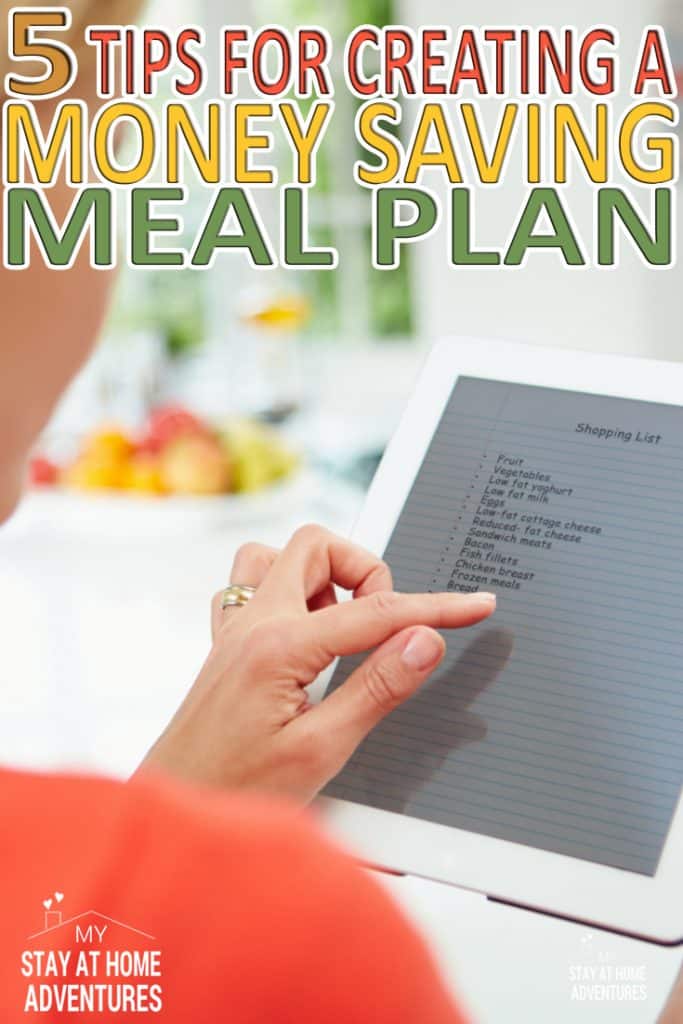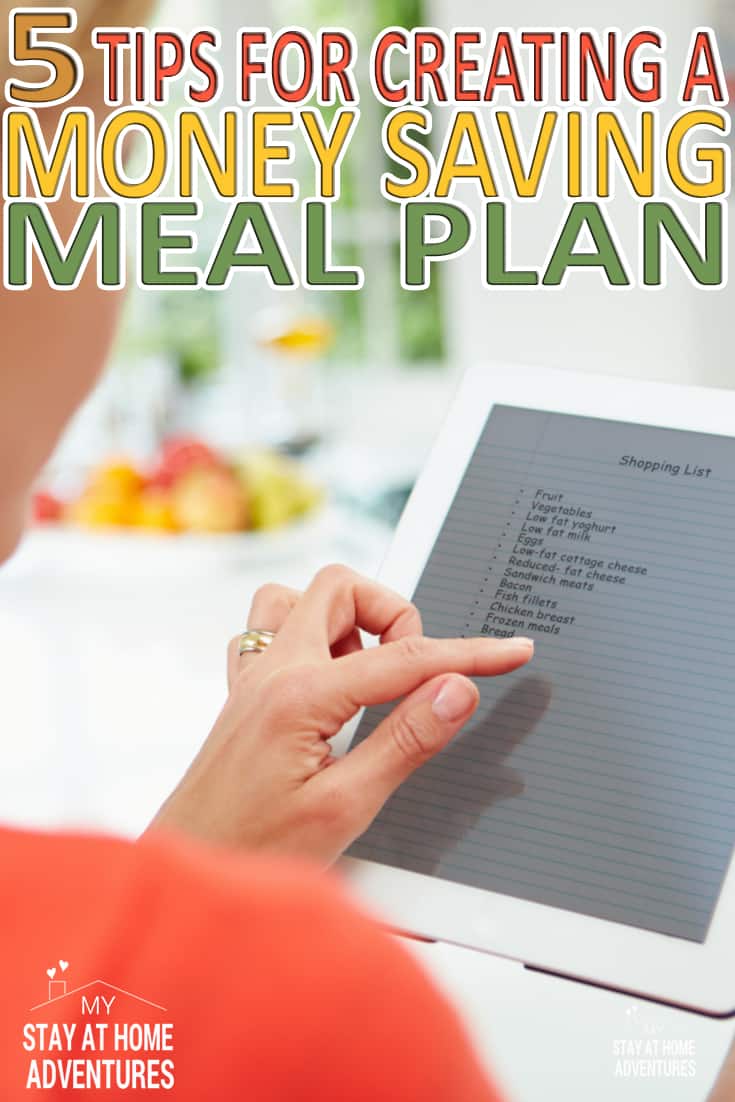 Does meal planning that saves you money?
As you read above, creating a menu plan has lots of benefits and creating a meal plan is not hard at all. To maximize your savings and stick to a budget when creating a meal plan, simply follow the steps below.
Reasons These Steps Saves You Money
When you create a meal plan you will save money. How? You will no overspend on items you don't need for your meal.
If you show your local grocery weekly ads you can create meals according to the sale which will save you more money in the process. Stack them with coupons and the saving becomes even better.
Look at your store ads
To help you save money on your meal plan, check your local store ads for deals of the week.
The majority of our local grocery stores start their sales on Sunday. For example this week, we are having a sale on anything Cinco De Mayo; this means tacos shells, seasoning, etc are on sale. We are also having a sale on pasta and pork loin.
We love Mexican food in our home. We even do Taco Tuesdays in our home. Looking at my budget and seeing the deals on my ingredients for my Mexican feast for the week saved me money.
Coupons
Let's take the deal on Mexican items in my local retailers as an example. There are plenty of coupons for Mexican related products this week at my favorite retailers.
I'm already writing down my menu plan according to my local stores' sales. I'm also seeing that I can use my coupons for these items. This will result in saving more money on my purchases.
*Print your coupons here.
If you use coupons, always check to see if there are coupons available for the items you need. This will save you money, and if the item is on sale, you will save even more.
Write it down
I write down that tacos will be one of the meals for the week. I write down what I need in a shopping list to remind me and to keep me on track of what I need for the week. Having this shopping list will prevent me from buying things that I don't need when I go to the store.
Money-making apps
If you need milk for the week, get a rebate when you use Ibotta. If you have a mobile device, take advantage of rebate apps that will refund your money when you purchase selected items listed on the app.
Below you will find apps that I personally used.
Create meals with what you have
Shop your cupboard and your pantry to see what you can do with what you already have at home before heading out to the store to buy it. This will definitely save you money on your meal, for sure.
Be creative! Sometimes simple is better, and sometimes creative meals are a hit!
Large Family Meal Planning
We are a family of six and we have family and friends that are large families and use meal planning to keep their grocery cost down.
What's their secret? Large family meal planning is no different than the meal planning steps we just wrote about.
They follow the same steps as above and keep going at it.
Related posts:
Let's recap, shall we?
In order to create a meal plan that saves you money, it takes more than just writing meals you want to make for the week without doing some research.
It is very helpful to look at your local ads, coupons, mobile rebates apps, and see what is on sale to help you bring the cost of your meals down for the week.
This is why I personally think that it is better to create a weekly meal plan, because not only will it help you save money, it will help you stay focused.
When you create a monthly meal plan, chances are you will lose interest and some of the items might not be on sale.
You can create a meal plan, but creating a meal plan that will save you money is even better.
What other tips do you have when it comes to creating a meal plan that saves you money? Please share it with us.
Meal Plan for Busy Families
If you are busy and need help creating meal plans under budget check out this $5 Meal Plan.
$5 Meal Plan is a weekly meal plan service that helps with your meal planning and makes it as simple as possible.
For $5 a month you will receive a delicious meal plan with a cost of $2 per person or less.
Save
The following two tabs change content below.
Latina mom of 4 married to wonderful Greek gentleman. Living in southeast PA and trying to juggle family and a household while trying to earn an income from home. Follow my stay at home journey as I discover how to earn money and save money so we can continue to live debt-free.
Latest posts by Joyce @ My Stay At Home Adventures (see all)