25 Never Thought Of Ways To Save Money For Christmas You Can Do Today!
This post may contain affiliate links which might earn us money. Please read my Disclosure and Privacy policies here
These 25 ways to save money for Christmas will surely help you save money this holiday season!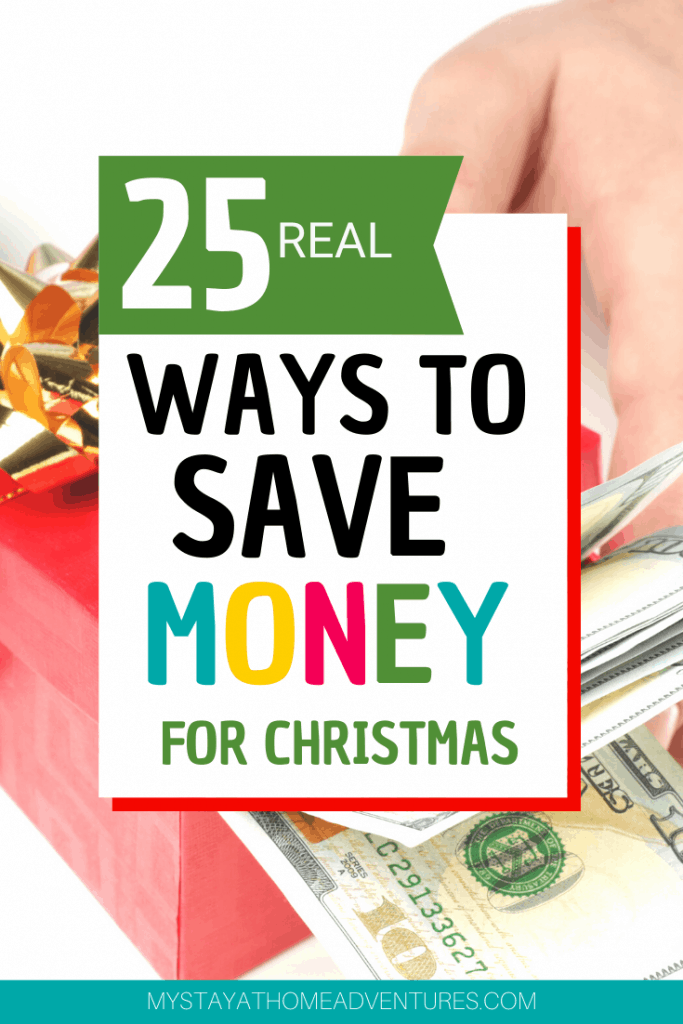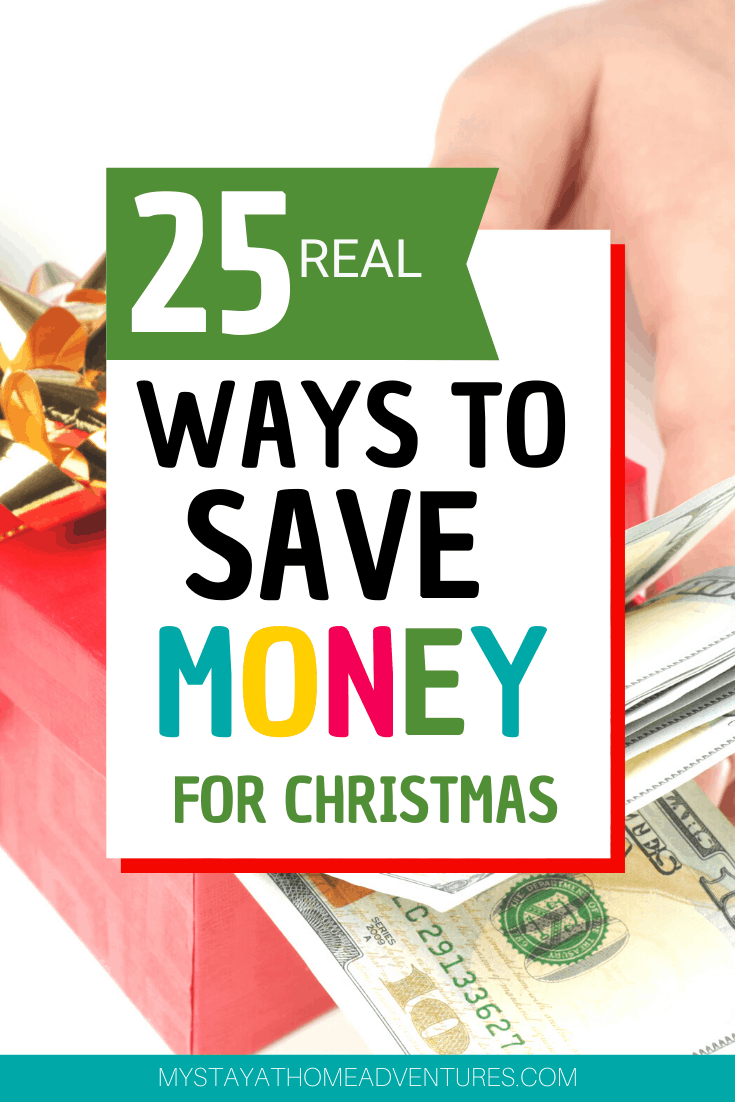 Christmas is around the corner, and before you realize it, you are struggling financially to meet your budget during December.
Though we are only a few weeks away from Christmas, how you manage your money today matters, and this is why you need to read this post.
These 25 ways to save money for Christmas will inspire you to save money and enjoy the holiday season the way it was intended.
Now, some of these money-saving ideas are simple and will only take you a few minutes.
And others might be challenging, but I will beg you to at least give some of these money-saving ideas and tips a try, and you will save money for Christmas.
How much you save this holiday is entirely up to you!
Before we continue, let's answer the top questions people ask about saving money for Christmas.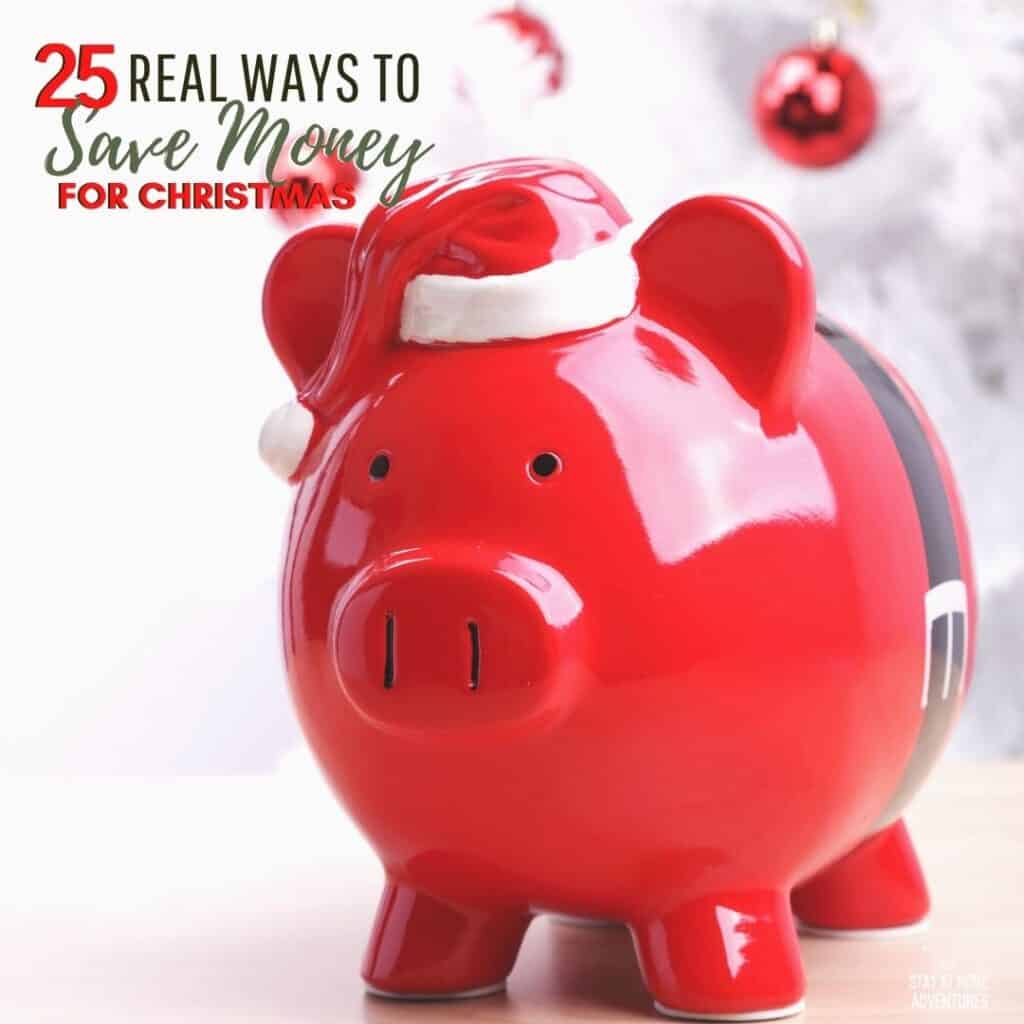 How much money should you save for Christmas?
Financial experts recommend spending only 1% of your overall household income on Christmas.
This is a simple, straightforward rule. For example, if you and your spouse make a combined $90,000, you would spend no more than $900.
If you have several kids or a large family, this may not seem like enough money to make things happen.
Quite the contrary.
A budget like this encourages you to take your time, be creative, and look for awesome deals.
If you want to save more for Christmas than this, it's up to you. Just make sure something necessary isn't suffering from spending extravagantly at Christmas.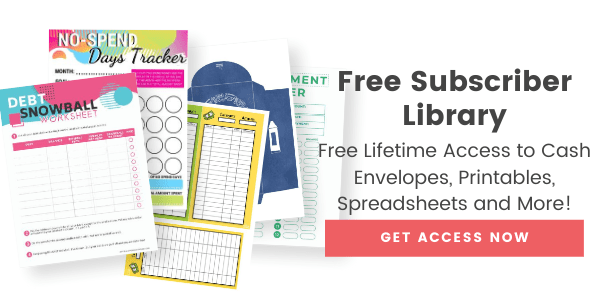 How can I save money for Christmas all year?
There are so many great ways to save money for Christmas all year. First of all, saving money for Christmas begins with after-Christmas sales.
You can save money on wrapping paper, greeting cards, and decorations during the after-Christmas sales.
Not only that, but the longer the items are on the shelves, the less expensive they are.
It's not uncommon to snag Christmas items for 90% off. You can also save money on gifts for next year by starting to shop for gifts after Christmas.
Shop for gifts throughout the year to save tons of money. Always check the clearance sections and keep your eyes open for great deals.
Of course, it's essential to have a budget. For example, let's say you want to spend a total of $1000 for Christmas.
Break the budget down into categories so that you know how much you can comfortably spend on gifts, decorations, and holiday food.
As you purchase things throughout the year, deduct them from your budget.
Also, once you have your budget in mind, you'll know exactly how much you need to save weekly to meet your goal.
For example, if you're going to spend $1000, you would want to put away roughly $85 for 52 weeks if you have less time than that, up your weekly amount accordingly.
So, how do you make this happen? If you have $85 a week in disposable income, this can be the money you save for Christmas.
You can put this money into a regular savings account or ask your bank if they have a particular Christmas savings account.
These accounts usually require you to keep the money in the bank until the holidays arrive.
This is great if you want to make sure you don't touch the money, but it can be not easy if you want to shop throughout the year. Suppose you don't have a lot of disposable income.
You need to decide if you want to cut expenses or do a side gig to have the extra money.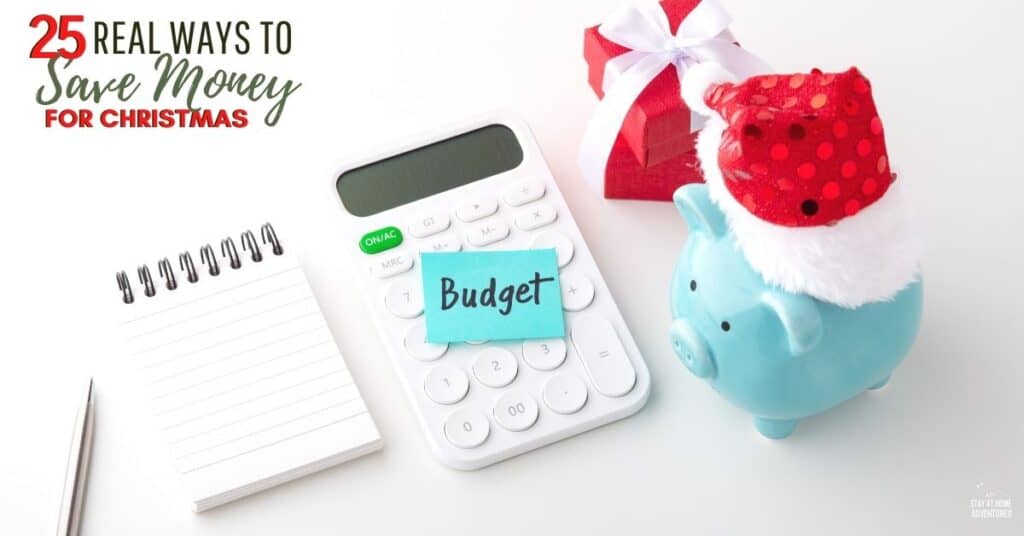 25 Never Thought Of Ways To Save Money For Christmas
Create a budget
Having a budget is going to be important when it comes to managing your money this holiday season.
Keep it real
With the current global situation, keep it real. Keeping real means understanding the way we celebrate the holidays, the way we shopped, and travel.
Let's keep that in mind and keep things real. Keep things small and safe, and scale down your plans for this holiday season.
Scale things down, and this will help you save money.
Use coupons
You don't have to spend hours cutting coupons, but you can take advantage of available store coupons.
Coupons help you save money; if you take a few minutes a day to plan your shopping trip, you can score significant savings with coupons.
Coupons and discount codes will save you money. Always search for coupon codes. We recommend using this browser extension, Capital One Shopping, to help you find discounts and the best price online.
Set aside your savings
Every week set aside a certain amount of money. Even if you don't have much, then set aside the amount you are saving and set it aside. Putting money into an account is a great way to save money for Christmas.
Buy items on sale
Many items go on sale, and you are not saving money if you purchase them at their regular price.
During the holiday season, make sure you buy items on sale. Now on that note, hot ticket items will not be on sale.
If you are waiting for a hot item to go on sale, chances are it will not happen.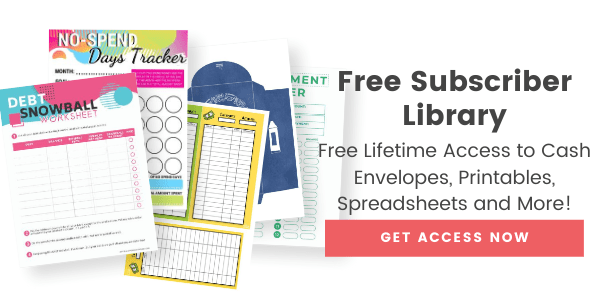 Use a shopping list
Writing a shopping list and sticking to it will help you save money.
Write a menu plan for the week
Start writing a weekly menu plan to help you reduce the time in the kitchen and to help you save money too.
Quit eating out
I know it is tempting to stop and grab something to eat when you are holiday shopping, but if you want to save money, avoid eating out as much as possible.
Bring your lunch
When going to work, please make sure you pack your lunch and avoid buying lunch at work; by doing this, you will save money, guaranteed!
Make your own coffee
Again, I know it's cold out there, and you want to warm up with a nice hot cup of overpriced coffee. Skip buying coffee and start making your own coffee at home.
Quit smoking
I know this sounds easy, but seriously it's 2022, and we all know that nothing good comes from smoking. So maybe it is time to cut back and make this a 2023 goal to quit smoking.
Quit buying alcohol
If you want to save money, you will have to cut down on purchasing alcohol. However, if you are hosting holiday gatherings and purchasing alcohol, it will cost you money. The solution for this is to have your guests bring their alcohol.
Stop getting your nails done professionally
Avoid getting your hair done and use that money toward something you need. If saving money is what you want to do this holiday season, skip getting your nails done and save that money.
Sell your unwanted stuff
Social media and apps make it easier to get rid of unwanted items for cash. So take advantage of these services and start making money for things you no longer want or need.
Insulate your home during the winter
Reducing the cost of your bills is essential, and insulating your home during the winter will save you money on your house bills. Then, again, you can take the money saved and use it for Christmas expenses.
Make homemade meals
Make your meals at home, and you will see how much money you will save. Use your menu plan and shopping list, and you will see a reduction in your grocery budget.
Turn off and unplug your appliances
If you are not using it, unplug it. This goes with Christmas lights, too. Set them on a schedule and avoid having them turn on all the time.
Use Swagbucks to earn free giftcards
There are so many ways to earn Swagbucks and exchange them for gift cards that will help you save money. You can learn more about Swagbucks and how to earn free gift cards here.
Don't overspend on gifts
I know you want to make sure your kids have a memorable Christmas, but going broke buying too many toys is not worth it. Instead, keep it real and create memories in another way.
Get rid of cable
You don't need all those channels. Instead, find other alternatives to watching TV like Hulu, Amazon Prime, Netflix, and such. I can guarantee you that there will be tons of Christmas movies there.
You can get free HDTV with no annual contract with Mohu.
Find the right mobile plan for you
With many people staying home and traveling less, switching from mobile plans is a great way to save money.
With less traveling and people working from home more and being home more, why pay for continuing mobile services you don't need?
Using Wifi and lowering your data plan will result in great savings.
I have paid as low as $15 a month on my smartphone plan, and to be honest, you have to look around for smaller companies.
Want to lower it even more?
Switch to Tello!
Tello is a great service I am using with my iPhone, and I pay $11 a month for 1 Gig.
Don't use your credit cards
If you have credit card debt, I suggest you stop using a credit card and stick to a cash-only budget. And not just during the holiday season but until you control your credit card use.
Why increase your debt using credit cards this holiday season that will add to your financial stress?
Switch Insurance
Call around and start looking for a lower rate. Every two years we recommend you start shopping for a new insurance company.
During the pandemic and inflation, people are driving less. So call your insurance and see how you can save money.
Make your own items
Please make your own laundry soap; it will save you tons of money. Also, make your own cleaner and use vinegar to clean your windows and as a fabric softener.
Use money-making apps
If you have a smartphone, I recommend downloading and using these apps:
To even help you save money, download our 10-page Christmas Planner at no cost to you. Click the photo for more information.

Conclusion
Check out these Christmas posts:
I know there are tons of other ways you can save money for Christmas, but these ideas, you have to admit, are very helpful. Especially when you are short on time and Christmas day is fast approaching.
Now your turn: What other way do you save money for Christmas? Could you share it with us?