Learn How to Earn Money as a Teenager
This post may contain affiliate links which might earn us money. Please read my Disclosure and Privacy policies here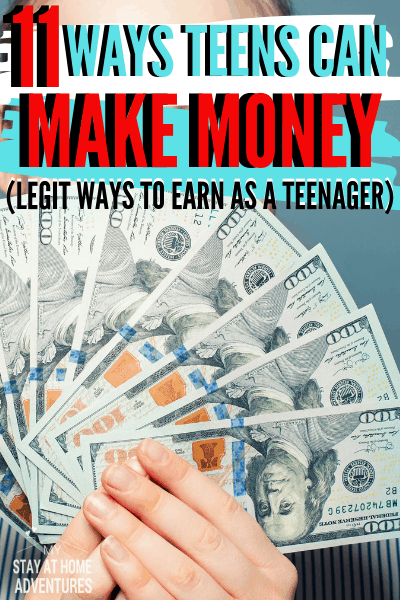 Anyone can earn extra money and today we are going to show you how to earn money as a teenager. If you are a parent of a teen then please share this post or information with them.
We are pretty sure that they are going to love how to score money and skip asking you for money.
Let's begin!
Wouldn't it be nice to have money for the things you want? It may be video games, art supplies, or money for a car.
Whatever you want money for, you can earn it. There are so many ways that teenagers can earn money. If you're tired of begging your parents for a bigger allowance, let's look at how to earn money as a teenager.
Now before we begin let me be clear about making money. You still have to work for it. This doesn't mean that you don't have to do anything to earn money.
But these are fun and easy way you can score some extra cash.
How much you earn depends on how much you work and what your dedication is. If we had some of these available back in my day I would be making money as a teenager for sure.
Ok back to how to earn money as a teenager.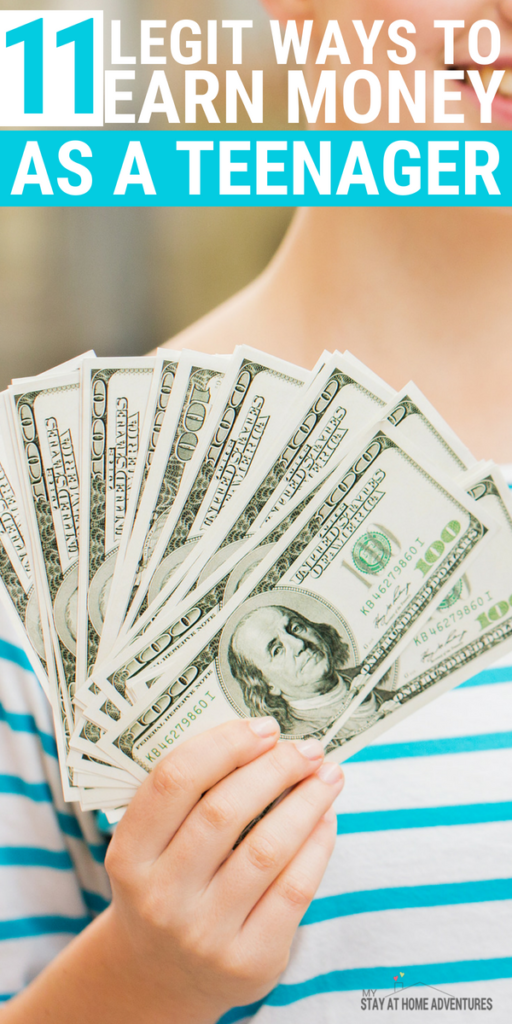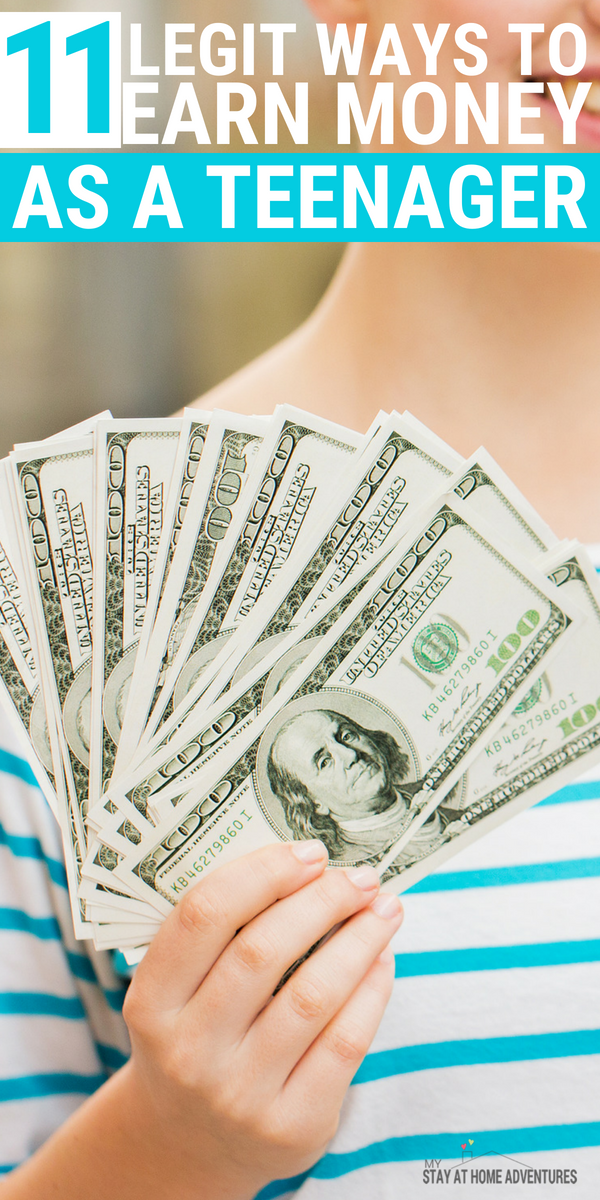 11 Ways to Earn Money as a Teenager
Now, with the money you earn, I hope you are using it wisely and remember that creating a saving plan and budgeting will make your money last.
Put Your Skills to Use
We all have skills. You might be good at making graphics, building websites, or even making videos. Whatever your skills are, put them to use. You can find so many people who need the skills you have.
You can list your services online and accept payments through your parent's PayPal account. It may take a while to see a large amount of money, but you can make money.
Do Yardwork or Other Chores
Chances are your neighbors have work around their house that needs to be done. It may be yardwork, helping them clean out their garage, or even running errands for them.
There are so many things that others either don't want to do or don't have the time to do. There are also jobs they need help doing, such as painting or cleaning up their yard. It never hurts to ask if there is anything they need help with.
Get a Part-Time Job
Depending on your age, you may be able to get a part-time job. Federal laws do regulate how many hours you can work. However, being able to work a part-time job can still lead to a good amount of money.
Some part-time jobs may also offer benefits that help you pay for college. If you've never considered a part-time job, talk to your parents about it.
Babysit
Babysitting will always be one of the number one ways for teenagers to make money. You may get money to watch your younger siblings or the neighbor's kids.
The more kids you babysit, the more word will spread among parents about how great you are. Parents will always need people to watch their kids so that they can enjoy a date night or just go shopping in peace.
Read: How to Get a Teen Babysitting Job by Care.com for more information.
Walk Dogs or Watch Animals
Last, but not least, you can also earn money by taking care of animals. People may need their dogs walked during the day while they are at work. Other people may need you to watch their hamster while they go away for the weekend. If you love animals, and your parents are okay with it, this is a fun way to make money.
Online Surveys
Believe it or not, the internet is a great way to make some money as a teenager. Many online survey companies allow members as low as 13 years of age.
Some online survey companies will pay you to watch videos, play video games, and more and all you have to do is sign up and make the time to answer questions and watch videos.
Now, the downside of online survey is that many will ask you "pre-questions" only to turn you down and waste your time. Other than that is a good way to earn some extra money.
Many pay with gift cards and quite honestly is still a great way to make money.
You can also try these online survey companies too:
Shop and Get Rewarded
Take advantage of Shopkick and use the app while you shop. Walk into Sam's Club? You get rewarded! If must be at least 14 years of age to apply to Shopkick.
Use Swagbucks
To sign up for Swagbucks you must be at least 13 years of age and this is one of our favorite ways to earn gift cards. You see there are so many ways you can score SB and earn gift cards to just about any place.
Read: How To Earn Free Gift Cards The Easy Way
Play games, shop online and earn
Just like Swagbucks, MyPoints is another great way to earn money, shop online, play games and more. Earn points and cash them out. You must be at least 13 years of age to sign up.
Join MyPoints and earn a $10 Amazon Card with Your First Purchase.
Sell Your Stuff
Yard sales are a great way to earn money as a teenager and the good news is that you can get rid of stuff you no longer want or need and make cash in return.
Read: 13 Things That Sell Well at Yard Sales (and will make you money!)
Read: 10 Yard Sale Mistakes You Need To Avoid This Season
Another way to sell your stuff is via Facebook groups and other local online sites. Avoid doing sites that will cost you money, meaning high fees and shipping charges.
Lemonade Stand
If you think you are a bit too old to start a kid lemonade stand, grab your younger siblings! Download our free Lemonade Stand planner and start planning your next lemonade stand.
Conclusion
As a teenager, you have so many options for earning money. Whether it's during a school break or during the school year, you can earn money. It might be a part-time job at a grocery store or babysitting the kid next door.
Think about what you love and how you can turn that into an income. And, don't forget, there are always things people don't want to do that you can do for some extra cash.
Your turn: You read Earn Money as a Teenager now we want to know your tips and opinions about it. Share it with us!