When I decided that I was sick and tired of dealing with my money problems and living a make-believe world of having money, I decided that I needed to find books that motivated me into financial planning shape. I needed to find some financial planning books that were motivating to this broke minded girl and would shape me into the person I am today.
Though there are many financial planning books out there, I have to say that till this day I continue to read them and to learn from them. It seems like every month there is a new book out there talking about money and debt freedom. With all honesty some are good, some are OK, and some I can't wait to read.
The good news is that if you are starting on your debt freedom journey and are looking for books that will help you get on your financial freedom mindset; you will be able to find at least one that will help you.
15 Financial Planning Books We Must Read
The Total Money Makeover: A Proven Plan for Financial Fitness
I have said many times that this book was the book that changed everything for me. Though I don't agree with everything Dave says, it motivated enough to start paying off my dad and enjoy life.

Rich Dad Poor Dad: What The Rich Teach Their Kids About Money That the Poor and Middle Class Do Not!
You have to read it. It is not the #1 personal finance book of all time for nothing.
How to Manage Your Money When You Don't Have Any (Second Edition)
Why Didn't They Teach Me This in School?: 99 Personal Money Management Principles to Live By
Jim Cramer's Get Rich Carefully
I had not read this book but was suggested to add it to my books to read.
Rescue Your Money: How to Invest Your Money During these Tumultuous Times

Living Well Spending Less: 12 Secrets of the Good Life
Is not just about money trouble, but about your mindset. This book is about pulling yourself together and bring back order to your messy life.
Your Money or Your Life: 9 Steps to Transforming Your Relationship with Money and Achieving Financial Independence
The Millionaire Next Door: The Surprising Secrets of America's Wealthy
The bestselling book that identifies seven common traits that show up again and again among those who have accumulated wealth.
The Minimalist Budget: A Practical Guide On How To Save Money, Spend Less And Live More With A Minimalist Lifestyle
The Recovering Spender: How to Live a Happy, Fulfilled, Debt-Free Life
Train Your Way to Financial Fitness
You are not going to find a financial book like this one.
This book was recommended to me and I read it earlier in the summer. One of my favorite book that helped me get motivated after my emergency hysterectomy. It was like like my picker upper book.
The Money Saving Mom's Budget: Slash Your Spending, Pay Down Your Debt, Streamline Your Life, and Save Thousands a Year
This is a book from Crystal Paine and one of my favorite people. She has motivated me and gave me so much motivation to be the blogger and the person I am today.
There you have 15 books that will help you kick start your financial planning. Some of these financial planning book will challenge you to think and live the way you never lived before.
What financial planning or money book you read that changed your life forever?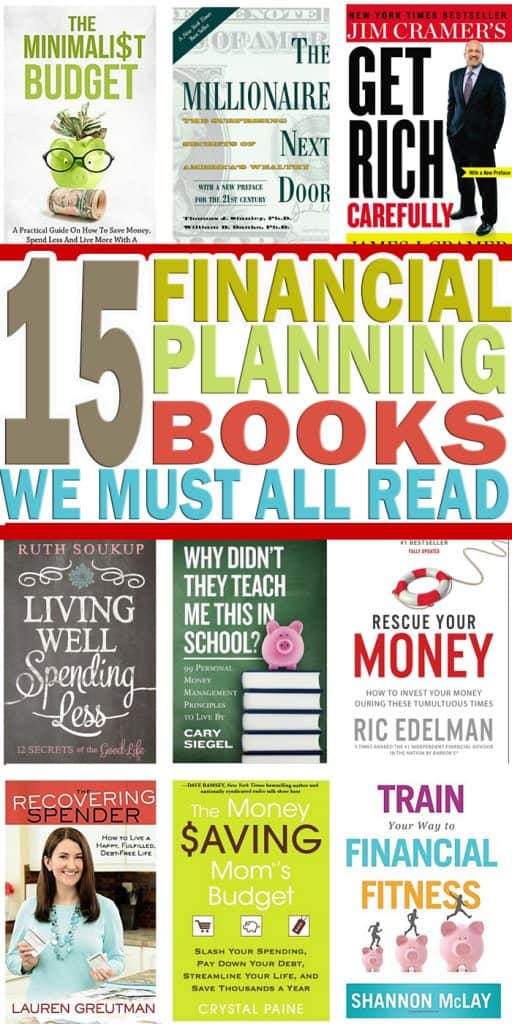 Check out these financial posts:
Save
Save
Save
Save
Save
Save
Save
Save
Save
Save
Save
The following two tabs change content below.
Latina mom of 4 married to wonderful Greek gentleman. Living in southeast PA and trying to juggle family and a household while trying to earn an income from home. Follow my stay at home journey as I discover how to earn money and save money so we can continue to live debt-free.
Latest posts by Joyce @ My Stay At Home Adventures (see all)