4 Destructive Broke Mindset Beliefs People Need To Get Rid Of
This post may contain affiliate links which might earn us money. Please read my Disclosure and Privacy policies here
Beating the broke mindset, this has to be one of my favorite topics to talk about. I can tell you that people in this country have a perception and beliefs that are the real reason they are in the financial state.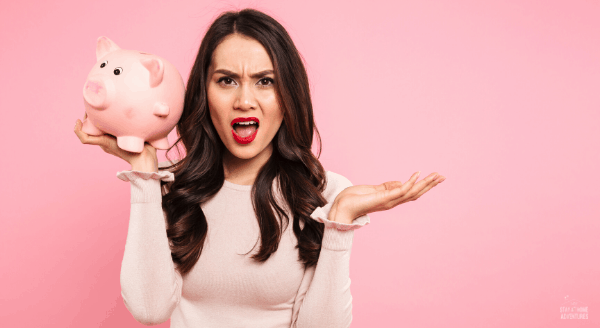 It's 2020, and the broke mindset is alive and well now, and for this reason, I wanted to share this post because it is one of my personal favorites, and a good friend inspired it!
Her name is Laurie, and she is one of my favorite frugal bloggers around. A few years ago, she wrote this amazing post; you know what I'm talking about. The type of posts that touches you and motivates you to do something about it!
It is titled, How to Pay off Debt: Beating the Broke Mindset and let me tell you, it got me thinking about my mindset a few years ago. I wanted to write about this because many of us either had this mindset or continue to have this mindset.
After deciding to set on my debt-free journey, I discovered so many things about myself that I never knew nor liked. I, myself, wasn't broke. I just had a broke mindset. This is a big difference.
The Broke Mindset is what gets us in financial trouble. The Broke Mindset doesn't let us see how much at fault we are. The Broke Mindset will continue to lead you into a financial mess. Beating the broke mindset brought me into the right mindset and got me to where I am today.
Laurie, over at The Frugal Farmer, spoke about three Broke Beliefs that had lead us, and still leads people, into financial trouble. I wanted to write about my experience with these Broke Beliefs and how I broke from this mindset.
To pay my debt and take charge of my finances, I had to change my entire view of life. But, first, I had to modify the way I see money and the way I lived. To this day, I continue to change and view things differently.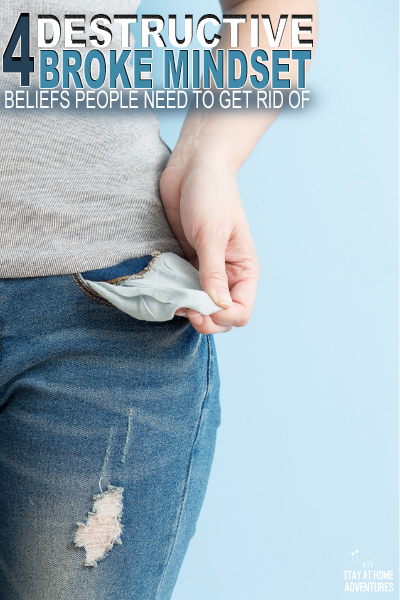 Beating the Broke Mindset
There's Nothing We Can Do About It
I used to say this repeatedly when I used my credit cards to fix my car because I didn't have an emergency fund. I thought credit cards were my emergency fund. When things broke down, I used my credit cards to pay for it. Crap happens, and I was glad I had credit cards to get me through bad situations.
When I started to save money each week and realized how much money I was saving, I realized that I was doing it all wrong.
When I looked at the amount of debt I was accumulating and how stressful I would get when I looked at that figure, it wasn't worth it. There's nothing we can do about it was what my mind would tell me.
Then my way of thinking started to change as I continued to save money and the stress level began to go down. So I started to save money and paying my credit cards.
"There's nothing we can do about it" mentality suddenly changed after seeing the results of taking charge of my debt because I WAS doing something about it.
We Deserve
This one to this day bugs me to no end. We live in a society where we think we deserve it. We deserve a brand new state-of-the-art phone. We deserve to go out every weekend.
Our children deserve brand-name clothing. We deserve that vacation because we worked hard for it.
That mentality got my a$$ in trouble many years ago. I wanted those brand new sneakers everyone was wearing.
I wanted to go out to the clubs because I worked so hard that week even though I didn't have the money for it. But I deserved it!
My kid needs to have that cell phone because she deserves it even though I can barely pay my bills.
Do you see the pattern here?
I felt for this mindset and belief that it contributed to my financial mess.
Once I decided to pay my debt and control my finances, the"I deserve" attitude came back to haunt me because I didn't change my mindset.
When I was looking at my debt, and realized I deserved this because I wasn't responsible for my finances in the first place.
The "I Deserve" belief had gotten me in trouble. How I got out of it was to write down my financial goals. Then, to analyze what exactly I deserved.
To be stressed out over debt or to enjoy the benefit of being debt-free or financial freedom? So I worked hard every week to achieve my new financial goals.
Why should I deserve a night out? Everyone else works hard, some even harder than others, and they are not celebrating every Friday.
By changing this "We Deserve" belief and sticking to my financial goals proved that this mindset could be modified completely.
We're Not as Bad as the Others
This was my way of thinking years ago. I have a full-time job; I'm not on welfare, so I'm not as bad as others.
Shame on me!
This was my thinking when I went shopping when I bought shit I didn't need.
I was a single mom working in my 20's. I worked a lot and, at one point, 2 jobs and went to school.
I thought I had it under control. I looked at others and figured I was doing pretty freaking good.
I wasn't as bad as others, so it was all good. This belief helped me justify my actions.
Once I realized what I was doing, I realized I was in debt, just like others. Not as much as others, but almost there.
In a few years, I could have been just like them. Instead, I was just living a lie. I was lying to myself.
I was judging others as well to justify mine out of control spending. Being honest with myself and how I was living my life back then helped me financially and changed me into a better person.
Check out these posts:
I Will Pay It When I Get My Income Tax Refund/Bonus/Extra Check
This belief I added myself because it taught me a major lesson. This was my mindset many years ago and for so many years.
I will overspend with the idea that my refund was around the corner and I could pay my credit cards in full when I got the check.
Did this ever happen? Yes and no.
When I got my refund, I will pay a partial amount of my debt and spend the rest.
The same thing I did when I got my work bonus. Instead of saving it, I will spend it.
By June, I will be back to the same spending habit and wondering where my money went.
The lesson I learned the hard way is that never count on money you don't have. I didn't have a budget, so even if I did pay it fully, it was a cycle. As a result, my work bonus structure was changed, and we didn't make a bonus.
Guess what? I was screwed.
I had a credit card debt that didn't get paid in full because I was counting on money that was never there. So this was a hard lesson for me and a great one.
This changed the way I spent and did things. I was masking my problems and justifying my spending on future money.
This mindset changed me completely, and I never count on money that I don't have. EVER.
Life is too unpredictable and as tempting as it is to think that you will be getting extra money, it can also be dangerous.
So there you have my thought about Laurie's excellent post. I hope you learned from this and took it to heart.
It was by changing these mindset beliefs that I have control over my finances today.
It was by changing my mindset that I became who I am now. I hope you enjoyed Laurie's post as much as I did and learned how to beat a broke mindset.
Your turn: What are your thoughts about beating the broke mindset?