Top 3 Reasons to Love a Staycation This Summer
This post may contain affiliate links which might earn us money. Please read my Disclosure and Privacy policies here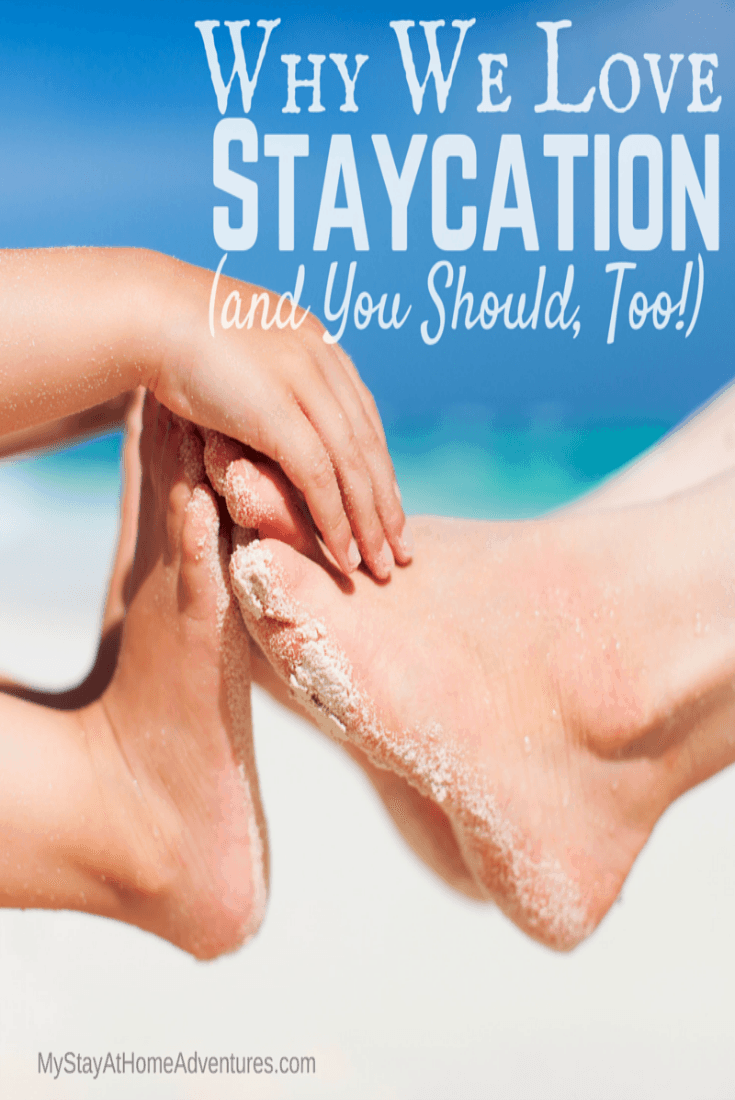 You are here because the sound of a nice staycation sounds appealing but you are not sure. Good news! I'm here to help so keep reading, you are in the right place!
Summer seems to be the hardest time when it comes to our finances. I thought Christmas season was but it turns out that summer is the one for our family. For many years we have skipped a family vacation and settled for a staycation.
Are we the only family that struggles with keeping kids entertained during the summer and trying to keep up with their finances at the same time?
With the kids are out of school, not just for the weekend, but for a few weeks! The weather is hot and the money is tight. Vacation or Staycation? That is the question many of us are wondering for this summer.
Before you answer the question keep reading.
I'm not shy about frugal vacations. I do love to travel, but I also know that as much as I enjoy a nice vacation, sometimes being realistic and admitting that my budget doesn't permit it is part of this adult thing.
Sometimes life happens and our budget doesn't give us enough room to even plan a vacation. And that is OK! If your budget is tight, and you want to save money, take a staycation instead.
Remember that your family will be just fine if they don't have a nice family vacation. Yearly vacations are not a need and if you are working on your finances I can tell you that you and your family will enjoy the best family vacation in the future!
Now, this is when a nice staycation comes in my friends. You see staying at home this summer doesn't mean you are dumb or lame. It means you are smart and focusing on what is important, your family.
And believe it or not, not many people understand what the heck a staycation is and how this form of vacation can help you and your family this summer season.
Let's begin.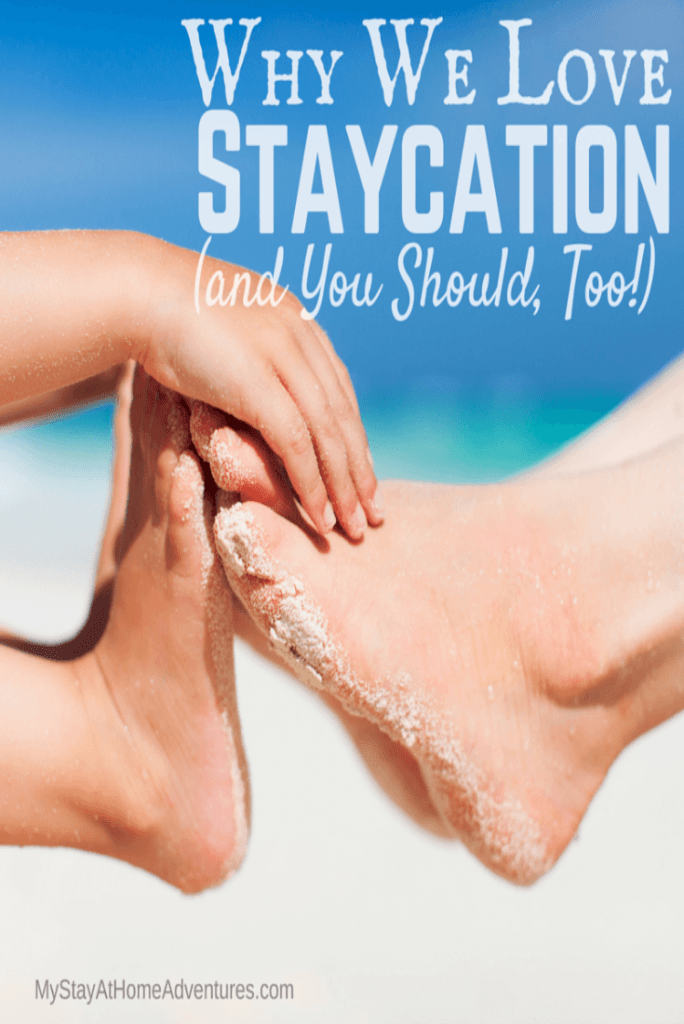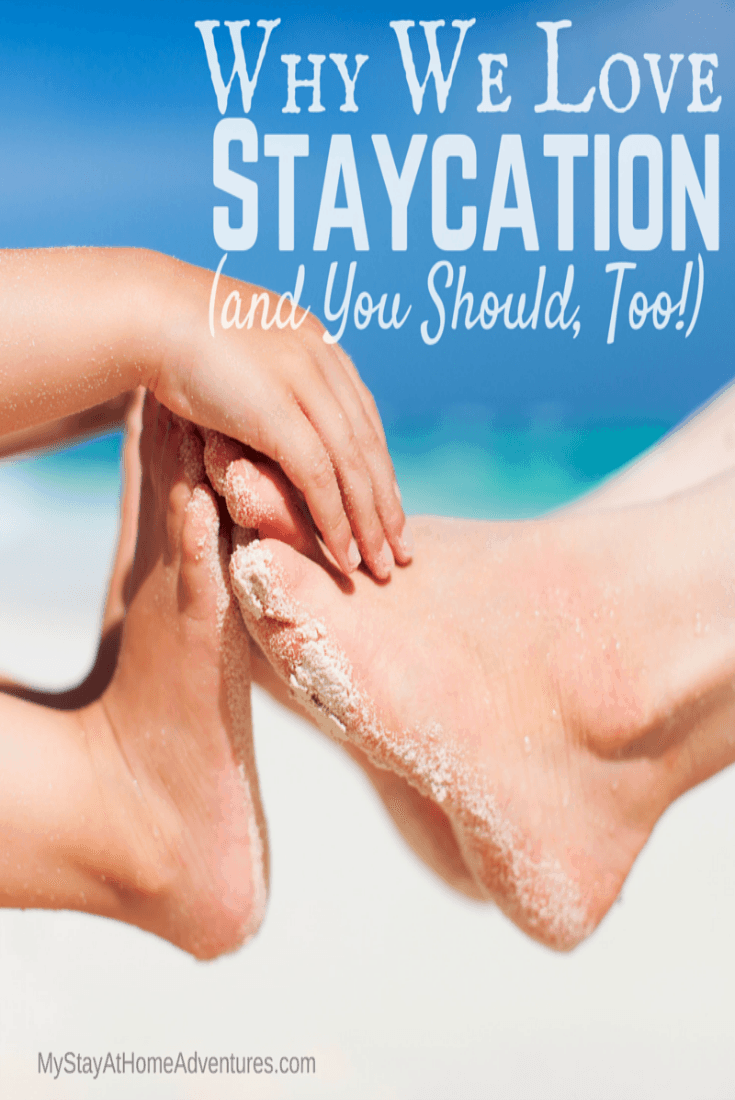 What is a Staycation?
To truly enjoy your staycation we need to learn exactly what this term means, no? For starters a staycation consists of individuals, or families, enjoying activities that are within driving distances.
That means you get to sleep in your own bed!
What are the rules for a staycation?
Basically, you set the rules of what your staycation will be about. The point is that you get to enjoy it and make it memorable, like a traditional vacation, for less money. No cell phones is a great rule!
One of our favorite rules is the no cell phone! We are treating this like a vacation and family time is important and having things like cellphones around are major distractions.
What are the benefits of staycations?
Many families are enjoying staycations because, honestly, you save money. They are affordable and it reduces the stress of taking a big vacation.
Less travel – This means you don't spend money on gas.
No fees – You don't pay lodge fees or any other travel expenses related to your vacation.
Less stress – You know that when you have a big vacation on your mind, this creates stress. The stress of making sure you don't forget anything or a kid. 😉
What are some staycation ideas?
When planning for a staycation I will say that this is pretty much up to you and your family. However, if you need some ideas to help you, then you found them!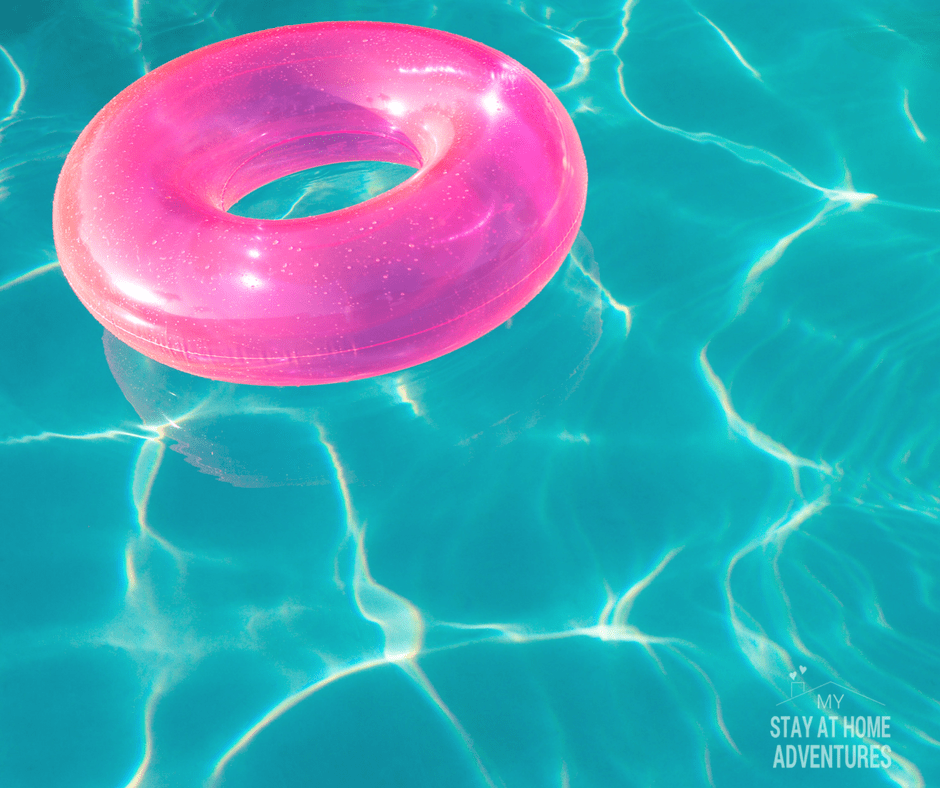 Day trips and visiting local places are part of a staycation. Having a backyard pool party, picnics, and attending amusement parks are also part of it as well.
Visit a nearby national park. – Enjoy the outdoors and have fun!
Camp in your backyard. – Your kids will love you!
Have a picnic. – Get together and have a picnic.
Read a book – the time during your staycation to enjoy a nice book.
Go to a baseball game – Enjoy a baseball game and relax.
Visit a local event. – We are having our community strawberry festival this summer.
Just relax – Stay home and do nothing! Why not?
Prepare a new meal – Ever wanted to try new recipes? There's your chance!
Visit a local museum. – Check your local museum for events and deals.
Visit your local zoo. – You don't have to visit a big zoo, search online for a small zoo if necessary. Maybe a local petting zoo.
Visit your local aquarium. – I personally love them, so I added this.
Visit your local community pool. – If you don't have a pool, visit your local community pool and have fun.
Go for a bike ride – When was the last time you went for a nice bike ride?
Go watch a summer blockbuster – I'm all for Netflix and Hulu, but why not go and enjoy a nice blockbuster movie in 3D and surround sound.
Staycations ideas are endless and it is up to you to do something that you want to do and enjoy. Just simply relax and enjoy it.
Related posts:
The downside of staycations.
There's always the good and some bad, the bad of having a staycation depends on you. When I was working and had a staycation, I would be close to work; therefore, I spent some time thinking about work stuff. I would, at one point, work on my staycation.
I didn't follow my own rules when it came to my staycation. I also didn't have 3 children.
The point is that if you really want to enjoy your staycation, and you want to make it memorable, set the rules for your staycation and follow it. If that means no cell phones or answering text messages from work, so be it.
Also, make sure you follow your budget and don't go broke. You don't have to go out every day of your staycation. Don't spend more money than you had budgeted. Just keep it simple and have fun.
Again, the point of a staycation is to treat it like you treat your vacation. To relax, to unwind, and to take time out to simply put the world around you on hold.
What are your plans for this summer? Are you taking a staycation or a real vacation? What are your tips for a frugal staycation? What makes your staycation memorable?