Budget-Friendly Tips for Basement Renovation
This post may contain affiliate links which might earn us money. Please read my Disclosure and Privacy policies here
As home adventurers when it comes to basement renovation or basement remodeling is a project we want to take our time to plan for sure.
To help you save time and money we have five budget-friendly tips for basement renovation that will help.
Let's begin!
When it comes to maximizing the spaces in your home, it is advisable to identify underutilized rooms you can repurpose or turn into something more functional and practical.
And this my friends includes basements.
A basement simply sitting around your home, accumulating old furniture, malfunctioning appliances, and other bits and pieces of materials in your household that are no longer in use is a waste of space.
There are many ways that a basement can be used aside from a storage space. Do you fancy an entertainment den, a guest room, or a children's playroom? It is actually possible to renovate your basement without emptying your bank account.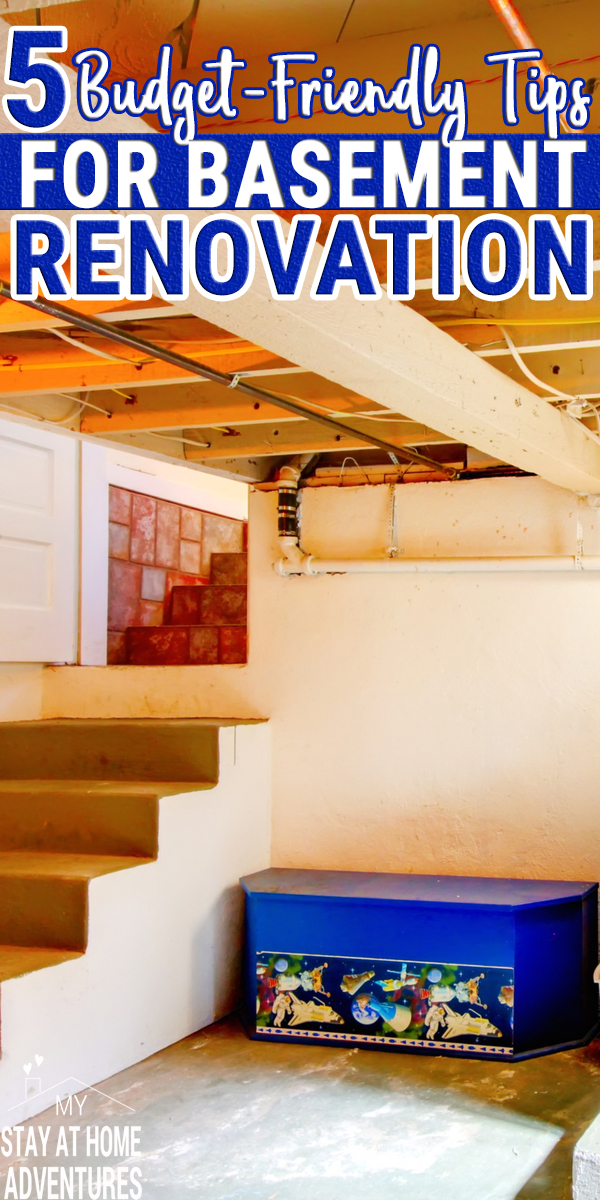 How To Do A Budget-Friendly Basement Renovation
Here are some budget-friendly tips to help make the job a lot easier and an instant success.
Address the Immediate Concerns
Basements are often dark and damp, so the first thing you should consider is to dry up the place. It can be done by grading the soil to slope away from the foundation before adding the gutters and downspouts. Otherwise, extreme measures like putting in exterior drain tiles and making the walls waterproof are required.
It may cost you a lot initially, but this will prevent future problems that can lead to even worse scenarios and more expenses. Just think of a potentially moldy basement that you have to completely overhaul in order to fix.
Turn It Into a Flexible Room
It is wise to consider your needs when it comes to basement renovations, but your needs change over time. That is why it is better to turn your basement into a flexible space that you can easily transform into whatever you need in the years to come.
Think of a way to accommodate a bedroom and an entertainment room, which you can then easily turn into a home office with a library or a workshop space. This way, you will not shell out another huge wave of money once you decide you would rather have a handy guest room than a wine cellar.
Make the Most of the Space
Every inch of space matters. Maximize it by being creative with your storage areas. Built-in cabinets can be done in simple yet attractive ways.
Consider building custom shelves under the stairs, making good use of dead spaces that are otherwise underutilized. It can be a place to store your tools, books, or linens.
You can choose between open shelving and closed cabinet doors, depending on your goals. Do you want lots of spaces for boxes, or would you rather hide the clutter?
Related posts:
Weigh Your Options Carefully
Instead of spending large sums of money for additional features, why not focus your efforts and investment on refinishing and refurbishing the already-existing structures? Rim joists that are not sealed and insulated can incur huge energy loss, so taking immediate measures to fix them can save you money in the long run.
Moisture damage can also be prevented if you install drainage mats. It will also make your floor drier and warmer.
Think of Convenience
What you need should always be a consideration. Going down the stairs will require installing railings and lights for safety, so make sure to include that in your renovation plans.
Since it takes a lot of energy to go through the flight of stairs to reach your basement and back, you can also consider putting a bathroom there for convenience once nature calls. It need not require a lot of time and effort either. You can use a high-quality basement toilet tailored for easy installation without having to completely overhaul the pipe and plumbing.
Not everything in your renovation project should be bought either. Learn the art of recycling and repurposing. If you have a lot of unwanted things you need to get rid of after clearing your basement, find a reuse store that accepts things for recycling. You can even make money out of it.
Conclusion to Budget-Friendly Tips for Basement Renovation
While keeping in mind the budget-friendly tips, you should also recognize the importance of making sure your basement matches the rest of the house to give it a good flow and to maximize comfort. This can do a lot in increasing the value of your home.
There is no easy way to renovate a basement because this kind of endeavor requires planning, hard work, and commitment. With patience and resourcefulness, there is no reason for this project to not go seamlessly, all within budget.
Your turn: You read these 5 budget-friendly tips for basement renovation what are your thoughts and tips about it? Share it with us!