Outdoor Lighting Tips for the Home and Garden
This post may contain affiliate links which might earn us money. Please read my Disclosure and Privacy policies here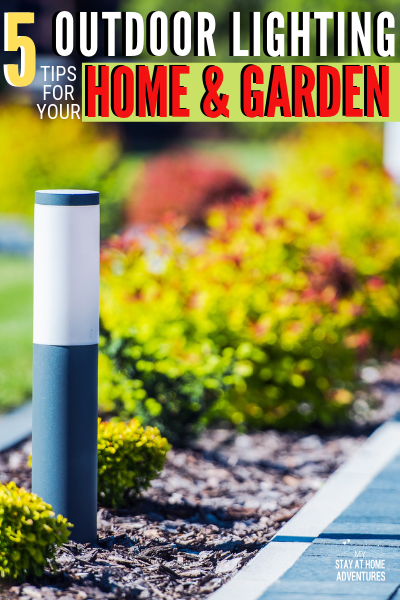 Outdoor lighting tips for your home and garden will give your outdoor beauty and give a sense of enjoyment. On this article, you are going to learn the best five outdoor lighting tips that include:
We take great pride in our outdoor space. We love spending time in it. It causes us great pleasure seeing the plants thrive and the landscape developing beautifully.
But when night time comes, its beauty and appeal solely depend on our style decision and choice of lighting.
So what is a good way to brighten up our outdoor space?
Well, going online and searching for tips will yield a treasure trove of recommendations, ranging from the simple up to the truly extravagant. Many people claim that aesthetics take priority over everything else while many would argue that functionality should be given higher priority.
Regardless of how people want to illuminate their yard, it all boils down to a number of factors: the personal style of the homeowner and how much budget they are willing to commit to the project.
An outdoor space will give you more flexibility to be creative and try many options but may exceed your budget.
A smaller yard will limit your design choices but can be great for your pocket. The ideal way to bring brightness and beauty into your outdoor space is to hit the perfect spot of form and function.
You want to increase the beauty and curb appeal of your property while still retaining some sort of purpose in each of the fixtures that you install.
Many struggles to find that balance but below are a short list of tips and tricks that you can try to help you maximize the beauty and potential of your yard through lighting.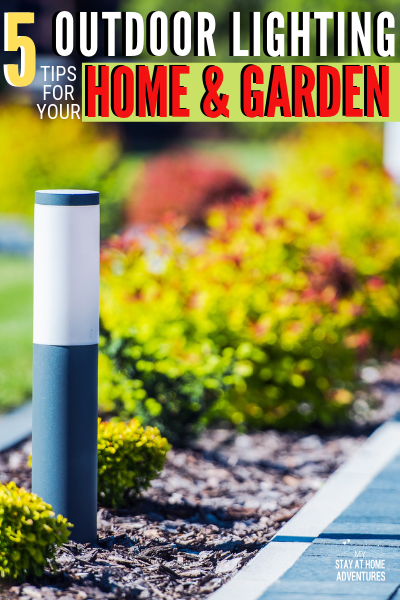 5 Outdoor Lighting Tips for Your Home & Garden
Ambient, Task, And Accent
When it comes to selecting the proper technique to bring light into your backyard or porch, one method is not enough, hence we have three;
Let's begin with Ambient, shall we?
Ambient is achieved by hanging lights, wall lights, and post lights.
Next, we will briefly touch on task.
The task includes deck lights, pathway lights, and security lights.
Accent can be achieved through spotlights and landscape kits. To brighten up a small space using limited funds, you can use string lights and or LED candles.
To further increase your options for outdoor lighting, you can play around with these three concepts, mixing and matching different styles of lighting.
An important note to remember is to select light fixtures that are durable. Remember, these lights will be placed outside and will have to endure being exposed to harsh weather condition and changing seasons.
Related posts:
Plan your Fixtures
Before jumping in your car and driving to the nearest hardware store, consider what you plan to buy first.
Assess your backyard or porch and figure out how much light fixture you need to buy. Calculate the sizes, too.
It would be a waste of money if you end up buying fixtures that are too big or too small for your outdoor space.
The best option in helping you plan out your garden lighting would be to seek the advice of a professional landscape architect, one who is well-versed when it comes to different lighting types and components.
If that is not an option or you are sticking to a small budget, then the internet would be your next best option.
Tons of blogs and articles are written about outdoor lighting with many recommendations included. Getting yourself educated before starting the project can really cut cost and help complete the work faster.
LED Lights are Great
It is easy to get drawn to the beauty and style of traditional light bulbs. Their look and design are timeless, and they cast a beautiful and warm glow that helps to accentuate the space.
The drawback of choosing these kinds of bulbs is they are highly inefficient.
When it comes to efficiency, LED lights come out on top over incandescent bulbs. LED lights are also better at bringing light into space.
Many LED fixtures are not limited to white lighting along. New models of fixtures come in a variety of shapes, sizes, and colors.
They even replicate the rich tones of an incandescent light bulb. LED lighting fixtures are also quite durable. It will last longer than fluorescent lights and are far more efficient than incandescent ones.
Subtlety is Key
While it is important for security reasons that our yards are well lit, it doesn't really do any favor to our outdoor space if that is all that we want to achieve.
One great way to truly bring out the best for your outdoor space is to use subtle light. Unlike indoor space, outdoor doesn't require you to see very clearly, sometimes a little mystery can be exciting.
Dining outside under subdued lighting can be so much more pleasant than just eating in your dining room with bright lights.
Outdoor lanterns and pendants with light kits can be used to illuminate your backyard or patio. A dimmer can also do wonders. You can turn to full light during meal prep and then dim it once the table is set.
For Security
Outdoor lighting doesn't only serve to showcase the beauty and appeal of the space. The main reason people light up their yard is for security.
It would be a mistake if we give looks priority and just forget about function altogether. We must also consider the security of our property.
So, It is important, then, that all entry points are lit well. You can install lanterns outside the garage or use a bright LED bulb.
You can also illuminate shadows around your property by using spotlights or wall lanterns on your eaves, garages, and windows.
The light fixtures can increase the curb appeal of your property when done right. With all the available options we have today, the possibilities are endless when it comes to illuminating our yard and patios.
Not only is a well light yard going to add value to our home, but it can also extend the living space from inside to the outside.
A big gathering can now be held outdoors instead of the living room. In fact, many would prefer being outside admiring the beautiful light and playful shadows made by your choice of light fixtures.
Author Bio:
Sarah Brooks is a passionate blogger who loves to share tips on home improvement, home renovation, and interior designs. She is currently working with Liquid LEDs, which offers best LED light bulbs designed specifically for Australia's lighting environment.