How to Beautify Yourself on a Budget.
For all my makeup loving friends, this article will cover how you can beautify yourself on a budget by:
Applying a budget
Identify the Products You Absolutely Need
Quality over Quantity
Don't Be Afraid to Try New Products
Take Advantage of Subscription Boxes
Let's begin!
Whether you're a makeup fanatic or prefer to go au naturale, we all have some sort of a beauty routine.
From mastering the smokey eye to perfecting your skincare regimen, it's no secret that beauty products come in all forms, shapes, sizes and different prices.
In fact, we spend so much on makeup and reports indicate an average woman will spend $300,000 on makeup in her lifetime!
With all our daily responsibilities and bills, it's worth to try and find ways you can have an effective beauty routine that won't be breaking the bank.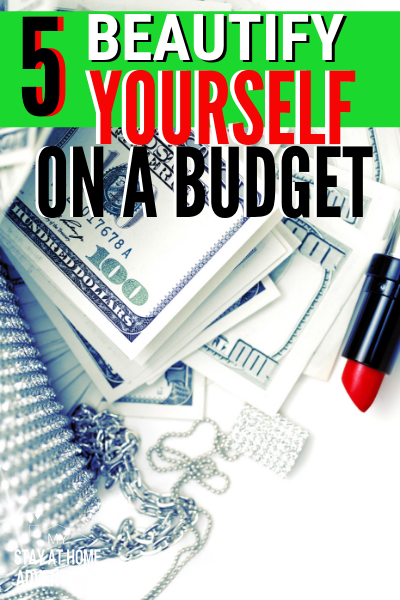 5 Tips to Beautify Yourself on a Budget
Here's how you can make it happen.
Apply a Budget
Like anything else in life, setting limits is a great way to enjoy yourself while also being financially responsible.
Depending on your income, keep in mind your limits and how much you're willing to spend on your beauty routine per year.
Whether you need to sit down and make a spreadsheet or download an app specifically for financial planning, having an idea in mind of how much you want to spend will keep you financially prudent while also maintaining an awesome beauty routine.
Once you've set your limit on how much you want to spend, it's imperative to keep track of how much you've spent thus far and make sure you're being realistic when setting your goals.
If you're someone who has a habit of spending money when tight on a budget, look to certain solutions that will help keep your spending in check.
There are numerous apps available that will help to resist splurging on items you may not need, such as eating out and shopping. Along with helpful apps, another effective solution is to simply make small lifestyle changes.
If you're going out to a movie, eat a meal beforehand. If your car is in need of a wash, do it yourself instead of spending money at the car wash.
Doing little things such as these will help to save tons of money in the long run.
Identify the Products You Absolutely Need
"Lip liner?" Yes, please!
"Eye primer?" Most definitely.
It can be easy to get carried away and splurge on makeup products you don't necessarily need.
If you find yourself on a budget, the best thing you can do is to identify and separate the products you absolutely need from the ones that are just a splurge.
Taking a look at your makeup bag will make this especially helpful. If you find yourself with more than 2 shades of pink lipstick, perhaps you'll find that 2 is probably enough for now.
But if you're someone who makes a habit of applying eyeliner every day, then don't feel as if you need to skip out on that.
By no means do you need to sacrifice comfort for saving money. It's important that you still make sure you're wearing products that make you feel comfortable and beautiful, after all, isn't that what makeup is for?!
Quality over Quantity
Wouldn't you rather have a handful of amazingly effective products rather than a storage bin full of just decent products?
The expression, "quality over quantity" perfectly applies to your makeup routine.
You can spend hundreds of dollars on makeup products that you think you need and still find that there are better ways to be spending your money.
The skincare department is a great example of this and while there are many cost-effective skincare solutions available if you find that you still haven't found that perfect skincare routine, you might have to look to more expensive products.
Brands such as Clinique, Drunk Elephant, and Tatcha are some of the most highly recommended skincare brands out there. Not only because of the ingredients they use but because of the results, many people find from using their products.
Related posts:
Don't Be Afraid to Try New Products
With all the makeup brands out there, it's no surprise you're going to go through a period of trial-and-error when looking for your beauty routine on a budget.
In order to avoid spending tons of extra money and having leftovers of products that you don't really like, it's helpful to check out sample sizes first.
Doing so will give you an adequate amount of time to use a product and decide if you want to buy the full size or not.
The same goes for including more color into your routine. It can be easy to get comfortable with your usual color palette, but with springtime here, it's the perfect time to play with color and incorporate more hues into your routine.
This can be through applying a bright blue or purple eyeliner or taking it a step further and making changes to your hair.
As we fully expect to see brighter, lighter hues come out for the warm season, dare to be different and try something new to your hair. Whether it be by going blonder or going bolder like a rose gold or yellow tint, there are all kinds of hair color options available for the person willing to try new things.
Take Advantage of Subscription Boxes
If you're not much of a makeup fanatic but are open to trying new products and brands, a subscription box may be the right option for you.
From Birchbox to Ipsy, there are tons of makeup subscriptions available that will deliver all of your makeup needs right to your door!
Most subscription sites will ask you to take a quiz before they deliver your first box, identifying all the things they think would be the best fit for you.
From finding out your eye color to your type of skin, ideally each question is asked to only deliver the best products for you and your beauty routine.
From hairspray to eyeliner to face setting spray, anything and everything can possibly be delivered right to your door.
What makes it even better is depending on your timeframe and the amount of money you're looking to spend, you can make your subscription last from 3 months to a whole year!
How do you beautify yourself on a budget?
The following two tabs change content below.
Latina mom of 4 married to wonderful Greek gentleman. Living in southeast PA and trying to juggle family and a household while trying to earn an income from home. Follow my stay at home journey as I discover how to earn money and save money so we can continue to live debt-free.
Latest posts by Joyce @ My Stay At Home Adventures (see all)